e-Conomy SEA 2019: 4 Things to Know about Southeast Asia's Internet Economy
e-Conomy SEA 2019: 4 Things to Know about Southeast Asia's Internet Economy
In Brief
Southeast Asia's Internet economy is now worth US$100 billion and it is expected to grow to US$300 billion by 2025, yet again exceeding earlier projections of US$240 billion.
The region has tremendous potential for further growth thanks to fundamental consumer behaviour changes, growing Internet connectivity and more.
Investors remain bullish about Southeast Asia despite the global economic headwinds, with over US$37 billion of capital poured into the region's Internet economy over the past four years.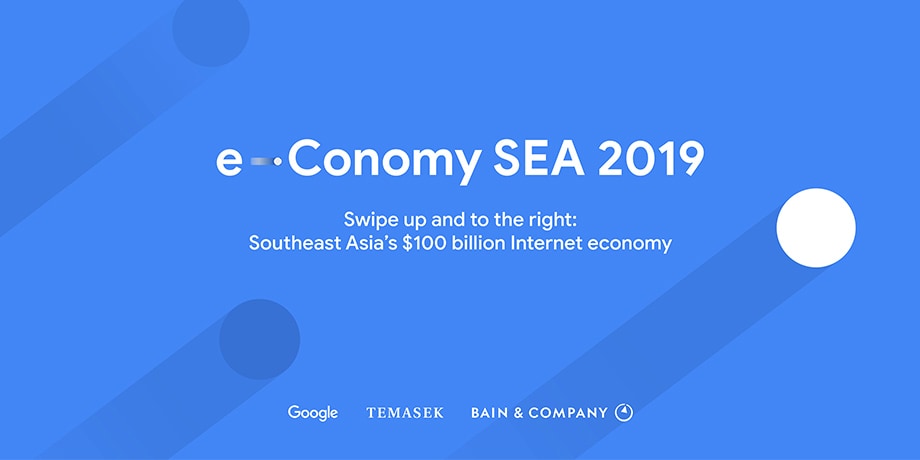 A decade ago, four in five Southeast Asians had limited access to the Internet. Today, there are 360 million Internet users in the region, with more than nine in 10 accessing the Internet primarily through smartphones.
They spend most of their time not only on entertainment in the form of social media, video and gaming apps, but also on business, education and productivity apps. As the world's most engaged mobile Internet users, the netizens of Southeast Asia are shaping technology trends in their own way.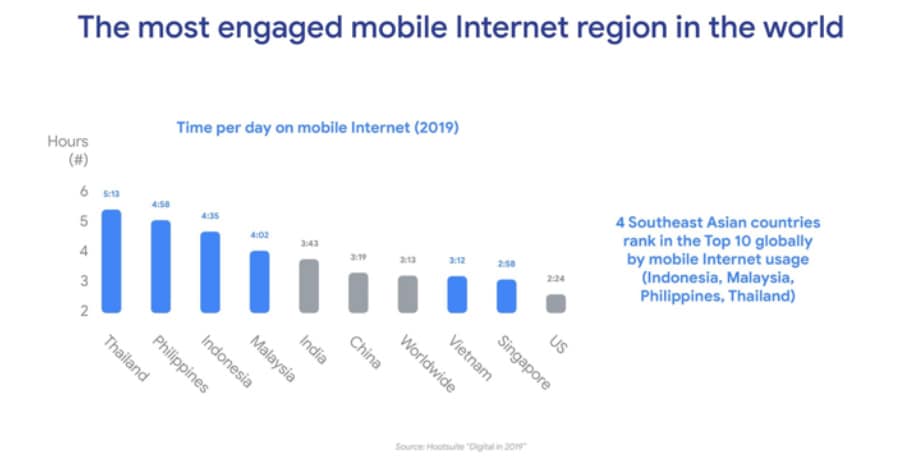 Here are four things you need to know about the current state of Southeast Asia's bustling Internet economy, fresh off the e-Conomy SEA 2019 report released this week by Google, Temasek and, joining as new research contributor, Bain & Company:
1. Southeast Asia's Internet Economy is Expected to Grow to US$300 Billion by 2025
The region's Internet economy continues to surpass all previous growth expectations, hitting another milestone this year: US$100 billion, up from US$72 billion last year. By 2025, Southeast Asia's Internet economy is projected to triple its current size to be worth US$300 billion.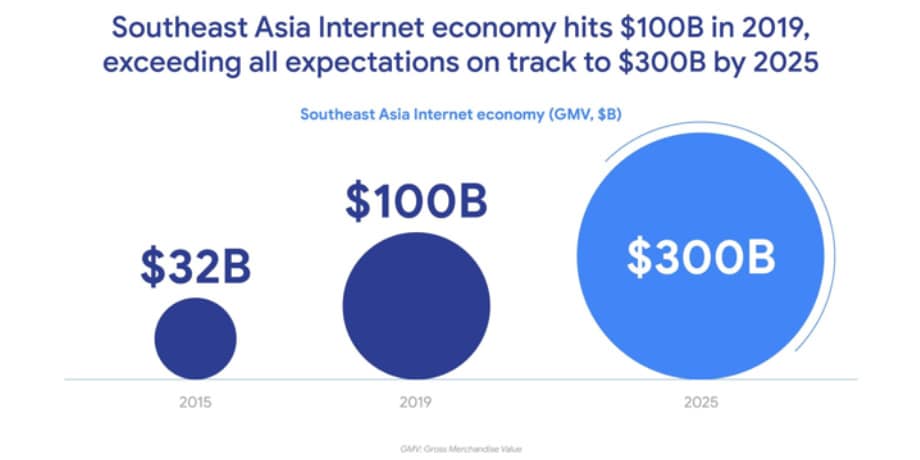 Pacesetters Indonesia and Vietnam are leading the pack with their respective Internet economies, growing by over 40 percent a year. The other four key markets, Malaysia, the Philippines, Singapore and Thailand, continue to see steady growth of between 20 and 30 percent annually.
Over the past four years, the number of Internet users in Southeast Asia has increased by 100 million — many of whom are young users aged 15 to 19. As more of these young, digital-savvy and mobile-first Southeast Asians come of age over the next 15 years, they will further fuel the growth of the region's Internet economy.
Indeed, fundamental changes in consumer behaviour and rapid adoption have powered two particular services, e-Commerce and Ride Hailing, to outperform. These two largest sectors have become integral to the lives of many people in the region, offering better value and access to services and products, as well as greater convenience.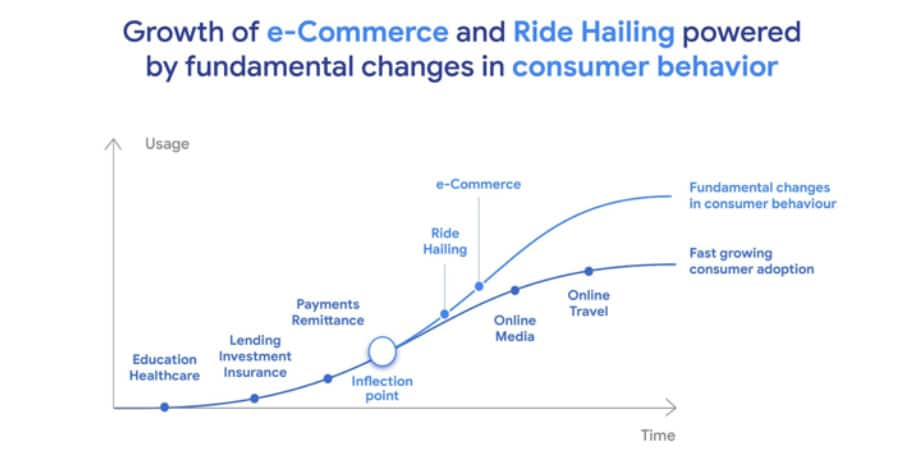 2. Growth Opportunities Beyond Metro Cities
To date, seven metropolitan areas across Southeast Asia have made up more than half of the region's Internet economy, despite accounting for just 15 percent of the population of the six countries featured in the report. These Metro centres comprise the majority of active users and orders for most Internet economy business in Southeast Asia as there is greater spending power and better infrastructure.
That may soon change, as industry and government players look further afield for fresh growth opportunities, as well as improve Internet access in less served areas to drive inclusive growth for the entire region.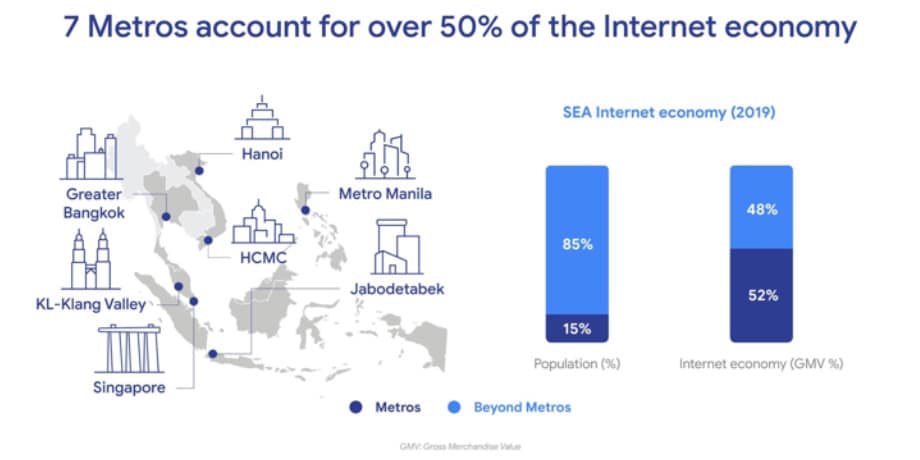 A look at Google Search trends shows that consumers living in Non-Metro areas are also fast becoming more avid Internet users. For example, in Indonesia, 46 percent of all searches for Internet packages came from Non-Metro areas.
As new users outside the Metros are acquired, growth in Non-Metro areas is expected to pick up; it is projected that the Internet economy in Non-Metro cities will grow fourfold over the next six years, twice as fast as in Metro areas.
3. Digital Payments are at the Inflection Point
Currently, some three in four Southeast Asians lack sufficient access to Financial Services. Out of nearly 400 million adults in the region, about 98 million are underbanked, while 198 million are unbanked. Convenience, access and value are key unmet financial needs of Southeast Asians, but these issues could potentially be solved with services such as Digital Payments and Digital Remittance.
The growth of such services will in turn make the Internet economy more inclusive. Consumers will enjoy greater access to products that they could not obtain previously using Digital Payments and e-Commerce, while small- and medium-sized enterprises will be able to get access to loans via Digital Investment.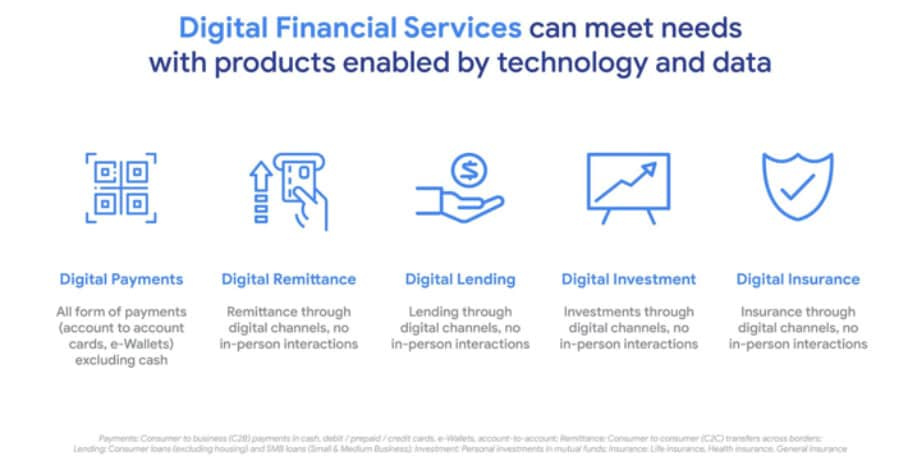 While most Digital Financial Services are still nascent, Digital Payments are on track to exceed US$1 trillion by 2025.
4. Funding Remains Healthy Despite Global Headwinds
Global tech funding took a hit this year, amid rising trade tensions between the US and China. Southeast Asia, however, has remained a bright spot despite global headwinds. More than US$37 billion of capital has been poured into the Internet economy in the region over the past four years, with e-Commerce and Ride Hailing unicorns attracting two out of every three dollars raised since 2016.
Southeast Asia now boasts 11 unicorns: Bigo, Bukalapak, Gojek, Grab, Lazada, Razer, OVO, Sea Group, Traveloka, Tokopedia and VNG. Nearly 70 companies valued at between US$100 million and US$1 billion — which have been dubbed "Aspiring Unicorns" — are also growing and are on the lookout for late-stage funding to scale further.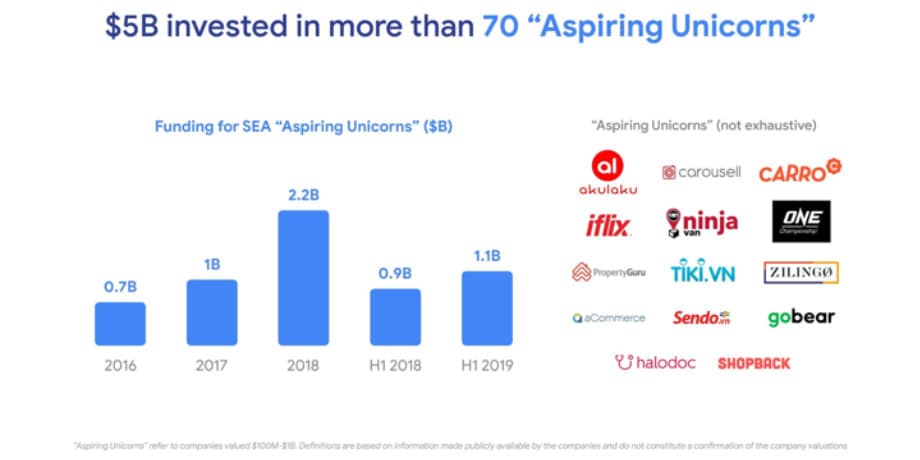 Thanks to the structural drivers of Southeast Asia's Internet economy — a highly engaged young population, growing Internet connectivity and rising affluence — regional and global investors remain bullish about the region. As a long-term investor in Asia, Southeast Asia's Internet economy presents investible opportunities for us to shape a better, smarter and more sustainable world.
Learn more about Southeast Asia's fast-growing Internet economy by downloading the e-Conomy SEA 2019 report.