These Scuba Divers are Connecting People Through Trash
Metal nails, an old motorcycle helmet and a boat battery — just some items that can be found in these volunteers' bags.
Sustainability is at the core of everything we do at Temasek. This article is part of Generational Investing, an ongoing series featuring individuals and activities that create a better world for future generations, through creativity, innovation and sustainable practices.

Believe it or not, Singapore is currently home to about a third of the world's hard coral species. Unfortunately, we have lost over 60 percent of our coral reefs through land reclamation, and will likely lose more to climate change and marine litter, particularly plastic waste, which is one of the largest sources of ocean pollution.
A group of keen nature lovers is literally diving in to slow this decline.
These Singaporeans Pick Up Trash…as a Hobby
Singapore's murky seas are not the stuff of dreams for diving enthusiasts.
Many of us complain about their pea-soup conditions and take off for diving expeditions in clearer waters abroad. But a team of conservationists is taking active steps to tackle some of the biggest marine pollutants in our backyard — both as a job and hobby.
In June 2017, Dr Toh Tai Chong, 33, and Sam Shu Qin, 29, formed Our Singapore Reefs (OSR) — a non-profit group that aims to protect local coral reefs from marine trash through education, awareness and action.
"As marine biologists, our job requires us to dive frequently in different parts of Singapore. Through these dives, we came to realise that there was a staggering amount of trash on our reefs," says Shu Qin, who works with Dr Toh at the National University of Singapore's Tropical Marine Science Institute (TMSI).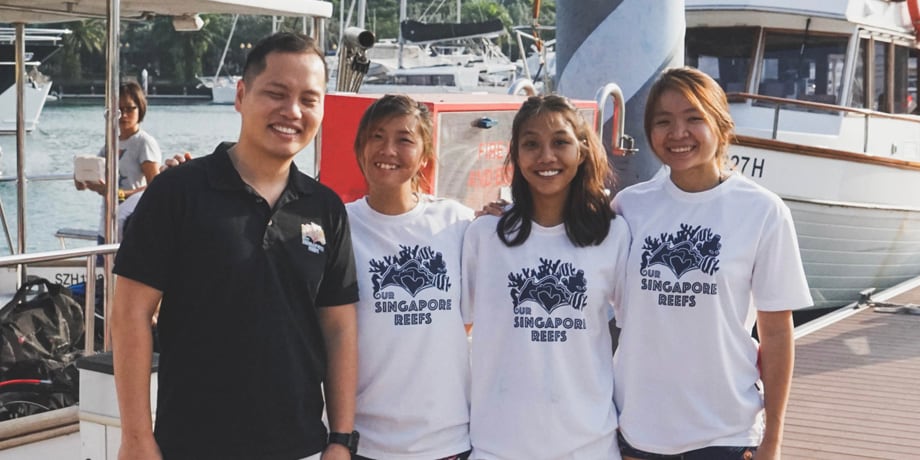 Along with two other members, Yvonne Chang, 29, and Lynette Ying, 28, OSR conducts underwater cleanups, collecting trash left stranded or lodged between corals and plants at seawalls and coastal reefs skirting the Southern Islands in Singapore. These isles are what local marine biologists consider trash "hot spots" — having become known depositories for human garbage.
Corralling Support for Singapore's Reefs
To tackle marine waste on a larger scale, the group regularly invites volunteers to join their cleanups.
"We feel that it is important for all parties to conserve Singapore's reefs together. As such, our goal is to have OSR function as a platform for organisations to work closely with the public on marine conservation efforts," says Shu Qin.
There's no need to worry about scuba diving gear or equipment, diving permits or boat fees; these are usually covered by OSR's various partnerships with dive centres, statutory boards and conservations groups such as the International SeaKeepers Society.
You will just need to have advanced diving certification from a reputable international training outfit, and have made at least 20 dives in the past two years, with a minimum of one dive in Singapore.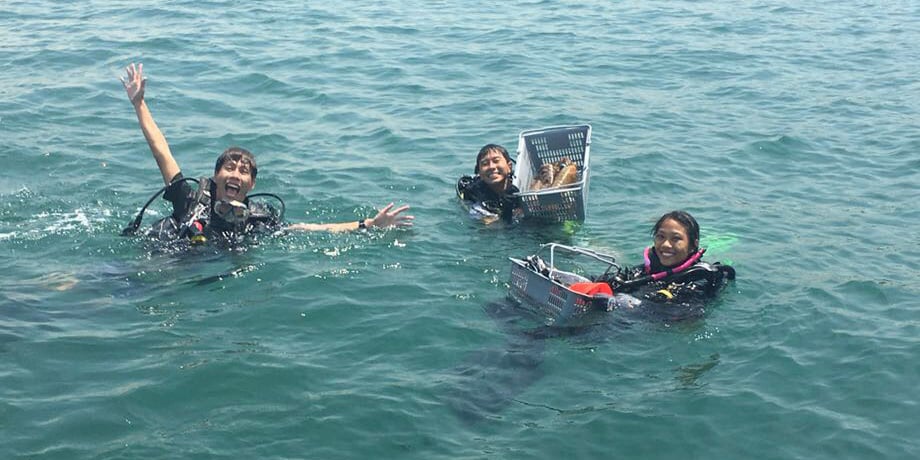 Diving Against Debris
Take a dive with these conservationists and you will come face-to-face with bleached coral reefs, blanketed by plastic waste, metal shrapnel and a curious object or two.
Bleaching occurs when corals are stressed by changes in water conditions, commonly triggered by rising water temperatures and pollution. Prolonged bleaching can lead to the death of these marine invertebrates, which in turn affects animals, like fish and sea turtles, that rely on them for food and shelter.
In Singapore, plastic waste is one of the main culprits responsible for damaging our coral reefs.
"Plastic debris affects corals by 'smothering' them from sunlight, which they depend on for food," says Lynette, highlighting that the most common items found on their dives are plastic bottles and bottle caps.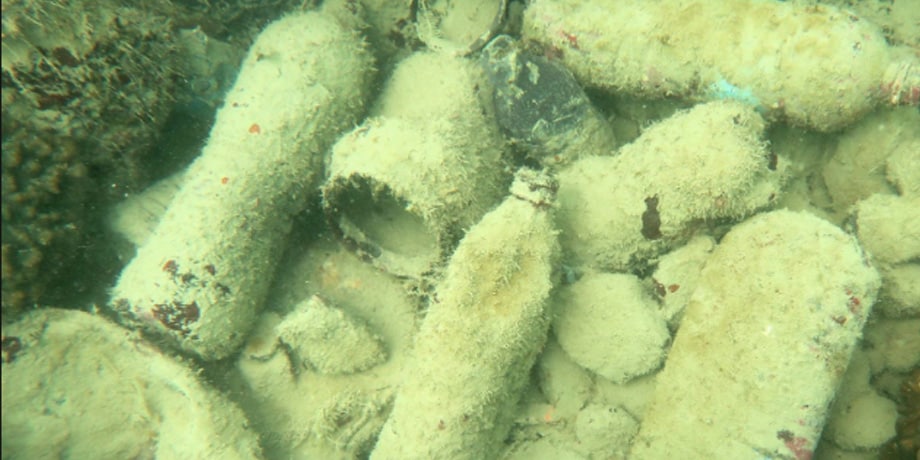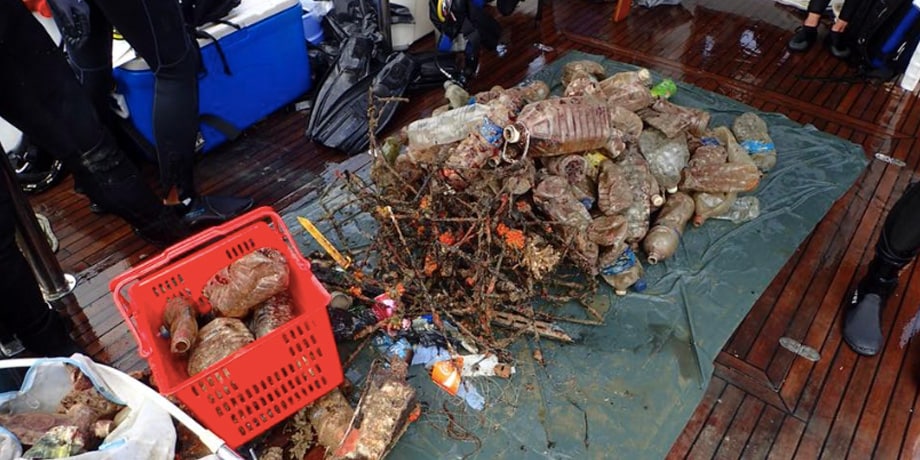 But, marine trash isn't limited to plastic waste. While cleaning and rescuing corals, OSR also comes across larger items, which are typically found in scrapyards. These include ship anchors, boat batteries, paint cans and even discarded shopping trolleys marooned on our reefs.
Our Sea, Our Responsibility
To date, the conservation group has led three reef cleanups and collected about 270 kilogrammes of trash — that's equivalent to more than 870 iPad Minis strewn across our seabeds.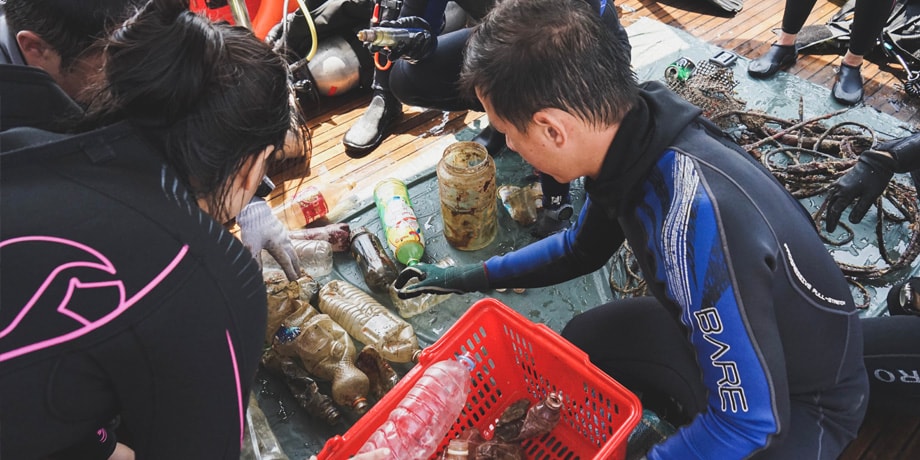 To widen their conservation efforts, the group is hoping to extend their marine excursions to a unique group of volunteers — people with hearing impairment.
"Both divers and individuals with hearing loss have a similar form of communication: sign language. If we can find a way to teach divers [Singapore Sign Language], then diving can become an activity for the deaf and make them feel integrated with the rest of society," Shu Qin explains.
Examine the difference between sign language and scuba diving signs!
Through their work, these passionate environmentalists hope to raise awareness of the impact of human activity on our marine ecosystem — not just among working professionals and the diving community, but also among the younger generation.
"It is important to instill respect for the environment in children and youths. The young are our future, and our hope is that they will step up and lead the nation in marine conservation," says Shu Qin.
Here at Temasek, we place sustainability at the core of everything we do. We strive to build a better world, always with tomorrow in mind.