Garden on Wheels
Singapore prides itself as the Garden City. From manicured trees along the roads to verdant plants on building roofs and walls. Now, a new type of garden will sprout – on the roofs of public buses.

Singapore gets so scorching hot that you can actually fry an egg on rooftops. According to Meteorological Service Singapore, the island is heating up twice as fast as the rest of the world, at 0.25 degrees Celsius per decade. It is almost 1 degree hotter today than in the 1950s.
The city-state's built-up space traps heat, making buildings and, in particular, roofs much hotter, reaching up to 70 degrees Celsius, than the daily temperatures of around 30 degrees Celcius.
A local start-up, GWS Living Art, does just that. Founded by 27-year old Mr Zac Toh, the company is responsible for the iconic five-storey vertical garden at Changi Airport Terminal 3, and a green roof on Ang Mo Kio MRT station.
But beyond cooling down buildings, he wants buses to be transformed into green oases.
Its purpose is more than just aesthetics.
Apart from absorbing the city's noise and air pollution, the garden could serve as a cool roof on the buses, which reflects more sunlight and so, absorbs less heat.
This could translate to greater energy and cost savings as buses do not have to turn the air conditioning to the maximum.
Zac brought the idea to Temasek Foundation who funded the retrofitting of 10 buses with green roof and a three-month study that investigates whether having a green roof will reduce the internal temperature of the bus, and in turn cause a drop in fuel used for air-conditioning.
For a start, these buses will ply our roads islandwide beginning May 2019 and Dr Tan will examine the effects of green roof atop buses, including measuring the changes to surface and air temperature of the bus.
While a similar idea was implemented in Spain in 2013, Singapore's green roof buses will be the first in Asia.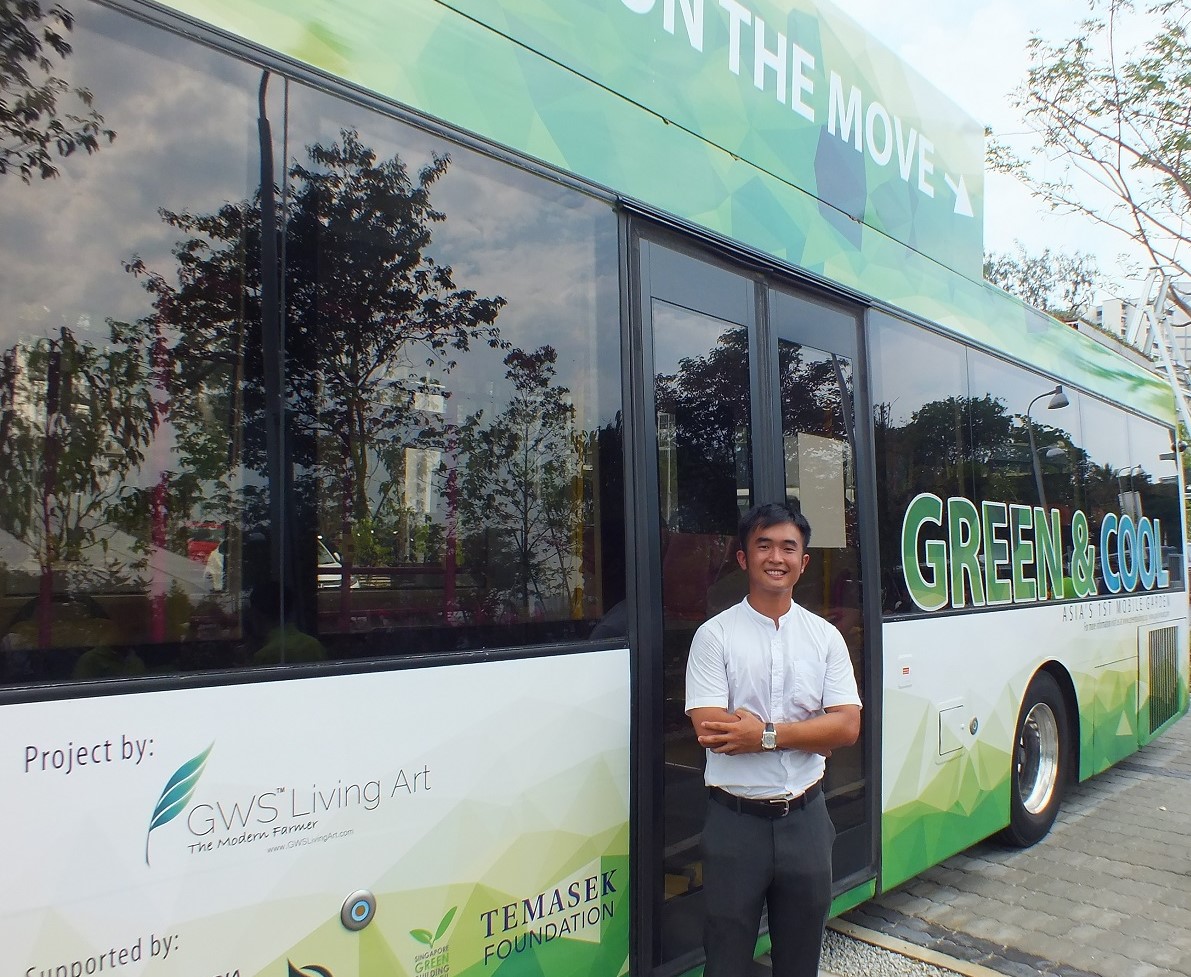 A lightweight, durable garden
The idea first began when Mr Toh's friends, aware that his company built green roofs and walls for buildings, asked him in jest to try installing a green roof on his own car.
"They wanted to challenge me if I could make use of another unused urban space – this time on moving vehicles," he recalled.
That sparked the idea of trying it out on buses, which would have a bigger impact.
However, the key consideration was its weight. A green roof that is too heavy would burn more fuel to move the bus, defeating the purpose.
In response, he devised a garden that could thrive on a mat-based system, which
doesn't need soil. Instead, it uses an ultra-light, thin foam that is composed of recycled fibre, which would not be too heavy and negatively impact the vehicle's performance.
It is made up of two species of plants – Wedelia trilobata and Cyanotis axillaris –because of their tough and carbon-absorbing qualities.
It also requires minimal irrigation. Water from rain and during the washing of buses would be sufficient, he added.

Beyond Cooling
Besides potentially reducing heat, the benefits of such green roof buses could be multi-fold, Dr Tan noted.
One, it could expand the garden space in the urban environment. Two, it could increase the amount of absorbed carbon dioxide. Three, it gives a new attractiveness to public transport.