Transcript: Welcome Remarks by Lim Boon Heng at Temasek Philanthropic Appreciation Lunch 2019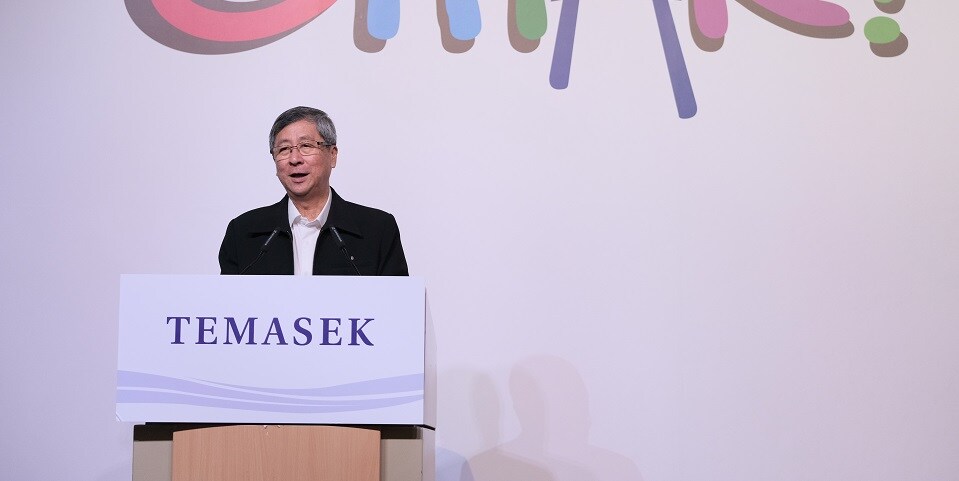 Minister for Health Mr Gan Kim Yong,
Trustees of Temasek Trust,
Our philanthropic partners,
Ladies and gentlemen,

Thank you for joining us today.
The first part of what I was going to say was about Temasek Trust ecosystem – the philanthropic ecosystem – and since it has already been mentioned just now at the panel discussions, I will skip that and instead I'm going to take up two points which struck me this morning.
The first is the call by the first panel about the need for collaboration among our different VWOs or charities. This is not a new issue. Over twenty years ago, the then Minister of State for Community Development, Youth and Sports Mrs Yu-Foo Yee Shoon recognised the need for that and encouraged the setting up of the community network in different constituencies. I think that has disappeared, because the task of bringing people together to collaborate is difficult. So now, this morning, something has emerged which is different from what was discussed over the years ago, and that is that we need to create platforms for people to collaborate. So, can we now do this and not wait for another twenty years before it happens?
This brings me to what I think about the philanthropic sector – we have too many small-scale ventures and this derives from the view that we ought to have many helping hands, that we need to encourage many helping hands.
I think the idea is good. We should encourage this of our people. But how do we enable those who start enterprises to scale? Otherwise we will be trapped in having to deliver services to the disadvantaged in our society at a very high cost. How do we develop scale? So today I'm going to throw a challenge to the NCSS – that your role should be really of helping all the helping hands who start enterprises to scale. And if we can have that happen, we don't need to wait another twenty years.
That's the first point. The second point is about loneliness. Loneliness in Singapore has been exacerbated by our policies, and the policy of encouraging Singaporeans to own their homes, resulting in young people buying new homes, leaving their parents. And today in many constituencies you find aged parents living by themselves. We have an increasing number of people who live alone because one spouse has passed on, or that they are people who had remained single.
So how do we tackle loneliness? My view is that we have to reorganise our society. We can no longer, as Minister Gan was saying just before coming into this hall, that we can no longer depend on the family or the extended family to provide the support. So what is the solution? The solution is the community. How do we as a community reorganise ourselves to provide the mutual support that everyone would need at some point in his or her life.
Whilst the focus this morning has been on work or what a number of you have been doing, and thinking about, one thing that was missing even though Hak Seng was present, was to mention the work of the People's Association which he knows very well.
We have the wellness programme which started in 2008 which focuses on enabling our seniors to live healthy and happy lives – by encouraging them to be mentally active, physically active, and socially active, so MPS. MPs would think MPS refers to something else. But MPS – mentally, physically and socially.
This has been ongoing for over ten years now. It is the 11th year and reaching out to more than half a million elders or seniors in Singapore, aged 60 and above. It is work not completed, work still to be done, and if we can organise people to look after their health, to be socially connected, then you provide the possibility of mutual help among our own citizens.
If you wake up early, and you go to for example Bishan-Ang Mo Kio park, every morning, you'll find a number of groups there, with their portable music blares, doing qigong or taichi. Without fail; every morning. If you don't believe me, go there at six o'clock in the morning tomorrow.
Now when you have groups like that, who come together regularly, they build deep friendships. If one is missing, the others will enquire about them. If one doesn't look too happy, the others will want to know why. And this is the mutual support they were trying to encourage. And so we should look at all these things and ask ourselves, can we do better, reorganise ourselves so that we can tackle not just the issue of loneliness among seniors, but also how we can better co-ordinate among ourselves so that we don't have people providing the same service to the same beneficiary, like double packet of food. Or as somebody told me once, a volunteer who brought disadvantaged children to the Underwater World which was then one year old, noticing one of the boys being very disinterested; asking him, "aren't you excited about this facility here?". The boy looked up at him and said, "third time already". So today there are stories related to other attractions like Gardens by the Bay and the like. We have to look at ourselves, as a society of how we can better co-ordinate among ourselves so that we don't have this duplication and waste of resources.
These are the two points I thought I would like to make, in place of talking about the ecosystem that we have. But now I must also go back to what I already prepared – to talk about Temasek Shophouse.

Temasek Shophouse
In June this year, we opened the Temasek Shophouse at 28 Orchard Road – next to MacDonald House. It is an ideal location that is easily accessible to all.
The Temasek Shophouse is a social impact hub. It's our gift to the community; symbolic of our commitment to do community good.
Today, Temasek Shophouse is buzzing with activities, and let me give you some examples:
Temasek Shophouse makes it a point to look at employment opportunities for marginalised groups where possible, and to promote social inclusivity.
Our cleaning company Spic & Span, as well as our café Foreword Coffee, train and hire people who are differently abled and may have special needs.
The public gallery at the Temasek Shophouse is also home to a refurbished piano made possible by Play it Forward, a local piano movement aiming to bring new life to discarded musical instruments.
The Ministry of Culture, Community and Youth also use it as a venue to conduct weekly consultation clinics for small charities with a passion for doing something positive with the community. It's good to see MCCY being present at the Temasek Shophouse. It'll be good also if other Ministries or agencies that want to support the volunteering sector to be present as well.

Health and Wellness Endowment

I would like now to update you on our 19th endowment – the Health and Wellness Endowment – announced at last year's Appreciation Lunch. The endowment's first initiative is Project Silver Screen, launched by Health Minister Gan last year.
Project Silver Screen is a one-stop functional screening programme for Singaporeans aged 60 years and above. Today, I'm happy to share that ten corporate donors, as well as members of the public, have committed S$5 million to this cause. This marks the first time that external donors have joined Temasek to support one of our Foundation's programmes. This is an example of not just "Doing Good", but "Doing Good Together" and Temasek Trust will build on this momentum to encourage an inclusive movement of giving.
I'm grateful that Minister Gan is here with us today, and he'll be presenting tokens of appreciation to the donors and partners who made Project Silver Screen possible. And since this morning we mentioned about what is the impact that we should make – Project Silver Screen has a target of reaching out to 400,000 persons. I think that to me is a meaningful impact – about half that population; about half that cohort.

The Great Singapore Replay
Later on, there'll be performances by young music talents participating in the second season of The Great Singapore Replay, one of Temasek's community engagement initiatives. This programme aims to nurture young artists in Singapore.
For the second season, the music industry and five established artists will work with aspiring talents to create 10 new Made-in-Singapore songs. I hope you will enjoy their performances later.

In Appreciation
In closing, I want to thank the Board members and management teams from Temasek Trust, Temasek Foundation, Stewardship Asia Centre, and their partners, all of whom worked relentlessly over the past year to deliver meaningful programmes to our communities.
Your leadership, active involvement, and passion have enhanced the well-being and uplifted the lives of many in Singapore and beyond.
Also present here are Temasek portfolio companies, valued partners of Temasek's philanthropic ecosystem, and many friends across the health cluster. We want to learn from your experiences, and together with your support, we hope to explore collaboration opportunities so that we can make a bigger difference to many in our community.
Thank you for joining us today, and please enjoy lunch!