Portfolio Performance
We are owners of our portfolio, working to deliver sustainable value over the long term to our stakeholders.
Value since Inception
We grew with Singapore in our early years. In 2002, we stepped out to build a second wing of growth with a transforming Asia. We have since increased our exposure outside Asia to capture global opportunities in line with our structural trends.
Our developed markets exposure is now 64% of our portfolio and our growth markets exposure is 36% of our portfolio as compared to 58% and 42% respectively in 2013.
Our initial portfolio in 1974 reflected Singapore's early stages of industrialisation. Some of these companies, and others added since, have grown into iconic Singapore brands, such as the Singapore Zoo. Others, like DBS and Singapore Airlines, have transformed into regional and global champions. As at 31 March 2023, 54% of our portfolio comprised companies headquartered in Singapore.
We focus on trends driven by technological advances that cater to demographic shifts and sustainability objectives, transforming business models, or shifting consumption patterns.
We continue to seek companies that create new opportunities through innovative and sometimes disruptive solutions.
As at 31 March 2023, our net portfolio value was S$382 billion.
The chart below shows the growth of our net portfolio value since its inception in 1974.
The blue area reflects our portfolio valued on a mark to market basis, which is subject to greater volatility caused by external events.
The pink area reflects our shareholder equity. From the financial year ended 31 March 2006, the accounting standards require sub-20% investments to be marked to market.
The yellow dashed line reflects our shareholder equity excluding mark to market movement of our sub-20% investments.
1 Incorporation of Temasek on 25 June 1974.
2 Financial year 75 began on 25 June 1974 and ended 31 December 1975.
3 Financial year-end was changed from 31 December before 1993 to 31 March from 1994 onwards.
4 From the financial year ended 31 March 2006, the accounting standards require sub-20% investments to be marked to market.
For more information on how our Net Portfolio Value relates to our Total Shareholder Return, click here.

What is Net Portfolio Value?

How do we value our portfolio?
Temasek's portfolio is made up of listed and unlisted investments, other assets and liabilities. We derive our portfolio value1 based on share prices2 as at our financial year end every 31 March for listed investments and book values3 for unlisted investments.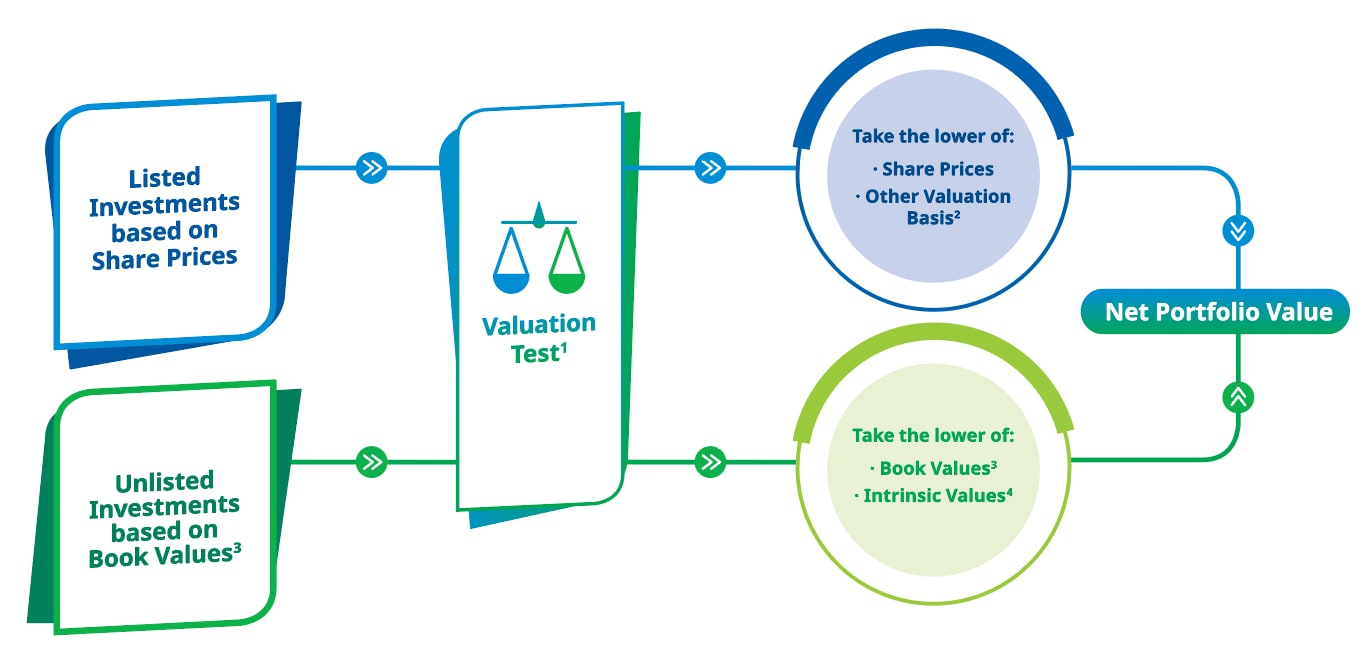 1 Audited as part of statutory audit.
2 For listed investments, other valuation basis will be used if share prices are not representative, e.g. insufficient trading frequency or volume.
3 Book value refers to Temasek's cost of investment plus share of investee company's profits or losses, changes in other equity reserves, minus write down (if any).
4 Current value of the projected future cash flows of the investee company.

S$382b

Net Portfolio Value
Up S$167 billion over the last decade
Net Portfolio Value (S$b)

S$31b
Invested during the year
Invested S$326 billion over the last decade
Investments & Divestments (S$b)
(for year ended 31 March)

63%

Exposure to Asia
Singapore exposure up S$42 billion over the last 10 years
Portfolio by Geography1 (%)
Net portfolio value (S$b)
1 Distribution based on underlying assets.
2 2004-2010 restated on a comparative basis.
(as at 31 March)

53%

Exposure to unlisted assets
Unlisted exposure up from 27% to 53% over the last 10 years
Portfolio by Liquidity (%)
Net portfolio value (S$b)
1 Mainly cash and cash equivalents, and sub-20% listed assets.

(as at 31 March)