Bringing Swab Tests to the Heartlands
Bringing Swab Tests to the Heartlands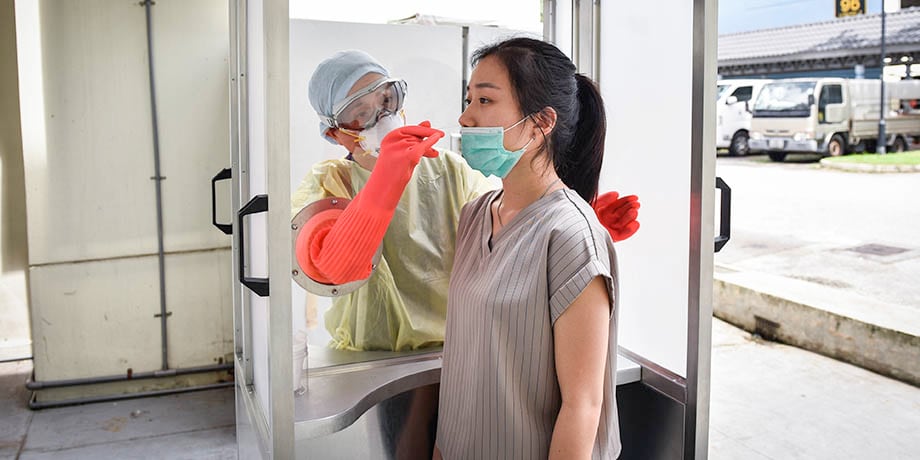 In March this year, Dr Teo Boon See's interest was piqued when she read in the news of portable booths that were being used in countries such as South Korea to conduct COVID-19 swab tests.
The general practitioner (GP) had been thinking of conducting swab tests at her clinic, Camry Medical Centre at Toa Payoh Lorong 4, as she wanted to do her part to help Singapore fight the coronavirus. However, she also wanted to ensure that she and her staff were protected.
Dr Teo felt that swabbing booths could address her safety concerns. The booths she saw provided an additional layer of protection for healthcare workers as they, and the person being swabbed, stand on opposite sides of the booth panels. They see one another through clear plastic panels, and the swabbing is done via a set of latex gloves fitted to the booth.
"Sometimes, patients sneeze or cough when they are swabbed. The booth protects the doctor from coming into contact with respiratory droplets," says Dr Teo.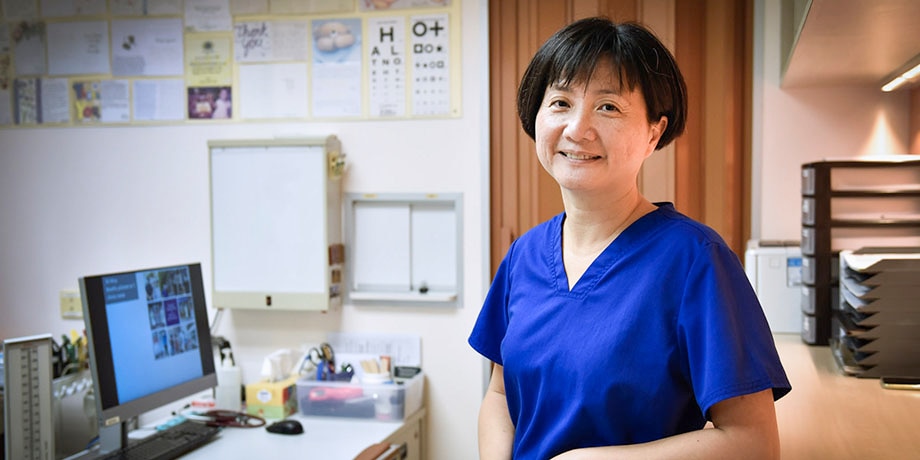 Subsequently, Dr Teo heard that a team from Temasek was developing an affordable mobile swabbing booth that could be used at neighbourhood Public Health Preparedness Clinics (PHPCs).
"At Temasek, we believe that corporates, together with the government and the community, must all do our collective part to defeat the COVID-19 pandemic. Through Temasek Foundation, we have been contributing towards the national effort of increasing the capacity for swab testing in Singapore," says Khoo Yi-Lin, an Associate Director at Temasek's Investment Group and a key member of this project.
"The swab booths are another example of how we've been partnering various groups to trial and implement solutions that could potentially curb the spread of the virus," she adds.
The idea was to make these booths available to GPs, so that more would be comfortable with conducting swab tests. In turn, this would help to increase Singapore's swabbing capacity.
Dr Teo contacted the Temasek team to request for a booth to use at her clinic. She found out that the project team and ATC, a local precision engineering company which had been roped in to build the booths, were still in the process of refining the booth's design.
With over two decades of medical experience, Dr Teo volunteered to share her insights with the team. She was among a handful of GPs who provided feedback on the design of the booth, and helped develop the prototype into a practical design that would meet the needs of healthcare workers in neighbourhood clinics.
One key suggestion she raised resulted in a "slim fit" booth design that allowed it to be pushed through clinic doorways. This was important so that the booth could be used outdoors, and stored in the clinic at the end of the day.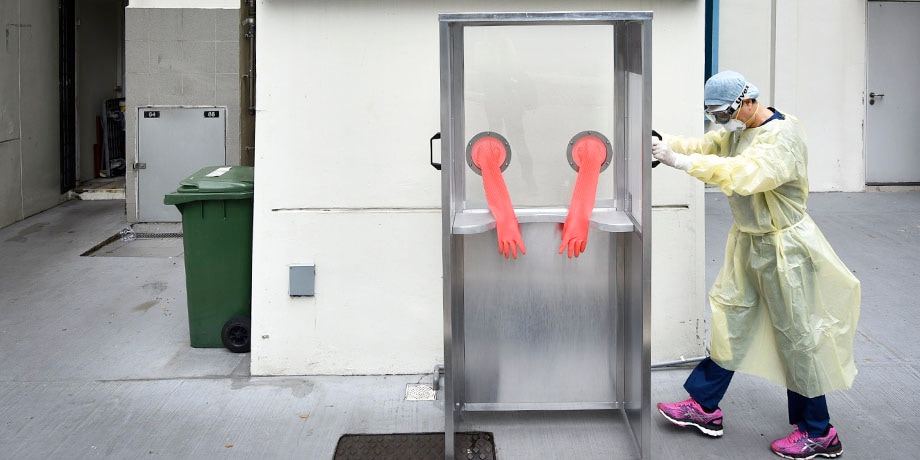 A Safer, More Convenient Swabbing Process
By May, a slimmer prototype that is lightweight and can be wheeled around easily was produced.
Today, the booth, which is named COSMO (COVID-19 Swabbing Mobile Booth) SafeSwab Slim, is on trial at more than 100 clinics across Singapore. Doctors who are taking part in the trial receive the booths free of charge. In return, they are asked for feedback which will be used to further improve the design and functionality of the booths. It is estimated that around 170 PHPCs were part of the trial programme at the end of July.
The booth has an aluminum frame and polycarbonate panels. It is sprayed with a self-disinfecting antimicrobial coating that lasts up to six months. To further miminise the possibility of virus transmission, latex gloves are attached to the panel, which swabbers will insert their hands into before collecting the sample.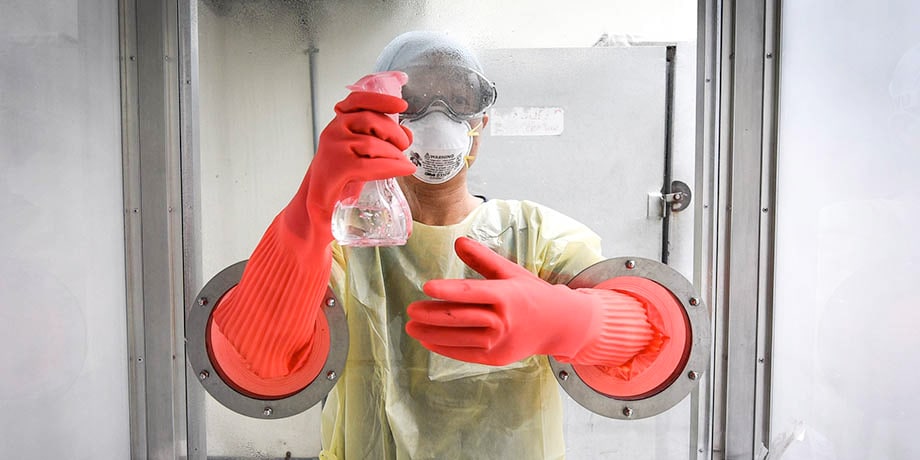 Temasek's Khoo shares that the company understands the importance of ramping up the swabbing capacity in Singapore for the long term. With more tests being conducted, cases could be identified more quickly, and transmission can be controlled better. To do this, it is important for more doctors in neighbourhood clinics to start conducting swab tests.
"However, the doctors shared with us that they were hesitant about doing the swab tests because of the risks involved. The booths could play an important role in increasing our swabbing capacity if they help to make the process safer and in turn, encourage more doctors to conduct the tests," she explains. "It's about going through the journey together with the doctors to understand their needs."
Marcus Sia, managing director of ATC, says: "We had to ensure that the design is user friendly. Doctors, who are the end users, have to like using the booths."
While the booth has received positive feedback so far, producing the prototype came with challenges.
The team had to balance the need for customisation, such as designing booths of varying heights to accommodate doctors of different statures, and standardisation. They finally decided on a design that would meet the needs of most doctors and could potentially be produced in large quantities in a short period of time.
There were also difficulties in sourcing for different parts of the booth such as wheels and gloves due to global supply chain disruptions amid the pandemic.
The team pressed on, dug deep into their network of contacts and suppliers, and worked around the clock to overcome these obstacles.
Doctors who are trialing the booths said they are thoughtfully designed and meet their needs.
Dr Jean Yim, of Yim Medical Centre in Admiralty, says it is useful that the booth can be used outdoors. She shares, "The booth is situated outside my clinic, so that solves my problem of needing an isolated room to conduct the swab tests and decontaminating it after every patient, which can be very difficult and tedious."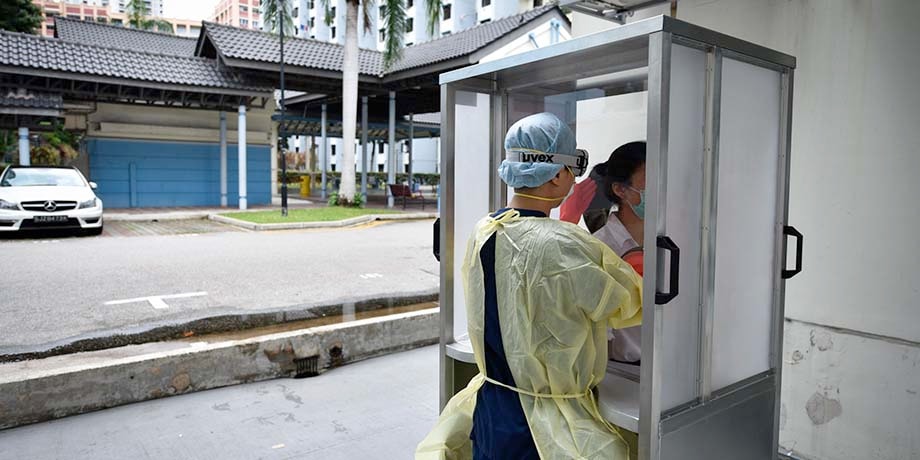 Patients interviewed who had been tested at their neighbourhood clinics say the process is now much more convenient, and the booths make it a more comfortable experience.
Sharlene Toh, 32, who works in the advertising industry, says, "The booth provided some privacy as the panels are frosted and I was facing a wall."
Adds retiree Madam Teo Moi Moi, 76, "It is more convenient to take the swab test in my neighbourhood clinic instead of having to go to a hospital."
Proud to have played a part in the booth's creation, Dr Teo is hopeful that the spread of the coronavirus in the community can be curbed with more tests being carried out at neighbourhood clinics.
"By swabbing sick patients immediately once they come to us, we can pick up COVID-19 cases early. Hopefully this will help to keep community cases under control as Singapore reopens," Dr Teo says.
Temasek's Khoo agrees. She adds, "We are very thankful to have found partners like Dr Teo and Mr Sia who are passionate, enterprising and share our sense of responsibility to be stewards for our community. It is with this common purpose to do good that we have been able to navigate complexity in such unprecedented times."