Contactless Technologies: How Tech Powers Life during COVID-19
Contactless Technologies: How Tech Powers Life during COVID-19
The COVID-19 pandemic has changed our lives in ways few would have anticipated. Shopping for groceries at the supermarket or eating out with friends and loved ones is no longer business as usual. Groceries sent to our doorsteps and food delivered to virtual dinner parties are increasingly becoming the norm rather than the exception.
Faced with lockdown restrictions earlier this year, shoppers around the world turned to e-commerce out of necessity. Even as such restrictions are being lifted gradually, consumers' appetite for online shopping shows no sign of dissipating. Analysis of hundreds of millions of e-commerce transactions from global merchants by ACI Worldwide revealed an 81 percent rise in global e-commerce sales in May, compared with the same period last year.
This new reality has also seen the adoption of cashless and contactless payment methods surge in recent months, as more consumers prioritise hygiene and security in their shopping experience. A Mastercard study found that 79 percent of consumers worldwide prefer to tap to pay due to the coronavirus pandemic, with hygiene being a top reason.
Some companies like Meituan Dianping are quickly adapting and responding to customers' preference for contactless shopping by trialling driverless vehicle deliveries in Beijing, China, limiting contact between consumers and employees.
"We have seen COVID-19 accelerate the adoption of e-commerce, digital payments and software around the world. This disruption creates a big opportunity for companies to relook at the way they engage their users and customers," says Nigel Lin, Director of Telecommunications, Media & Technology at Temasek, on technology's role in the current crisis.
Here's a look at how contactless technologies are helping to keep societies going and keep us safe as we're adapting to the "new normal".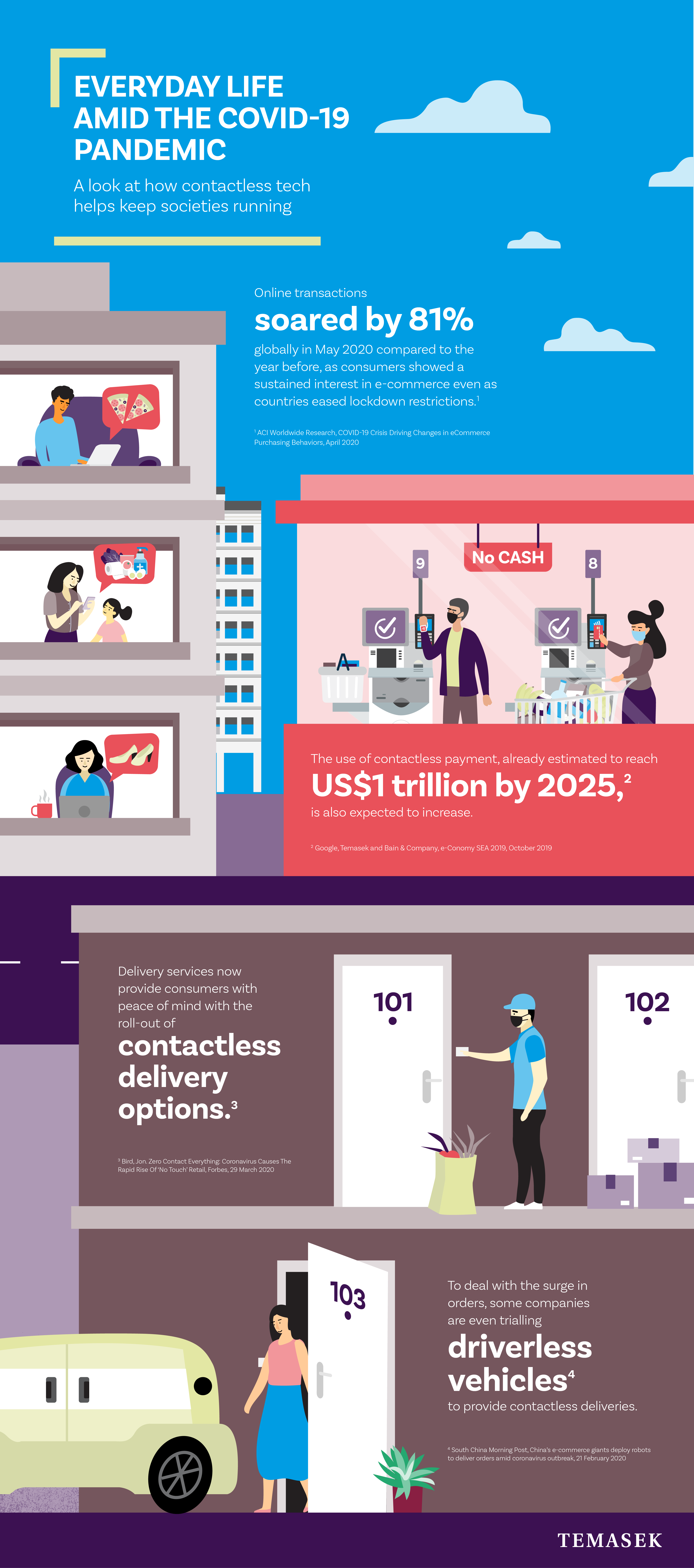 Temasek invests in Meituan Dianping, Mastercard, and other companies that are using tech to shape a more connected world.