Foreword Coffee: An Inclusive Cafe that Develops Potential — Temasek
Foreword Coffee: An Inclusive Café that Develops Potential
In Brief
Foreword Coffee is a social enterprise that uses coffee as a medium to provide employment and help differently abled individuals to reach their potential.
The founders build up the competence and confidence of staff members in accomplishing café tasks by tailoring to their unique needs.
What drives the coffee company's people and mission is cultivating greater understanding and social inclusivity for these individuals.
Sustainability is at the core of everything we do at Temasek. This article is part of Generational Investing, an ongoing series featuring individuals, organisations and activities that create a better world for future generations, through creativity, innovation and sustainable practices.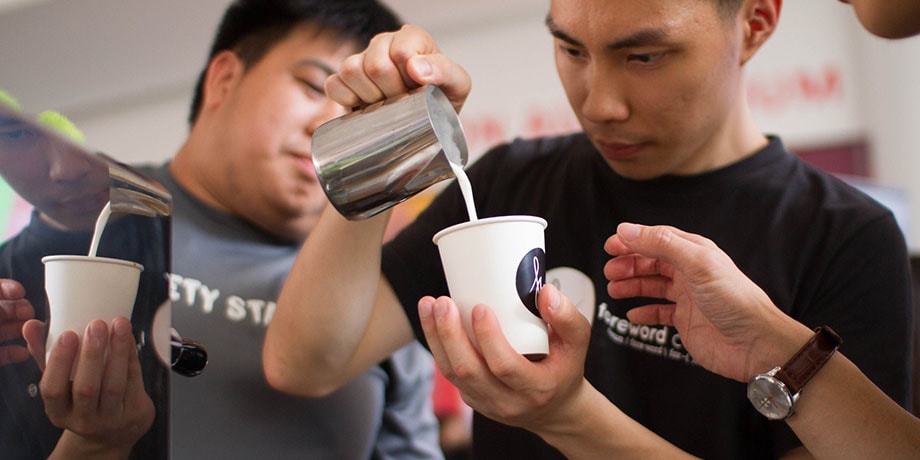 Step into Temasek Shophouse on the tail end of Orchard Road, and you are immediately drawn to the bustle of the café that occupies a third of its ground floor. At 4pm on a Wednesday afternoon, most of the seats are occupied by groups of professionals and students, and the open-concept café is abuzz with conversation.
This is Foreword Coffee's third outlet, and it has already garnered a sizeable group of regulars, many of whom drop by daily for a cup of sustainable brew, says founder Lim Wei Jie.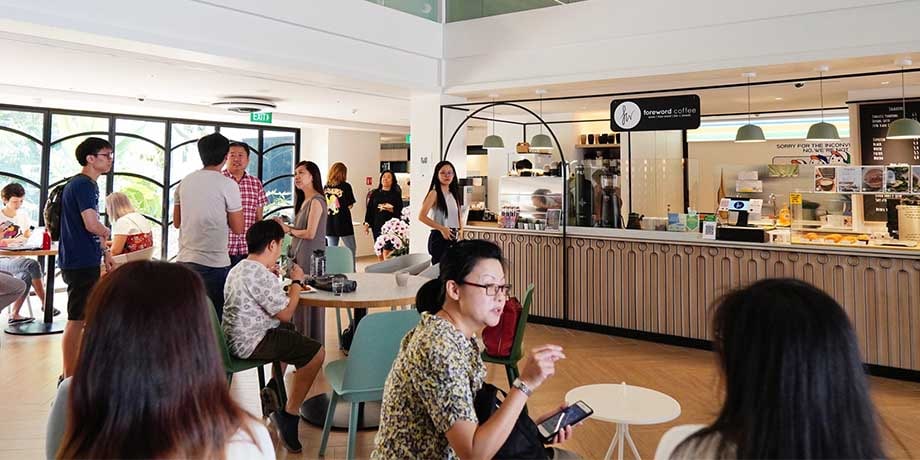 Manning the counter is Jason Kuan, who always farewells customers with an enthusiastic "have a good day!" as he serves their coffee. Without diving into conversation with him, it's hard to tell that the 22-year-old is on the autism spectrum. Kuan is among the neurodiverse, or physically challenged and differently abled individuals that make up the majority of Foreword Coffee's 20-strong workforce.
For Temasek Shophouse, having a social enterprise like Foreword Coffee on its premises was a deliberate decision. "It's about making it a true social impact hub where we learn to do good together," explains Yvonne Tay, Director of Social Impact at Temasek Trust.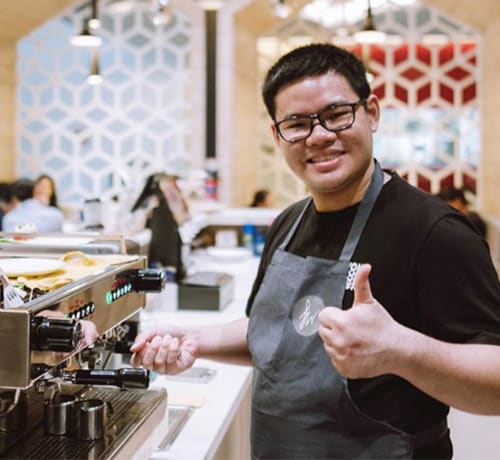 Like several of his colleagues, Kuan is no stranger to the struggles of securing employment. After leaving his previous job as a customer service officer in the middle of 2018, he spent close to 12 months sending out job applications to no avail — until a mutual friend connected him with Lim in June. Foreword Coffee was the only company that offered to interview Kuan after receiving his application.
"I never expected [Lim] to call me back," says Kuan. "It felt like such a blessing."
What's in a (Fore)Word?
Café owner Lim had wondered for a long time what could be done to help further the inclusion of people with autism and differently abled individuals in society.
Friends with siblings who have additional needs, along with a stint in a community leadership programme during university led Lim to realise an unfortunate reality: while those with special needs are generally well-cared-for in their school going years, their days tend to only involve either going to an activity centre or staying at home once they graduate. Neither of these scenarios are stimulating, or lead to sustainable careers and independent lives.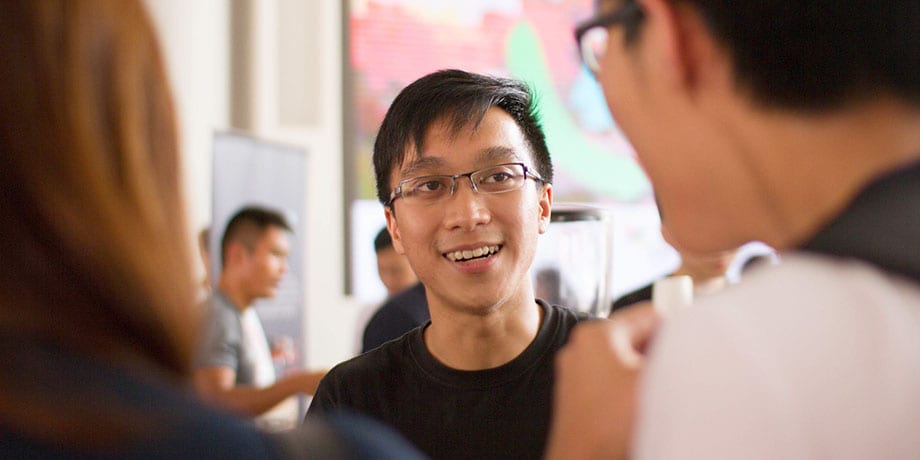 Recent data provided by the Singapore Ministry of Manpower on the employment rate of persons with disabilities found that only about three in 10 such individuals of working age are employed. The remaining two-thirds cited poor health or disability as main reasons for not holding down a job.
Lim wanted to help turn the situation on its head — and found a way to do so through Foreword Coffee, the social enterprise he helped found in 2017.
"Foreword Coffee's mission is admirable," says Tay. "Not only are they dedicated to the craft of good coffee-making, they ensure training, career progression and a conducive work environment for their differently abled staff members as well."
Finding the Right Fit
Two years on, Foreword Coffee has built a formidable team that serves daily cuppas across its three outlets in Singapore. But creating an inclusive workplace that takes into account the needs of its uniquely abled and diverse staff isn't without its challenges.
"The question is, how do you create standard operating procedures for people who are not-so-standard?" quips Nadi Chan, the café's other co-founder. "Everyone faces unique challenges in accomplishing tasks in the cafe, so solutions have to be tailored."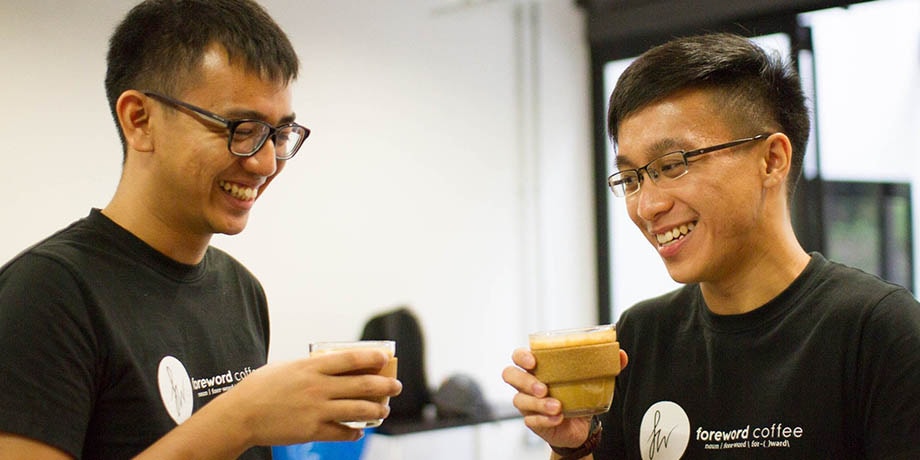 For example, the coffee machine used at the Temasek Shophouse outlet has a lever-operated milk steamer instead of a conventional knob-operated one. This allows employees with weaker fine motor skills, such as those with cerebral palsy, to easily toggle the steamer on and off.
Both founders also pay close attention to the strengths and personalities of their employees, to assign them with roles they are best suited to. "It's about finding a good balance between the two," explains Lim. Foreword Coffee's cashiers, for example, are staff who are more outgoing and enjoy interacting with customers, as well as those who might find having to brew coffee under time pressure to be challenging.
The Emotional Secret Ingredient
Tailoring to the diverse needs of their unique staff requires Lim and Chan to be able to stand in their shoes. For this, the two have found the antecedent-behaviour-consequence (ABC) model to be incredibly useful. This functional behaviour framework helps them focus on the causes (antecedent) of their staff's behaviour, rather than the behaviour itself, so that management can create a positive learning experience (consequence) for their staff.
The approach has been beneficial for staff when receiving feedback. Kuan, for example, shared previously that his mental health challenges cause him to feel emotionally wronged when criticised. Once a problem for him in his previous job, Kuan now accepts feedback more readily, notes Lim.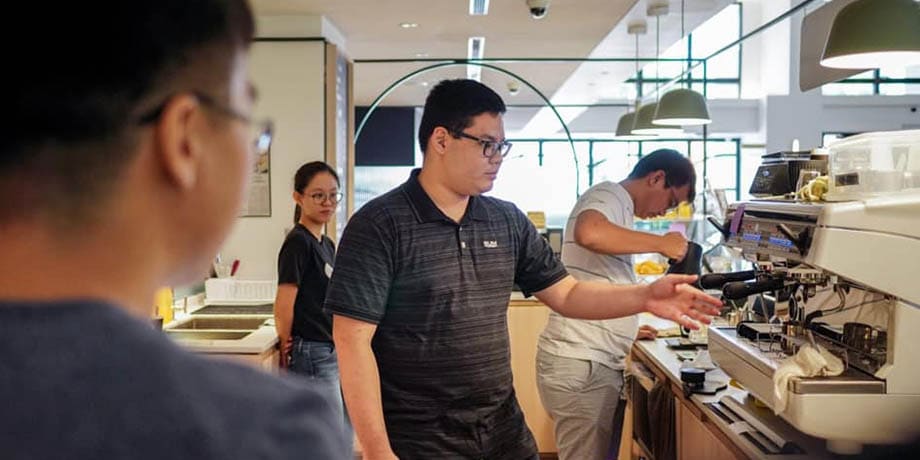 "[Lim] being strict with me doesn't mean he's done with me. He's not giving up on me," says Kuan. "He wants to see every single colleague in Foreword Coffee grow and develop."
Only four months into the job, Kuan has already learned the ropes of coffee-making. He is also among the staff who accompany Lim and Chan to events, where he assists with coffee-brewing and interacts with participants.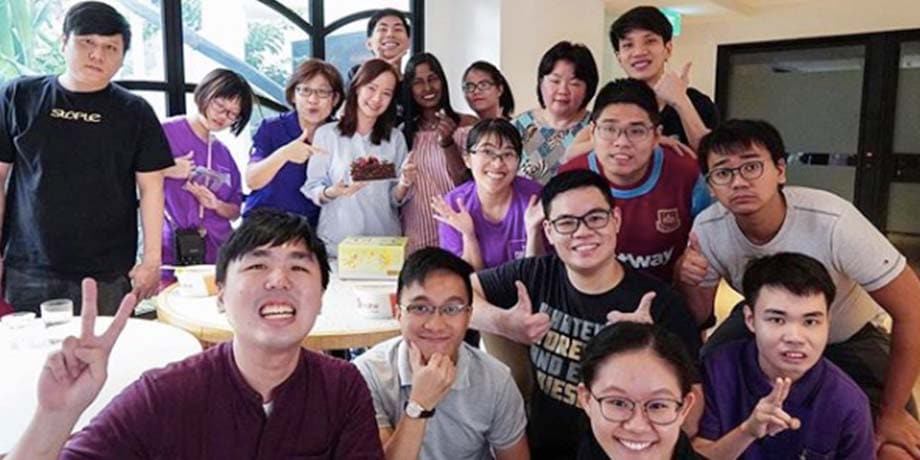 Such exchanges enable Foreword Coffee to cultivate understanding towards individuals who meet physical, sensory and social challenges every day.
"Having a social enterprise like Foreword Coffee in Temasek Shophouse helps our own employees and visitors to learn to work and communicate in a more inclusive environment," explains Tay. "We have learned to be more patient when placing our orders, and a few of us have even picked up basic sign language."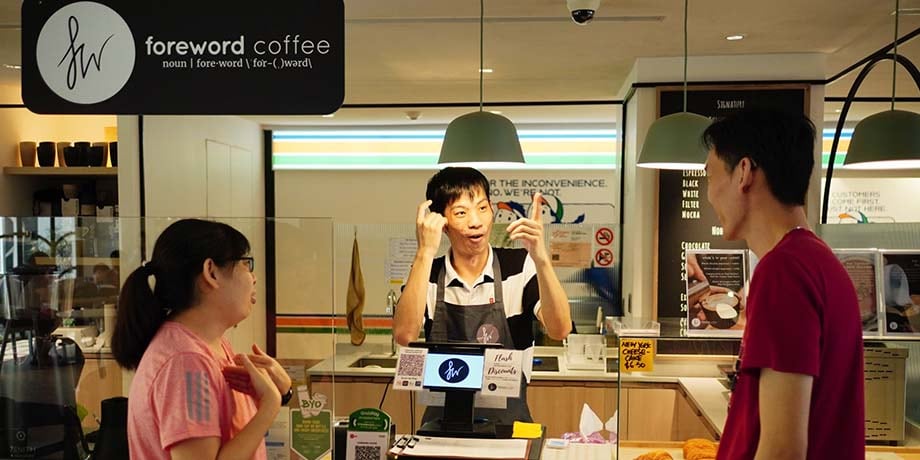 Chan recalls a customer who shared that he felt ashamed at not being able to use sign language when ordering from one of the cafe's baristas who has hearing loss. This was something the customer felt he should have known, he adds.
"What matters to us is that it left a lasting impression," notes Chan.
"The differently abled have always been adjusting to our world — why don't we start learning to adjust to theirs?"
Foreword Coffee is one of Temasek Shophouse's co-working partners whose café is housed in the ground floor of the building.