One Person's Trash is Another Person's Table
One Person's Trash is Another Person's Table
Reduce, reuse, upcycle! Find out how a circular economy firm creatively turned trash into exquisite furniture and building materials at Temasek Shophouse.
Some of the stylish furniture and fittings at Temasek Shophouse used to look like garbage – literally. Used Starbucks coffee cups were formed into a coffee table, spent Coca-Cola bottles transformed into ceiling panels and sofa covers, and rice husks have become an eye-popping feature wall.
In fact, many visitors believe these are designer furniture, instead of discarded products.
The company behind these innovative items is aptly housed within Temasek Shophouse. Called Miniwiz, the Taiwanese-based industrial disruptor has been finding creative ways to reuse waste since 2005.
A key aim is to turn trash into more valuable and usable materials at the end of their lifecycle.
"We started our operations in Singapore at Temasek Shophouse primarily as a way for us to showcase our innovation while sharing the unexpected beauty of upcycled products," said Mr Tan Szue Hann, managing director of Miniwiz Singapore.
The company, which looks into circular economy research, design and development, started operations in Singapore in June 2019, adding to its network of around 50 offices globally.
"We would like to bring new solutions to Singapore, and through that, encourage positive behaviour when it comes to recycling, the treatment of waste, plastics, and so on," added Mr Tan. "We need to take ownership of our own consumer patterns of waste, and how can trash be further appropriated into other things, and appreciate that in terms of value."
Miniwiz has created more than 1,200 types of composite materials, all of which have the potential to be appropriated into new products – from building materials to furniture and even coasters and candleholders.
At Temasek Shophouse, there are at least 20 pieces of upcycled furniture in the public areas and within the Miniwiz office. Read on for more fun facts of some of these upcycled products.

Feature Wall
They are translucent, allowing just enough light to filter through to give a soft, natural, yet ephemeral effect.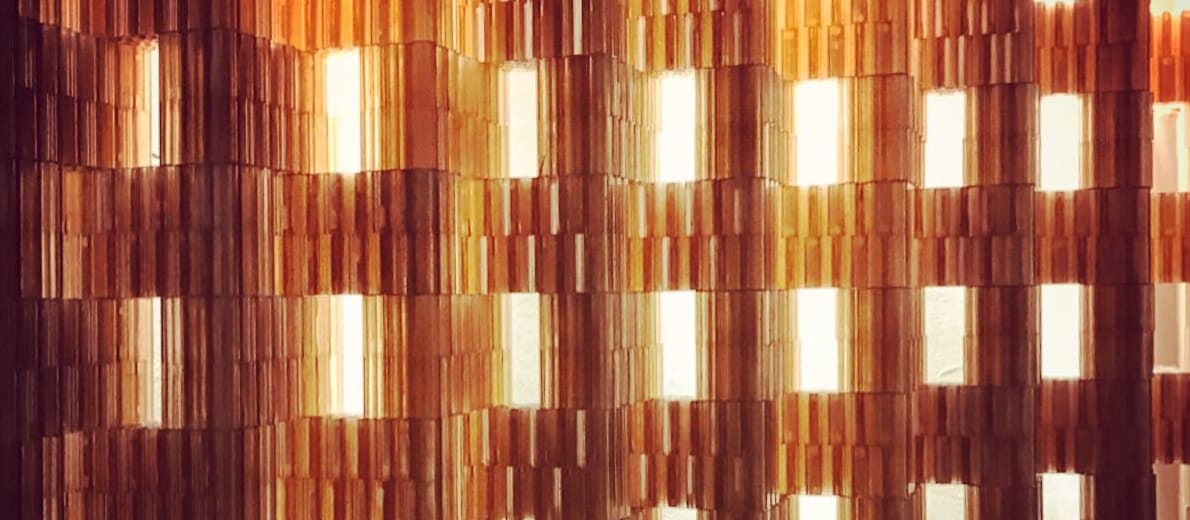 What is it made of?
The wall is built from Polli-Ber bricks – a proprietary material which is made from recycled polymer composites and natural fibres derived from agricultural waste, such as rice husks.
How is it produced?
Polli-Ber material is made into pellets by combining loop-economy materials and processed agricultural waste. The pellets are then melted and injected into a pre-made brick mould.
Trash Talk:
The wall is entirely modular – just like piecing a jigsaw puzzle together. These Polli-Ber bricks do not require a binding agent, and can be joined together by connecting pins or interlocking grooves.
It is environmentally friendly – 40 per cent less carbon is emitted during the life cycle of this plastic.
The bricks can be translucent or completely opaque, depending on the source material used.
Besides walls, the modular bricks can also be used to construct screens and furniture bases.

Architectural Tiles
These tiles were engineered from the same processes as the mini Trashpresso solid waste recycling line which arrived in Singapore in 2019.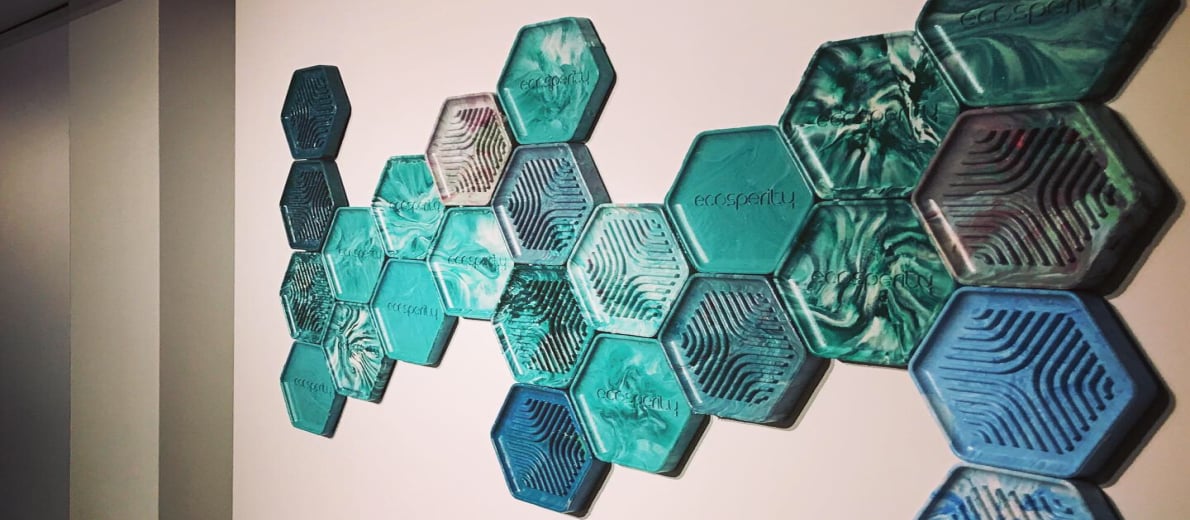 What is it made of?
Each tile is made from approximately 10 bottle caps, at 5g each. They can also be made out of other recycled plastics, such as used drink and shampoo bottles.
How is it produced?
Plastic waste is first shredded into flakes, washed and dried. The flakes are placed into a tile mould, which is then heated up in an oven and 'baked' into tiles.
Trash Talk:
Their colour originates from the base colour of the bottle caps, which can be mixed and matched.
The marble-like pattern arises from heating and kneading the different colours together.

Starbucks Cup Coffee Table
A coffee table made from coffee cups? With up to 4 billion cups of coffee sold by the American coffeehouse chain at over 30,000 shops worldwide, it is good to see that some of these single-use cups have been given a second lease of life.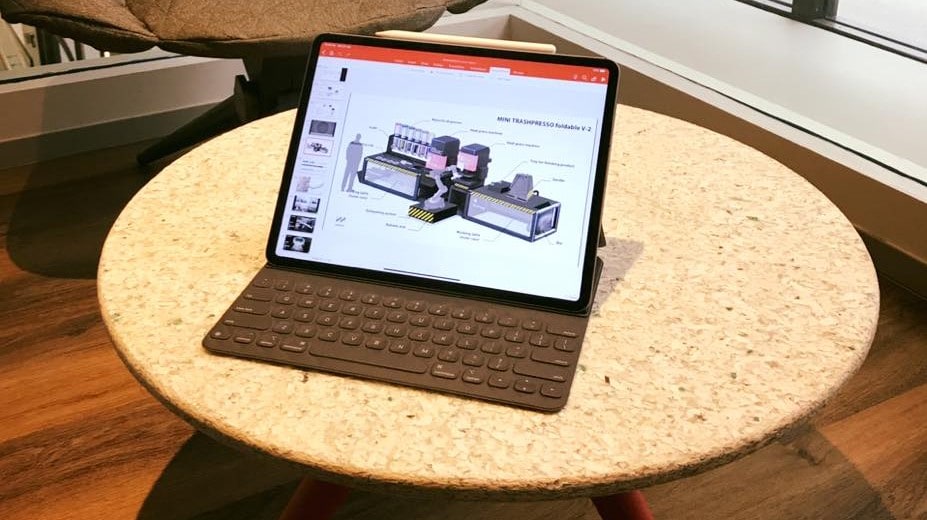 What is it made of?
Each table is made from 900 disposable cups from popular coffee chain, Starbucks. The legs are made of recycled polypropylene, the same material found in bottle caps.
How is it produced?
The cups are shredded and heated to just the right temperature.
The thin plastic coating layer within the cups melt, coating all the shredded pieces together.
The molten compound is then placed in a mould, which holds them in place and creates the form of the table-top.
Trash Talk
Finding the source materials used in constructing this table is not hard – look closely to find fragments of the iconic Starbucks cups scattered throughout the surface.