A Pair of Reusable Antimicrobial Masks Free to Every Singapore Resident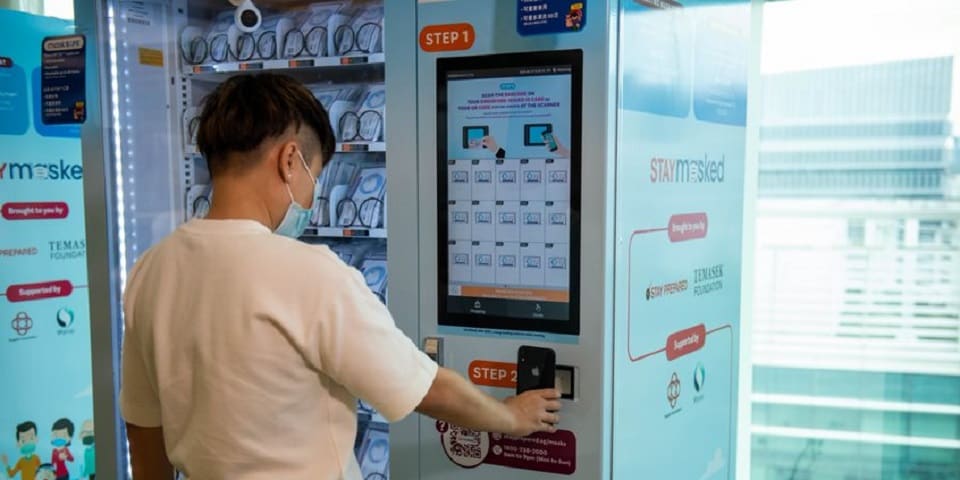 Residents of Singapore may collect a free pair of MaskSafe DET30™ reusable antimicrobial masks each, from 29 June, 10.00am, to 12 July 2020, 11.59pm
These may be collected at any of the 1,200 vending machines located islandwide at Community Centres/Clubs, Residents' Committee Centres, and bus interchanges
Residents will need to scan the barcodes of their NRIC, Birth Certificate, FIN or any government-issued identification with barcode, for their collection at these vending machines
Interested residents may also pre-order additional pairs of masks at S$8 a pair, and use the unique QR code sent to their mobile numbers to redeem their prepaid purchases at the vending machines
Singapore, 25 June 2020 – In conjunction with Temasek's annual Community Day on 25 June, Temasek Foundation today announced that it will be providing every resident of Singapore1 with a free MaskSafe kit, consisting of two reusable DET30™ antimicrobial masks.
This latest Stay Prepared StayMasked initiative from Temasek Foundation will complement the earlier distributions of reusable masks by the Singapore Government.
MaskSafe DET30™
The MaskSafe DET30™ mask has an outer antimicrobial layer. It has been tested against various bacteria and viruses, with 94% effectiveness against Influenza A virus, an enveloped virus2.
It is reusable and washable up to 30 times. A pair of masks will last up to two months, with a daily 'wash one, wear one' usage. More information on how to use, wash and care for the MaskSafe DET30™ masks can be found at the StayMasked website.
Collection from Vending Machines Islandwide
Interested residents may collect their pair of MaskSafe DET30™ masks, from 29 June, 10.00am to 12 July 2020, 11.59pm, from any of the 1,200 vending machines located at more than 800 locations across Singapore.
To collect their mask kits, they simply need to select the desired mask kit in a vending machine bay, then scan the barcode of their NRIC, Birth Certificate, FIN, or any government-issued identification at any of these Temasek Foundation vending machines. Each ID barcode has a free quota of one mask kit with a pair of masks.
Residents may collect on behalf of their family members or others, by bringing along their respective government-issued identifications with barcodes for scanning.
Pre-ordering & Collecting Extra Mask Kits with Unique QR codes
Interested residents may also visit stayprepared.sg/buymasks or DBS PayLah!, to pre-order up to five additional mask kits, at $8 per mask kit from 25 June, 11.00am, till 11 July 2020, 11.59pm.
Payment may be done using DBS PayLah!, PayNow, or major credit cards. A unique QR code will be generated for each successful transaction, and sent to the mobile number used for the order.
Residents may then scan their unique pre-order QR code at the vending machines to redeem and collect their pre-paid mask kits. They may redeem the balance order from a different machine, should their initial vending machine run out of stock.
Direct sales or payment will not be available at the vending machines.
Vending machine locations and stock levels
Residents may visit the website to check on the locations of the vending machines near them, and their stock availability.
Temasek Foundation has ample stock in hand and will work with its partners to ensure timely top up, especially on the anticipated higher demands on the first few days of collection.
Hotline for further queries
Members of the public may visit the StayMasked website for more information on this MaskSafe DET30™ free masks initiative, or call the hotline at 1800-738-2000, from 25 June 2020 to 12 July 2020, 9.00am to 9.00pm daily (except on public holidays).
Stay Prepared StayMasked Initiative
Studies and simulations have shown that staying masked when there is asymptomatic transmission, will likely help cool down a pandemic. This complements other measures such as safe distancing, wearing of face shield or eye protection, as well as hand hygiene.
A recent study3 has shown that wearing masks helps reduce our chances of infection transmission more than five-fold. Along with other firebreak measures such as safe distancing and eye protection, we can help our community to reduce the community transmission rate and stop the spread of COVID-19.
More than just protecting ourselves, we protect our friends and family, colleagues and strangers, when we put on a mask when we are outside our homes (see Annex A). If everyone wears a mask, even a mask which is 50% effective, we can bring the transmission rate below one, and cool down the pandemic in the community4.
Temasek Foundation and its partners are providing a network of vending machines for a safe, convenient and minimal contact distribution and collection process. The high touch surfaces of the vending machines are coated with long lasting disinfectants.
The MaskSafe DET30™ reusable masks are the first of a series of products that may be distributed through this vending machine network. It is part of the StayMasked initiative under the Temasek Foundation Stay Prepared programme.
Temasek Foundation thanks its partners for supporting this initiative. They include Land Transport Authority, Go-Ahead Singapore, SBS Transit, SMRT Corporation and Tower Transit for providing bus interchanges to place the vending machines; People's Association for providing their venues and volunteers; SP Group for managing the hotline; DBS, Maybank and OCBC Bank for enabling the cashless payment features; as well as town councils, various vendors and partners for their speedy response and execution.
Mr Lim Boon Heng, Chairman, Temasek, said, "We are thankful to our partners, staff and volunteers, who have stepped forward to contribute to this meaningful initiative. These reusable masks provide a sustainable option for our residents and can help everyone resume their activities safely and confidently post Phase 2 Circuit Breaker."
Mr Chuah Kee Heng, Chief Executive, SP Services, highlighted: "Our call centre agents are ready to answer public queries on the latest nationwide distribution of mask kits. SP Group is glad to be part of this initiative to help everyone be more prepared when getting back to school and work."
Mr Ngien Hoon Ping, Chief Executive, Land Transport Authority, shared, "Mask wearing is essential to Singapore's safe re-opening as well as ensuring the well-being of all commuters on public transport. This initiative by Temasek Foundation will make additional masks conveniently accessible to more Singaporeans and we will give this effort our fullest support."
Mr Lim Hock Chuan, Chief Executive, Temasek Foundation Connects, added, "It is important that we remain vigilant and prepared. These mask kits in addition to preventive measures such as safe distancing and regularly washing of hands will help our communities stay prepared and protect them against COVID-19."
Temasek Foundation COVID-19 Initiatives
Over the past few months, Temasek Foundation has been working with multiple partners to provide support in and outside Singapore, in response to the COVID-19 outbreak.
If an easily accessible and affordable solution can be found, which can potentially prevent transmission, the Foundation will either pilot trials, or support research, with interested partners.
It may also support the implementing of such solutions on a precautionary principle, provided no harm is done, even when the scientific data may not be definitive. The wearing of masks is one such affordable solution to pre-empt asymptomatic transmission in the community.
The latest StayMasked project also complements earlier efforts such as the #BYOBclean initiative in March, where Temasek Foundation partnered People's Association, corporates, unions, universities and community organisations to provide 500ml of hand sanitiser to every household in Singapore.
Other community efforts also included the distribution of more than 100,000 face shields to frontline workers in the F&B and hairdressing sector; the provision of care packs including oximeters, sanitisers and masks to various vulnerable community segments; and the recent commencement of a pilot installation of 500 table-top separators at Kopitiam and Food Junction foodcourts and staff canteens for frontline transport workers.
For more information on the StayMasked initiative, visit the website here.
###
For media enquiries, please contact:
Joshua Wong
Associate Director
Temasek Foundation
Mobile: 8180 0741
Email: joshuawong@temasekfoundation.org.sg
About Temasek Foundation
Temasek Foundation supports programmes that uplift lives and communities in Singapore and beyond. We aim to strengthen social resilience, foster international exchange and enhance regional capabilities, and advance science and nature for a sustainable world.
About Stay Prepared Programmes
Stay Prepared helps to prepare the Singapore community for emergencies like major accidents, natural disasters, pandemics, severe haze or terrorist attacks. It is supported by the Temasek Emergency Preparedness Fund, managed by Temasek Foundation.
Annex A
From Stay Prepared, Stay Safe ad: A high mask adoption rate in the population, even with a less effective mask being worn, is able to cool off the pandemic.
Chart is adapted from Calibrated Intervention and Containment of the COVID-19 Pandemic (2000), doi: arXlv:2003.07353 [q-blo.PE] (which can be found here: https://arxiv.org/abs/2003.07353)
Full Stay Prepared, Stay Safe ad can be found here.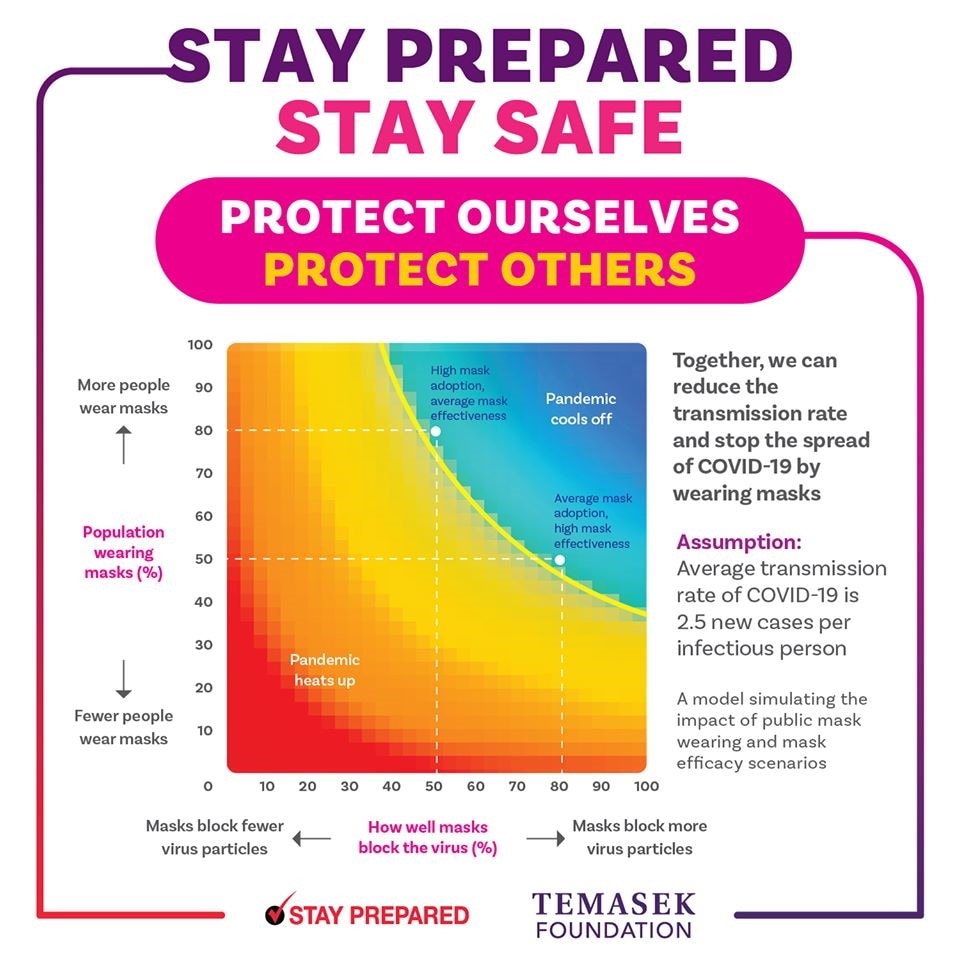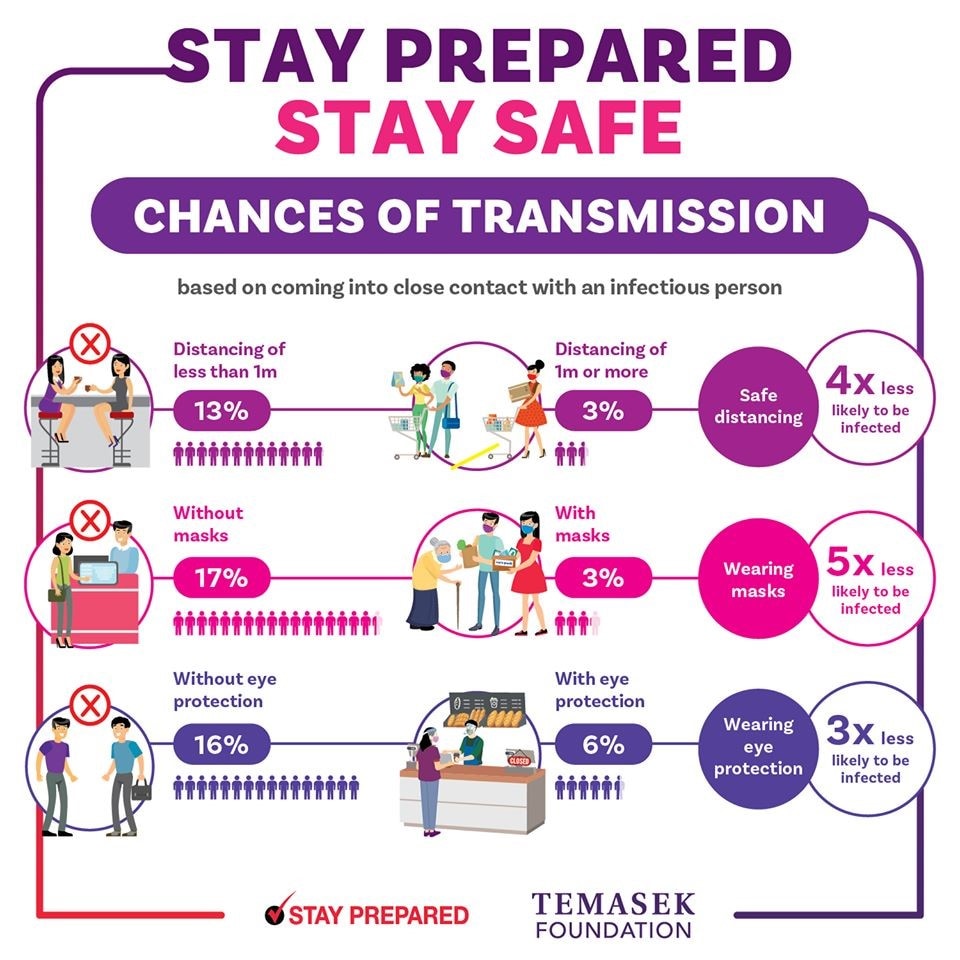 __________________________________
1 All Singapore citizens, permanent residents, and work pass/work permit/long term pass holders.
2 The SARS-CoV-2 virus is also an enveloped virus.
3 Physical distancing, face masks, and eye protection to prevent person-to-person transmission of SAR-CoV-2 and COVID-19: a systematic review and meta-analysis (2020), taken from The Lancet and funded by WHO
4 Tian, Liang, et al., Calibrated Intervention and Containment of the COVID-19 Pandemic, 2020