One Free Oximeter for Every Singapore Household
Know our Normal Blood Oxygen Levels
Flag 'Silent Pneumonia' for serious COVID-19 infection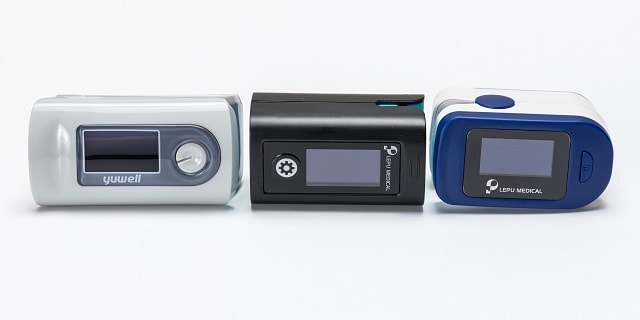 Check and know our normal blood oxygen levels with an oximeter
One serious consequence of COVID-19 is "silent pneumonia" –
Blood oxygen levels in patients can drop dangerously low even when they feel well
Very low oxygen level (<90%) is an emergency1 – go to an A&E department immediately
A leaflet with a redemption tab will be sent to letterboxes of every household by Saturday, 3 July 2021
To collect the oximeter, residents must bring along the leaflet complete with the redemption tab, to any of the participating supermarket and pharmacy outlets of NTUC FairPrice, Sheng Siong, Giant, Cold Storage, Watsons, Unity, or Guardian island-wide
Not all outlets of these stores are collection points –
Check for the nearest collection points at www.stayprepared.sg/oximeter
Collection starts from Monday, 5 July 2021 and ends Thursday, 5 August 2021
There is plenty of stock, so there is no need to rush for collection
Temasek Foundation will provide other COVID-19 care items in the later half of 2021, such as medical grade surgical masks and povidone-iodine mouth gargle
Information in this media release and other collaterals relating to this free oximeter initiative is not intended to be medical advice –
Residents should consult their own doctors if they have any specific medical questions on the use of oximeters for themselves or their household members
SINGAPORE, 24 JUNE 2021 – Temasek Foundation is providing one free oximeter for every Singapore household to enable everyone to monitor their blood oxygen levels regularly.

"Silent pneumonia" is one of the most serious consequences of COVID-19, where seriously ill people can feel generally well, despite damaged lungs and dangerously low levels of oxygen.
An oximeter can help alert us to seek medical attention when the levels become dangerously low.
Temasek Foundation is providing oximeters under its Stay Prepared initiative to help everyone to stay safe, especially with the emergence of new and more infectious COVID-19 variants.
Singapore Post will be distributing a Stay Prepared leaflet with a redemption tab to each household letterbox between Monday, 28 June 2021 and Saturday, 3 July 2021. Simply take the leaflet (complete with the redemption tab) to any of the collection outlets to redeem an oximeter.
Over 300 outlets at NTUC FairPrice (excluding FairPrice Xpress at petrol kiosks), Sheng Siong, Giant, Cold Storage, Watsons, Unity, and Guardian are participating in this oximeter collection initiative. Residents can check their nearest collection points and operating hours at www.stayprepared.sg/oximeter.
Collection during store opening hours starts on Monday, 5 July 2021 and ends Thursday, 5 August 2021. There is plenty of stock, so there is no need to rush.
Pro Tip: To avoid crowds, residents may wish to collect after 7 July 2021 or during off-peak hours.
Residents may collect the oximeters on behalf of other family households or their friends and neighbours by bringing along their household leaflets (with redemption tabs).
Importance of Knowing our Normal Blood Oxygen Levels
The COVID-19 virus can cause blood oxygen to drop to dangerously low levels, even when you feel well, or have no other symptoms of the virus. This is known as "silent pneumonia".
If left untreated, the low oxygen levels can damage vital organs, with very serious consequences.
An oximeter measures blood oxygen levels and pulse/heart rates. In most cases2:
Blood oxygen levels between 95%-100% are healthy –
Some people may have lower levels, e.g. smokers, patients with lung or other conditions.
Blood oxygen levels between 90%-94% are low –
Supplemental oxygen may be needed. Consult a doctor.
Blood oxygen levels less than 90% are dangerously low – urgent treatment is needed – Go to an Accident & Emergency Department (A&E) immediately.
Oximeter readings may be inaccurate3 due to reasons such as trembling or shaking hands, or the use of nail varnish.
When we check our blood oxygen levels regularly, we will know what our normal oxygen levels are. Should they drop to dangerously low levels, we should get medical help immediately.
If you have pre-existing conditions, you may wish to consult your doctor. Based on your health conditions, your doctor will advise you on how often your oxygen levels should be checked.
Blood oxygen level readings cannot and do not replace a COVID-19 test, and low blood oxygen levels may be caused by other underlying conditions or complications besides COVID-19. Those who are concerned regarding any potential exposure to COVID-19 should seek medical attention immediately, get tested, and isolate themselves from others until they receive a negative test result.
Residents should follow up with their doctor if they have any specific questions or do not feel well.
About the Oximeter
The oximeter is easy to use.
Just as, during SARS, we became familiar with how to use a thermometer to take our temperature regularly, an oximeter can be useful during this pandemic to work out if we may be suffering silent symptoms of the disease.
To use the oximeter, place it around your fingertip with the display facing you. Press the button to activate the device and wait for a few seconds for your blood oxygen level reading to stabilise. Two numbers may be displayed. Do not confuse your SpO2, or blood oxygen concentration, with your pulse or heart rate, which may be a lower number.
The oximeters in this distribution are manufactured by biotechnology companies Lepu and Yuwell, and will be dispensed based on distributions from our warehouse. They perform the same key function of measuring blood oxygen levels and pulse rates, and residents need not be concerned which one they are given.
Use a disinfecting sanitiser to wipe the oximeter before and after use if you are sharing the oximeter. Keep the oximeter away from dust, vibration, high temperature, moisture, corrosive substances, and explosive materials.
More information on how to use, store and care for the oximeters can be found at www.stayprepared.sg/oximeter.
Disclaimer on Medical Advice
Information provided in this media release and other collaterals for the 1 FREE Oximeter per Household Stay Prepared exercise are not intended as medical advice.
Residents should consult their own doctors if they have specific medical enquiries on the use of oximeters for themselves or their household members.
Exchange of Oximeters in Case of Defects
In an unlikely event that an oximeter has a manufacturing defect or is faulty, residents may exchange their unit at Temasek Shophouse, located at 28 Orchard Road.
The period for exchange is between Monday, 5 July 2021 and Tuesday, 31 August 2021, during Temasek Shophouse's operating hours from 9 am to 6 pm (weekdays) and from 11 am to 5 pm (weekends). Free oximeters cannot be collected at Temasek Shophouse.
Residents will have to bring the oximeter and its box in their original condition, along with their government-issued identification (e.g. NRIC, FIN card) for verification purposes.
Temasek Shophouse operating hours may change due to prevailing COVID-19 government measures. Before heading to the venue, please check Temasek Shophouse's website at: https://www.temasekshophouse.org.sg/visit-us.
Hotline and Email for Enquiries
Please visit http://stayprepared.sg/oximeter or follow Temasek Foundation on Facebook for more information on this oximeter initiative and other upcoming distributions.
The 1800-738-2000 hotline is open from Thursday, 24 June to Thursday, 5 August 2021, 9 am to 9 pm daily (except on public holidays and on 26 June 2021 due to a long-standing scheduled maintenance). Enquiries or feedback may also be emailed to: oximeter@temasekfoundation.org.sg.
Ensuring the Community Stays Prepared and Resilient
Around the region and globally, countries are making a concerted effort to manage the resurgence in COVID-19 cases, especially in light of new and more infectious variants. With Singapore just emerging from Phase 2 (Heightened Alert) and as new variants emerge, we must not let our guard down and should continue always to stay prepared.
Singapore is currently rolling out an ongoing nationwide vaccination programme. While they offer very strong protection against COVID-19, vaccinated individuals may still be infected, albeit with a greatly reduced risk of falling very ill, and likewise, may still infect others, especially those who may not yet have been vaccinated.
Hence, every Singapore resident plays an important role in preventing new outbreaks in the community and hidden clusters from forming. In addition to the continued use of face masks, good personal hygiene and safe distancing, the use of oximeters provides an additional layer of early detection and community defence against any further spread of COVID-19, especially where no other symptoms may be indicated.
Mr Lim Boon Heng, Chairman, Temasek, said: "With Singapore just emerging from the period of Phase 2 (Heightened Alert), it's crucial for us to continue moving forward vigilantly and responsibly in our fight against COVID-19. We must be proactive in taking extra steps to prevent further outbreaks. In addition to safe distancing, hand hygiene, and the use of face masks, the regular use of oximeters adds to the resilience of our communities and makes us all better prepared. With the oximeter, everyone will be able to track their normal oxygen levels."
Temasek Foundation thanks its partners for supporting the oximeter distribution. They include Singapore Post for the delivery of leaflets across Singapore to all households; SP Group for managing the hotline; as well as exceptional thanks to all participating supermarket and pharmacies NTUC FairPrice, Sheng Siong, Giant, Cold Storage, Watsons, Unity and Guardian for providing venues and facilitating the distribution of oximeters. We also thank Qxpress for special deliveries of some oximeters.
Ms Woon Saet Nyoon, Chief Executive, Temasek Foundation Cares, added: "During SARS, we learned how to use a thermometer. To defend against COVID-19, let's learn how to use an oximeter to alert us on any silent COVID-19 pneumonia so we can seek medical assistance when our normal blood oxygen levels drop. The ongoing fight against COVID-19 is a collective effort. On behalf of Temasek Foundation, I would like to extend our warmest appreciation and deepest gratitude to our supporting partners, who have enabled the island-wide distribution of oximeters in Singapore."
Temasek Foundation COVID-19 Initiatives
Over the past year, Temasek Foundation has been working with multiple partners to provide support in and outside Singapore in response to the COVID-19 outbreak.
An initiative in Singapore to encourage hand hygiene was the first #BYOBclean sanitiser initiative in March 2020, where Temasek Foundation partnered with People's Association, corporates, unions, universities, and community organisations to provide 500ml of hand sanitiser to every household in Singapore. The hand sanitiser distribution in April 2021 is the second #BYOBclean initiative.
Temasek Foundation also contributed four rounds of free reusable masks in June/July 2020, September/October 2020, November/December 2020 and March 2021. Nationwide use of reusable masks helps to reduce the risk of transmission and reduce the reliance on single-use masks. Masks can help reduce the transmission risk by reducing the level of viral loads being emitted or breathed in.
Simulations adapted from studies4 indicate that if over 90% of a population wear masks, we have a good chance of cooling even the most infectious of air/droplet-borne diseases. The more infectious the disease, the better the protection level of the masks we need.
This is one reason why Temasek Foundation has supported four distributions of free reusable masks in the past year to complement other national efforts.
Temasek Foundation is also planning for future distributions in the second half of the year, comprising care packs including medical grade surgical masks and povidone-iodine mouth gargle.
Other community efforts in Singapore by Temasek Foundation included:
the setting up of web portal MyMentalHealth with specially-curated articles to encourage mindfulness and mental well-being during this stressful period;
partnerships and funding to provide more than 400,000 meals in various meal support programmes to the vulnerable;
the distribution of about 1 million face shields to frontline workers, including those in the F&B and hairdressing sector;
the provision of care packs including oximeters, sanitisers and masks to various vulnerable community segments; and
the development and distribution of 100,000 bottles of Vitamin D

3

tablets to vulnerable communities, seniors, and expectant mothers.
Temasek Foundation has also facilitated more than 200,000 swab tests as well as care packs for priority groups such as migrant workers, essential and frontline staff, stallholders, retail assistants and town council staff in our residential precincts to proactively and pre-emptively keep our community safe.
More recently, we announced the Youth Action for Pandemics initiative, open to individuals under 40 years old who have innovative ideas to help address COVID-19 and prepare for the next pandemic.
Besides taking care of our local community, Temasek Foundation recognises the need to ensure that communities beyond Singapore are well-equipped against this pandemic. Initiatives include the donation of Personal Protection Equipment such as masks, gowns, and gloves; oxygen-related support equipment, from oxygen concentrators and ventilators, to ICU ventilators and ECMO lung machines; and diagnostics such as test kits to healthcare partners in some 40 countries beyond Singapore.
Together with the World Food Programme and Singapore Airlines, we supported efforts to transport essential medical supplies and other health and humanitarian items to points of need across Asia and the Pacific. We played a crucial role in ensuring the success of this meaningful partnership by covering the flight costs to transport the life-saving supplies to different countries. The partnership saw the completion of 40 flights, carrying over 5,200 cubic metres of COVID-related products such as face shields, goggles, gowns, and respirator masks.
For more information about other Stay Prepared initiatives, visit stayprepared.sg.
###
For media enquiries, please contact:
Joshua Wong
Associate Director
Temasek Foundation
Mobile: 8180 0741
Email: joshuawong@temasekfoundation.org.sg
About Temasek Foundation
Temasek Foundation supports a diverse range of programmes that uplift lives and communities in Singapore and beyond.
Temasek Foundation's programmes are made possible through philanthropic endowments gifted by Temasek, as well as gifts and other contributions from other donors. These programmes strive towards achieving positive outcomes for individuals and communities now, and for generations to come.
Collectively, Temasek Foundation's programmes strengthen social resilience, foster international exchange and regional capabilities, advance science, and protect the planet.
For more information, visit www.temasekfoundation.org.sg.
About Stay Prepared Programmes
Stay Prepared helps to prepare the Singapore community for emergencies like major accidents, natural disasters, pandemics, severe haze or terrorist attacks. It is supported by the Temasek Emergency Preparedness Fund, managed by Temasek Foundation.

END
______________________________
1 Source: World Health Organization (WHO) Pulse Oximetry Training Manual
2 Source: World Health Organization (WHO) Pulse Oximetry Training Manual
3 Source: FDA Safety Communication, Pulse Oximeter Accuracy and Limitations
4 Tian, Liang, et al. "Calibrated intervention and containment of the COVID-19 pandemic." arXiv preprint arXiv:2003.07353 (2020).