One Free Reusable Hi-Tech Mask For Each Singapore Resident. Mask May Be Used Daily Up to Seven Months with Weekly Washes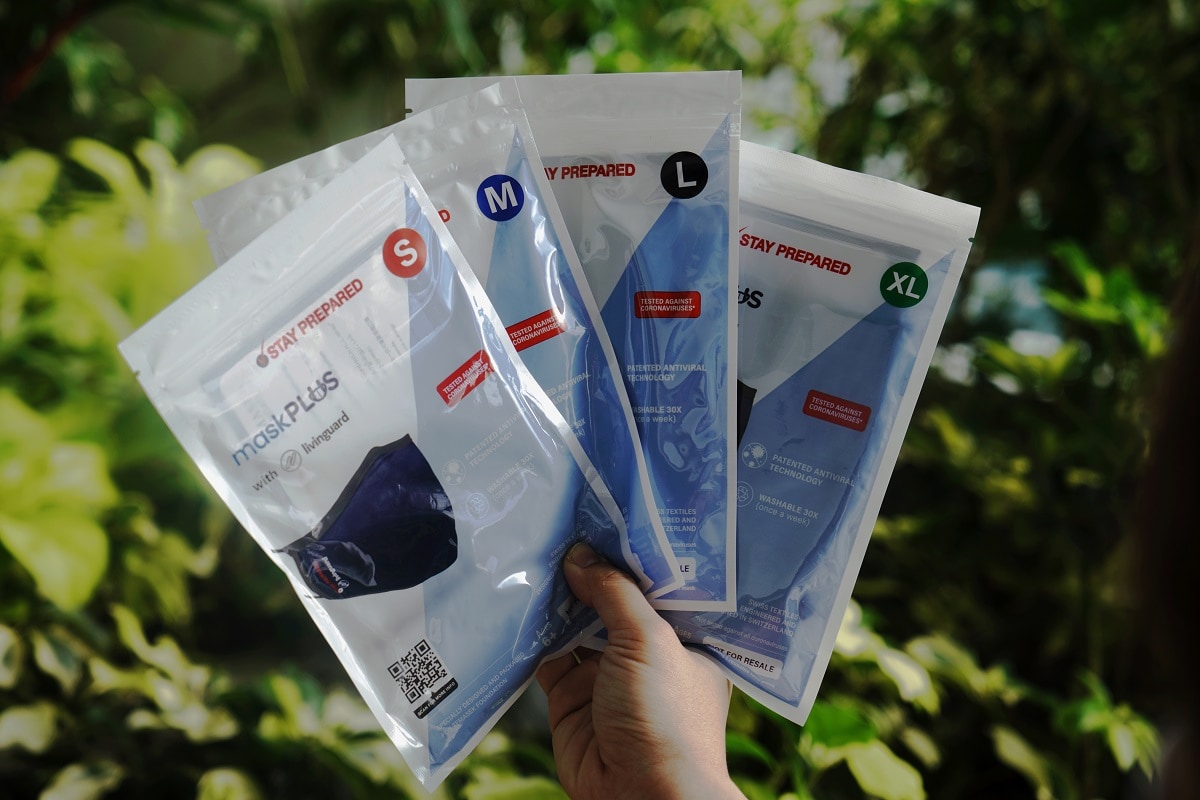 Each Singapore resident may collect one free reusable blue MaskPlusTM Livinguard mask using their NRIC, School Smartcard, Birth Certificate, FIN, or any other government-issued ID with a barcode
Masks come in S, M, L, and XL sizes
Free size S masks only available to children aged 8 and younger
Mask sizing is different from other masks –
To recheck sizing online at stayprepared.sg/sizing-guide
Sizing templates are also available in all local newspapers in the coming weekends1
No returns or exchanges will be allowed for hygiene reasons
Collection is via #StayMasked vending machines using government-issued IDs either by scanning the barcode, or manually keying in ID numbers
Vending machines are located island-wide at Community Centres/Clubs (CCs), Residents' Committee (RC) Centres, Bus Interchanges, Migrant Workers' Centre Recreation Clubs (MWC RCs), select CapitaLand Malls including Plaza Singapura, Singapore University of Technology and Design (SUTD), and Temasek Shophouse
o All mask sizes: CCs, Plaza Singapura, and Temasek Shophouse
o All mask sizes except for size S: All other locations
Collection hours at #StayMasked vending machines:
Monday 1 March, 10:00am till Sunday 14 March 2021, 11:59pm
Sufficient stocks in all sizes are available, so there is no need to rush for collection
Additional masks may be purchased online or via DBS PayLah! App:
Monday 1 March, 10:00am till Saturday 13 March 2021, 11:59pm
Pre-paid masks may be collected at the vending machines with QR codes issued
Pro tip: Collect and try on the free mask to check for correct sizing before ordering additional masks, as no returns or exchanges will be allowed.
Details for a second distribution of free hand sanitiser, #BYOBclean, to be announced in March
SINGAPORE, 24 FEBRUARY 2021 – Temasek Foundation is providing one free MaskPlusTM Livinguard reusable mask to each Singapore resident who has an NRIC, birth certificate, FIN card, School Smartcard, or any government-issued ID with a barcode.
MaskPlusTM Livinguard reusable masks are available in S, M, L, and XL sizes. Free size S masks are only available to children aged 8 and younger.
Like the previous mask distributions, the MaskPlusTM Livinguard reusable masks may be collected from over 1,100 #StayMasked vending machines at over 800 locations island-wide, including 108 Community Centres/Clubs (CCs), 672 Residents' Committee (RC) Centres, 20 Bus Interchanges, 8 Migrant Workers' Centre Recreational Centres (MWC RCs), 8 select CapitaLand Malls including Plaza Singapura, Singapore University of Technology and Design (SUTD), and Temasek Shophouse.
Additional masks may be ordered online at stayprepared.sg/buymasks, or via the DBS PayLah! App, at $10 each, subject to availability.
This is the fourth nationwide distribution of reusable masks by Temasek Foundation, under the Stay Prepared #StayMasked initiative, to help our community stay safe sustainably, with convenient access to reusable antiviral and antibacterial masks.
About the MaskPlusTM Livinguard Reusable Masks
The new MaskPlusTM Livinguard reusable mask has two layers of 100% proprietary-treated cotton fabric that offer protection primarily by inactivating viruses. It has an antiviral performance of over 97% and an antibacterial performance of over 99.75%, after 30 washes.
The reusable mask need only be washed once a week. If worn daily and washed weekly 30 times, the mask can be used daily for up to seven months. Incorrect washing methods will reduce the effectiveness and durability of the mask.
After 30 washes, the antiviral and antibacterial performance will be gradually reduced with each additional wash. Thus, it may be used like ordinary two-layer cotton masks, or used in conjunction with other masks including disposable medical grade masks for added protection.
More information on how to use, wash and care for the MaskPlusTM Livinguard masks can be found at stayprepared.sg/masks.
Information on the specifications of the masks can be found at livinguard.com/maskplus.
New Sizing: Residents should Recheck Their Mask Size
Sizing is different from previous free masks. Hence, residents are strongly advised to check out their sizing before collection or purchase of their masks.
Full-sized mask sizing templates will be published in The Straits Times and Lianhe Zaobao (27 February, 6 and 13 March) as well as Shin Min Daily News, Lianhe Wanbao, Berita Minggu and Tamil Murasu (28 February, 7 and 14 March). These can be cut out as personal sizing guides.
We recommend using our mask sizing guide at https://stayprepared.sg/sizing-guide, to determine the right mask size.
Exchanges or refunds after collection are not allowed for hygiene reasons.
Pro tip 1: If you are between sizes, or at the upper end of one size, you may wish to get the next size up for a roomier fit.
Pro tip 2: The sizing of the MaskPlusTM Livinguard masks is different from other masks. Residents who wish to purchase additional masks should try on their free mask to check for fit and size before ordering more.
Who May Collect a Free Mask?
Anyone with a government-issued ID may collect one free mask each.
These include Singapore citizens; Singapore Permanent Residents; holders of a Singapore Employment or Work Pass Permit; or holders of other Long Term Passes, including family dependents of Employment Pass holders, and international students living in hostels.
Free size S masks are only available to children aged 8 and younger.
Collection of MaskPlusTM Livinguard Masks from Vending Machines Island-wide
MaskPlusTM Livinguard reusable masks may be collected from #StayMasked vending machines at over 800 locations across Singapore, from Monday 1 March, 10:00am till Sunday 14 March 2021, 11:59pm.
Residents may scan the barcodes of their government-issued IDs at the vending machine or key in their ID information manually via the touch screens. Frequently contacted surfaces such as the touch screens are sanitised with long lasting disinfectants.
Residents may collect on behalf of their family members and friends, by scanning the barcodes of their respective government-issued IDs or keying in their ID information.
Residents are reminded that they must have authorisation to collect masks on behalf of another individual. It is a crime to misuse another individual's ID number. #StayMasked vending machines are equipped with security cameras, and Temasek Foundation will cooperate fully with the police in their investigations into any unauthorised collection of masks.
Since the distribution of face masks by Temasek Foundation started in June 2020, the Police have arrested 10 persons for their suspected involvement in separate cases of cheating for unauthorised collection of reusable face masks from vending machines put up by Temasek Foundation. The offence of cheating under Section 420 of the Penal Code carries an imprisonment term which may extend to 10 years, or fine, or both. Residents are advised to contact the Police at 999 immediately if they witness any unauthorised collection of masks or spot any suspicious person(s) loitering near any #StayMasked vending machines or collecting large numbers of face masks.
Additional pre-paid masks may also be collected at the vending machines, upon scanning of the unique QR codes provided after each successful order.
Pro tip 3: To avoid crowds, residents may wish to collect after the first two days or during off-peak hours.
Where to Collect the Different Size Masks?
Masks of all sizes can be collected from CCs, Plaza Singapura, and Temasek Shophouse.
Masks of all sizes except size S can be collected from RC Centres, MWC RCs, Bus Interchanges, select CapitaLand Malls and SUTD.
Visit stayprepared.sg/locate to check the locations of the vending machines for stock availability from Monday 1 March, 10:00 am onwards.
Pro tip 4: Residents who only require size M, L or XL, may wish to collect from their nearest RC Centre or neighbourhood collection point for greater convenience.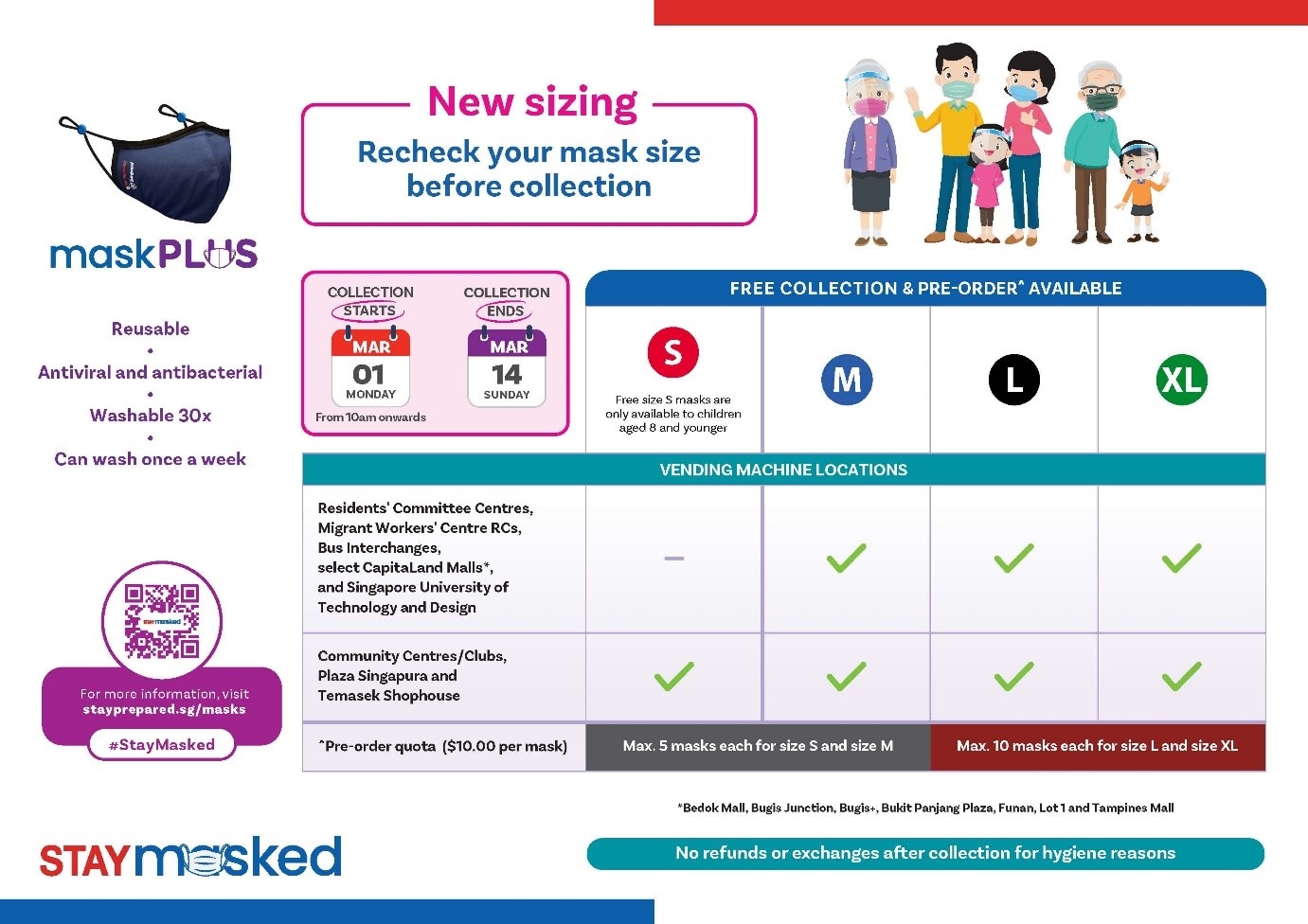 Pre-ordering and Collecting Additional Masks with Unique QR Codes
Purchases of additional masks may be done online, from Monday 1 March, 10:00am to Saturday 13 March 2021, 11:59pm, via stayprepared.sg/buymasks or the DBS PayLah! App. PayNow, DBS PayLah! and major credit cards are accepted for website orders.
Each pre-order mask is priced at S$10 nett, subject to availability.
Interested residents may order up to 5 additional masks each for sizes S and M, and up to 10 additional masks each for sizes L and XL.
A link to a unique QR code will be generated and sent to the registered mobile number for each successful order. This unique QR code must be scanned at the vending machines for the collection of pre-paid masks.
For orders of more than one mask, purchasers may redeem their additional masks from different vending machines and/or on separate days, depending on stock availability.
Direct sales or payment will NOT be available at the vending machines.
Returns or exchanges of collected masks are not allowed for hygiene reasons.
Hotline and Email for Enquiries
Please visit stayprepared.sg/masks for more information on this latest MaskPlusTM Livinguard free mask initiative.
The 1800-738-2000 hotline is open for queries from Wednesday 24 February to Sunday 14 March 2021, 9:00am to 9:00pm daily (except on public holidays).
Enquiries or feedback may also be emailed to staymasked@temasekfoundation.org.sg.
Staying Safe and Resilient During Phase 3 and Beyond
Even as Singapore remains in Phase 3, with a nationwide vaccination programme underway, we must not let our guard down. A current resurgence of cases has led to larger outbreaks regionally and globally, with the troubling emergence of new more infectious and perhaps more lethal variants.
Every Singapore resident plays an important role in preventing new outbreaks in the community. Face masks remain an important safe management measure, along with good personal hygiene and safe distancing to help prevent new waves of infection. These measures allow us to form a multi-layered defence to protect our community from future pandemics.
Singapore expects to have enough vaccines to cover all residents before the end of the year. While vaccines are a critical defence against COVID-19 illnesses, we do not yet know if vaccinated individuals could still be silent carriers. Hence, everyone must continue to practise various safe management measures, including the use of face masks to reduce the spread of saliva, likely till the end of the year.
Reusable masks are a convenient and sustainable alternative to single-use disposable masks, which are highly pollutive if not disposed of correctly2. More than 8.5 million free MaskFit ProShield® reusable masks have been distributed to Singapore residents since the launch of the third #StayMasked distribution exercise in November 2020, while nearly 17 million free MaskSafe DET30TM reusable masks were collected by Singapore residents since June 2020. They help to reduce waste and waste disposal energy usage as well.
Mr Lim Boon Heng, Chairman, Temasek, said: "While Singapore has begun to administer vaccines to the population, focusing first on the more vulnerable and those more likely to be exposed among us, we must continue to stay vigilant and act responsibly to prevent further outbreaks. Safety measures such as safe distancing, hand hygiene, and the use of face masks are vital in preventing unwanted transmission between people, especially as we go about our daily lives. By distributing free reusable face masks, we hope Singaporeans will all do our part by reducing waste and our impact on the environment."
Temasek Foundation thanks its partners for supporting the #StayMasked initiative. They include Land Transport Authority, Go-Ahead Singapore, SBS Transit, SMRT Corporation and Tower Transit Singapore for providing bus interchanges to place the vending machines; People's Association and CapitaLand for providing their venues and volunteers; Singapore University of Technology and Design for providing venues; SP Group for managing the hotline; generous donors such as DHL Singapore and Sirivadhanabhakdi Foundation, whose founders are majority owners of Fraser and Neave; DBS Bank, Maybank and OCBC Bank for enabling the cashless payment features; Warburg Vending for providing distribution logistics and maintenance of the vending machines; Beep Technologies for powering the pre-order gateway and data optimisation; as well as town councils, various vendors and partners for their speedy response and execution. Following this fourth distribution, the vending machines will be repurposed for other initiatives that support our community in the fight against COVID-19.
Mr Lim Hock Chuan, Chief Executive, Temasek Foundation Ecosperity, added: "The ongoing fight against the COVID-19 pandemic must be a collective effort. As the situation continues to evolve around the world, we will need to stay prepared and safe by observing all necessary hygiene and safe distancing measures. We also need to do our part for the environment to reduce waste and pollution. One MaskPlusTM Livinguard reusable mask lasts for seven months when worn daily and washed weekly. That's more than three times longer than the two masks in each mask kit from previous distributions. On behalf of Temasek Foundation, I would like to extend our warmest appreciation to our corporate partners, sponsors, staff and volunteers, who have enabled all four distributions of millions of free reusable masks to the residents of Singapore."
Stay Prepared #StayMasked Initiative
Wearing a face mask is a simple yet effective way to protect not only ourselves but family and friends around us. Preventing the spread of the virus is key to bringing an end to the outbreak sooner rather than later.
Temasek Foundation's network of #StayMasked vending machines provides a safe and convenient platform to collect free reusable masks with minimum contact. Frequently contacted surfaces of the vending machines have been coated with long lasting disinfectants to prevent any transmission of pathogens between users.
MaskPlusTM Livinguard is the fourth mask product to be distributed by Temasek Foundation. The MaskSafe DET30TM reusable masks were first and second of the series distributed under the Temasek Foundation Stay Prepared programme. The MaskFit ProShield® reusable masks were the third.
Increasing availability and access to these reusable masks significantly reduces the need for single-use masks (and the resultant waste), and reserves the use of medical grade masks for occasions when we are unwell and need to visit a clinic or hospital.
Temasek Foundation COVID-19 Initiatives
Over the past year, Temasek Foundation has been working with multiple partners to provide support in and outside Singapore in response to the COVID-19 outbreak.
An early initiative in Singapore to encourage hand hygiene was the #BYOBclean sanitiser initiative in March 2020, where Temasek Foundation partnered People's Association, corporates, unions, universities, and community organisations to provide 500ml of hand sanitiser to every household in Singapore. Temasek Foundation is planning for the second cycle of distribution in April.
The fourth distribution of free reusable masks builds on the success of the three distributions in 2020. This provides protection at the individual and community level. Nationwide use of reusable masks helps to reduce the risk of transmission. They may also help reduce the severity of illness by reducing the level of viral loads being emitted or breathed in.
Other community efforts in Singapore also included the setting up of web portal MyMentalHealth with specially-curated articles to encourage mindfulness and mental well-being during this stressful period; partnerships and funding to provide more than 400,000 meals in various meal support programmes to the vulnerable; distribution of about 1 million face shields to frontline workers including those in the F&B and hairdressing sector and the provision of care packs including oximeters, sanitisers and masks to various vulnerable community segments.
Temasek Foundation has also facilitated more than 200,000 swab tests for priority groups such as migrant workers, essential and frontline staff, stallholders, retail assistants and town council staff in our residential precincts to proactively and pre-emptively keep our community safe.
More recently, we announced the Youth Action for Pandemics initiative, open to individuals under 40 years old who have innovative ideas to help address COVID-19 and prepare for the next pandemic.
To help progressively open our borders and accelerate the resumption of regional and international business activities while safeguarding our community, Temasek partnered The Ascott Limited, Changi Airport Group, Sheares Healthcare Group, SingEx and Surbana Jurong, to develop a pilot short-stay facility, Connect@Changi, that will support safe business exchanges between international travellers and Singapore residents.
Besides taking care of our local community, Temasek recognises the need to ensure that communities beyond Singapore are well-equipped against this pandemic. Through Temasek Foundation, we contributed Personal Protection Equipment, oxygen concentrators, ventilators, and diagnostics such as test kits to healthcare partners in some 40 countries beyond Singapore.
Together with the World Food Programme and Singapore Airlines, we supported efforts to transport essential medical supplies and other health and humanitarian items to points of need around the world. In addition, we supported various food distribution initiatives together with our portfolio companies such as gategroup in the US and Zomato in India, to provide access to meals for the underserved communities that have been disrupted by COVID-19.
For more information about other Stay Prepared initiatives, visit stayprepared.sg.
###
For media enquiries, please contact:
Joshua Wong
Associate Director
Temasek Foundation
Mobile: 8180 0741
Email: joshuawong@temasekfoundation.org.sg
About Temasek Foundation
Temasek Foundation supports a diverse range of programmes that uplift lives and communities in Singapore and beyond.
Temasek Foundation's programmes are made possible through philanthropic endowments gifted by Temasek, as well as gifts and other contributions from other donors. These programmes strive towards achieving positive outcomes for individuals and communities now, and for generations to come.
Collectively, Temasek Foundation's programmes strengthen social resilience, foster international exchange and regional capabilities, advance science, and protect the planet.
For more information, visit www.temasekfoundation.org.sg.
About Stay Prepared Programmes
Stay Prepared helps to prepare the Singapore community for emergencies like major accidents, natural disasters, pandemics, severe haze or terrorist attacks. It is supported by the Temasek Emergency Preparedness Fund, managed by Temasek Foundation.
END
______________________________
1 Saturday 27 Feb, 6 and 13 Mar: The Straits Times, Lianhe Zaobao
Sunday 28 Feb, 7 and 14 Mar: Shin Min Daily News, Lianhe Wanbao, Berita Minggu, Tamil Murasu
2 Source: Increased plastic pollution due to COVID-19 pandemic: Challenges and recommendations, taken from Chemical Engineering Journal (2020)