Transcript: Speech by Ho Ching at Rainbow Charity Fundraising Showcase 2016
ION Art Gallery, ION Orchard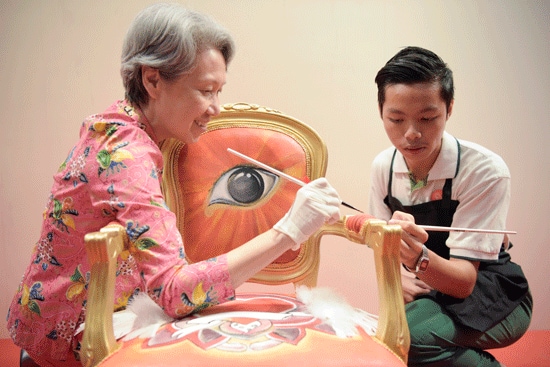 Ms Ho Ching putting the finishing touches to a chair designed and painted by Danial Isaac, a student from Rainbow Centre.
Thank you everybody and good evening. Thank you, Imis, especially for the very touching and inspiring story.
Ms Denise Phua - Mayor of Central CDC
Mr Yew Teng Leong – President of Rainbow Centre
Ms Tan Sze Wee - Executive Director of Rainbow Centre
Distinguished guests, artists, students, parents, friends, ladies and gentlemen.
Good evening, and thank you all for your support and your presence here this evening.
Rainbow Centre Singapore is raising funds to build an extension at Margaret Drive. This will enable them to serve an additional 500+ children and students. This is in addition to those they are serving now. I am especially happy that this will include early intervention places for 350 pre-school children six years and younger. This will really make a difference to many, many lives … and their families.
The building extension is estimated to cost $17 million. The Government will fund the bulk of it, but Rainbow Centre still needs to raise another $6.5 million. So, put in that context, the $600,000 fundraising target for Rainbow Chairity initiative is just 10% of the target. So, they need that to reach their target in order to complete the project by the end of next year. We hope that we will be able to reach that target sooner than later because it touches lives.
For tonight's Rainbow Chairity Fundraising initiative, students from Rainbow Centre have worked together with various artists to create the colourful works that you see around this hall and also all around Ion Orchard.
There are, altogether, 55 chairs available for sale, including a couple which will be up for auction later. I do hope you will support generously to give each of these chairs a loving home because behind those chairs are people with a heart, artists with a heart and children with dreams and hopes. Your support will make a difference, especially for the additional 350 early intervention places, but also for nearly 200 additional places for the older children 6 to 18.
I am very heartened that Rainbow Centre has made it their mission to make a difference in the lives for the children with special needs. This has been possible with the love and support of the teachers, the parents, and the school administrators, working closely with the Government, as well as volunteers, donors and other well-wishers from all walks of life.
Last month in November, the Rainbow Centre – Yishun Park School received the MOE-NCSS Innovation Award. This award recognises the school's creative use of teaching and learning strategies in engaging the students, bringing life, bringing hope for them. My congratulations to the staff and teachers of Yishun Rainbow Centre!
May I also take this opportunity to thank Imis as well as the artists who have come forward to support this project. You have not only given of your time, energy and ideas. More importantly, you have given of your heart, your understanding, your love and your patience for our Rainbow Centre students and their cause.
But I want to especially add: to the students of Rainbow Centre, thank you for bringing your rainbow of colours to these 55 Louis Chairs. Your teachers, your parents and friends and all of us here are very proud of you.
To the sponsors, donors, teachers, organisers, and many others who have made this event possible, a big thank you for your kindness and generosity. You have given hope and opportunity to many young children, many young people and their families.
Finally, thank you for having me here tonight as your guest this evening. I am proud of what you have all done, and I am very inspired by the wonderful results I took a peek just now.
Thank you, and enjoy the evening.