Transcript: Opening Address by Dilhan Pillay at the Stewardship Asia Roundtable 2022
The Role of Leadership in Creating a Collective Better Future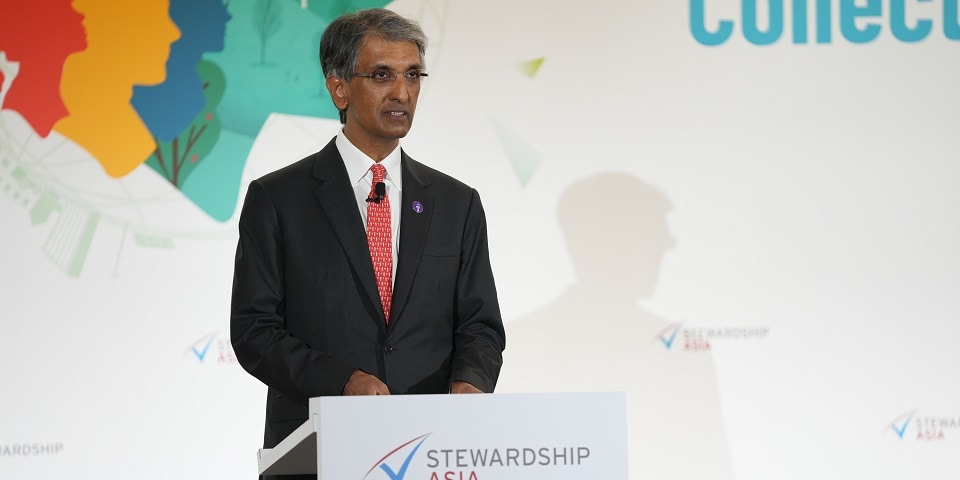 Professor Arnoud De Meyer, Chairman of the Board of the Stewardship Asia Centre
Mr Rajeev Peshawaria, CEO of the Stewardship Asia Centre
Mr Lim Boon Heng, Chairman of Temasek Holdings
Ms Ho Ching, Board Director of Temasek Trust
Friends, Colleagues, Ladies and Gentlemen
Good afternoon.
I would like to thank the board of the SAC for inviting me to your Roundtable 2022, to give this opening address.

Today, 31 March, is an important day in the calendar for Temasek – it is our financial year end. Every time, I have been given an upwardly mobile job in Temasek. It has coincided with the fact that, that first financial year end ends up with exogenous shocks that impact markets and hence, our portfolio performance. The last time it was COVID-19, this year is no different.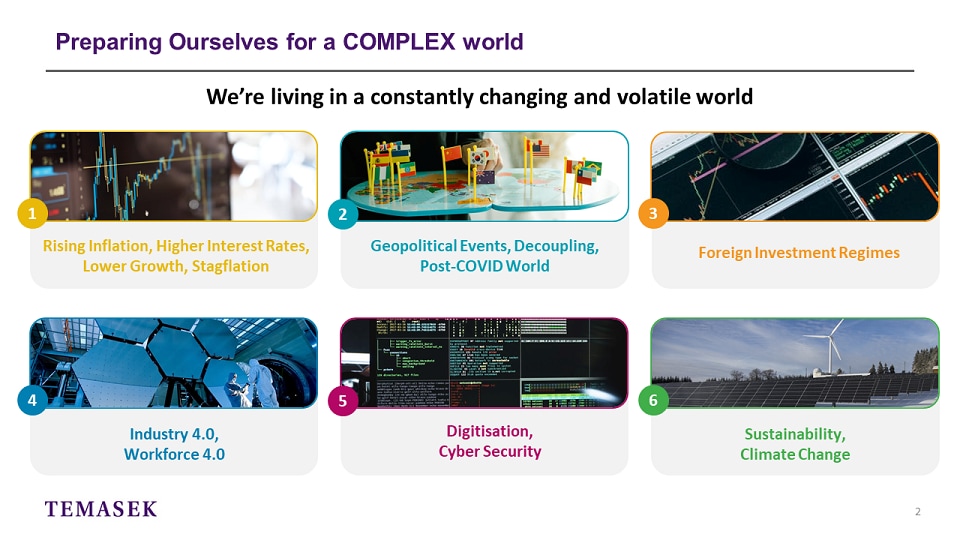 In a recent speech by Senior Minister Tharman Shanmugaratnam, at the IMAS Bloomberg conference on 9 March, he described the current state of the world as a "Perfect Long Storm".

We live in a complex world today, a VUCA world – volatile, uncertain, complex, and ambiguous.
The challenges for government, businesses and society have never been so multi-dimensional, not since probably World War II.
If I may venture, there are 6 top of mind issues facing business leaders today.
Firstly, rising inflation, higher interest rates, a lower growth trajectory and a potentially recessionary environment brings heightened risks of stagflation, something the world has not seen since the 1970s.
Secondly, geopolitical issues are more complex today than ever before. While the US-China tensions were already there pre-COVID, this has been further exacerbated by COVID-19 and the Ukraine crisis, leading to more supply chain disruptions, concerns over national resilience including food security, and a potential decoupling in relation to not just technology, but potentially financial systems.
All of this comes notwithstanding the fact that we are still in a pandemic world – with countries seeking to live with COVID-19, treating it as endemic, while others continue to pursue a zero COVID tolerance approach. This pandemic brings about not just economic and social challenges but has a very significant humanitarian side as well – and much of it is due to the issue of inequality within countries and between countries. As Senior Minister Tharman expressed in his speech, we may well be in an age of pandemics.
Thirdly, in the past, we only had 3 foreign investment regimes to deal with in the world. Today, we have over 28. Increasing protectionism and concerns over foreign investment regimes may impact global trade and investment flows. While they can be used to create a more stable economy, they can also be used for nationalistic purposes – and therefore, a system for good, as well as for not so good.
Fourthly, businesses have been faced with pressure to transform and embrace the advent of Industry 4.0, where technology innovation is now a given. COVID-19 has accelerated the pace of innovation, transformation and adoption of new business models. Even as businesses go through these changes, and redesign their business models, we must also focus on job design and redesign with the skilling, reskilling and upskilling of the workforce. In whatever we do, there must be a wider distribution of the benefits that comes with such changes and our actions must be human-led and human-centered.
Fifthly, as businesses go through technological transformation and increasing digitisation, the importance of cybersecurity will grow. Over the last few years, the number of cyberattacks have increased, and have affected not only businesses, but governments as well. For businesses, it is not just the responsibility of the CISO or CTO, but also the responsibility of the CEO and the board, perhaps through its Board Risk Committee, to manage the existential business risk that comes with this cyber risk that we see, even as businesses transform in the future to address climate change adaptation and transition, which is likely to see a greater incorporation of technology as a means to do that transition.
Lastly, but by far not the least is climate change. Despite the global challenges that I have mentioned, climate change is arguably the biggest crisis of our lifetime. We are seeing more frequent weather events, backed by now non-incontrovertible data painting a dire picture of what the world would look like if we don't address it. We must act urgently, notwithstanding the tumultuous times we are in with other challenges, to address climate change through extensive mitigation, adaptation and transition measures to shift us to a greener economy, while recognising that there must be a just transition.
So humanity and businesses are being challenged in unprecedented ways through the confluence of these 6 top of mind issues.
So, how will businesses respond to this? What is the role of businesses and of its leaders?
We have to accept that for this world to thrive, businesses must not just do well financially but more importantly, to also do right and do good by our communities.
Allow me to share more of the critical role that boards must play in addressing the challenges of today, as a steward for tomorrow's generation.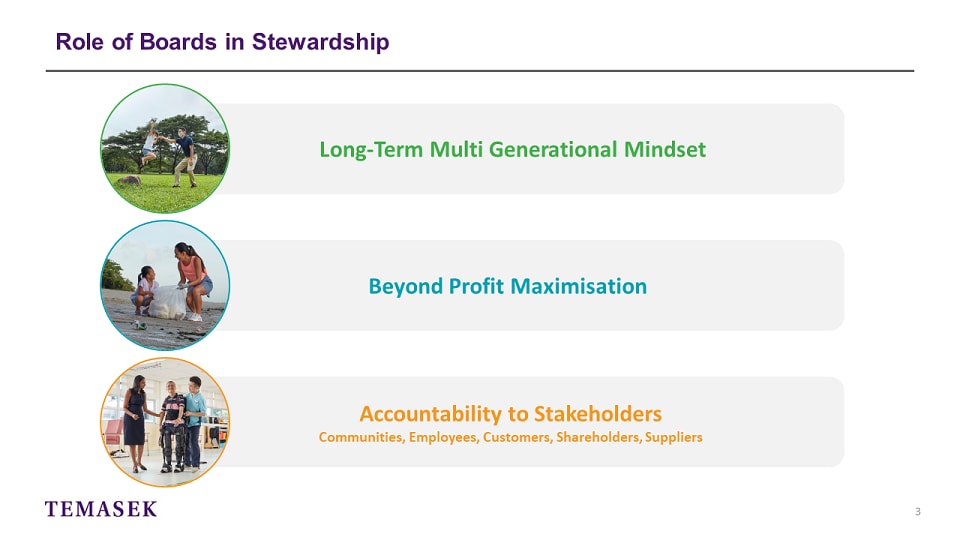 The Board's role as a Steward
Boards traditionally are seen as having a duty to act in the best interests of companies. In the last 50 years, this has been interpreted by many, and especially by the markets and the business community, as a duty to maximise returns for shareholders.
This has often times resulted in a focus by leaders of public companies and providers of capital, to manage companies on a shorter-term basis, with intense scrutiny of performance by public markets.
It is even seen in private markets where in the world of private equity, timeframes are between 5 to 7 years, and that with the primary goal of value maximisation during this timeframe.
Boards need to consider what it means to be a steward:
Having a longer term and multi-generational mindset,
Considering the right to exist beyond pure profit and value maximisation,
Being accountable to other stakeholders including customers, employees, suppliers, and the broader community, and
The role of the company as a corporate citizen – by doing well on a sustainable basis and by doing good within the communities it operates in
These are just some of the key considerations to focus on.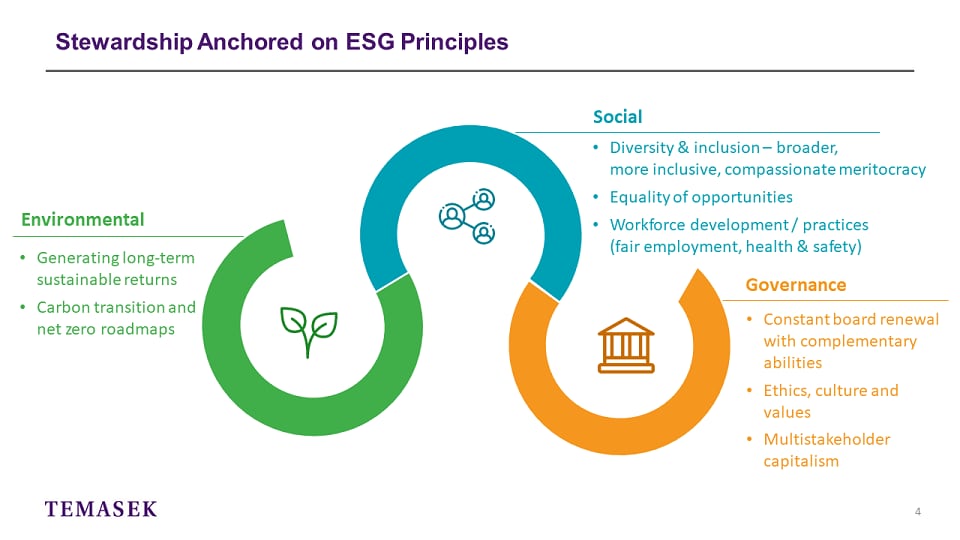 A good framework to operate would be on the basis of the principles of ESG.
Environmental Sustainability – because it will lead to business sustainability,
Social Impact – embracing diversity, equity, and inclusion, and
Good Governance
Let me first deal with environmental sustainability.

Environmental Sustainability
Why is this important? As a result of carbon taxes and the consequential rising cost of capital for companies which failed to transition, we cannot assume that the value of a company today, will grow or even have the same value in future, if we do nothing about climate change as it impacts the company and hence, environmental sustainability.
Addressing environmental sustainability and climate change mitigation, adaptation and transition is an imperative for businesses to generate long term, sustainable returns.
Investors and capital markets are interested in carbon transition and net zero roadmaps that companies have.
Many stock exchanges, including the Singapore Exchange, require listed companies to make disclosures in line with the framework of the Taskforce on Climate-Related Financial Disclosures (TCFD). These require companies to have in place a governance structure, a clear strategy, risk management framework, and also metrics and targets to address the impact of climate change on their businesses.

But in the future, all companies, and not just listed companies, will have to make climate-related disclosures in their financial statements once standards are issued by the recently formed International Sustainability Standards Board (ISSB).
Now with TCFD and ISSB requirements on transition metrics and climate disclosure standards, climate-related financial disclosures are going to become mainstream along with an expectation to report such information with increasingly granular and universal standards
We can expect carbon pricing regimes to proliferate globally. For companies which fall behind in their transition plans, the impact of such regimes, or carbon taxes, will have a direct impact on the financial value of such companies.
We will see an increase credit spreads for financial instruments, increase insurance premium where you have stranded assets – and all of these will impact the asset pricing model for equity value.
There will be increasing shareholder activism, with investors expecting to hear what plans companies have to address and mitigate climate change through their business activities
At Temasek, we have publicly shared that we have achieved carbon neutrality as a company for the last two years. Together with our portfolio, we are targeting to halve our net carbon emissions by 2030 from 2010 levels, and we have the ambition to achieve net zero by 2050. It is not easy when we own an airline.
We have also set an internal carbon pricing of US$42 per tonne of carbon dioxide equivalent, which we factor into all our existing investments and all new investments, with the intention to increase this periodically to US$100 within the next decade.

We should not just think, though, of the "costs" of climate change, but also the opportunities it presents through a shift to a greener economy.
We have seen rapid capital allocation, or reallocation, towards sustainable assets focused on mitigation, adaptation and transition.

Sustainability-focused business models will have a lower cost of capital over the longer run, when compared to business models which do not focus on sustainability.

At Temasek, we are actively investing in sustainable solutions in the food, water, waste, energy, materials, clean transportation and built environment, just to name a few. We have set up an investment platform with BlackRock called Decarbonization Partners, to be able to invest in promising decarbonisation solutions for hard-to-abate sectors.
We have a debt financing platform with HSBC for sustainable infrastructure projects in Southeast Asia.
Ultimately, a focus on sustainability and climate change is not a light switch that can simply be turned on or off. It will be a journey over time, and this also ties into having a multi-generational mindset, ensuring a more livable world and safeguarding the future of humanity.

Social Impact

Diversity, equity and inclusion is key and should not be seen as an opposing force to meritocracy, but rather as efforts that will improve meritocracy. As Ravi Menon has said in his IPS lectures, we should strive for a broader, more inclusive and compassionate meritocracy
This entails, amongst other things, fair employment through diversity, proactively bringing in employees with diverse skills, even those that may have disabilities, to provide for equality of opportunities and fair wages for all.
This will contribute to ameliorating the widening income gaps and inequality of opportunities that have risen in recent years.

Good Governance
Boards must have the skills and capabilities for a multi-generational approach towards stewardship.
A managed renewal process within Boards is an imperative, so that Boards have complementary abilities, requisite skills, competencies, and experiences to navigate this VUCA world and address multi-stakeholder capitalism which will improve decision-making and outcomes.
Board members need to think of ourselves as owners of the firm, not just managers – ensuring that a company is ready to thrive in the hands of their next generation of leaders.
In this regard, it behooves all of us to ensure that the company is purpose-driven with the right values, culture, and behaviours.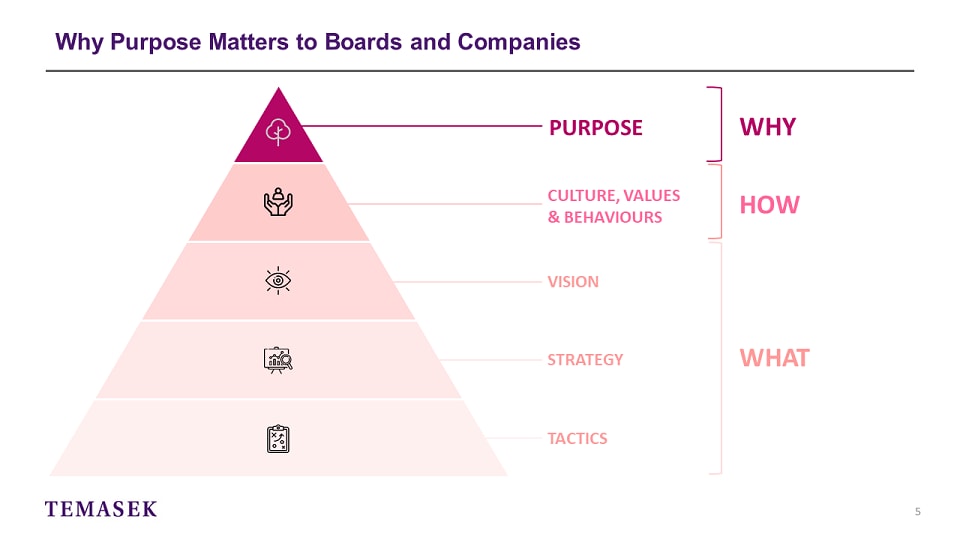 Research has shown that purpose driven companies achieve high market share gains and better workforce and customer satisfaction. A clear purpose is everything to an organisation.
The Board, together with the management team, needs to clearly articulate the company's purpose – Why it needs to exist and why it does the things that it does.
Purpose should not be a trade-off for profit – in-fact being a purpose-driven organisation is correlated with better performance.
This will help guide how a company imbues its culture, values, and behaviours within its employee base and stakeholders, and this will represent the DNA of the organisation. It will serve to inspire its employees and other stakeholders to work towards a brighter future.
With a clear, motivational purpose in place, the management team and boards can then shape its strategy and tactics to achieve its vision and mission. Vision is the 'Where', mission is the 'What', and purpose is the 'Why'.
This will lead to the betterment of the organisation, and allow it to bring about long-term sustainable value while making a meaningful contribution to its communities and the world at large.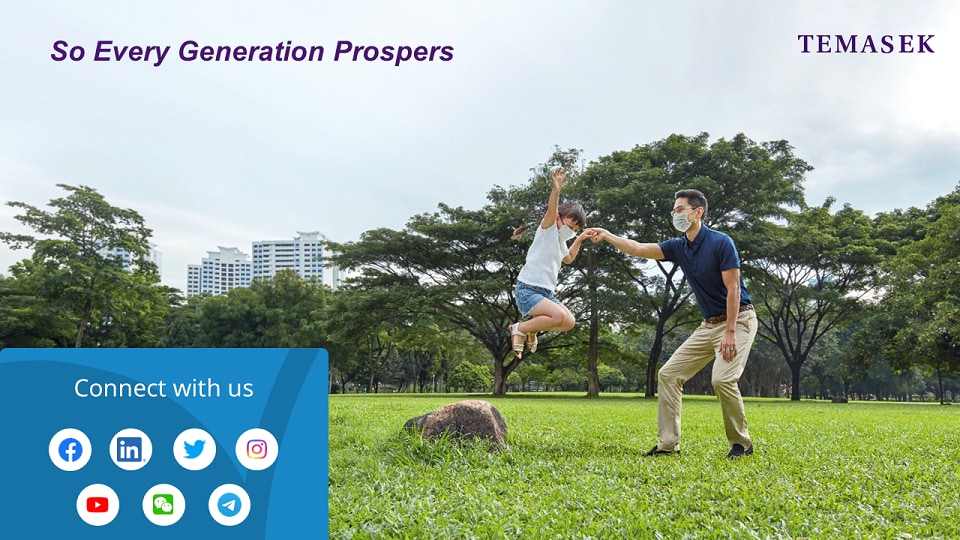 At Temasek, we have just gone though a year long purpose journey internally with our staff, who all have a deep understanding of the values, culture and beliefs that we stands for.
We believe in Doing Well as an Investor, Doing Right as an Institution, and Doing Good as a Steward.
We believe that as trusted stewards, our purpose should be embedded in everything that we do, with the long term goal that every generation will prosper.
The role of a CEO and leaders today is very different from the past. Leadership and management in today's VUCA world is not a science but an art.
In the past, leadership tended to be very top down in nature. That has shifted to leading from the front, leading by example, bringing people along on a journey, rather than simply making top-down directives.
This can only be done if leaders have a clear direction and purpose, and exhibit the right values and behaviours to foster a strong culture for success.
Thank you.