A Ground-Up Nationwide Initiative to Save Lives Through Hand Hygiene
A Ground-Up Nationwide Initiative to Save Lives Through Hand Hygiene
A free hand sanitiser initiative by Temasek Foundation reached almost 600,000 Singapore households as well as frontline transport and healthcare workers to combat the COVID-19 pandemic.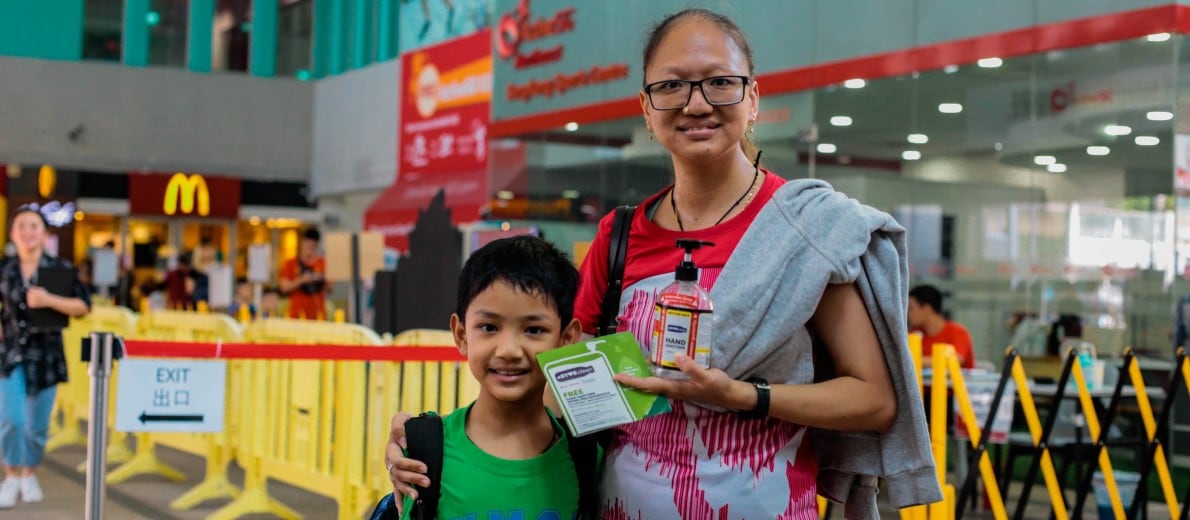 When Ms Serene Ong and her colleagues signed up as volunteers to distribute free hand sanitisers to the public in late March, the last thing they expected was to be on the receiving end of goodwill.
As a show of appreciation for their efforts, residents in the area bought them canned drinks.
"We knew we were helping to make a difference, but we did not expect such a simple gesture to bring about so much joy among the residents," said Ms Ong, who works as a personal assistant at conglomerate Kuok (Singapore) Limited. This was one of the many heartwarming moments that the 48-year-old and her colleagues experienced as part of #BYOBclean – a "Bring Your Own Bottle" initiative by Temasek Foundation.
By collaborating with key partners such as People's Association, CapitaLand, corporates, unions, universities and community organisations, Temasek Foundation provided households and workers with free hand sanitiser to curb the spread of COVID-19.
People's Association and CapitaLand offered volunteers and venues as collection centres, while Singapore Post supported in the mailing of collection and information pamphlets to all households. SP Group manned the call centre to attend to queries from the public.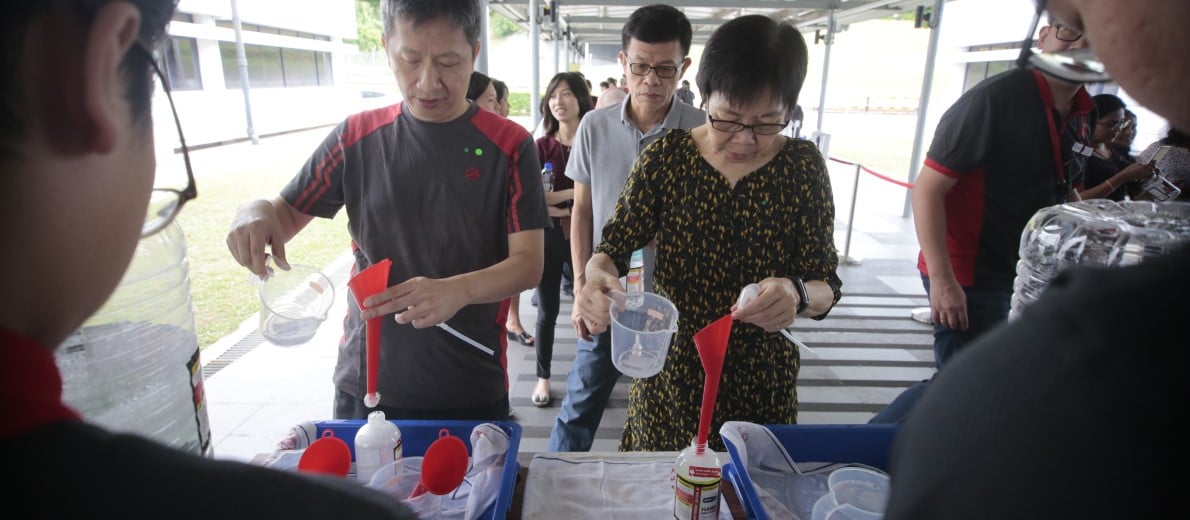 #BYOBclean is part of the Stay Prepared initiative by the foundation to prepare the Singapore community during crises. In 2014, it distributed N95 masks to 1.2 million households to protect them from transboundary haze.
Temasek Foundation's efforts complement the ongoing work by the government in limiting the virus spread during this uncertain period.
From 23 March to 5 April this year, more than 20,000 volunteers from about 80 companies, and organisations, were roped in for the island-wide exercise.
Residents showed up across 109 Community Clubs and 16 designated CapitaLand malls with their own 500ml reusable containers to collect the zero-alcohol hand sanitiser. Almost 600,000 Singaporean households benefited from the initiative.
For Ms Ong, who was part of a team of 60 volunteers from her company stationed at Tiong Bahru, Nanyang and Kim Seng Community Clubs, the initiative went beyond simply offering free hand sanitiser. It also gave them the opportunity to educate the public on maintaining good hygiene during this period.

"Some residents were unsure about how to use the hand sanitiser effectively so my colleagues and I made it a point to explain clearly to all residents on the right way to use," she said.
"The best thing about such initiatives is that it helps to reiterate the point that we are all in this together and that no one gets left behind."

The BYOB and DIY Factor
A key feature of the initiative was the "Bring Your Own Bottle" factor, which prompted the community to adopt eco-friendly practices and cut down on unnecessary plastic wastage.
"I think the #BYOBclean initiative is brilliant. Besides helping people protect themselves from the virus, it also put forward the importance of reusing plastic bottles," said volunteer Muhamed Jauhar Jabarullahan, 23, a first-year student from the Singapore Institute of Technology.
"It is commendable that even in this situation, we are looking for opportunities to do our best to protect the environment."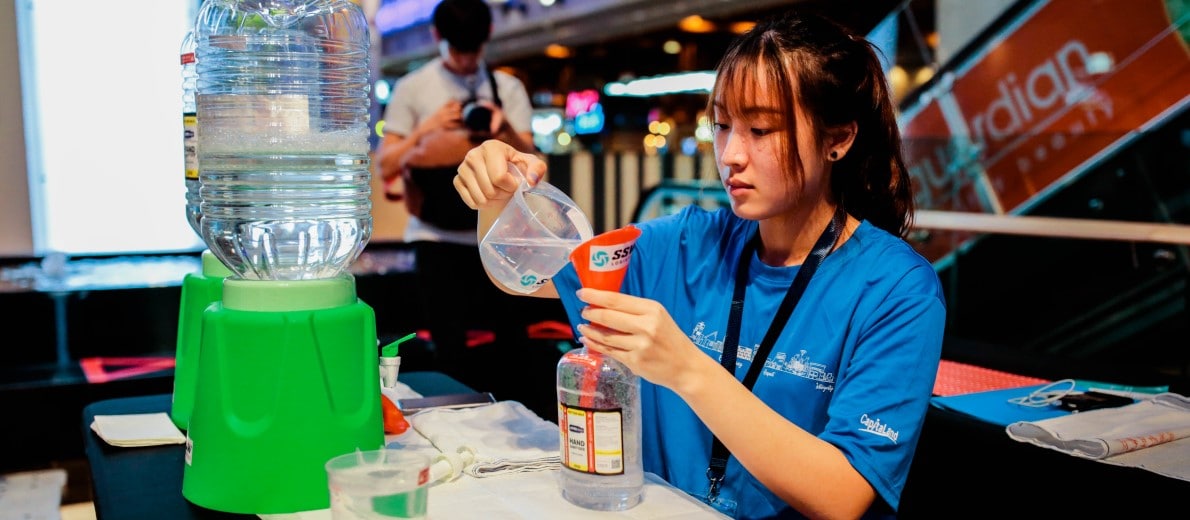 The zero-alcohol hand sanitiser solution was also a DIY product. Those distributed by the People's Association were prepared by Temasek Foundation, while corporate partners like CapitaLand, SMRT, and SBS Transit helped to prepare the mixture for distributing sanitiser to their frontline employees.

To ensure that standards were met, Temasek Foundation supplied the necessary equipment so corporate partners could prepare the hand sanitiser. On top of this, they also sent a scientist from Temasek Life Sciences Laboratory (TLL) to ensure quality of water before mixing it with the sanitiser concentrate. This was followed by another round of checks by TLL on the purity of the solution.
Aside from helping to keep the community safe, the initiative also brought out the best in humanity.
Ms Jena Tan Pei Shan, a volunteer at Macpherson Community Club witnessed this first-hand as residents of all races and backgrounds rallied together to battle the pandemic.
From helping to inform one another of safe-distancing practices to sharing basic hygiene tips, the residents played a key role in empowering the community at large.
In fact, one of her most memorable experiences was interacting with a senior resident who despite having already collected his hand sanitiser, decided to make a second trip down on the same day to collect the solution on behalf of his elderly neighbour.

"There was almost like a domino effect of kindness because the residents were very thankful for the hand sanitiser and as a result, they decided to do their part to help keep others safe as well," said the 29-year-old human resource executive at NTUC First Campus.
Over at Nee Soon East Community Club, Ms Tan Ngak Yang and her team of volunteers received positive feedback on the timeliness of the initiative.
With a global shortage of hand sanitisers due to high demand, the residents were very thankful that they were able to receive the hand sanitiser and keep themselves safe amidst uncertain times.
"Most of the residents we spoke to shared how they were not able to purchase the hand sanitiser at supermarkets and pharmacies because most places had stopped stocking them. Having an initiative like this helps to assure them and give them a peace of mind," said the 63-year-old officer at Singapore Pools (Private) Limited.
"There is nothing more rewarding than seeing the smiles on the faces of residents when they tell you how much an initiative like this means to them — it is truly a priceless experience."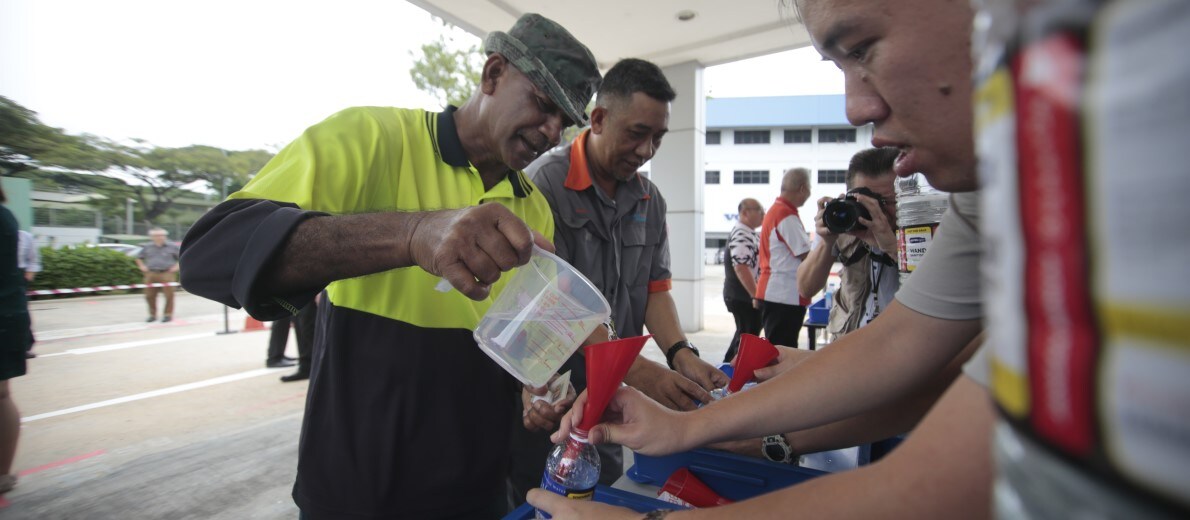 Helping Vulnerable Groups Stay Prepared
This spirit of solidarity was further reinforced when Temasek Foundation extended its free hand sanitisers to transport workers and frontline healthcare staff, who continue working during this circuit breaker period. The sanitiser comes in handy to frontline workers as their work often takes them away from washing facilities with soap and water.
Temasek Foundation is providing hand sanitisers to bus drivers, rail and bus station inspectors, customer service staff and other frontline employees at SBS Transit and SMRT. Taxi drivers and private-hire car drivers were also offered the free hand sanitisers.
For healthcare workers, Temasek Foundation provided free hand sanitisers to 79 nursing homes and hospices; 50 day rehabilitation and care centres, senior care centres, active ageing hubs, maintenance day care centres; and 160 senior activity centres.
Summing up the efforts, chairman of Temasek Holdings Lim Boon Heng shared: "Doing good for the community is at the heart of Temasek's DNA. Together, we share a common goal – to try our best to help Singapore stay prepared and resilient during this tough and uncertain time.
"We hope this sanitiser will come in handy for all Singapore residents, for everyone to pick up the habit of washing or sanitising our hands regularly."