Fighting COVID-19: Keep clean, safe and sanitised
Fighting COVID-19: Keep clean, safe and sanitised
As hand sanitisers became difficult to acquire at the start of the COVID-19 outbreak, Temasek Foundation stepped forward to provide them to the frontliners and community organisations to ensure they stay prepared during this period.
At Loving Heart Multi-Service Centre, some seniors under their care are reluctant to visit the centre for their regular hospital check-ups. They fear getting COVID-19, the virus that has infected more than 80,000 worldwide.
"We bring the seniors to hospitals for medical appointments, but they are worried to go to the hospitals due to this current situation," shared Mr Loh Hui Han, a volunteer manager at the centre, a Social Service Agency (SSA) and Volunteer Centre in Jurong.
To give them more peace of mind, Loving Heart takes extra measures to protect the seniors. One simple way is by disinfecting hands with sanitisers to minimise the spread of the virus.
But with the COVID-19 outbreak, masks and hand sanitisers have been quickly snapped up at retail stores and across the supply chain. This has made it difficult, especially for community organisations that do not have the resources, to obtain hand sanitisers fast.
Loving Heart, for instance, was unable to purchase enough hand sanitisers for use among their many beneficiaries.

To ensure those in the frontline and community organisations stay prepared during the COVID-19 outbreak, Temasek Foundation has recently stepped forward to provide bottles of hand sanitisers. In February, it distributed 4,000 bottles of hand sanitisers to 17 independent charity-run clinics, hospitals and healthcare community organisations such as NKF Integrated Renal Centre and Tzu Chi Rehabilitation Centre to their frontline staff including nurses, doctors, and caregivers.
The contribution to Loving Heart did not just benefit its service-users. The hand sanitisers were shared with other members of the community, such as medical social services agencies who serve the public.
"When we heard that we'll be receiving a contribution of hand sanitisers, we informed the other social services agencies to inform and mobilise resources when the hand sanitisers arrive … They are happy and grateful because there is a strong demand for hand sanitisers from the public and residents who frequent their services," said Mr Loh.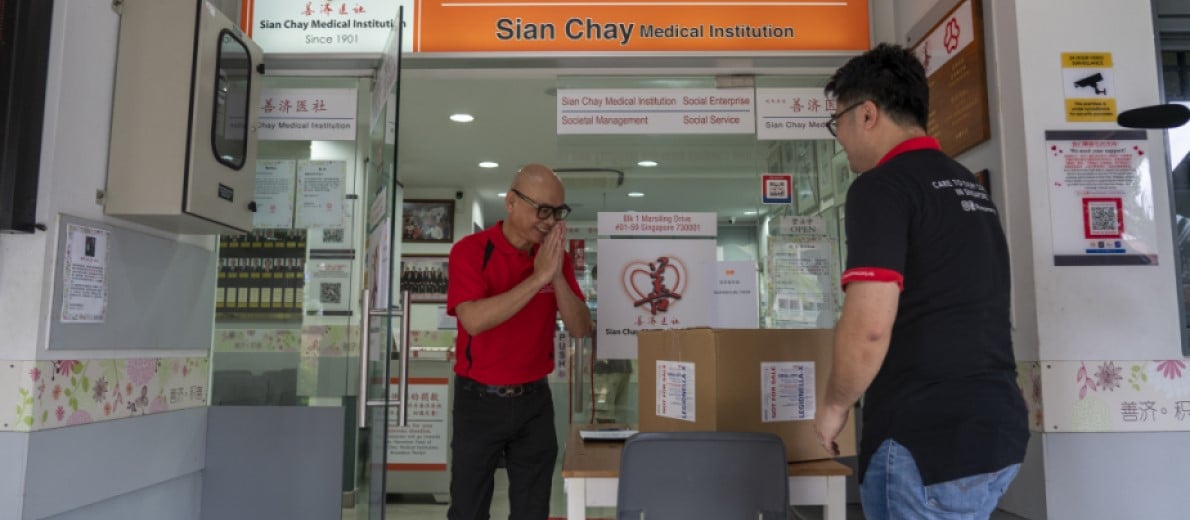 Another 100,000 bottles of hand sanitiser were also made available to frontline transport workers such as taxi drivers, bus drivers, and private-hire car drivers.
These contributions of hand sanitisers are part of Temasek Foundation's 'Stay Prepared' initiative to enhance the resilience of the Singapore community to cope with emergencies.
"We are working seriously in this area to complement national efforts by the government in the fight against COVID-19," explained Mr Richard Magnus, Chairman, Temasek Foundation Cares.
"In the first phase, we are targeting frontline service providers ... These people are in constant contact with others in the public and can't be constantly running to places to wash their hands."
When soap and water are not readily available, hand sanitisers are convenient and effective.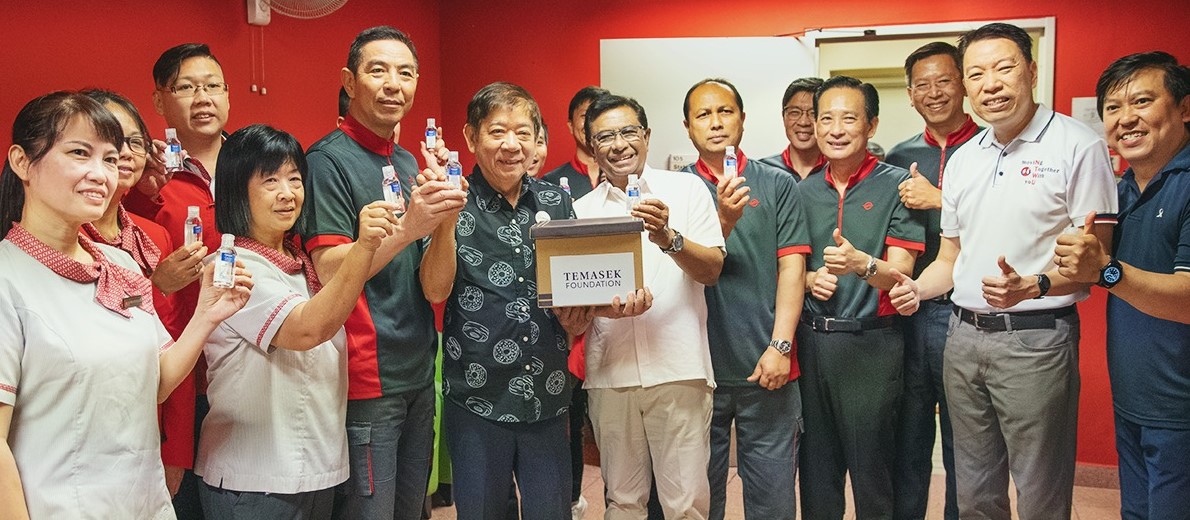 Responding to public health emergencies such as COVID-19 is among the many philanthropic efforts enabled by the Temasek Emergency Preparedness Fund (T-PREP Fund).
Back in 2014, Temasek Foundation launched its 'Stay Prepared' initiative which builds community resilience in anticipation of emergencies. One of the programmes gave every household a pack of N95 masks for safekeeping and use in times of emergencies such as this current disease outbreak.
But the focus this time was on hand sanitisers, as good hygiene can reduce the transmission of the virus. This also complements the government's efforts of issuing four masks to every household for use when unwell, noted Mr Magnus.
A second and third phase of the hand sanitiser distribution programme are in the works, and these are set to benefit more people in the community.
"In the next phase, we would like to invite collaboration with the private sector, partners, voluntary welfare organisations, and community groups," said Mr Magnus.
"We want to gather as one man for our community and for our nation. We want to do our part to keep the vulnerable safe during this critical period."
To learn more about Stay Prepared initiative, please visit http://stayprepared.sg