How Temasek Foundation Fights COVID-19 With Food
How Temasek Foundation Fights COVID-19 With Food
It takes three programmes and more than 300,000 meals to ensure no empty stomachs as livelihoods are affected by the pandemic.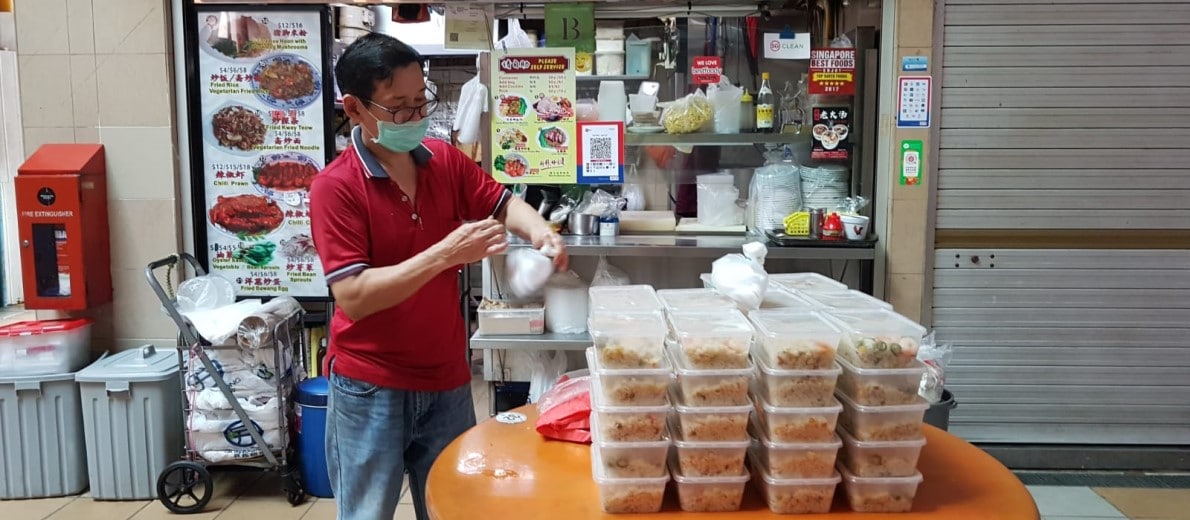 On a regular day, Mr Guo Da Yong used to sell over 150 bowls of fish soup at his stall at the Tanjong Pagar Plaza Market. But since COVID-19 struck and stringent circuit breaker measures kicked in, the hawker now considers it a good day if he shifts more than 10 bowls.
"It's really bad. Some stores have closed during this period because it's not worth it to open. The virus has made life very difficult for us," he said.
In his four decades as a hawker, he has never seen a situation like this. The once bustling food centre, where it was near impossible to get a seat during the lunch hours, has fallen largely silent and deserted. Earnings for most hawkers have plummeted by nearly 90 per cent.
But they now have a lifeline. Supported by Temasek Foundation, The Food Bank Singapore launched a two-week pilot programme in early May to purchase 2,800 free hawker meals.
Four other hawker centres are also involved: Amoy Street Food Centre; Hong Lim Market & Food Centre; Maxwell Food Centre; and Chinatown Complex Food Centre. The initiative will involve 30 hawkers and help 200 beneficiaries.
The food goes to vulnerable and disadvantaged households not receiving any food aid.
The efforts will help private-hire drivers too. For a small fee, they are roped in to make food deliveries. "The situation is very bad now, and this is a way to earn a little bit of money – it's better than nothing," said Mr Darren Ang, a private-hire driver whose income has fallen by almost half in the last few months.
The scheme's three-way reach makes it especially meaningful, said Mr Nicholas Ng, a co-founder of The Food Bank Singapore. "We'll be able to boost both the F&B sector, feed the needy, and try to give everyone some business in between with this initiative."

Following the success of the pilot, The Hawker Food Delivery Programme has been extended into August 2020, to serve another 27,000 meals so that beneficiaries and hawkers are paced into Phase 2 re-opening. It is one of three meal support programmes Temasek Foundation has supported. These efforts are part of Temasek Foundation's Stay Prepared initiative to build social resilience and support the Singapore community during the current COVID-19 outbreak.
More than 300,000 meals over the three meal support programmes will be given out over the next six months.
Delivering Food to Their Doorstep
To help with the sheer number of meals being distributed, the Temasek Foundation has also collaborated with other organisations. It is partnering two food charities for its second initiative, the COVID-19 Food Aid Programme, that will deliver 270,000 meals to 1,500 people.
Free Food For All and Willing Hearts will reach out to low-income individuals, elderly living alone in rental flats, and those with pre-existing health conditions. Beneficiaries are enrolled into the programme after being identified by the respective social service agencies and organisations.
To minimise contact, Free Food For All has also come up with an innovative solution to ensure that a month's worth of food can be delivered to a household in a single delivery: Ready-To-Eat meal pouches with long shelf lives, similar to that of military combat rations.
Each package includes 30 different set meals such as garlic fried rice and lemak lodeh, topped up with additional snacks such as energy bars and dates. "It gives them the power to decide what they want to eat for that day," said Free Food For All's founder Nizar Mohamed Shariff.
"The vulnerable segments of our population, especially the elderly and the non-ambulant, need a defence against food insecurity. We believe that the community has to come together to ensure that hunger is not present in our households, because a hunger-free society is a strong community."
Reaching Out to Schools
The schools are not forgotten. The Temasek Foundation will also assist five specialised/special education schools with its COVID-19 Meal Support for Students Programme. For two months, Assumption Pathway School, Crest Secondary School, Northlight School, Spectra Secondary School and Metta School will be able to provide up to 30,000 meal vouchers, meal rations or pre-packed meals to students needing additional help.
The meal vouchers have made a difference to students like Muhammad Farees Bin Aziman, who studies in Metta School. Now with the vouchers, his parents are better able to afford food for him and his three siblings.
"I feel that this meal programme is very good for families like mine who are having problems with money. This will help us a lot," he said.
The three meal support programmes for the vulnerable are part of a larger response to the evolving COVID-19 situation that Temasek Foundation is working on with multiple partners. Temasek Foundation is continuing to work with other partners to provide more support including new meal support programmes for those in need within the Singapore community.