Planting The Seeds for a Sustainable Future
Planting The Seeds for a Sustainable Future
Microalgae-based protein that requires far less land than conventional farming and a biodegradable alternative to plastic are the winning innovations that have emerged from Temasek Foundation's annual The Liveability Challenge.
It started with drinking straws made of a fully biodegradable material: Solon. Now, eighteen months after winning The Liveability Challenge (TLC), biotech company RWDC Industries is moving closer to its goal of offering a viable alternative to plastic.
The inaugural winner of TLC – launched in 2018 by Temasek Foundation, and digital media organisation Eco-Business – is now running trials on bottles, cutlery, paper coatings, and fibres (that can be used to produce items such as wet wipes and diapers) with its biopolymer.
The S$1 million prize money aside, the exposure gained after its win has also helped open doors for the company, says its Asia-Pacific President, Mr Xiao Zhaotan.
RWDC, which is based in the United States and Singapore, is now involved in the consultation process of the European Union's single-use plastic legislation.
It has also been approached by many leading F&B brand owners who are keen to use its eco-friendly straws.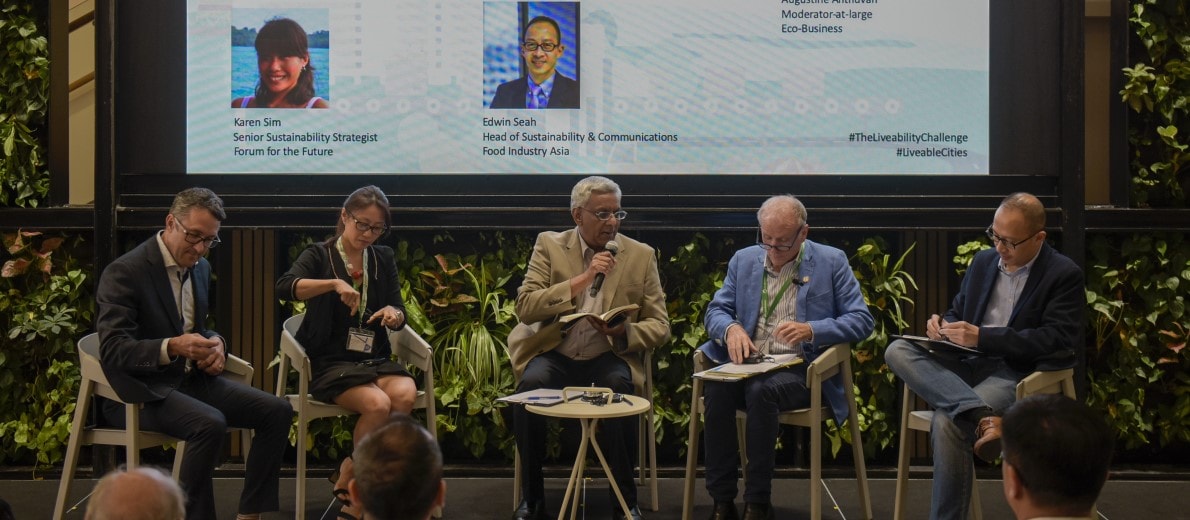 Solon is made from polyhydroxyalkanoates, a polymer produced during the bacterial fermentation of plant-based oils or sugar. Not only is the material functional across food service temperatures, it is also certified to be fully biodegradable in soil, water and marine environments, in all potential end-of-life scenarios.
"We are at the cusp of transitioning the world away from plastics to a naturally occurring polymer that is just as functional, and are very confident this is the way forward," said Mr Xiao, 39. "The world has to do better – plastic pollution, micro-plastics in particular, is a disaster."

The annual TLC is a global call for innovative solutions to sustainability especially in urban cities. In the process, it also promotes investment opportunities in viable, ground-breaking proposals. This year, the competition, convened by social impact investment firm Closed Loop Partners, is focused on the themes of Urban Food Production, Circular Packaging and Decarbonisation.
Sophie's Kitchen, a California-based vegan food company which won last year's edition, has made good use of the S$1 million in funding to scale up its production of food-grade protein using microalgae.
In one year, its production of microalgae-based protein has grown by 20 times to 10 tonnes.
This has allowed the company to cut the selling price to just under US$30 (S$40.48) per kilogram, almost US$10 less than its competitors. Eventually, it hopes to further sharpen its competitive edge by slashing prices to just under US$2.
The company ferments the microalgae from food waste such as spent grains from tofu makers and breweries, and even molasses from sugar refineries.
While the current strain has a natural "fishy" taste, which is more suitable to create a 'seafood' flavour, it hopes to find other strains to achieve a more neutral taste that can be used for other types of food, such as meat and tofu.
Mr Eugene Wang, founder and CEO of Sophie's BioNutrients, the Singaporean arm of Sophie's Kitchen, believes microalgae could be an alternative to animal- and plant-based protein, as it requires far less resources to produce and has no need for pesticides and fertilisers.
Only 0.02 hectares of land, or about half a basketball court, is needed to produce a tonne of the protein, compared to 141 hectares required to produce the same amount of beef.

"While Western markets have a lot of space, Asia has tremendous space constraints with urbanisation," said Mr Wang, 51. "And I think the people here understand that you need to develop sustainable ideas in order to facilitate further urban shifts."
He appreciates TLC for its ethos as much as the visibility it has given the winners.
"A lot of the pitching contests in the US were focusing too much on technology, while TLC is the first event that's focusing on urban sustainability," he added.