5 Things to Know about Connect@Changi
5 Things to Know About Connect@Changi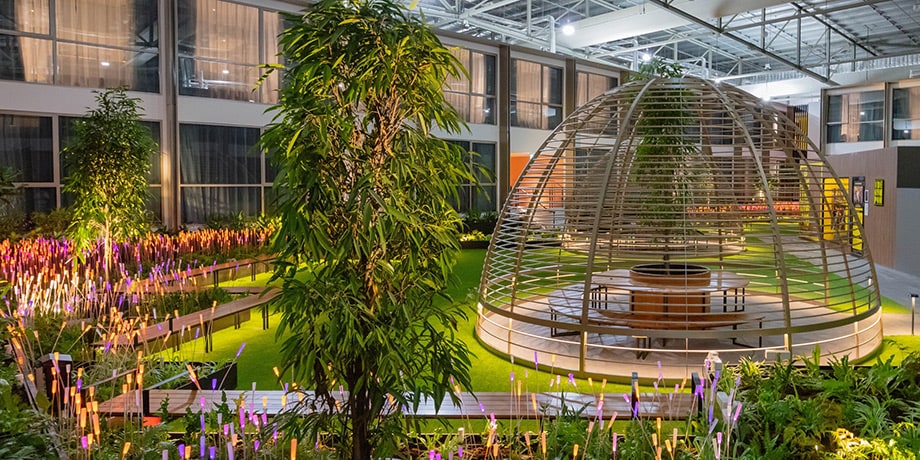 It may no longer be business-as-usual during the pandemic, but what does this new normal mean for business travel? To help rejuvenate the sector around the region while safeguarding the health and well-being of our local community, Temasek has partnered with The Ascott Limited, Changi Airport Group, Sheares Healthcare Group, SingEx-Sphere Holdings and Surbana Jurong to develop Connect@Changi, the world's first purpose-built short-stay facility for business travellers.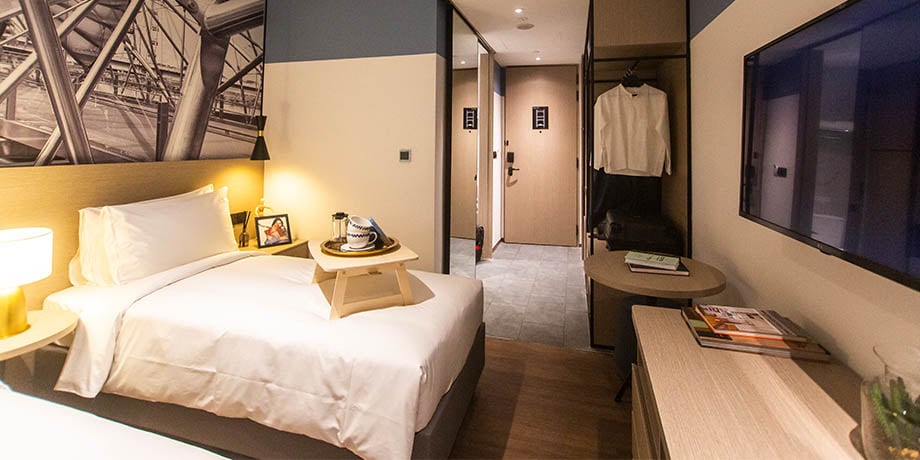 Business travellers landing at Changi Airport will be transported directly to Connect@Changi upon arrival. Here, they can then meet their Singapore-based business partners or hold regional meetings in person in a safe and contained environment, as part of Connect@Changi's integrated "test-stay-work-meet" experience. Intrigued? Here are five interesting things to know about Connect@Changi.
1. The rooms were wheeled into the hall on rails
Prefabricated steel and concrete room modules were wheeled into the halls before being stacked up! Video: Surbana Jurong
The facility is located at Singapore Expo Halls 7, 8, 9 and 10. As Connect@Changi is housed in these exhibition halls, preserving the flooring was one of the factors that the construction team from Surbana Jurong had to keep in mind when planning and designing the facility.
Their creative solution: wheeling the rooms into the halls via elevated rails! The team built the rooms using the Prefabricated Prefinished Volumetric Construction (PPVC) method, whereby free-standing modules are wheeled inside the halls before they are then stacked up to build the two-storey facility. By raising the rooms above the exhibition floor level, the team eliminated the need for drilling into the ground to lay pipes.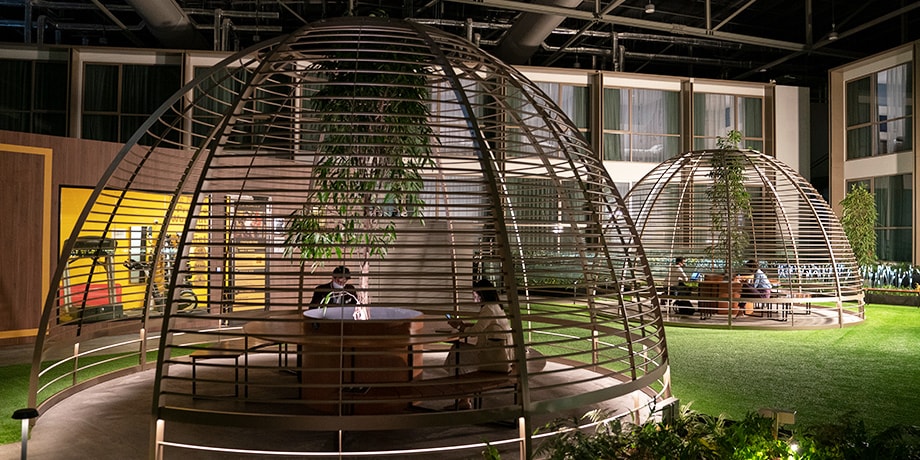 2. An array of COVID-19 management strategies are in place
Guests at Connect@Changi will go through a rigorous testing regime, such as undergoing the COVID-19 polymerase chain (PCR) reaction test — considered the 'gold standard' for diagnostic testing — regularly during their stay. On top of the on-arrival testing, they will have to undergo the PCR tests on days 3, 7 and 14 as well, depending on their length of stay. Appointments for these tests can be easily booked via the Connect@Changi app.
Keeping the contact bubble small is another strategy in place at the facility, and guests here can only gather in groups of up to five in meetings. Gym pods are also available within the indoor courtyard, so that guests can exercise safely.
3. The air you breathe is kept separate
To further reduce the risk of transmission, the entrances, exits and air-conditioning units for guests and local visitors at Connect@Changi are kept separate. The air-conditioning and mechanical ventilation systems were also carefully designed for a safer airflow path. Meanwhile, the self-service rooms feature airtight floor-to-ceiling glass panels to minimise the risk of virus transmission between guests and Singapore-based visitors.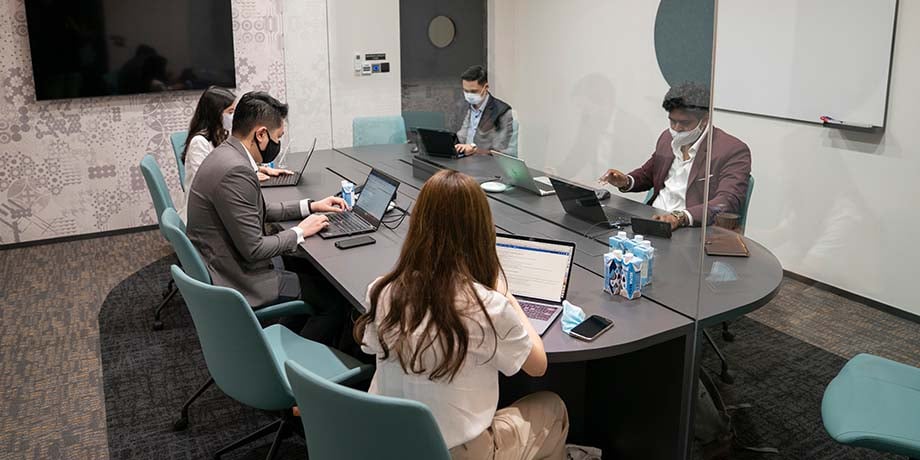 4. The Singapore experience is served – in a contact-free way
A visit to Singapore just doesn't seem complete without trying local dishes like chicken rice or char kway teow (fried rice noodles). Thankfully, guests at Connect@Changi can still enjoy local cuisine and shop for duty-free items online, which will be delivered from Changi Airport via the e-concierge service. Bonus: there are shelves installed outside each room to ensure easy and contact-free delivery.
5. It's a living laboratory
The pandemic is an ever-evolving situation and being able to adapt and respond quickly to changes is key in this new normal. As such, Connect@Changi is also designated as a living laboratory. The innovative protocols and testing measures in place here are being constantly refined to ensure the safety of both guests and facility staff. Strategies found useful here may then be deployed in other initiatives across Singapore to support national efforts in progressively opening the economy up in a safe and controlled manner.