Behind the Scenes of StayMasked
Behind the Scenes of the StayMasked Campaign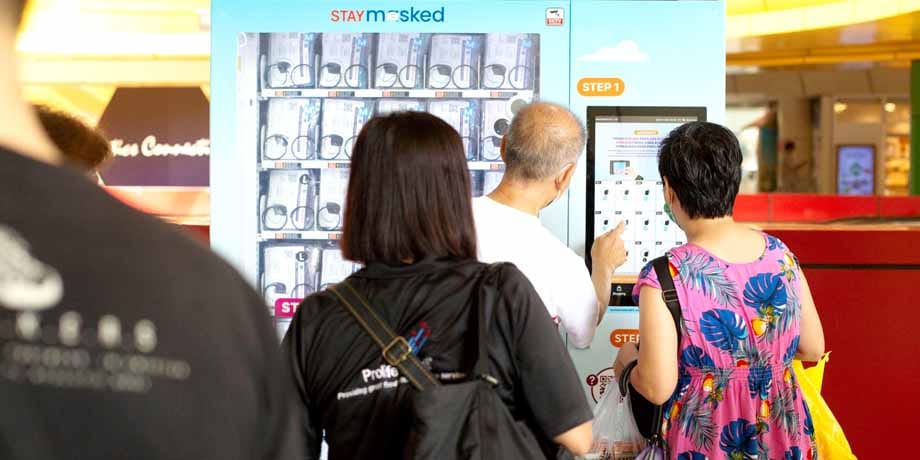 In this pandemic, no one is safe until everyone is safe. Staying masked is key when it comes to protecting not just ourselves, but also our friends, family and community. As part of Temasek Foundation's Stay Prepared initiative, which aims to enhance the resilience of the Singapore community, free reusable antimicrobial face masks were distributed so that residents can stay safe in a more sustainable manner.
These masks were distributed to ensure that everyone has enough masks to stay protected, as people head back to work or school in the new normal. This way, single-use disposable masks can be saved for when they are visiting clinics or hospitals.
Since the launch of the StayMasked campaign in June 2020, about 26 million free antimicrobial face masks have been collected by Singapore residents.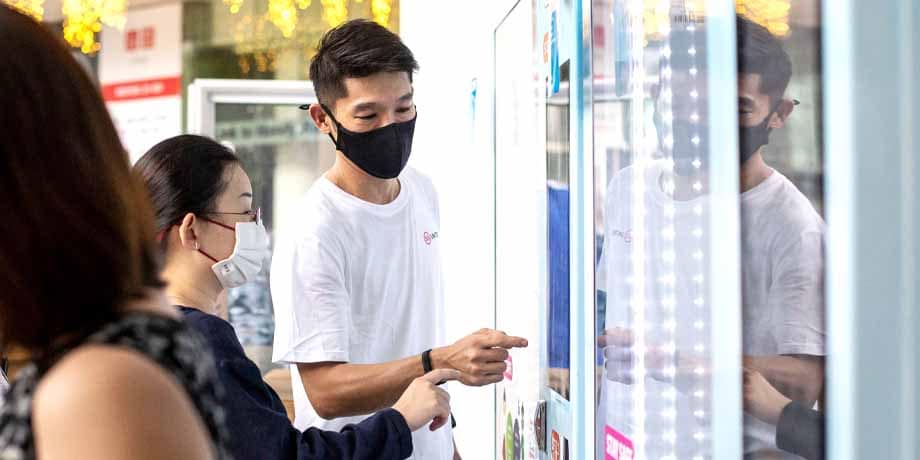 Managing the mask distribution exercise and putting together all vending machines and software needed required an extensive coordinated approach. To bring this project to life, Temasek rallied its network of partners and vendors; this includes creating and fine-tuning the software needed for the vending machine with partners like Warburg Vending and Beep, and sourcing for locations to put the vending machines with help from partners like SMRT Corporation and SBS Transit, to SP Group manning the call centres, and gathering volunteers to assist the public in collecting the masks.
Find out what went on behind the scenes and hear from the people who worked tirelessly at the recent distribution round to learn more about how this initiative.
Finding Meaning Through Work
Ensuring that 1,200 vending machines — through which residents can redeem their masks — are stocked island-wide is no small feat. Delivery personnel such as Calvin Lee from Warburg Vending, have to travel across Singapore restocking and servicing the machines, sometimes even three o'clock in the morning. Calvin has been a part of the project since it began. Calvin started working at Warburg Vending, one of our partners in StayMasked, after losing his job as an accountant amid the pandemic.
While it took a while for him to learn how the firmware and hardware of vending machines worked at the start, he reflects on how he finds meaning through working in this campaign, as it gave him an opportunity to contribute to the community. Calvin shares more about his experience below.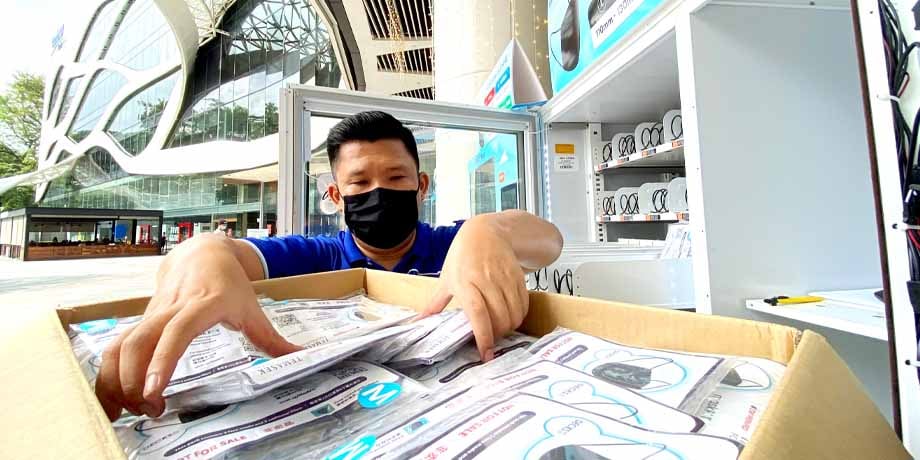 "My role in this campaign is to replenish the face masks in the vending machines. I need to ensure that the vending machines island-wide are restocked in a timely manner so that residents can redeem the face masks at their convenience. I've been involved in this campaign since the first round of mask distribution. At the start of the campaign, we also need to unbox the machines at a warehouse, ensure that the system is working smoothly, install the camera and do the preloading of the face masks."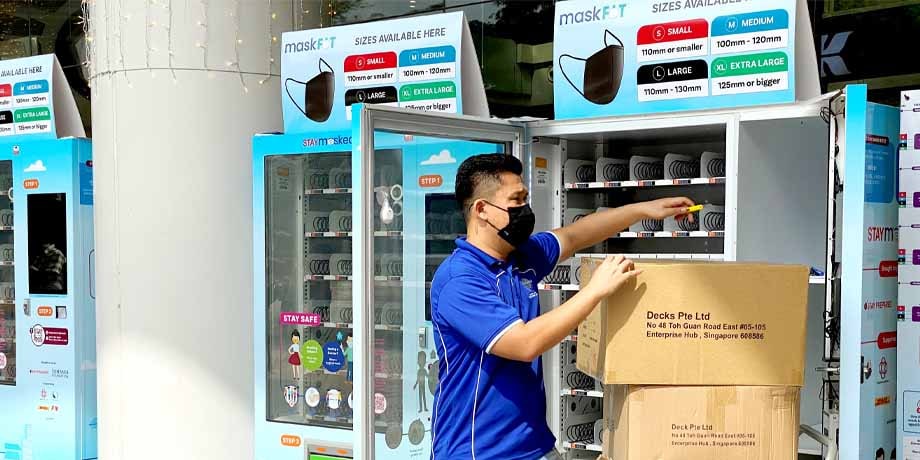 "There were a few challenges that I encountered during the campaign, but there were also pleasant experiences. For example, there were also times where I received snacks and drinks from the Resident Committee (RC) managers — these moments are very heart-warming to me. To be honest, my initial intention when I took up this role was to just tide over this COVID-19 period. But since the first round of the StayMasked campaign until now, I feel that my job is a very meaningful role, contributing to the community."
Leveraging Tech to Help
One of the key aims of the project was to enable Singapore residents to collect the masks at their convenience, from any vending machine. Residents can also purchase additional masks online and collect them through the same method. For this to work, a software and platform to accept payment and track redemptions at the vending machines was needed.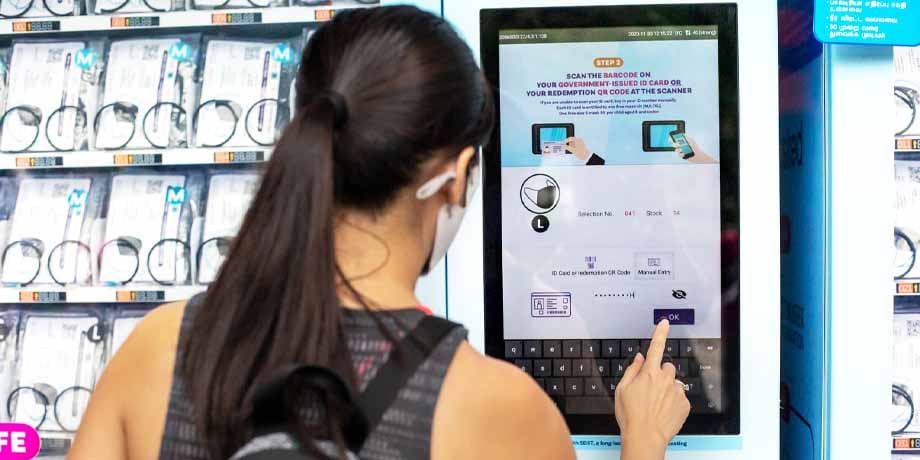 Terence Tan is the co-founder of Beep, a local payment solutions startup. In May 2020, Beep, with support from Warburg Vending and Temasek, developed the software and platform needed for the StayMasked campaign. This took place at a time when most of the residents in Singapore were staying home as partial lockdown (also known as circuit breaker) measures were implemented.
Since then, Terence and his team from Beep have also been fine-tuning the platform through feedback from all the people involved in the campaign, from Singapore Airlines ambassadors and other volunteers on the ground to project managers handling the campaign. Here, he shares more about his goal — to use tech to streamline workflows and help the campaign's delivery personnel.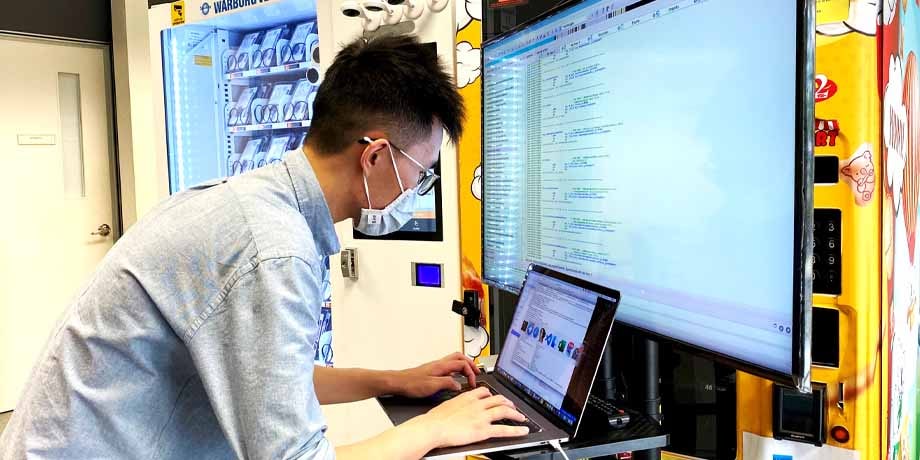 "When StayMasked first started, it was quite challenging for us because it happened in the midst of the circuit breaker and everyone had to work from home. We were dealing with vending machines, so it is not like a traditional software system where you can just sit at home and code it. For this, you have to do the coding and physically go down to the machine to test it. We were lucky to have support from both Warburg and Temasek; Warburg, specifically, sent one of their vending machines down to our office so we could do stress testing."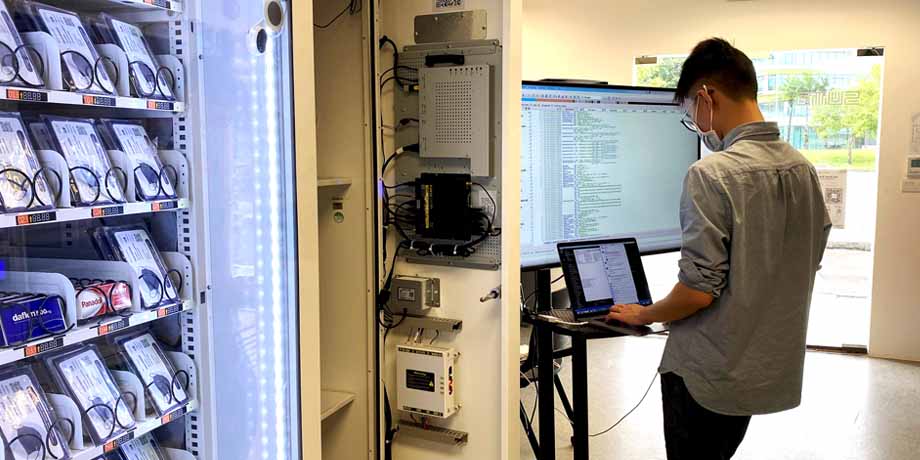 "We developed the features together with all the different stakeholders involved such as Temasek and Warburg, and we also built the features iteratively with feedback from the Singapore Airlines ambassadors and volunteers from Temasek Foundation. For future campaigns, we hope to incorporate some of the new contactless vending solutions we have been developing."
"The machines will inevitably break down because of overuse and there will always be a gap. We're trying to see how we can use technology to reduce that gap and manpower needed; if the problem cannot be resolved remotely, then we want to extract as much data on the machine as possible so that when the delivery uncle goes down to service the machine, he knows exactly what the issue is, and he can bring the right parts. I think this is the most fulfilling part because we can really help the delivery personnel. We're very fortunate to be able to play a role and contribute during such a crucial time."
Coming Together for a Greater Good
Helming the web development team for the StayMasked campaign is Benjamin Chiang, associate director at Temasek Foundation. As part of the web development team, Benjamin works extensively with everyone involved in the campaign, from the operations team to the call centres, to ensure that the right information is communicated accurately on the website and accompanying assets.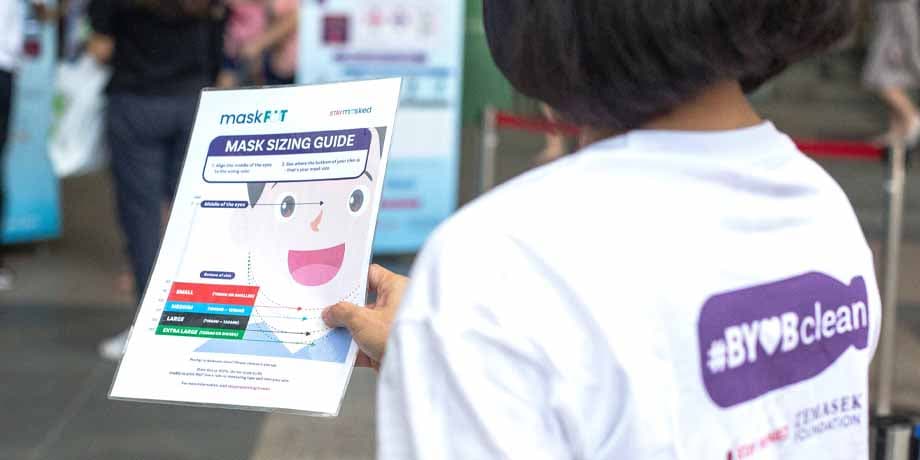 This was especially important for the third StayMasked distribution, as a new type of mask with sizes available was introduced. For Benjamin and team, this meant that they had to find a way to inform and educate the public on how they can best measure their face for a good fit. On top of that, Benjamin also also walked the ground to assist in measuring and choosing the best size for them. Here, he shares his experience.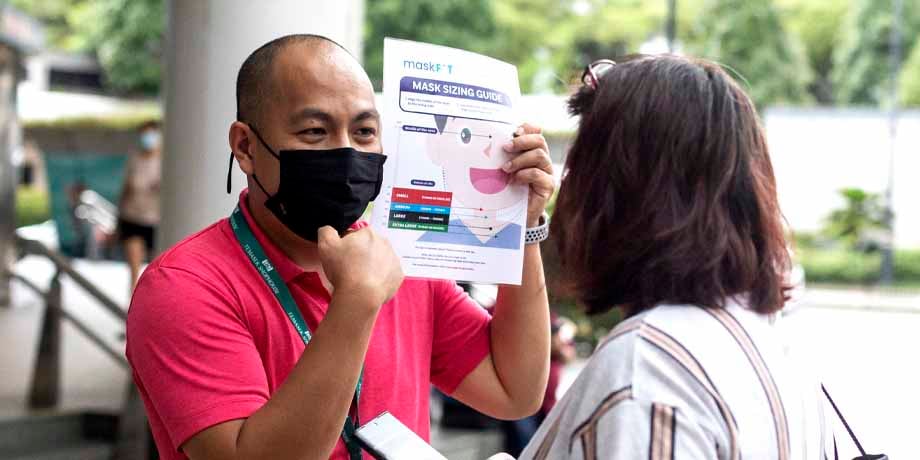 "Web development and project management of the campaign demands time, but it's no problem. When we decide to help on the ground, that's when you start to think, "I'm going to be exposed to quite a large number of people — is that safe for my family?" I have a pair of twin boys, my wife and mother-in-law at home. I was worried about their safety. But my wife and I weighed the risks and we thought, it's okay. I get myself masked up, and I sanitise my hands very, very often, so that kept me sufficiently safe."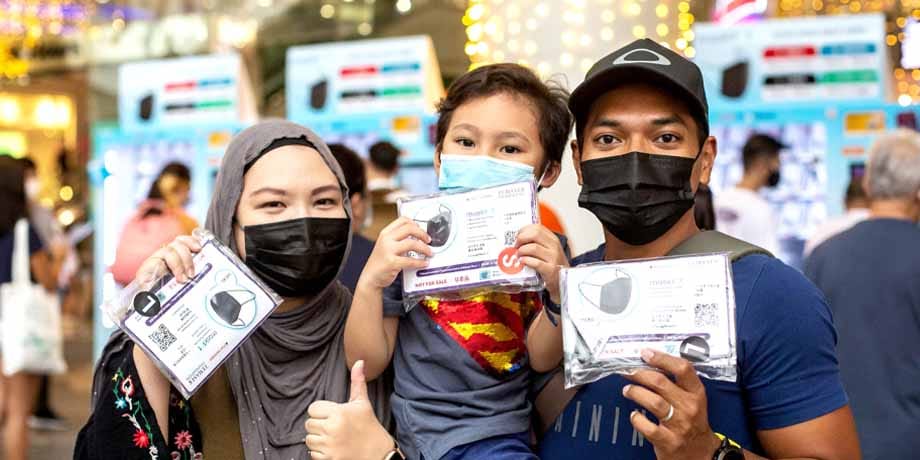 "During the second round of mask distribution, I was helping out at Plaza Singapura, which was the centre of action because it carried the coloured masks. We also had the good opportunity to work with our fellow colleagues from Singapore Airlines, the service ambassadors. They were there to help, and they were absolutely professional in their service. We had a lot to learn from them on how to conduct ourselves or speak with members of the public."
"The entire series of COVID-related projects has brought the whole Temasek family together — staff from both Temasek Foundation and Temasek Holdings. We also have the strong support of all of our vendors. We work together seamlessly and across borders. It's gruelling, there are late nights, and this is not our full-time job. We still have our usual work to do that has to run in parallel. It's not easy, but it's still a job that somebody has to do, so we do it. And it's for the good of Singapore. It's the whole reason why we are working here."
"Nobody is safe until everyone is safe. We're not just talking about Singapore; we're also talking about the greater region. Ultimately, we're talking about the whole world. We want to get our lives back on track as soon as possible. Livelihoods are at stake, you know, or even jeopardised. People have real suffering going on. So, in the context of that, you know, it's okay. We do what we're supposed to do, and we get it out the door."
Stay tuned for more details, as the fourth StayMasked distribution will be launched soon!