A Look Inside Connect at Changi and the People Behind It
A Look Inside Connect@Changi and the People Behind It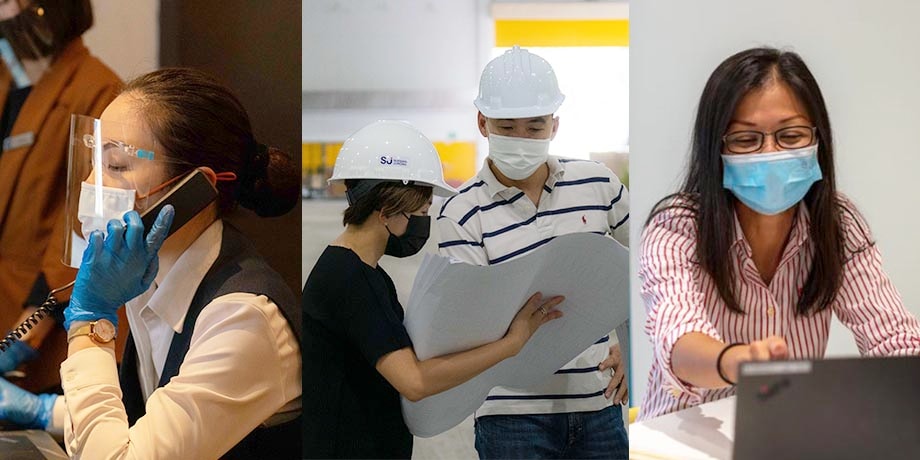 At a time when everyone is slowly adjusting to the new normal, the Connect@Changi team is racing against the clock at Singapore Expo. Their goal: to roll out phase one of the world's first purpose-built short-stay facility for business travellers as quickly as possible. After all, timing is everything in a pandemic.
As a result of their hard work, what would typically have taken months just to design was built in an incredible 14 weeks.
Since early March, Connect@Changi has been welcoming guests while work on it continues.
The launch of this facility, which is part of the Connect@Singapore initiative, gives business travellers the option of resuming in-person meetings in a safe and contained way. Before this, they were faced with just two choices: stay home due to travel restrictions, or travel and endure long periods of quarantine.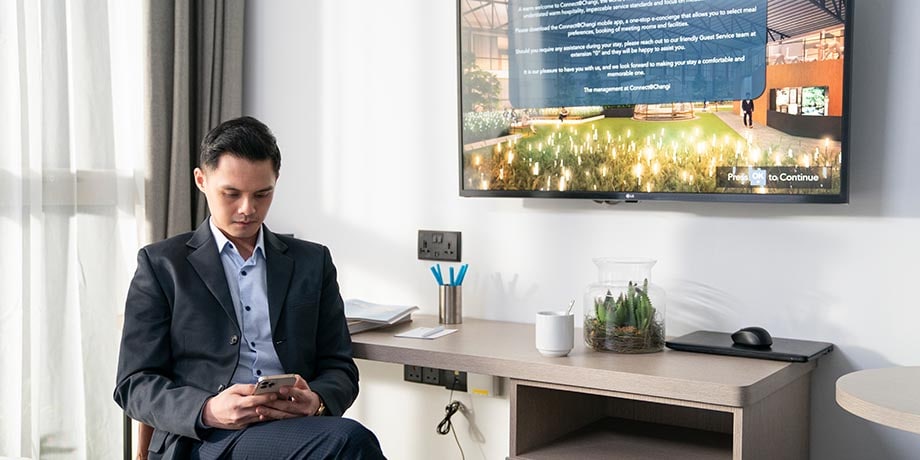 Connect@Changi — developed by Temasek and its partners, The Ascott Limited, Changi Airport Group, Sheares Healthcare Group, SingEx-Sphere Holdings and Surbana Jurong — was born out of the desire to support the progressive reopening of Singapore's borders and spur economic recovery, while safeguarding the health of the local community.
Hear from those involved in this initiative to learn more about the facility and their experience working on it.
Adapting and Learning on the Go
Designing, planning and building Connect@Changi — located at Singapore Expo Halls 7, 8, 9 and 10 — was distinctly different compared to other projects that Surbana Jurong's Senior Principal Architect Ivy Koh and her team had worked on before.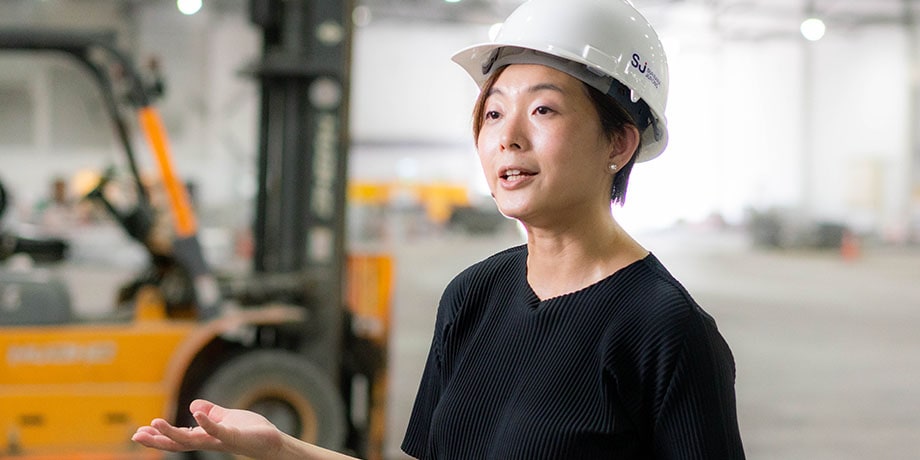 For one, the constantly changing landscape of COVID-19 meant that Ivy and the Surbana Jurong team had to work quickly and adapt to new challenges that arose as they built the facility in the Singapore Expo's exhibition halls.
"Work is round-the-clock, so close coordination is needed to catch any changes and address them immediately. Through this, we learned to be more flexible, in terms of the way we design and the way we build."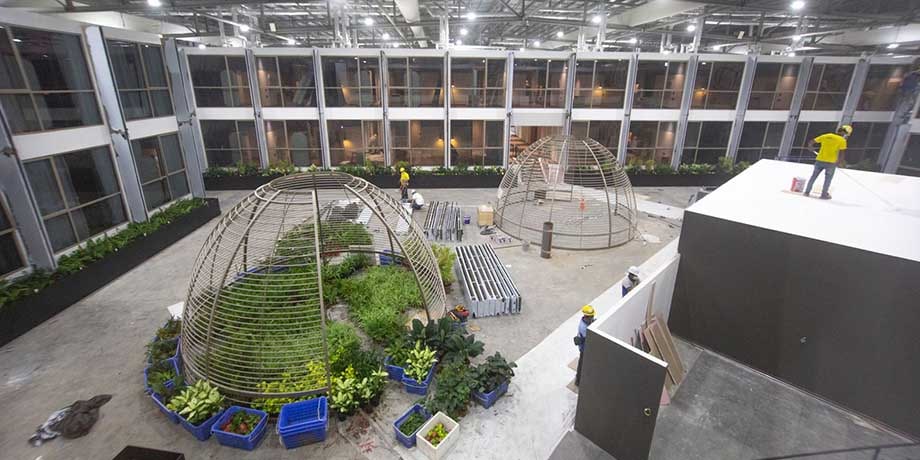 "For example, with the ongoing pandemic, a lot of logistics lines have been affected. Certain things that we may have liked as designers were not easily available, so we had to be more flexible and look for alternatives that would still work."
Building inside the exhibition halls has its pros and cons too. "We're building inside a pre-existing building, which is like an envelope. This became a constraint as we had to maintain the existing structure and not make too many changes like hacking the floor. But working within this envelope also gives us the advantage of being able to work round-the-clock, rain or shine."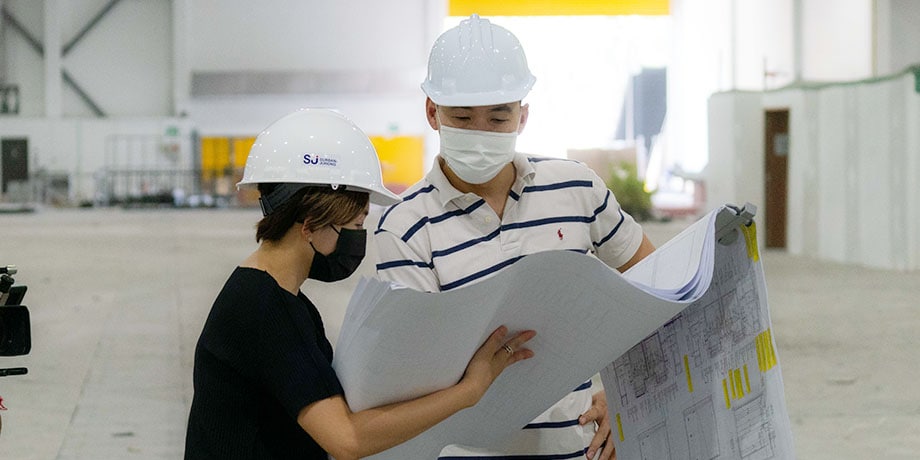 "The idea of developing a facility like Connect@Changi was first mooted around the circuit breaker period. We've been constantly developing the idea along with the other stakeholders as the situation evolves, and we've had several iterations to test the ideas before slowly evolving to what we have today."
It's been a tough but rewarding endeavour, she notes. "Although the timeline was tight, we're all enjoying the fruits of our labour now as we see the project nearing completion. It's been a steep learning curve for everybody, because this is new."
Answering the Call to Serve
The pandemic struck not long after Wu Choy Siong had returned to Singapore after completing an overseas work assignment. At the time, she was taking a break from work to decide what she wanted to do for the next few years.
As she watched events unfold, Choy Siong knew that she could not sit back and do nothing as a healthcare professional. Armed with her experience in managing hospitals and laboratories, she began helping out in Temasek's COVID-related initiatives as a volunteer, before eventually advising the firm full-time as an Operating Partner.
At Connect@Changi, Choy Siong works with other stakeholders and partners to ensure that there were robust COVID-19 safe management measures and rigorous testing regimes in place.
"I was first roped in to look at the medical aspects, such as the testing regime, and then as the project matured, I started to help out more extensively in the overall safe management measures and protocols relating to travellers in Singapore."
"As part of the Connect@Changi project, we spent a lot of time with the regulators to discuss how we can operationalise this and what safety measures we need to keep everyone safe — the travellers, the facility staff, and the general community in Singapore."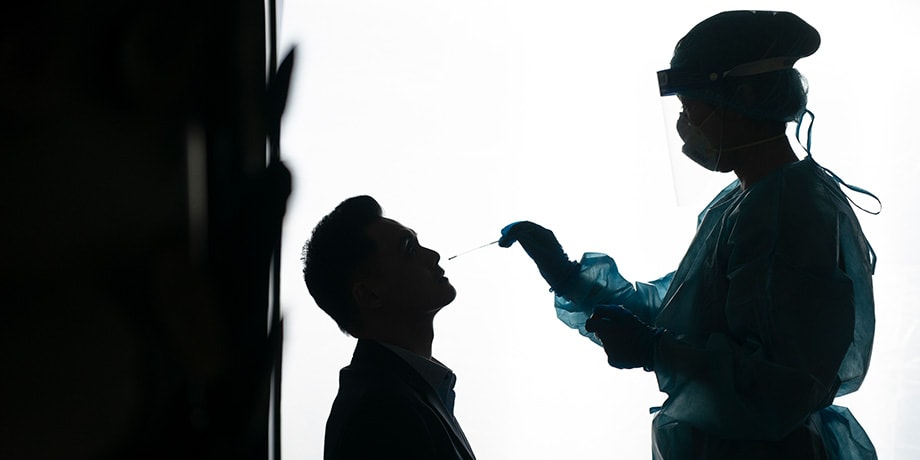 Looking back, she says that watching the facility come to life was fulfilling. "There were many points where we thought, 'Okay, this is not going to happen'. It's really been a test of resilience and faith — faith that things will turn around and that we can get out of this. We just had to be persistent and continue this journey. Honestly, if I were to take on a regular position in another company, I don't think I'd have the chance to do something so meaningful. A crisis can bring out the best and worst in people, and in this case, it has brought out the best in our team and the collaboration between public and private entities."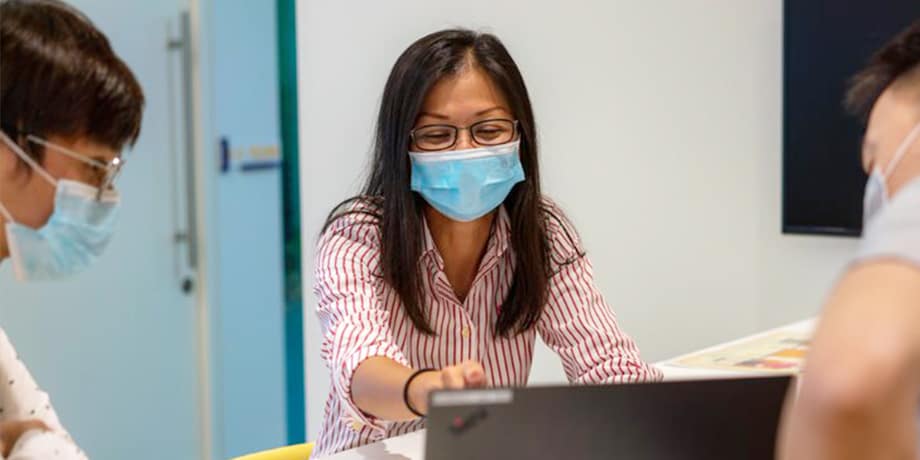 Delivering (Contact-free) Quality Service

At Connect@Changi, guest relations ambassadors such as Nicolette Goh are responsible for ensuring that guests have a safe and comfortable stay at the facility while abiding by strict COVID-19 measures. The team is exploring creative ways to make guests feel welcomed, says Nicolette. This includes customised notes and care packs placed in their rooms before they check in.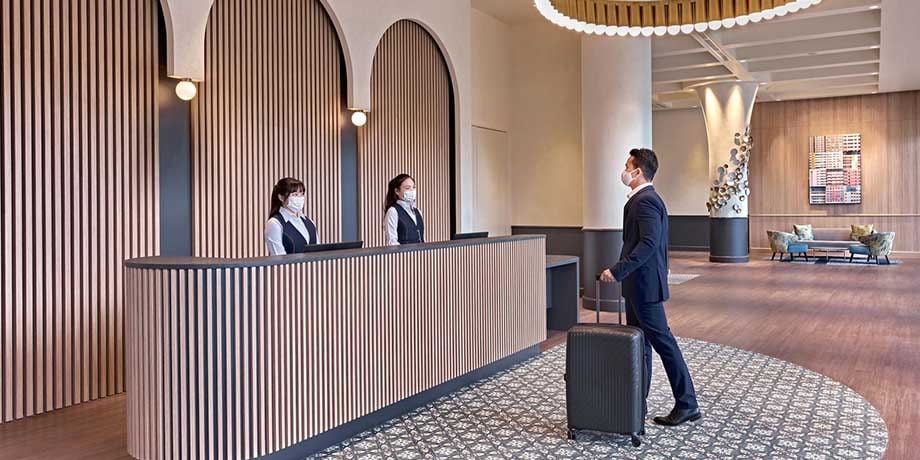 Nicolette shares her experience: "Here at Connect@Changi, the way we handle the guests is very different. Previously, we could talk and interact with guests, but here it's very separated and we have to ensure that all safety precautions are taken."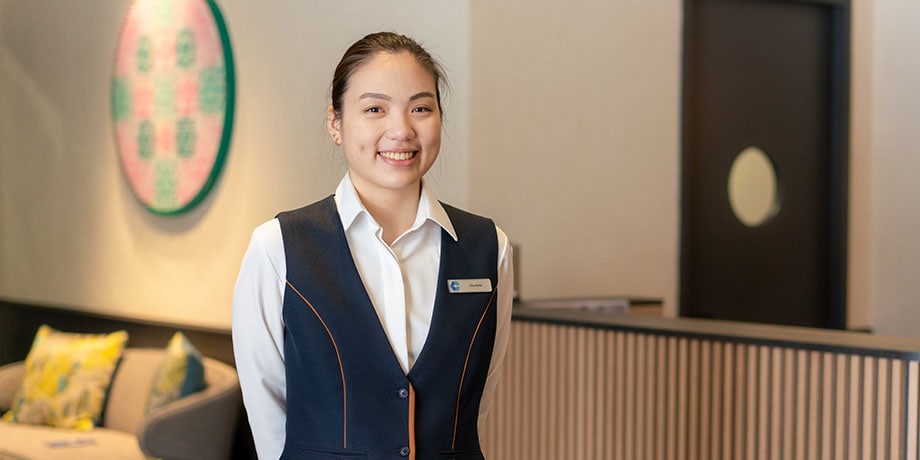 "So that's the challenge that we all face: how can we still provide great service to our guests and ensure that their stay is still very homely, even though we cannot interact with them? It's about working around the restrictions in place to still provide quality service."
"I actually had to take time to think about taking up this job, because it does come with its own inherent risks. But I also thought it'd be a very good experience to be part of something new, because no one has ever done this before. I won't be the only one that's learning — everyone else will be learning alongside me too, and we can learn from each other as well."
She adds, "To me, this is a more fulfilling experience than just working at a regular hotel."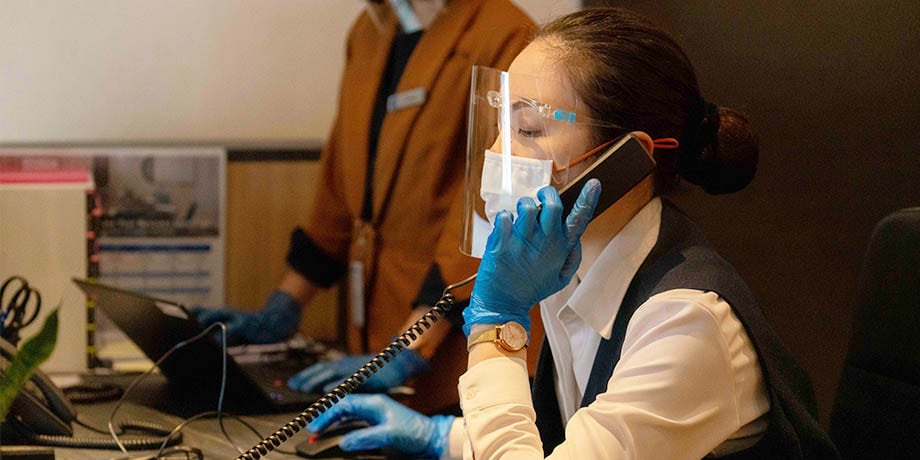 Bringing Everyone Together
Working on a project like Connect@Changi with limited knowledge in construction, hospitality or healthcare can seem like a daunting task. Luke Han, who is a project lead and Director, Enterprise Development Group at Temasek, shares how he learned from experts in these fields, as he worked with them from the ideation process through to the development and launch of the facility.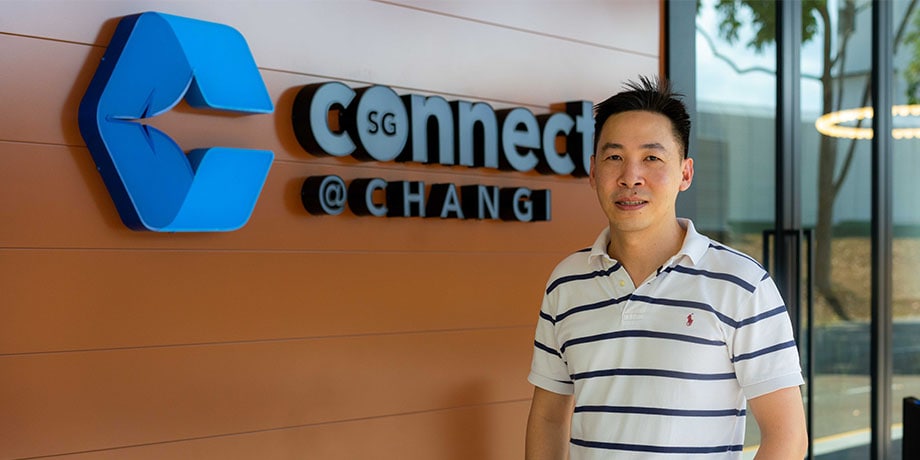 "Managing this project was only possible with the help of a committed team. They rose to the call and supported the cause while juggling their day jobs and other commitments. Everyone chipped in, no matter what their role or job responsibilities were, and we have great leaders to set the direction and push the agenda where needed. There are a lot of unsung heroes involved in the entire project. Without their contribution, this project wouldn't be possible."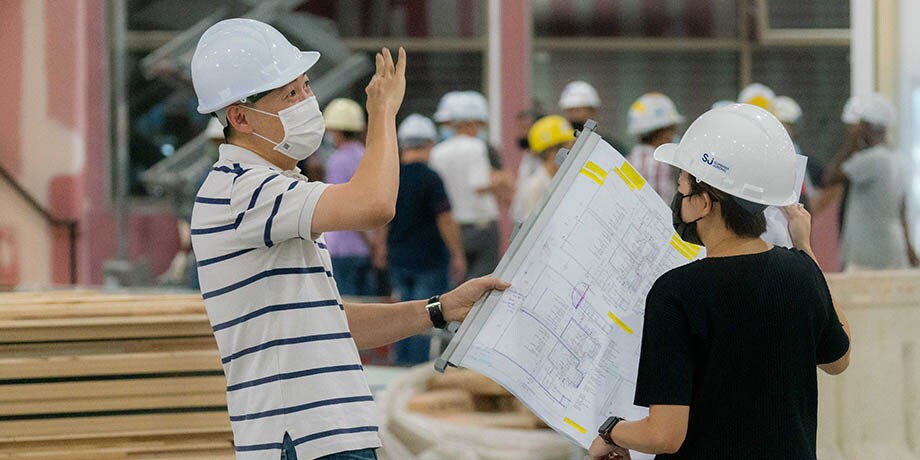 "It's been a fulfilling and meaningful experience seeing the efforts of the team progressively culminating to the launch of this facility. I am proud to be part of the team, and to have contributed in my own small way."
The work, however, is far from over as only the first phase of the facility has been completed. "We have hit a major milestone with Hall 7 starting operations, and Hall 8 soon to follow. However, the pandemic situation is ever evolving and dynamic. Connect@Changi is not profit-motivated. It is meant to be a pilot facility and living laboratory, so our work is not done."
As a living laboratory, Connect@Changi serves as a testbed for innovative COVID-19 management strategies. Those that are found useful in the facility may then be deployed in other initiatives.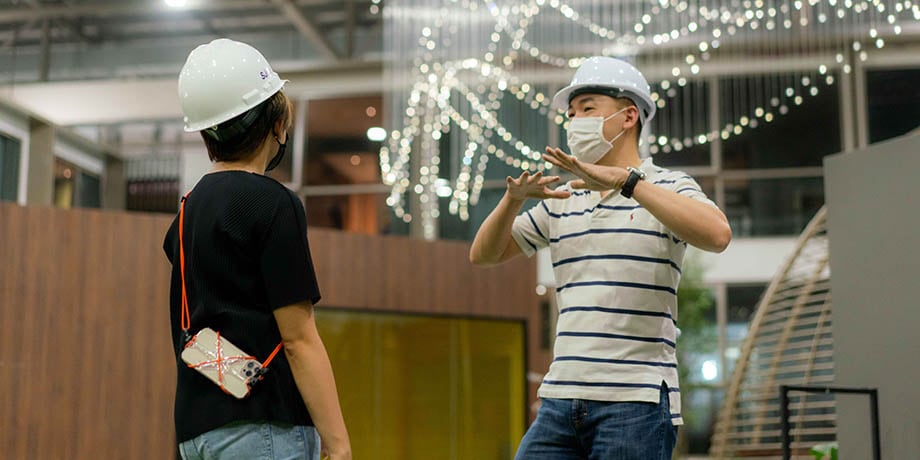 "We will continue to refine and improve the protocols and measures at Connect@Changi to keep travellers, visitors, staff and the wider Singapore community safe, even as we progressively reopen our borders."