Disruption Wave: Ride It, Not Hide It
Disruption Wave: Ride It, Not Hide It
We've most certainly heard of the term disruption. From ride-sharing to supply chains, traditional business models are being disrupted — but not just at the macro level.
The effects of disruptive trends ripple through from businesses to individuals; alter consumer behaviours and eventually our way of life.
At a panel discussion marking the launch of a six-part forum series by EDB Society and Singapore Management University on last Wednesday night, Temasek International Deputy CEO Dilhan Pillay, EDB Chairman Beh Swan Gin, Banyan Tree Holdings Chairman Ho Kwon Ping, Chairman and Group CEO of Sea Limited Forrest Li discussed disruption, its effects and how Singapore can thrive in an increasingly dynamic economy.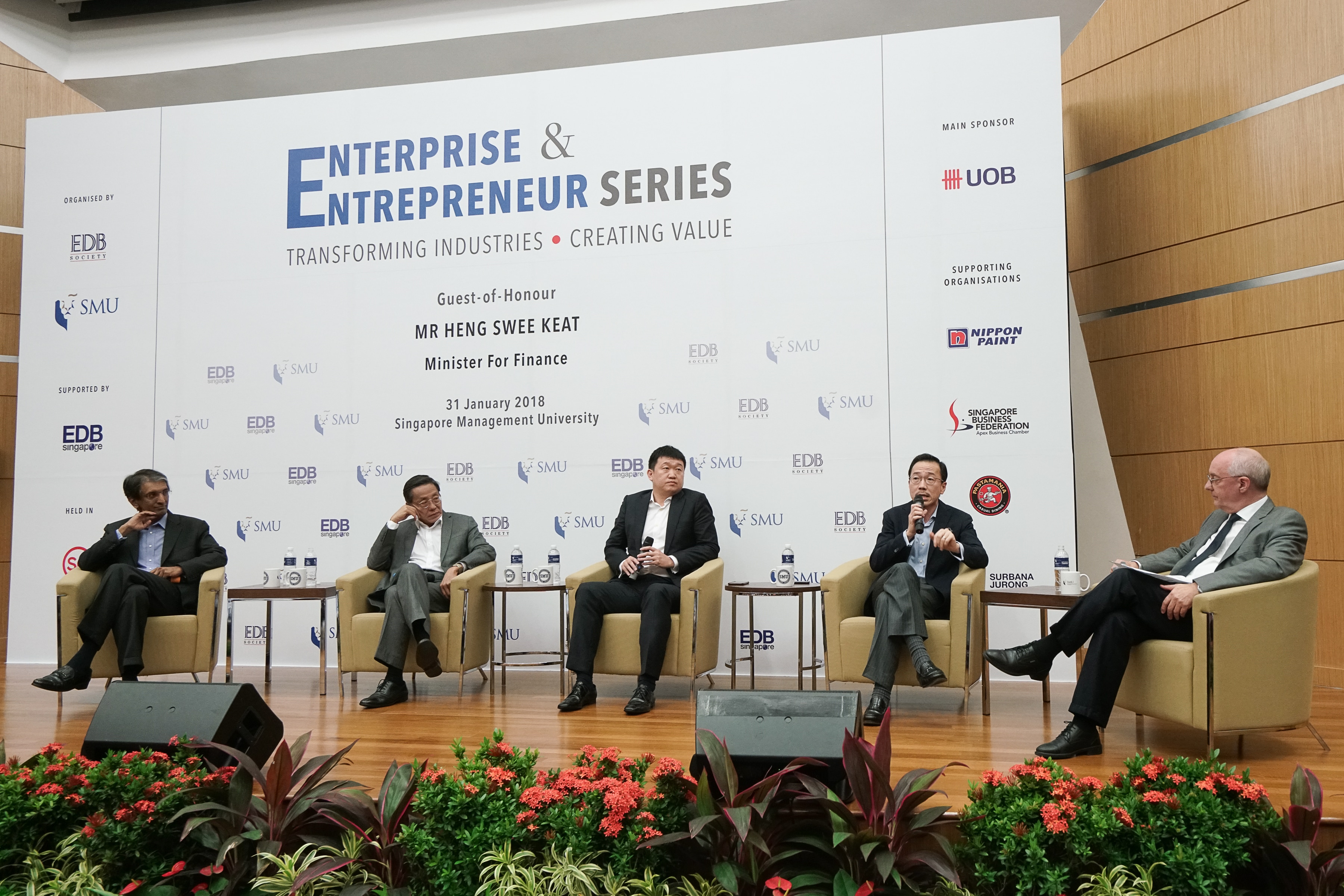 Here are three points that got us pondering:
1. Your Careers are Going to Be Disrupted
Do well in school, graduate, land a job in an established company, cruise along and your career is set. Right?
Nope, that's not happening as the global economy blazes into the fourth industrial revolution.
What on earth is the Fourth Industrial Revolution? Watch to find out.
But it's not all doom and gloom. After all, with the uncertainties of a dynamic economy comes plenty of opportunities. One just needs to be nimble to react.
To do this, the next generation of workers need to "be comfortable with ambiguity and changes," stressed Mr Pillay.
The Deputy CEO of Temasek International also shared how at age 53, he had to uproot and move to the US — a country he has no experience working in — to head Temasek's operations in the Americas.
Mr Pillay said: "The most important thing you'd learn is that the world is very dynamic right now. The challenges out there are actually much more than what we can see (from Singapore's perspective)."
"The most important thing you'd learn is that the world is very dynamic right now and the challenges out there are actually much more than we can see from Singapore."
How can Singapore cope with disruption in an increasingly dynamic global economy?
Added the former corporate lawyer: "The idea is not to let the fear rule us, but take advantage of the opportunity in front of us."
2. No Jobs Will Be Spared — But it's Not All Bad
Changes bring uncertainties, discomfort and fear.
Automation, for example, can potentially disrupt our livelihoods and displace workers — particularly those in vocations which involve repetitive or predictable work.
Citing a report from global consulting firm McKinsey, Dr Beh said 60 percent of jobs will have one third of their activities replaced by automation and technology in the near future.
While automation is unlikely to replace all jobs, he explained that trends like automation and artificial intelligence (AI) can displace workers who are not adequately equipped with new skills to cope.
Hear what Andrew McAfee, co-director of the MIT Initiative on the Digital Economy, and the associate director of the Center for Digital Business at the MIT Sloan School of Management, has to say about our future jobs.
Besides retraining and upskilling, the panelists also discussed how there should be alternative pathways to success in the new economy, like enabling mid-career entrepreneurs to pursue new ambitions.
Mr Ho Kwon Ping, Chairman of Banyan Tree Holdings said: "We need to remember mid-level, mid-career entrepreneurs who come out and form companies of their own are very critical (to the economy)."
Mr Ho, who left journalism to join the business world in the early 80s, added: "In fact, their [mid-career entrepreneurs] rate of success is probably higher than the pure start-ups in the internet space."
3. Asia (Especially Southeast Asia) is the Place to Be At
As the saying goes, the proverbial glass is either half-full or half-empty.
Finance Minister Heng Swee Keat, who delivered the day's keynote address before the panel discussion, pointed out that "the economic centre of gravity is shifting to Asia".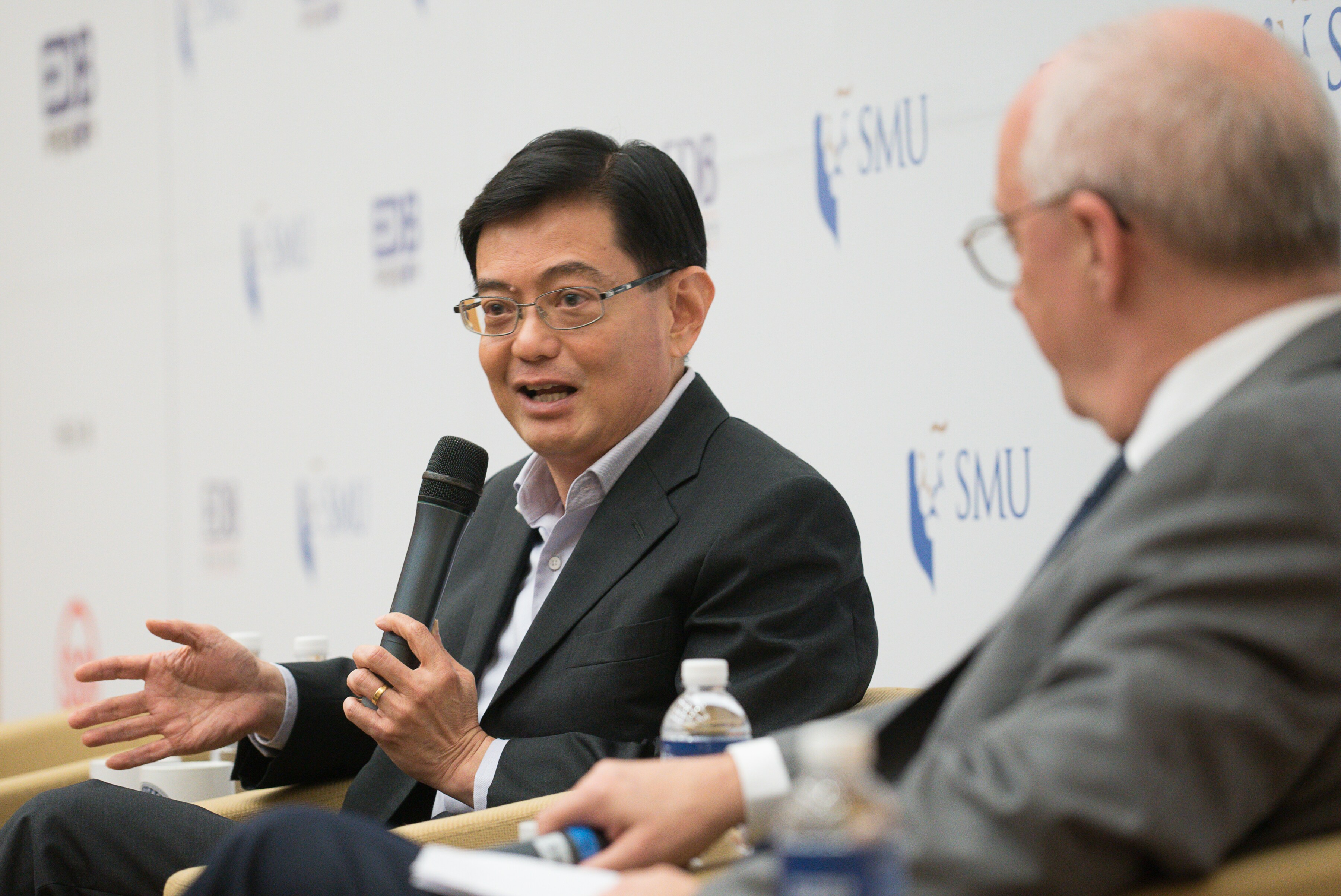 That means if your business is based in Asia, you are well-positioned to give Silicon Valley a run for its money.
Speaking on the panel, Mr Forrest Li, credited the success of his company Sea, a Singapore-based gaming and e-commerce firm, to the quality of talent in this part of the world.
Sea, formerly Garena, was founded by Mr Li in 2009. It went on an Initial Public Offering (IPO) on the New York Stock exchange (NYSE ) last year, the largest US IPO and Internet IPO by a Southeast Asian company yet.
The region's growth is only just budding.
The internet economy (which is a large contributor of disruptive trends) in Southeast Asia is on track to deliver a US$200 billion economy by 2025, according to the 2017 Google-Temasek e-Conomy SEA Spotlight report.
The internet user base in Southeast Asia crossed a whopping 330 million — an increase of 70 million from just two years ago.
Mr Pillay explained: "Southeast Asia is a much more exciting prospect than even India is."
He added: "As of now, Southeast Asia is $2.6 trillion economy against India's $2.2 trillion. The per capita income in Southeast Asia is almost three times of India… the opportunities in the region are actually quite significant."
The booming digital economy in Southeast Asia is likely to create new industries, markets and jobs for a very populous region in the world.
The impact of disruption cut both ways. Challenges are present but new opportunities abound too.
Well, there you have it — the glass might really be half-full after all.
The Enterprise & Entrepreneur Series is an initiative of the EDB Society, held in partnership with SMU and with the support of EDB. Last Wednesday's panel discussion is the first of six that will explore industry transformation and value creation in an evolving economy.