The Doctor is Online
Healthtech is rapidly gaining momentum across Southeast Asia.

The sector can address accessibility and affordability problems in the near to medium term.

87% of investors surveyed for e-Conomy SEA 2022 forecasted an increase in deal activity in the sector by 2030.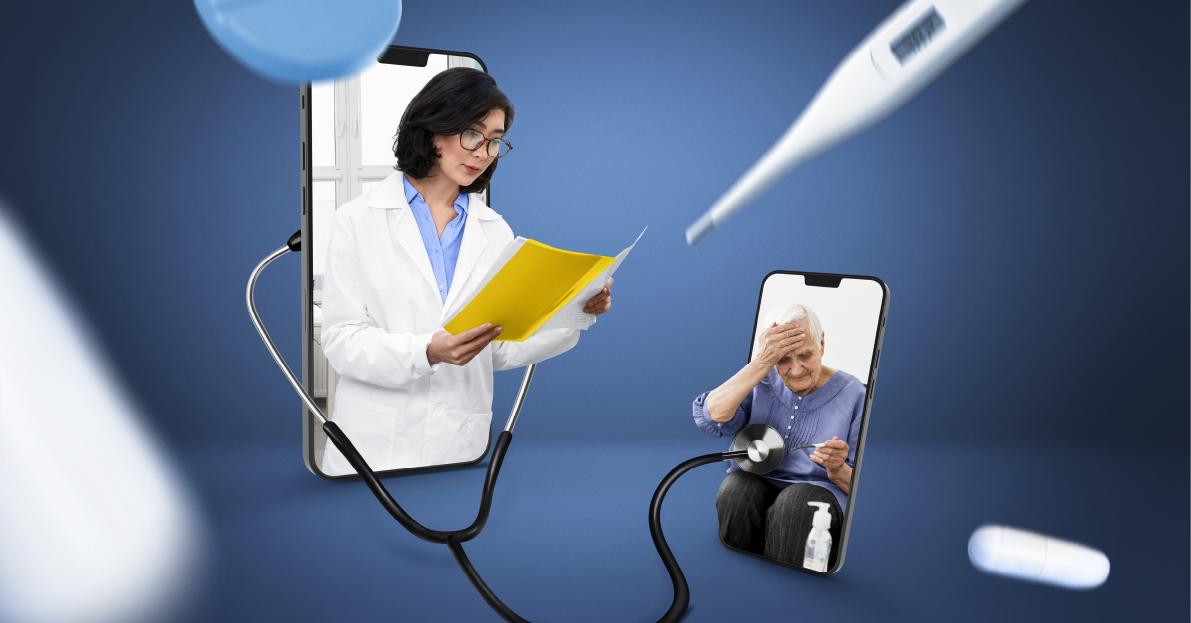 In Medan Marelan, a small town in North Sumatra, Juli* receives a WhatsApp reminder of her next appointment with midwife Juwita Desriani. At the same time, she gets useful information that will help her track her baby's growth, and reduce any risks to her pregnancy. 
These processes are enabled by Bidanku – 'my midwife' in Indonesian – an app on Temasek-backed healthtech platform Halodoc, which is aimed at making healthcare accessible even in the remotest parts of the country.
Launched in 2016, Halodoc has rapidly evolved into an ecosystem of services, from providing access to teleconsultation and pharmacies, to integrating insurance partners and offline healthcare providers to ensure comprehensive care. The platform now connects more than 20 million Indonesians across the archipelago to over 20,000 doctors, 4,900 pharmacy partners, and 3,300 hospitals and clinics through their smartphones.
Healthtech is rapidly gaining momentum across Southeast Asia. The latest e-Conomy SEA 2022 report, jointly presented by Google, Temasek and Bain & Co, identifies it as a nascent sector, which could address healthcare challenges in the region, including accessibility, affordability, and ageing populations.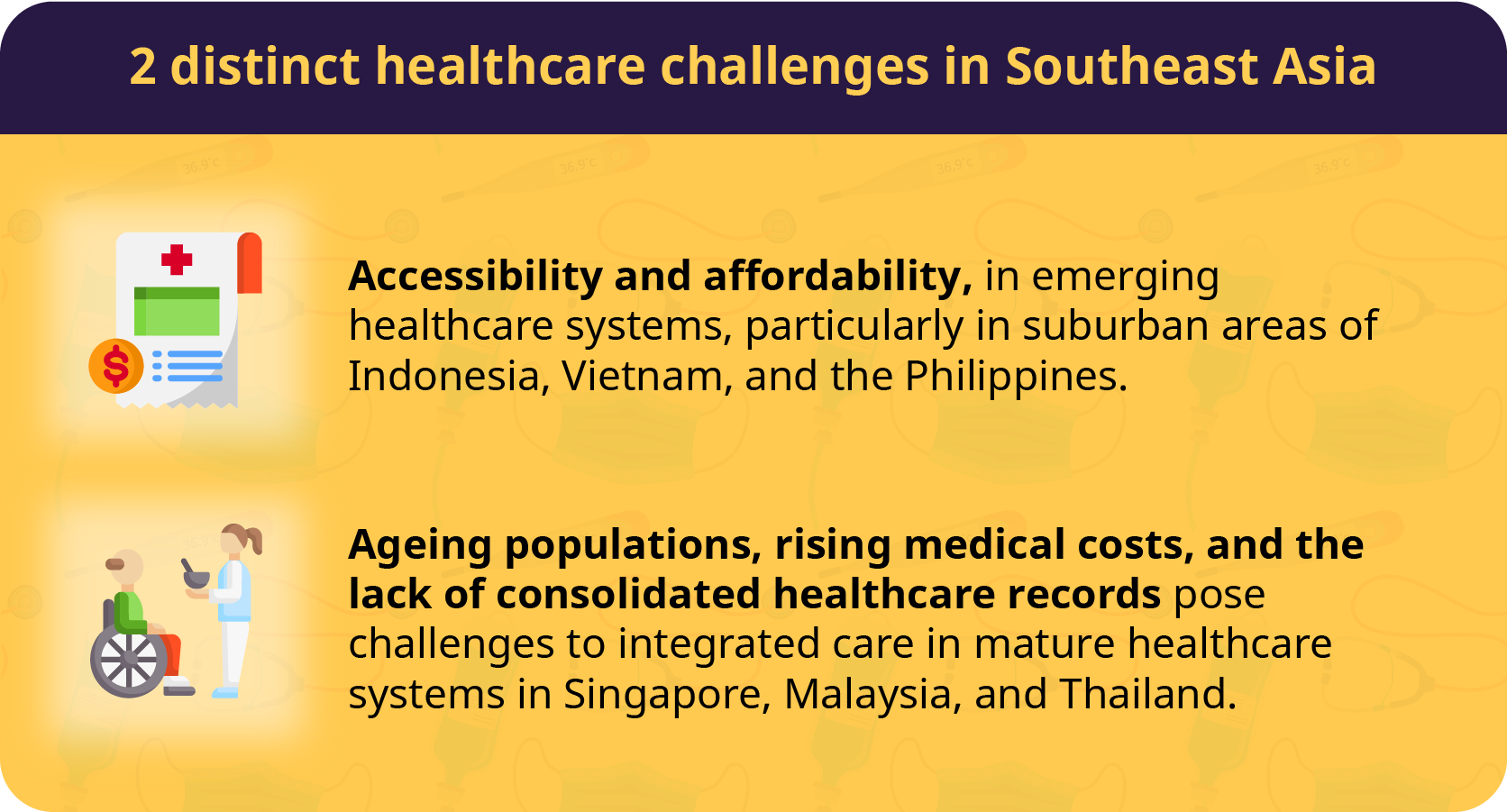 This is where technology can make a difference, says Fock Wai Hoong, Deputy Head for Technology & Consumer and Southeast Asia at Temasek.
"Healthtech maximises the use of medical resources while democratising access to healthcare. It presents an opportunity to positively impact a large number of people. This underscores Temasek's interest in exploring healthtech investment opportunities in the region," he says.
Potential for growth
Healthtech is expected to be among the driving forces behind SEA's digital economy, with some 87% of investors surveyed for e-Conomy SEA 2022 forecasting an increase in deal activity in the sector by 2030.
Despite global headwinds and the impact of macroeconomic forces, the region's digital economy is on track to hit US$200 billion GMV this year – three years earlier compared to expectations in 2016, according to e-Conomy SEA. Propelled by the growing number of internet users – up 100 million to 460 million in the last three years alone – and increasing adoption of digital platforms, the region could unlock up to US$1 trillion through its digital economy by 2030.
Fuelling the growth are e-commerce, financial services, transport & food, online media, and online travel, with investments in healthtech as well as SaaS and Web 3.0 expected to increase over the longer term.
Temasek has made strategic direct investments in companies in several of these sectors, including in e-commerce players Sea Ltd and Carro, on-demand service providers Grab and GoTo in the transport and food space, digital payments provider Nium, and shopping and rewards platform ShopBack.
Within healthtech, players like Halodoc have captured Temasek's interest because of the pressing need to provide accessible and affordable healthcare in the region, says Wai Hoong. The e-Conomy report found that there are typically 1 to 3 hospital beds per thousand people in Indonesia, Vietnam, and the Philippines compared to 13 in Japan, for instance.
"Several key trends have been accelerated and amplified by the COVID-19 pandemic, including growing digital adoption and a higher level of trust in digitally-delivered solutions, laying the groundwork to move even more resources," says Wai Hoong, adding that key players have aggressively been building out their ecosystems.
This presents several opportunities – deeper engagement with existing customers to grow usage and value, as well as substantial headroom for growth in nascent sectors and unpenetrated markets.
But to realise that growth, barriers that may hamper adoption must be addressed, from affordability and digital literacy to connectivity and finding economically viable ways to extend digital services.
Multiple sources of value
Beyond care delivery and pharmaceuticals, there are other promising areas where technology can add value to healthcare, including biotech. 
"We see healthtech as a near to medium term way of addressing accessibility and affordability problems, and recognise biotech's longer-term potential to create better quality drugs and address the efficacy of treatment," Wai Hoong says. 
It is a phased approach, and one that Temasek believes will help build out the region's healthcare ecosystem in a more comprehensive way.
"We believe that there are opportunities in this space and that this is where we can make a difference. Lending our support to the right digital leaders and promising start-ups will help chart the path to Southeast Asia's US$1 trillion digital economy while creating social impact," he says.
For healthcare providers like midwife Desriani, it will mean being able to harness technology to expand care and lower pregnancy risks, resulting in better outcomes for both mothers and their children. And that means everyone wins.