Not Your Average Gig: How the Sharing Economy Builds Bridges
Not Your Average Gig: How the Sharing Economy Builds Bridges
Beyond consumer convenience, what else does the sharing economy offer — especially to the underserved in society?
Transformational technologies, demographic shifts and changing consumption patterns are reshaping our collective future. This article is part of Future, Now, an ongoing series that looks at how such global trends and innovative technologies can build a better, smarter and more sustainable world.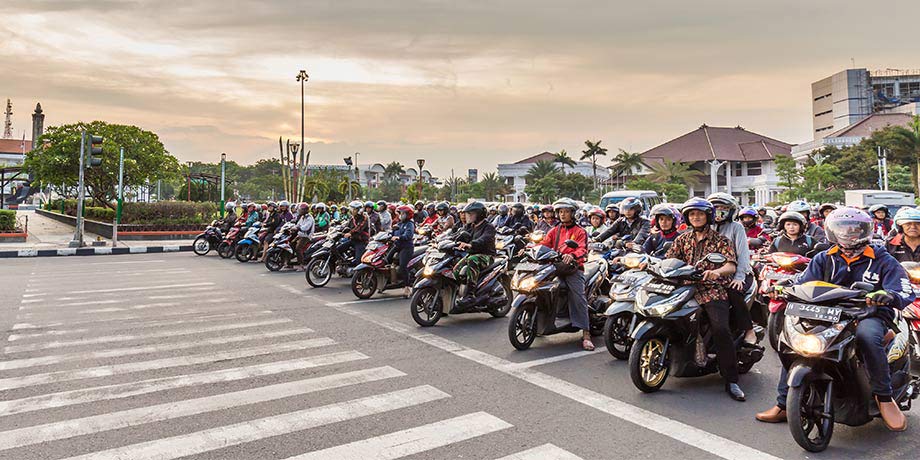 By all accounts, Aldi Haryopratomo has led a modest and comfortable life. The elder of two sons of a civil engineer father and architect mother, Aldi was raised in a housing complex for civil servants in West Java, Indonesia.
Despite his middle-class upbringing, Aldi spent little time in air-conditioned shopping centres — a familiar haunt of Indonesian teenagers. Instead, he chose to mingle with villagers on the outskirts of his neighbourhood.
At times, he would even accompany his father to roads and bridges that the civil engineer had built to connect rural villagers to other parts of the city. On these trips, Aldi's father would turn to him and say, "When you grow up, you should spend your life building bridges because, then, you would be helping people who need it the most, giving access to people."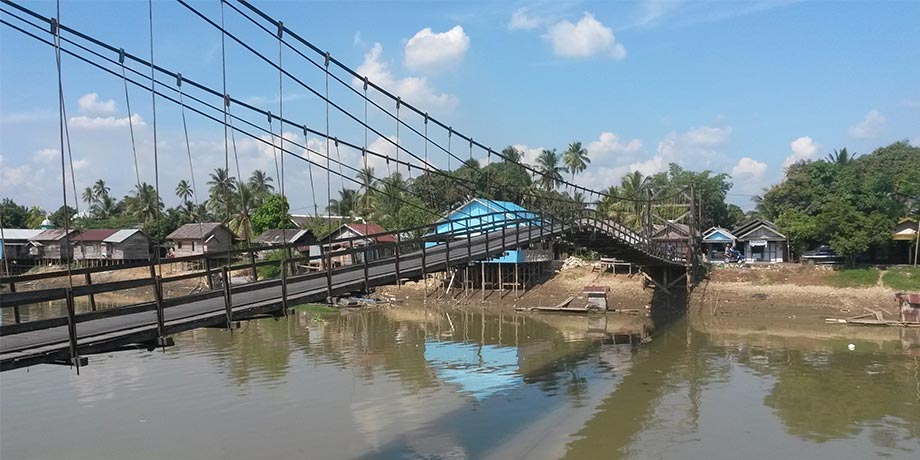 Today, Aldi is the Chief Executive Officer (CEO) of Go-Pay, the electronic payments arm of Indonesia's ride-sharing unicorn Go-Jek. Inspired by his father, the 35-year-old is building "bridges" by closing socio-economic gaps with the help of a much-discussed sector — the sharing economy.
Life in the Informal Sector
According to Dr Turro Wongkaren, a researcher at Universitas Indonesia, about 85 percent of Indonesian workers operate within the informal sector. A ubiquitous part of daily Indonesian life, you can find them selling products along the street, cleaning homes and roads, weaving through traffic on rickshaws and tending to animals and crops on farmland.
Jobs in the informal sector offer the less well-off in society a means of survival. A common saying among Indonesian locals is that, "In Indonesia,you can easily start a business by selling fried rice today. And if you go bankrupt, you can start again by selling porridge."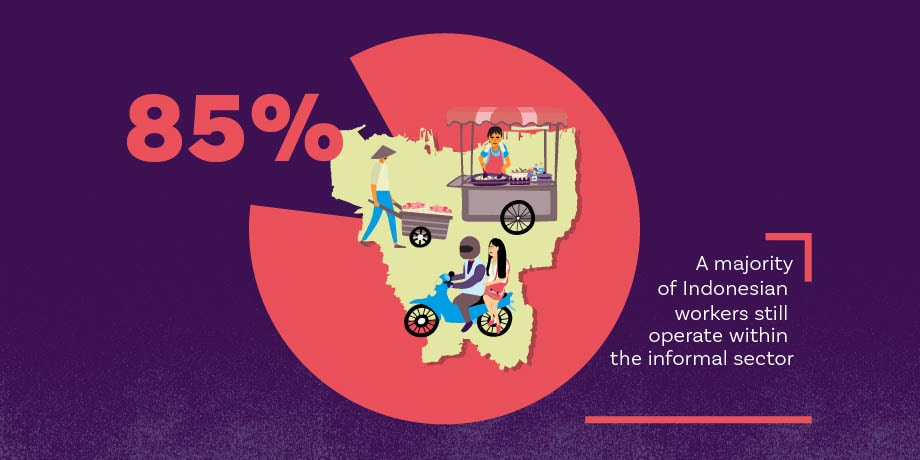 However, informal jobs do not fall within the purview of government legislations. As such, workers usually do not receive formal employment contracts and earn less-than-minimum wages.
Low wages shut out small business owners, like street hawkers and farmers, from financial services such as microloans, which could be crucial to growing their enterprises. With a lack of access to government programmes, informal workers are also unable to receive income support, in turn leaving them with no means of social mobility and affecting their livelihoods.
A Sector — Transformed and Empowered
With the sharing economy, however, informal workers are now equipped to take up on-demand jobs that give them greater control of their own earnings and time.
Take Go-Jek as a case in point. The Jakarta-based tech start-up started out as a motorcycle ride-hailing platform in 2010, but quickly evolved into an on-demand provider of a whole suite of lifestyle services that now includes logistics, mobile payments, cleaning services and food delivery.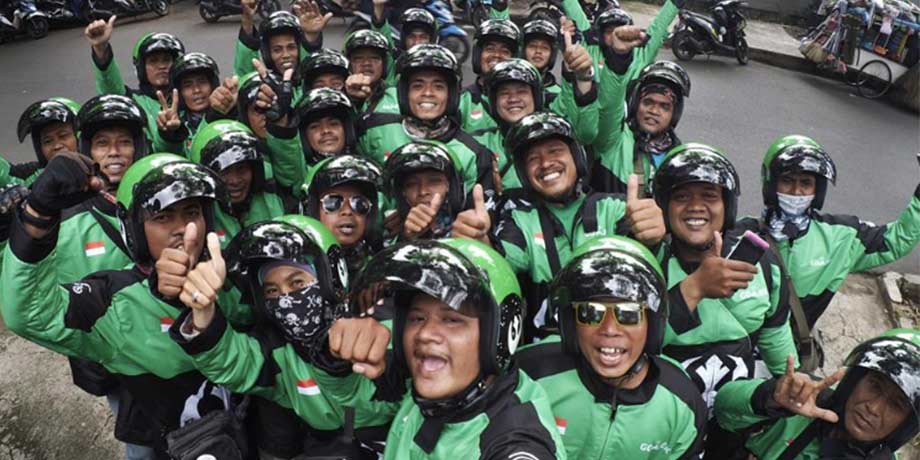 Many individuals who have signed up with the platform have seen improvements in wages. According to Go-Jek, in the past, a local driver would earn an average of IDR3.3. million (S$300) each month. However, drivers who have signed up with Go-Jek have seen their monthly earnings increase to an average of IDR4.2 million (S$388).
Go-Jek driver Hasana, for example, used to make just IDR3 million (S$270) a month working fixed shifts as a sales promoter at a department store in Jakarta. Since joining Go-Jek full-time as a motorcycle taxi (or "ojek" in Indonesian) driver, the 32-year-old mother-of-two has seen her monthly income increase to about IDR20 million (S$1,800) a month, admittedly working longer, but more flexible hours.
Mother-of-two Hasana makes almost seven times more than she did as a sales promoter
"We have stories of small mom-and-pop shops on GO-FOOD that have essentially become millionaires because they had such a good product that no one knew about," says Go-Jek CEO Nadiem Makarim.
With the sharing economy estimated by PwC to rake in as much as US$335 billion (S$460 billion) by 2025 — compared to just US$15 billion (S$20 billion) in 2014 — the livelihoods of many informal workers look set to improve significantly.
Hear from those whose lives have been transformed by the sharing economy
Bridging the Financial Inclusion Gap
Beyond providing a source of livelihood for families in the informal sector, the sharing economy also offers benefits to emerging economies by helping to reach out to the unbanked and promote financial inclusion.
According to the World Bank, about half of Indonesia's population still remains unbanked — lacking access to bank accounts and loans because of low wages or exclusion from the formal economy.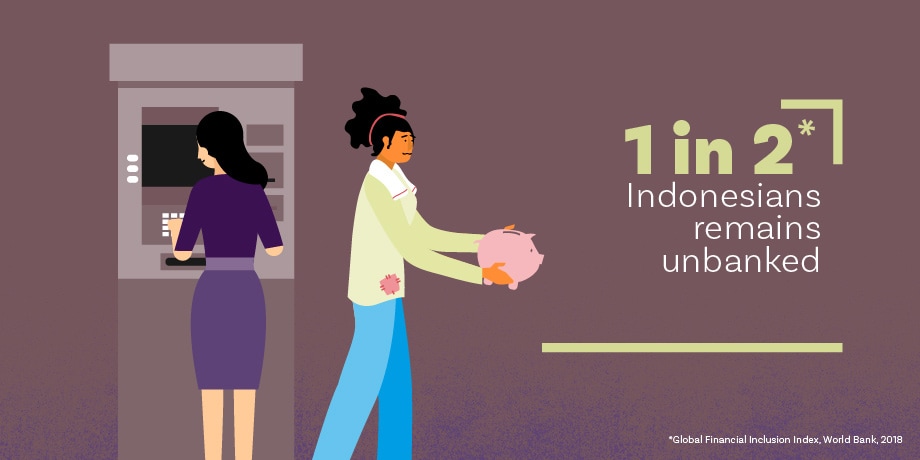 To allow those without bank accounts the convenience of cashless payments, Go-Jek has introduced a system where unbanked passengers can top up their balances by depositing cash at convenience stores. The credit can then be used to pay for the platform's various services.
The ride-hailing service is also assisting unbanked drivers and merchants in opening bank accounts upon registration as Go-Jek partners.
"Go-Jek brings the informal sector — including workers and businesses — into the formal sector through financial inclusivity, enabling them to sign up for bank accounts, and job benefits such as insurance," says Dr Wongkaren.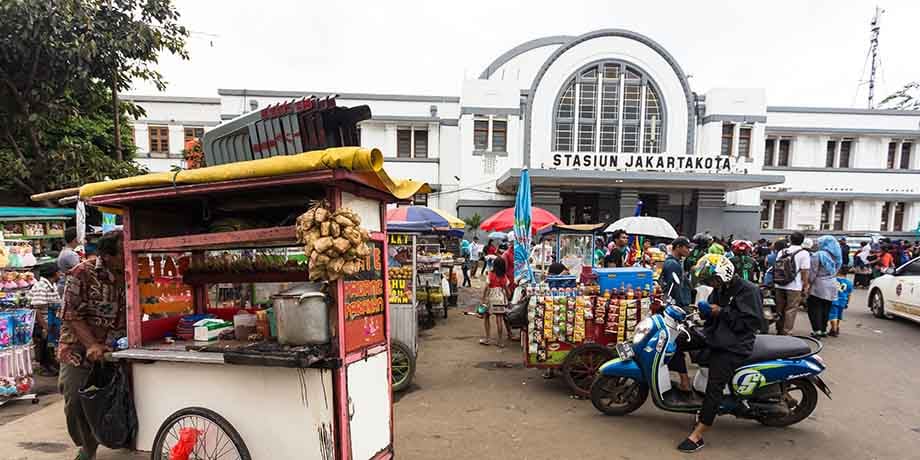 Further supporting Indonesia's push for financial inclusion, Go-Jek has partnered with various banks like Bank Rakyat Indonesia, Bank Negara Indonesia and BTN to provide loans and subsidised mortgages to Go-Jek merchants and drivers.
In early 2018, Go-Jek and Bank Rakyat Indonesia announced plans to integrate their services through Go-Pay to simplify bill payment processes and provide access to financial products such as microloans for Go-Jek's partners.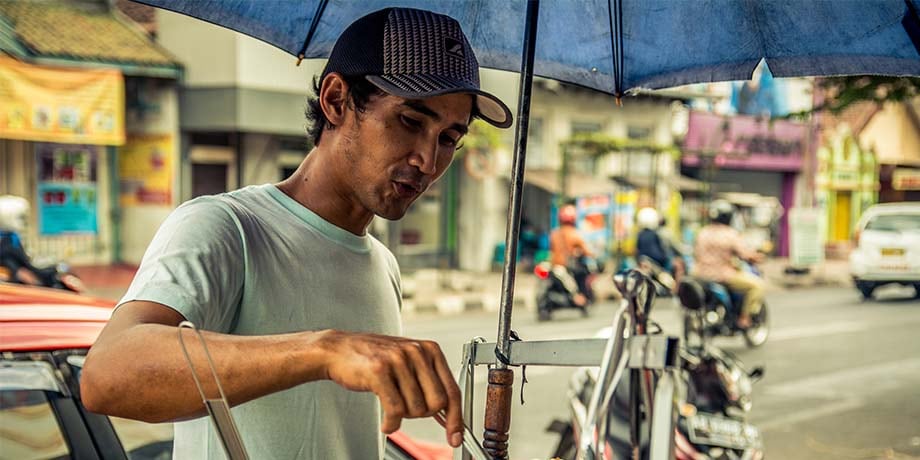 Closing his speech at Money 20/20 Asia, Aldi said, "I was never a civil engineer and never ended up building real bridges. But, we are also building a bridge from unbanked to banks, we are building a bridge for a housewife to sell fried chicken to the entire city. Most importantly, we're building a bridge that empowers people to help each other."
Temasek is an investor in Go-Jek.