When Research Meets Business: Sparking Innovation Through Collaboration
When Research Meets Business: Sparking Innovation Through Collaboration
In Brief
Temasek and various agencies have been co-organising the RIE (Research, Innovation and Enterprise) Industry Day, which aims to bring together business leaders and researchers to co-innovate solutions that can solve business problems.
While Singapore is ranked fifth globally for innovation input, the country comes in at 63rd for innovation output, signifying the need for better public-private sector collaboration.
Several Temasek Portfolio Companies are collaborating with researchers and contributing to the ecosystem through various ways, including setting up corporate laboratories in universities.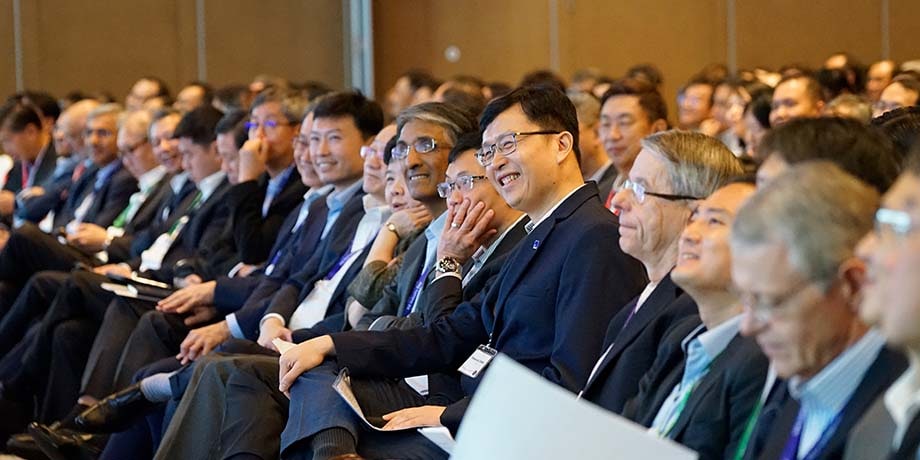 In less than the amount of time it takes for you to drink a cup of coffee, a ship would have arrived or left the Singapore port. Since its establishment as a free port in 1819, globalisation has contributed extensively to Singapore's economy and growth. Today, the island nation is not only home to the world's second-busiest port by container volumes, but is also recognised as a leading hub for various sectors including business.
However, support for globalisation is declining, cautioned Singapore's Deputy Prime Minister and Minister for Finance Heng Swee Keat at the most recent RIE (Research, Innovation and Enterprise) Industry Day held in July. "The US-China trade tension has evolved into a technological competition," he added, and its impact has spilt into the corporate sector with companies like Chinese tech giant Huawei having restricted access to US technology.
Referring to the world's most valuable businesses in his opening speech, Temasek International's President and Chief Operating Officer Chia Song Hwee pointed out that they all boast differentiated technologies and capabilities.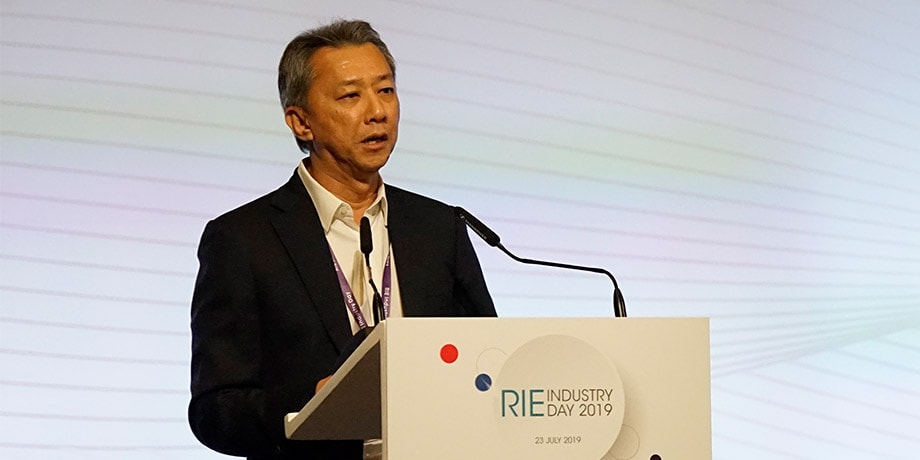 In the same vein, local businesses will need more than deep domain knowledge to thrive in such uncertain times. While having strong research capabilities and being adept at integrating new technologies and managing cybersecurity risks are integral, Chia acknowledged that developing all these infrastructures and capabilities in-house can often be a costly affair.
"We need to find new ways of doing things, and increasingly, collaboration and partnership is the way forward."
Collaboration, specifically between researchers and businesses, is what the RIE Industry Day aims to achieve. The annual event — organised by Temasek in partnership with various agencies — brings together leading corporates and researchers to align research with industry demand and co-innovate solutions that can generate tangible business outcomes, contributing to Singapore's economy and fostering a more dynamic RIE ecosystem.
Collaboration is the New Innovation
Already, Singapore does well in innovation input, ranking fifth globally and first in Asia, shared Heng, citing the Global Innovation Index 2018 in his presentation. As part of the country's plan to develop a knowledge-based and innovation-driven economy and society, it has also committed to investing a record S$19 billion in RIE over the period of 2016–2020.
At the same time, however, Singapore ranks 63rd for innovation efficiency, which represents how much innovation output a country gets from its input. "If we don't have a good receptacle for this innovation and research to be put into practice, then we will not get innovation output," explained Heng.
This all points to a need for the private sector in Singapore to better leverage the research capabilities available in the country. Heng referred to results from the 2017 National Survey of Research and Development (R&D) in Singapore, which showed that large local enterprises (LLEs) can do more to incorporate R&D into their operations; the five-year compound annual growth rate (CAGR) of the Business Expenditure on R&D by LLEs from 2012 to 2017 was 1.1 percent, compared to 2.6 percent for small- and medium-sized enterprises and 6.3 percent for foreign companies.
While more needs to be done, Temasek's Chia said he is heartened to note that several Temasek Portfolio Companies (TPCs) are active participants in the RIE ecosystem.
Gateway services and food solutions provider SATS is one such TPC that has been contributing to the RIE ecosystem by collaborating with higher education institutions and partners outside of its industry.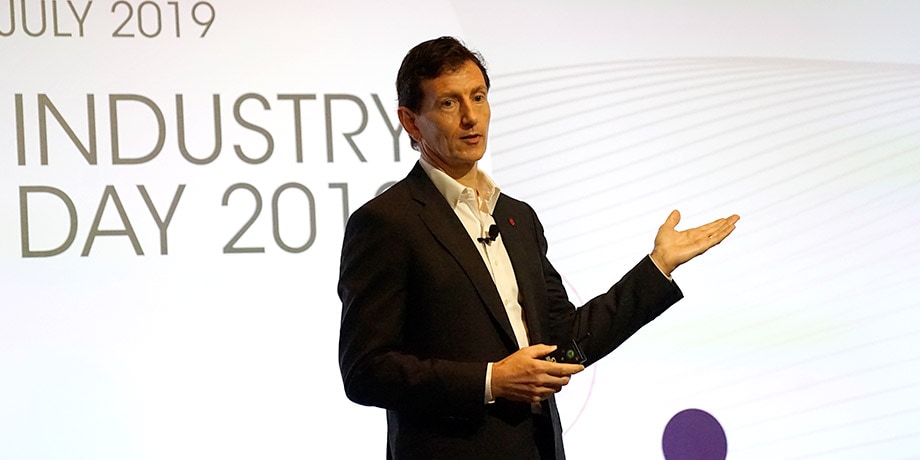 The company's research efforts have borne fruit: SATS collaborated with French software company Dassault Systèmes to create the world's first virtual kitchen for in-flight catering production, said Alexander Hungate, President and Chief Executive Officer of SATS. This enables the company to improve its operational efficiency and even reduce food wastage, he added.
Growing Innovation in Corporate Labs
Meanwhile, other companies — including several TPCs such as Singtel, Surbana Jurong (SJ) and ST Engineering — are taking a different approach by growing innovation in corporate labs. These labs are part of the National Research Foundation Singapore's (NRF) push to encourage public-private R&D partnerships between universities and companies, explained Prof Low Teck Seng, Chief Executive Officer of the NRF.
While these labs are across different industries and business problems, all of them focus on research areas that support business growth, generate economic benefits and fuel job growth in the country.
The SJ-NTU Corporate Lab, for example, aims to tackle industrial and urban challenges through sustainable solutions, including a chilled ceiling technology that could help residents beat the heat and reduce the need for air-conditioning by transferring heat more efficiently.
Such solutions could be a sign of the shift in the way innovation is being defined. Solutions these days have to tick multiple boxes; not only must they be helpful and productive, but also be sustainable.
"Human beings are very good at using technologies and innovation to solve problems and deal with challenges, but some technologies and innovation have created a lot of environmental problems for us today," Temasek's Chia said.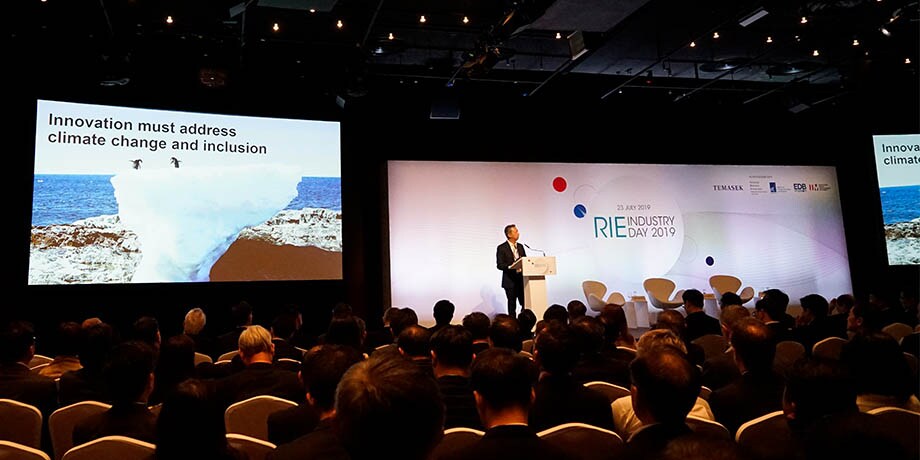 He reminded the audience, "As we think about innovation and R&D, we must account for its impact on the environment. Start with the design: we must have environment considerations upfront."
Solving Problems with Innovation
Innovative solutions by Singapore companies and research institutions were showcased at the 2019 RIE Industry Day. Here are three that caught our eye: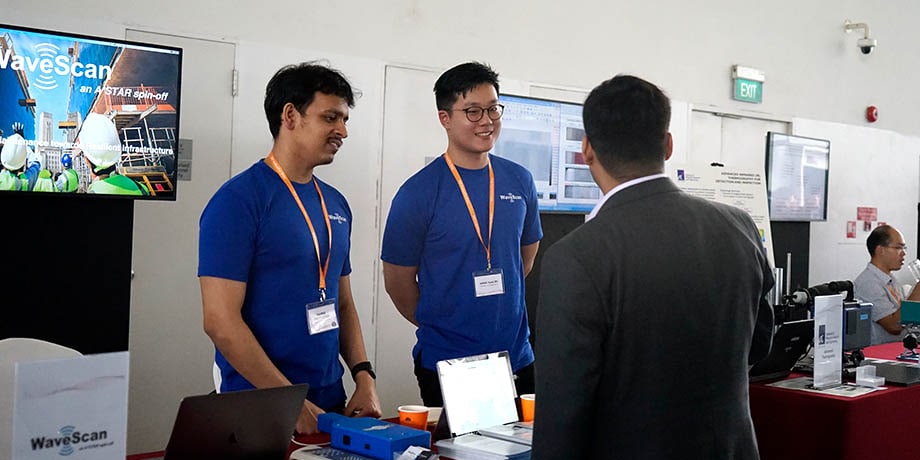 WaveScan
An A*STAR spin-off, WaveScan specialises in R&D of smart electromagnetic-based sensors and advanced artificial intelligence algorithms to develop solutions for safer and more sustainable cities with resilient infrastructure. WaveScan's smart sensing solution uses microwaves and millimetre-waves to inspect, identify and even predict defects in infrastructure.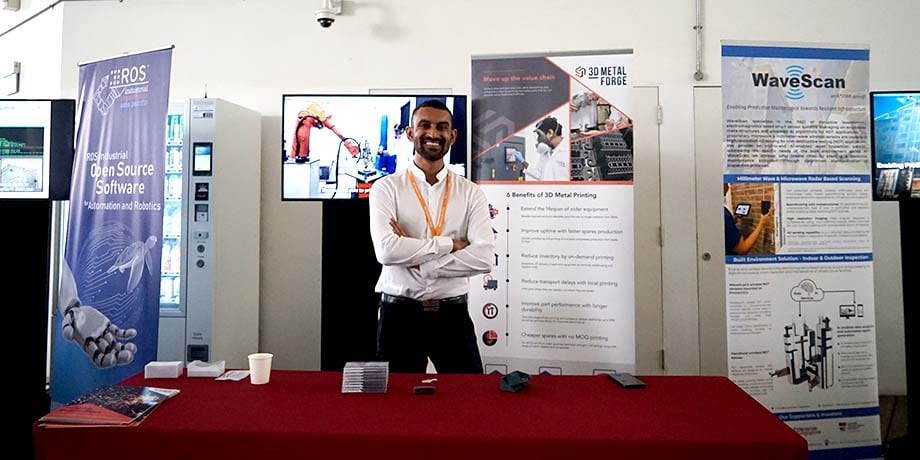 3D Metalforge
3D Metalforge is a metal-printing company that supports businesses with metal printing requirements ranging from producing critical spare and obsolete parts of older equipment, to accelerating product mock-ups and reducing material costs. The Singapore-based company is currently working with PSA to produce port equipment parts that will be used at PSA's Pasir Panjang Terminal.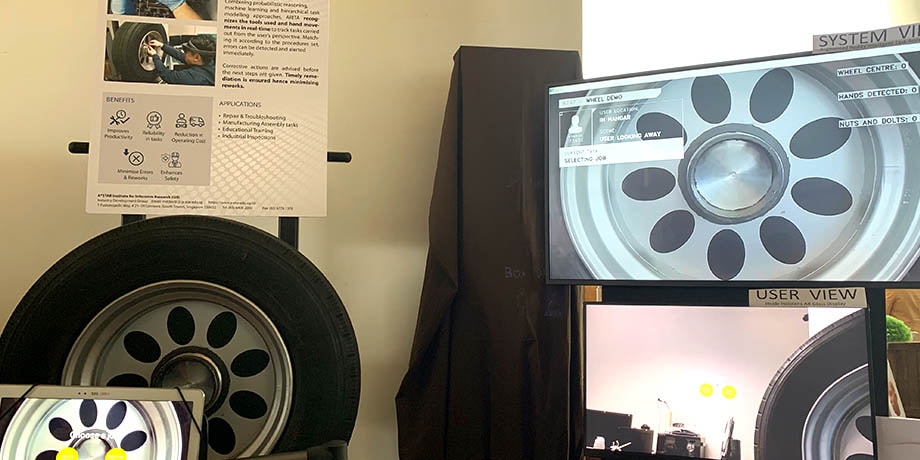 A*STAR I2R
A*STAR Institute for Infocomm Research's (I2R) smart solution is powered by the institute's proprietary artificial intelligence technology. Dubbed ARITA (augmented reality intelligence task assist), the solution can provide workers with real-time guidance and assistance. Through a pair of goggles worn by the worker, ARITA is able to track tasks being carried out, detect errors and provide assistance.
RIE Industry Day is an annual event organised by Temasek in partnership with agencies such as NRF, A*STAR and Economic Development Board (EDB).