Harvesting the Future: 4 Things to Know About the Asia Food Challenge
In Brief
Asia's current expenditure on food is projected to more than double to US$8 trillion by 2030, driven by population growth, rising affluence and changing consumer demands.
Key areas with great potential to address Asia's agri-food challenges: high-tech inputs; sustainable proteins; modern aquaculture; controlled environment farming; and efficient marketplaces, digital adoption and greater traceability.
Collaboration across Asia's agri-food sector will be needed to fully unlock its US$800 billion investment potential. Government-coordinated ecosystems and agri-food tech hubs will offer critical support.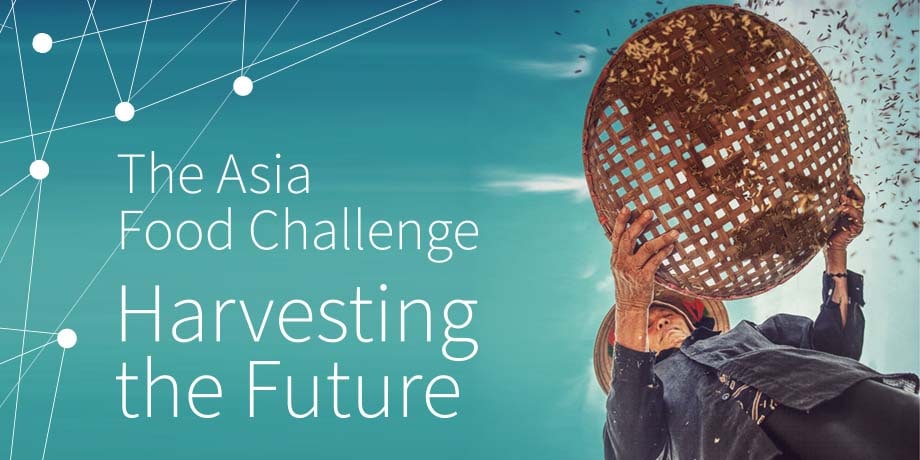 By 2030, Asia will have an additional 250 million mouths to feed — almost the size of Indonesia's population today. The region, which is urbanising faster than anywhere else in the world, will also be home to approximately 65 per cent of the world's middle-class population. Such urban, middle-class consumers will increasingly demand nutritious, fresh, safe and sustainably produced food to be delivered conveniently and on demand — and they are willing to pay more for it.
These factors present an investment opportunity for corporates, startups and investors amounting to as much as US$800 billion over the next decade. Here are four key takeaways on the future of Asia's agri-food industry, based on The Asia Food Challenge: Harvesting the Future, a joint report that we released this week with PwC and Rabobank.
1. Asia Currently Struggles to Feed Itself
Asia today has some of the lowest levels of arable land per capita in the world, and this is expected to fall by five percent over the next decade due to climate change and environmental degradation.
As it is, Asia is struggling to feed itself, relying instead on net imports of food, which stand at about 220 million tonnes a year. However, these long, opaque supply chains snake across multiple countries and are often riddled with food waste and safety issues.
It is clear that business cannot go on as usual. New and emerging technologies will be needed to increase agricultural yields and the nutritional value of produce, while mitigating the effects of climate change. Innovative solutions also need to be implemented to address consumer demand for transparency in how their food travels from farm to fork.
2. There is a Need for Investment and Innovation Across the Entire Value Chain
There is significant potential for technological innovation across the entire value chain to meet Asia's nutritional needs. Yet, this has not been met with healthy levels of investment in agri-food technology in Asia, which currently lags behind that of Europe and the US.
Key factors behind this lack of investment and innovation include the complexity of navigating diverse Asian markets, the pre-commercial nature of many technologies, and the reduced capacity of Asia's many smallholder farms to undertake and scale innovations.
Despite Asia's challenging investment landscape, we believe that there are significant opportunities for knowledgeable investors, particularly those with long-term funding horizons, as they can ride through the volatility presented by early-stage technologies.
3. Asia's Agri-food Industry Represents a Multi-billion dollar Opportunity
Driven by population growth, rising affluence and changing consumer demands, Asia's current expenditure on food is projected to more than double to US$8 trillion by 2030.
To meet the region's agricultural needs for the future, we estimate that US$800 billion of cumulative investment above existing levels will be required over the next decade. The lion's share, around US$550 billion, will help to satisfy the demand for healthier, safer and more sustainably produced food. The remaining US$250 billion will help drive higher levels of production to feed a growing Asia.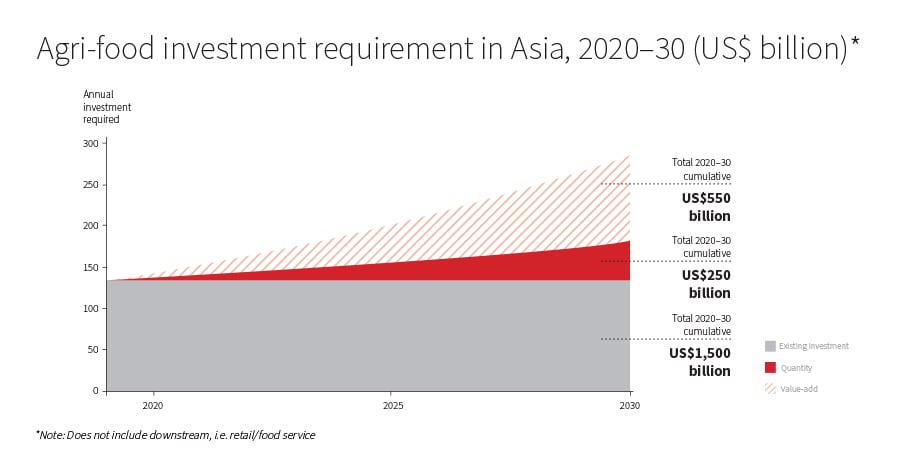 Key technologies that show great potential for investment to address Asia's agri-food challenges are:
High-tech inputs, e.g. genetic selection and modification
Sustainable proteins, e.g. plant-based and insect-based animal feed
Modern aquaculture, e.g. land-based recirculation systems
Controlled environment farming, e.g. optimised LED lights for indoor farming
Efficient marketplaces, digital adoption and greater traceability, e.g. such as data-sharing platforms
4. Collaboration Needed to Fully Unlock Asia's Investment Potential
While we expect innovation and investment to be largely driven by the private sector — such as corporates, venture capitalists and private equity investors, support from the governments in developing suitable ecosystems for growth will also be crucial.
One promising private-public initiative is the establishment of regional agri-food hubs. These hubs will play a critical role as they provide a positive regulatory environment and access to technical expertise, talent and capital. Cities in Asia with characteristics that may contribute to their development as agri-food hubs include:
Bangalore
Beijing
Hong Kong
Mumbai
Shanghai
Shenzhen
Singapore
Tokyo
If successful, these hubs can encourage greater levels of innovation, investment and public-private sector interaction across Asia. They can also drive the export of technology and knowledge to improve food production and contribute to the region's healthy and sustainable future.
Learn more about the food and agriculture industry in Asia by downloading The Asia Food Challenge: Harvesting the Future.