A Little Less Convenience, A Little More Action Please — Temasek
A Little Less Convenience, A Little More Action Please
Convenience can be hard to resist, but is all that single-use plastic and packaging worth the pollution and harm that we're doing to the planet? Switching to a more eco-friendly lifestyle may not be as hard as you think.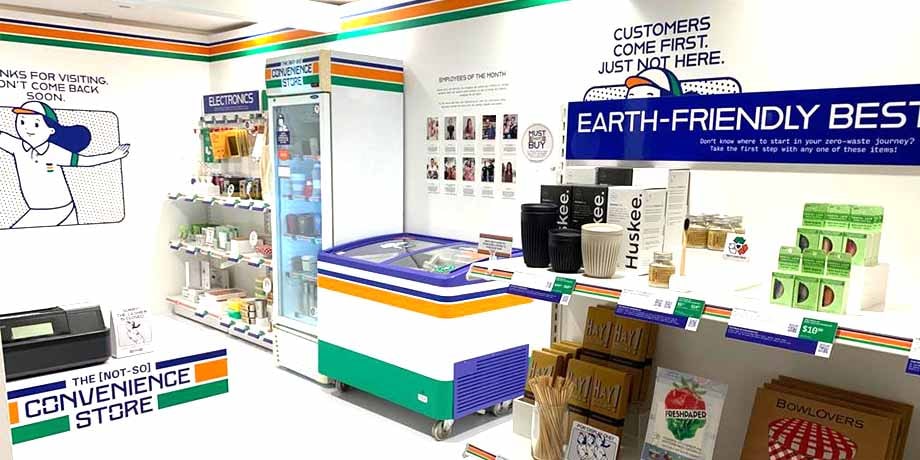 In Brief
Our culture of convenience creates huge amounts of waste that is polluting our planet and using up its finite resources
By changing our habits and spreading the message, individuals could power significant change towards cleaning up the environment and a zero-waste future

Many social media trends get people to do strange, or even dangerous, things for fun, "likes" or attention. But in early 2019, one trend stood out — for the right reasons.
Sparked by Byron Román, a loan officer from Phoenix, Arizona, the viral "Trashtag Challenge" took the internet by storm and got social media users out of the house, away from their screens and cleaning up polluted areas. Posted by communities all over the world were thousands of "before" images of outdoor spaces covered in litter — alongside "after" images of the same places with the litter gathered up in rubbish bags.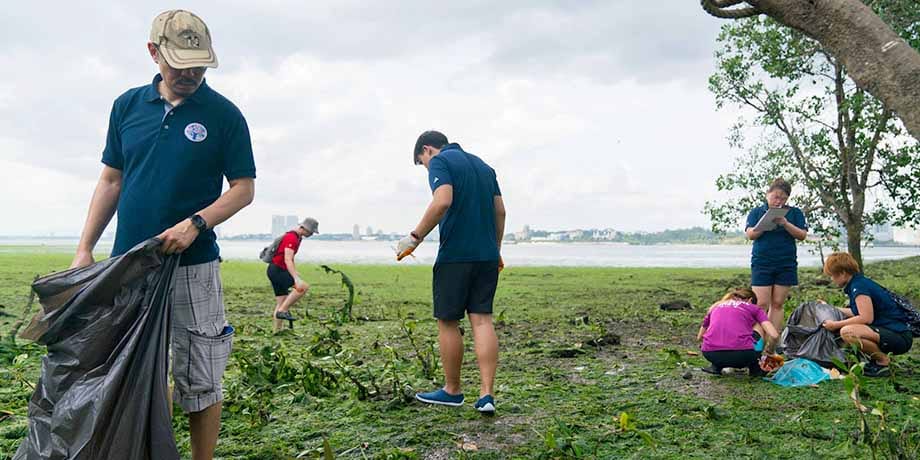 The effects of the "Trashtag Challenge" showed the potential for positive change that communities can achieve. And right now, collective action is exactly what our planet needs.
The Curse of Convenience
Many of us turn a blind eye to the impact of our everyday conveniences — from our morning coffees in disposable cups, to the plastic cutlery we accept with our takeaway, to our groceries packed in multiple plastic bags — without realising how our habits contribute to the mounting environmental threats that face our planet.
In 2018 alone, according to the National Environment Agency (NEA), nearly 1.8 million tonnes of plastic waste, e-waste and food waste was generated in Singapore.
Think about your last takeaway meal — did you wash and recycle the plastic container that held some tasty char kway teow, or did you simply throw it away after dinner?
People in Singapore use 1.76 billion plastic items each year. These include 820 million supermarket plastic bags, 467 million plastic bottles, and 473 million disposable plastic items, such as takeaway food containers. Only about six percent of all this waste gets recycled, according to the Singapore Environment Council (SEC).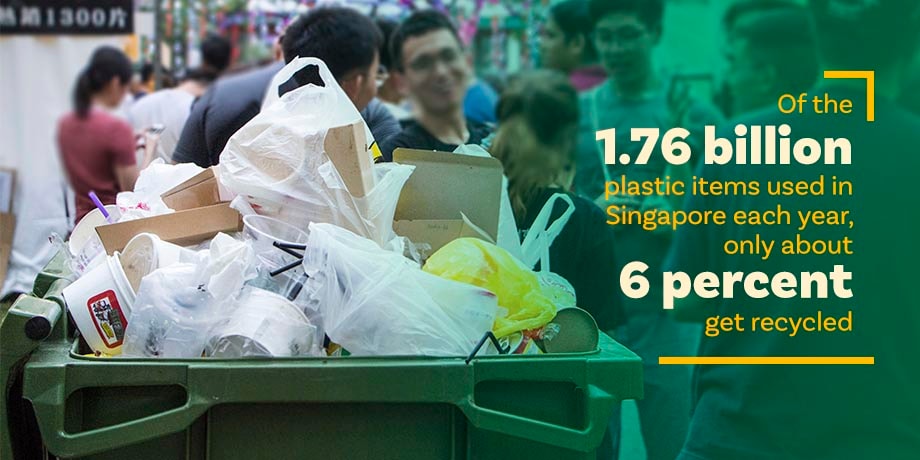 For our 'smart nation', e-waste poses another problem. According to the NEA, 60,000 tonnes of e-waste gets disposed of each year in Singapore. That's roughly the weight of 35,000 cars!
E-waste comprises electrical and electronic equipment of any kind, such as used batteries, old mobile phones and laptops, home appliances, or that ancient 'Walkman' that never used to leave your side. When improperly disposed, the hazardous materials within these items can damage the environment.
These include metal, plastic components and toxic chemicals such as mercury, lead and refrigerants that can seep into the earth and sea, or contribute to global warming.
Recycling e-waste encourages a circular economy that places finite resources back into production, reducing the need for more mining and the risk of pollution.
Yet, four in 10 Singaporeans do not recycle simply because they think it is too inconvenient, says a 2018 SEC report. The report also found that recycling rates for plastics, in particular, remain low due to reasons such as low awareness of recyclable types of plastic, recycling bin locations, and unwillingness to wash and clean contaminated recyclables such as food packaging.
Step Into the [Not-So] Convenience Store
In June 2019, the "The [Not-So] Convenience Store" exhibition was launched at the Temasek Shophouse, a new space in the heart of the city that aims to house changemakers, host community programmes, and inspire more to make a positive social impact.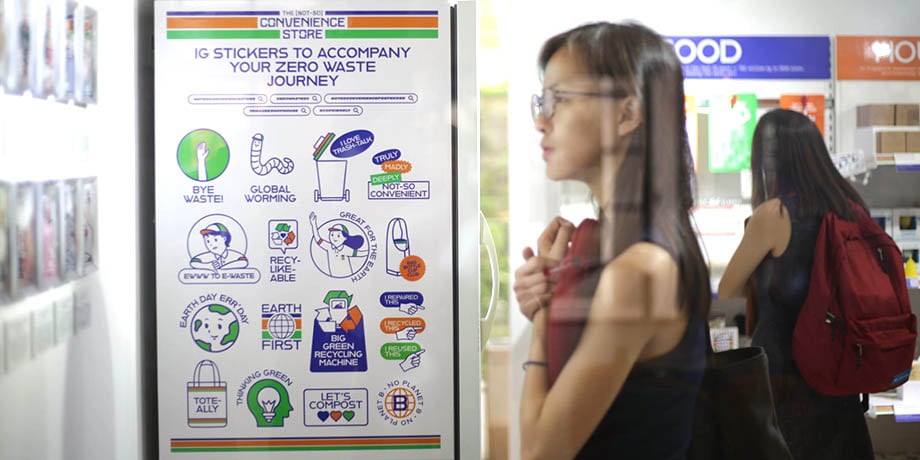 The exhibition aims to get consumers to buy into a more sustainable lifestyle, by reducing the waste we generate. Sustainable alternatives to convenient disposables are on display, grouped into the four main waste types that Singapore produces each year — food waste, household waste, e-waste and plastic waste. These waste types have also been identified as key points to address in NEA's zero-waste masterplan.
The eco-friendlier alternatives range from reusable straws, cups and bags, to more uncommon items such as toothpaste powder, menstrual cups and even referrals to courses on repairing electrical devices. A closer look at each item's "price tag" gives visitors more information about the product, such as how to purchase it and the impact, or 'price', of using its less sustainable counterparts.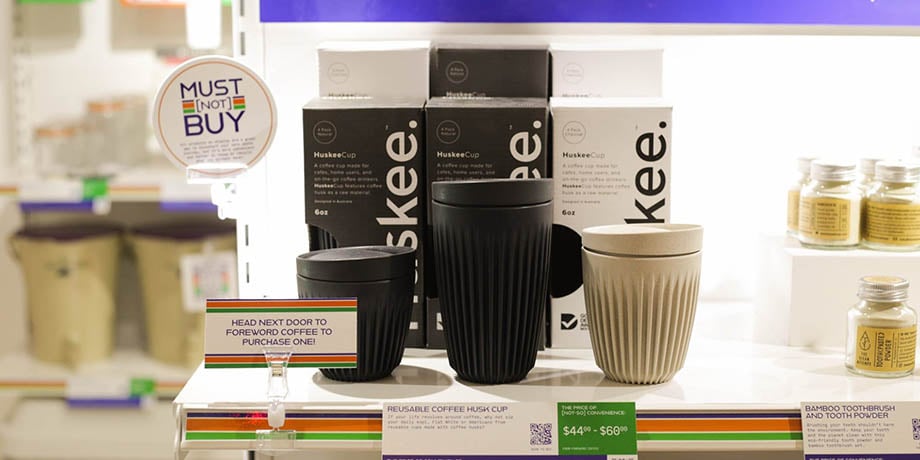 "We're hoping that [the store] will provide education to the public and offer sustainable alternatives to help us make more conscious decisions," said Yvonne Tay, director of Temasek Shophouse, who hopes that the tongue-in-cheek approach taken by The [Not-So] Convenience Store will grab attention and raise awareness of the need to manage our waste.
Instagram user and zero waste advocate Jasmine Tuan, who visited the exhibition, expressed her hope on social media for more consumers to adopt sustainable habits. Rethink before you buy, and rethink before you throw, she advised, posting, "I think this is a great start…Singapore needs more of these not so convenience stores!"

One Small Change for You, One Giant Leap for the Planet
The time has come for us to change our culture of convenience. Check out some simple, practical tips you can adopt for a cleaner, greener lifestyle by clicking below.
Here are five convenient tips to help you go green and reduce your impact on the environment
With just a little more action, a zero-waste and pollution-free future may just be within our reach. What are you waiting for?
The [Not-So] Convenience Store exhibition is showing at Temasek Shophouse, located at 28 Orchard Road until 31 July 2019.