Can Tech Give the World A Byte to Eat?
Can Tech Give The World A Byte To Eat?
Twenty agritech start-ups. Five winning pitches. One challenge: to reduce food loss on a global scale.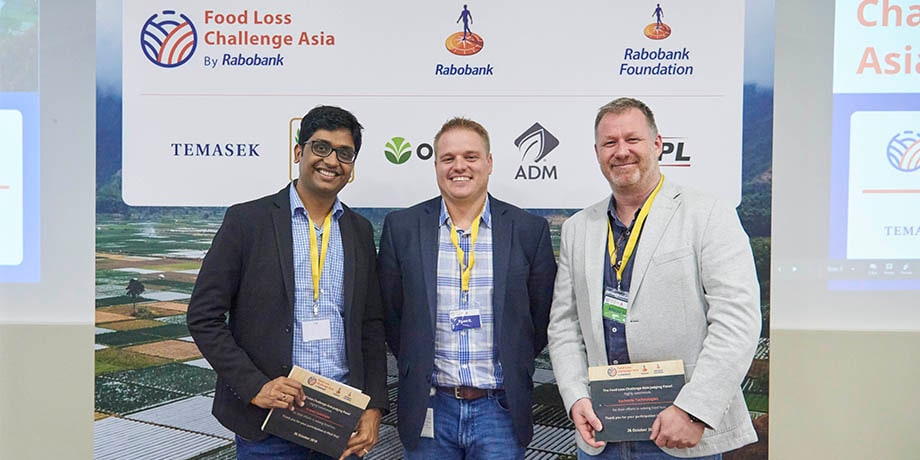 Across LEVEL3, a vibrant coworking and events space tucked away in southern Singapore, entrepreneurs of all ages from across the world are exchanging business cards, poring over pitch decks and running business plans by industry experts.
It is October 26 and Pitch Day for 20 agritech start-ups that have been selected to participate in the inaugural Food Loss Challenge Asia, an open-innovation competition organised by financial services company Rabobank.
Investment professionals from Temasek, as well as senior leaders from various food and agriculture businesses, have been invited to provide mentorship and strategic counsel to these start-ups as they prepare to present their food loss solutions to a panel of judges.
Only five start-ups will make it through to Food Loss Challenge Asia's finale on 15 November, with a chance of winning up to US$15,000 to scale up their businesses.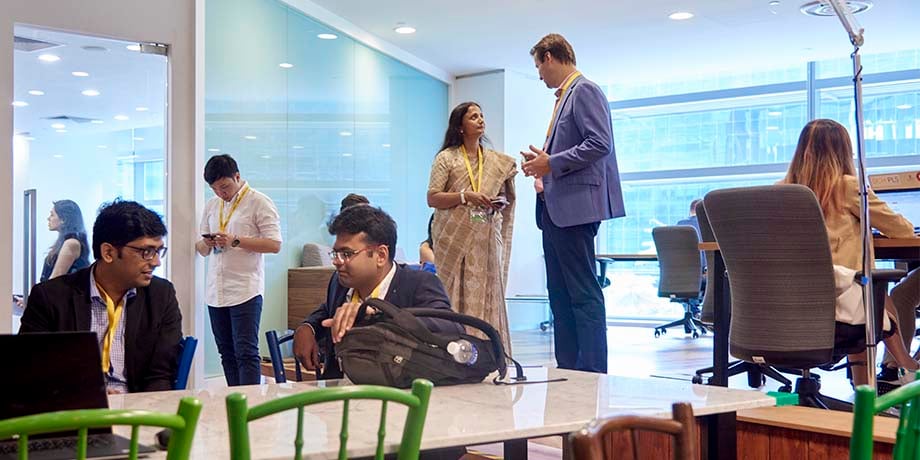 Food Loss in a Hungry World
Based on estimates from the United Nations' Food and Agriculture Organization (FAO), more than one third of all food produced globally is lost or wasted each year. Yet, at the same time, 821 million people face food shortages and are undernourished.
This global problem is the impetus for Rabobank's Food Loss Challenge Asia.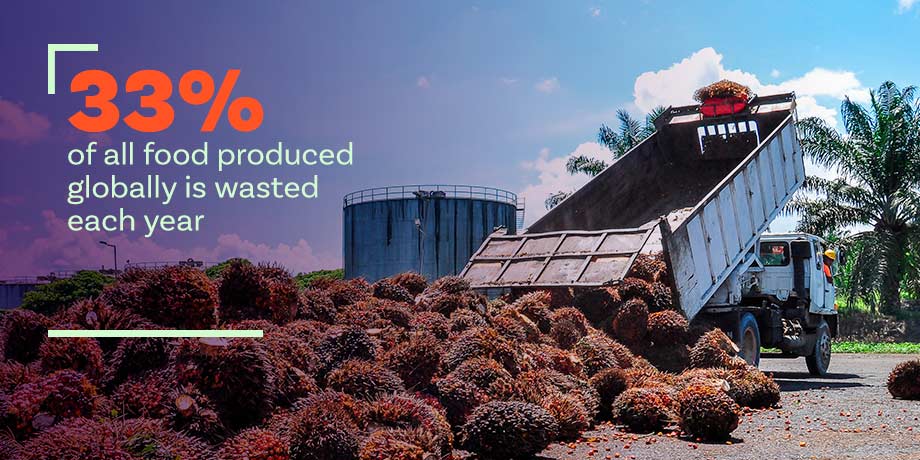 Kicking off Pitch Day, Rabobank Singapore Chief Executive Officer Mark van Binsbergen set the scene for an intense battle. Each agritech start-up would be given just five minutes to present their ideas for reducing food loss and to answer questions posed by a panel of industry experts, he declared.
Temasek's Managing Director of Agribusiness Anuj Maheshwari, who was one of six judges on the panel, highlighted that a key facet of the pitch would be to assess the start-ups' abilities to address problems in the food system that have long been ignored.
"I would like to see start-ups reimagining the way food is produced and consumed, looking at problems we have ignored or left to governments to solve," he said.
"For me, what is most important is how a company's product and business model integrate with the value chain and offer benefits to all parts of it — from the farmers and producers to the consumers."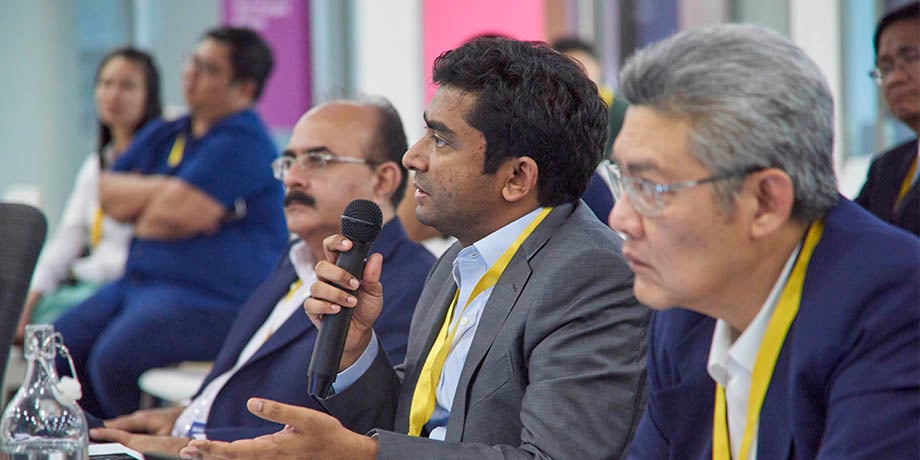 One by one, start-ups took to the stage presenting a range of innovative solutions to tackle chronic problems in the food system. The problems addressed ranged from poor harvesting practices to food contamination brought on by improper packaging and a lack of quality control.
India-based start-up Ecozen Solutions, for example, presented a novel storage method that would enable India's smallholder farmers — small-scale farmers who depend on agriculture for their livelihoods — to preserve and transport perishables along the value chain in an affordable and sustainable manner. Their solution in a nutshell: portable cold rooms powered by renewable energy.
"Food production has increased among farmers in India, yet their net revenue has not increased proportionately," declared Prateek Singhal, Co-founder and Chief Operating Officer for Ecozen Solutions. "The reason for that is they are growing vegetables that are perishing in a day or two."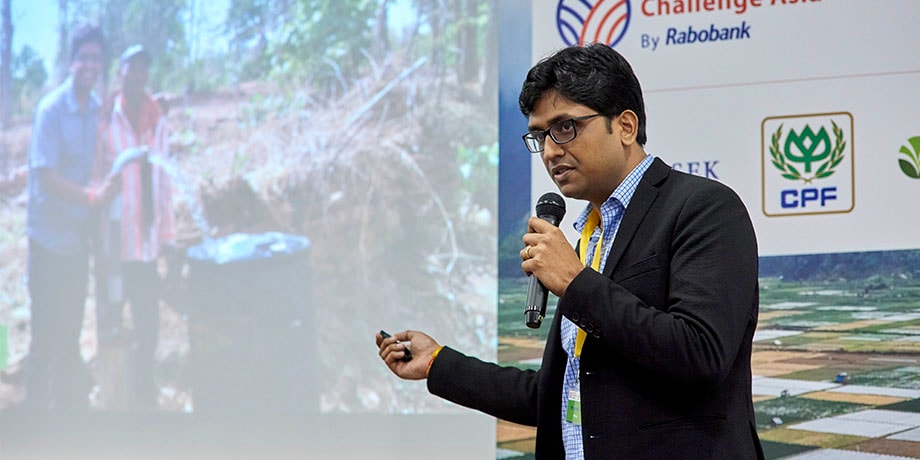 With Ecozen's solar-powered cold rooms, farmers are able to grow perishables such as fruits, vegetables and flowers at optimal temperatures on the farm, and continue preserving them post-harvest. Prateek added that the cold rooms can also run on thermal energy, which provides backup power that can last for over 30 hours on days when there is insufficient sunlight.

Ecozen's solar-powered cold room presents a solution for farmers in energy-starved areas

The solutions presented by the start-ups didn't tackle problems solely within the agriculture industry. Singapore-based start-up Eachmile Technologies also introduced a unique solution to make the seafood industry more sustainable.
"Seafood consumption has risen by 90 percent over the past 50 years. Yet, 50 percent of fish is discarded, lost or wasted in the supply chain post-harvest," Alistair Douglas, Founder of Eachmile Technologies, told the judges. "This comes at a significant environmental and social cost, and we're paying for this at cash registers."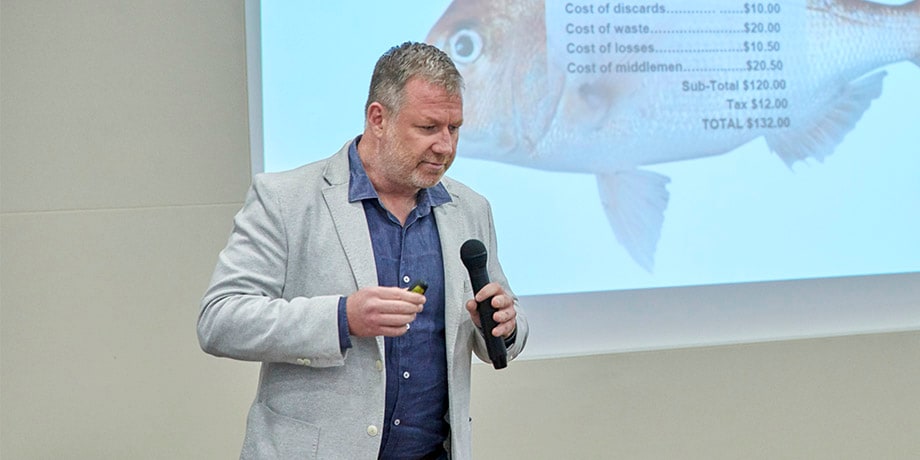 A lack of transparency in the seafood supply chain is one of the biggest factors for seafood waste, said Alistair.
To address this, Eachmile Technologies has designed a blockchain-based mobile platform that allows fishermen and farmers to log their harvest, be rewarded for sharing data and access important information such as weather conditions and best practices to improve management — in the hope of improving their livelihoods and promoting sustainability.

The Role of Mentorship in Reducing Food Loss
Alongside an attentive judging panel, a separate closed audience consisting of subject matter experts, seasoned investors and mentors watched on as the start-ups took to the stage one after the other.
"We were invited to offer these start-ups advice on refining their business models and go-to-market approaches, and guide them in thinking about their growth plans," said Ryan Rakestraw, Associate Director of Innovation at Temasek, who focuses on agriculture and agritech venture capital investments.
Ryan mentored three start-ups in the competition: Eachmile Technologies, Ecozen Solutions and AgUnity, a blockchain-based agritech start-up that aims to build trust between farmers and co-operatives and increase their access to shared agricultural resources.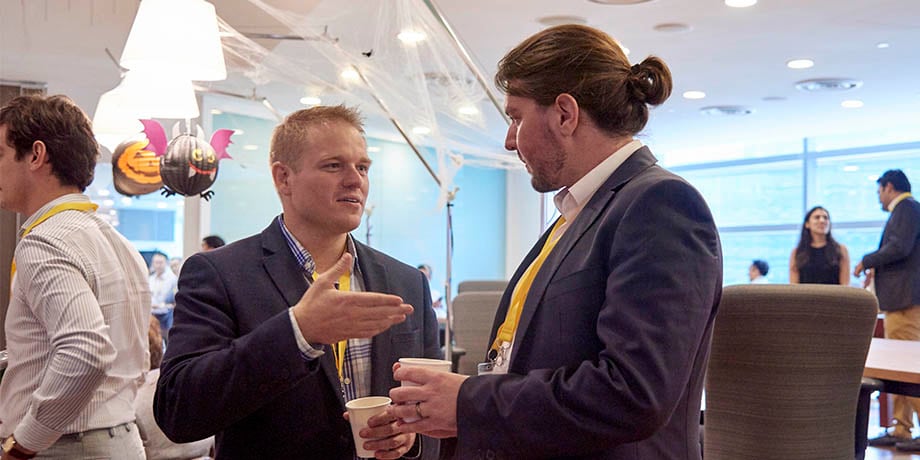 Food Loss Challenge Asia's Top Five Finalists
Five hours and 20 pitches later, Albert Boogaard, Head of Innovation at Rabobank Foundation, declared the five finalists: CropIn Technology Solutions, Eachmile Technologies, Ecozen Solutions, Elixia Tech Solutions and Pula Advisors.
Cheers erupted in some quarters of the room, while disappointment was evident on the faces of others whose names had not been announced.
"The decision was not an easy one. Each of these start-ups presented diverse solutions, demonstrating a strong understanding of their target markets and adoption of technology to address food loss in a very innovative way," said Albert, who was also a judge on the panel.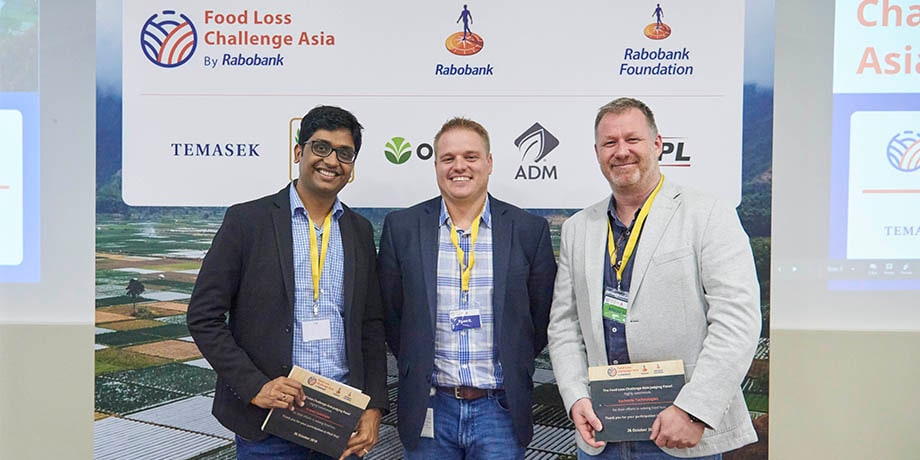 Post-Pitch: What Happened at the Finale
The five finalists went on to attend the Food Loss Challenge Asia finale on 15 November, where they presented compelling solutions to reduce food loss to decision makers of leading food and agribusiness companies at Rabobank Asia's Food & Agribusiness Advisory Board meeting.
After a tense head-to-head battle, Ecozen Solutions emerged victorious — clinching both the Jury's Prize of US$15,000 and US$5,000 as the Audience Favourite.
"Ecozen Solutions has been in the market for a few years now; they know what works and scales in the markets they operate in," Ryan commented.
"At Temasek, we look at hundreds of opportunities in food and agriculture every year and get exposed to many different ideas. So, what [we] managed to offer them was advice on refining their business model, approaching their expansion plans and conveying their mission to the judges succinctly and credibly."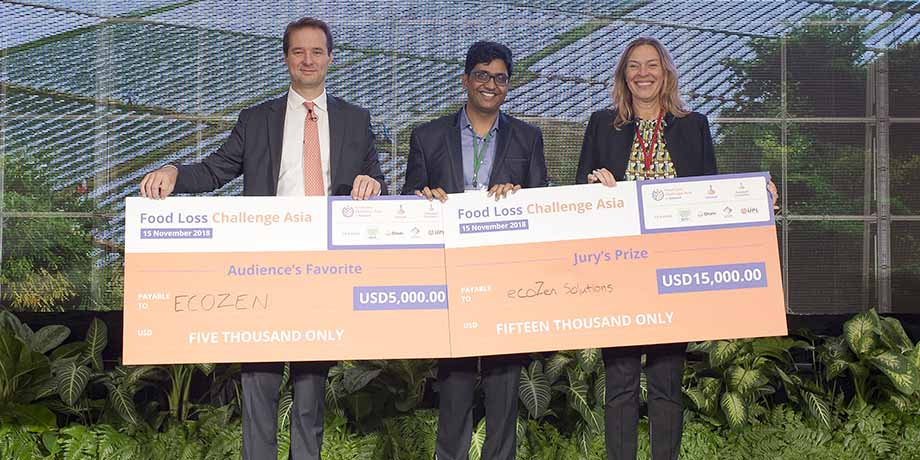 Food Loss Challenge Asia is an open innovation competition organised by Rabobank in partnership with Temasek and food and agriculture businesses Archer Daniels Midland Company, Charoen Pokphand Foods PCL, Olam International and UPL.