A Dustbin That Watches What It Eats
A Dustbin That Watches What It Eats
One start-up has figured out a good way to reduce food waste. Find out how an ordinary dustbin can be transformed to provide valuable insights for corporations.
We've all pigged out at buffets before. But did you know that the customers aren't the only ones stuffed by the meal's end?
In fact, chances are the bins are as full as the guests – filled to their brims with food waste.
Businesses like hotels and restaurants are large contributors to the excessive amounts of food waste in Singapore.
It was reported that in 2016, over 790,000 tonnes of food were thrown away, which are the equivalent of two bowls of rice per person a day. This wastage costs the average local household up to S$1,440 every year, according to TODAY.
Fortunately, a Singapore start-up has come up with a smart solution to our food waste problem.
Founded in March 2017, Good For Food uses smart products and data analytics to help businesses reduce food waste and lower costs.
"One-third of all the food we produce gets discarded as it moves from farm to fork – that's 1.3 billion tonnes and a trillion-dollar industry," said Rayner Loi, co-founder and CEO of Good For Food.
Its first product is Insight that fits atop a restaurant's bin and records the food discarded.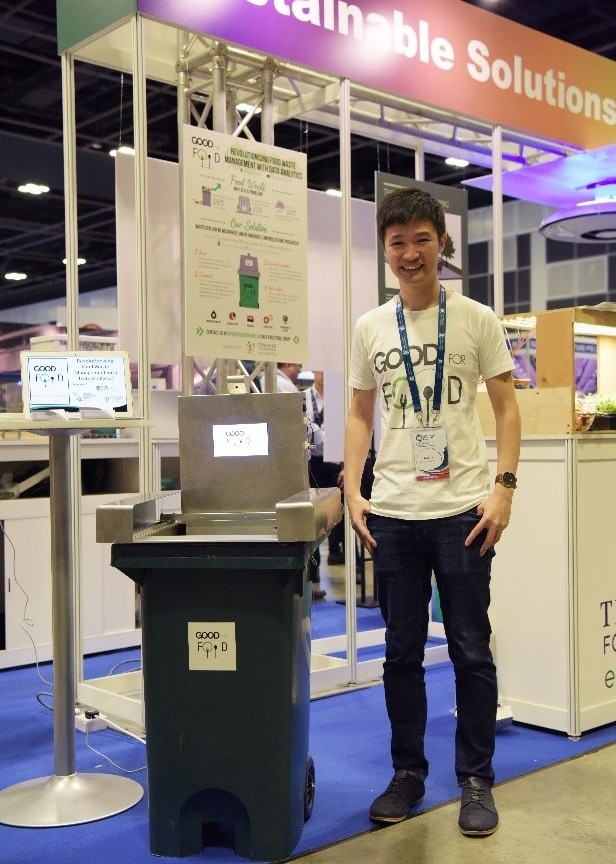 A smarter food saver
Insight uses big data and machine learning to track the types and quantities of food being disposed of. Every time food is discarded, Insight's smart camera and sensors will weigh and identify the food waste. The information is then analysed by Good For Food, which uses the data collected to advise businesses on purchasing and production decisions.
According to Rayner, Insight's use of automatic image recognition gives the product an edge over its competitors, as it removes the need for restaurant staff to manually identify the types of food being thrown away.
"With other products, you would have to key in the types of food being thrown away yourself. This process is tedious and can frustrate users, especially those working in busy kitchens." He said.
"Our software's artificial intelligence (AI) can automatically identify something as simple as an apple slice, to a dish as visually complex as curry chicken, which allows a more seamless user experience." Rayner added.
Early testing of Insight in cafes showed that it helped reduce food waste by around 30% in the first 4 to 5 months.
The difference a meal makes
Insight is Rayner's brainchild, and his passion for reducing food waste was kindled by a poignant personal experience.
The 24-year-old is a strong advocate for social causes, and does volunteer work mentoring at-risk youths. Having himself experienced the benefits of being mentored while growing up, Rayner seeks to serve as an older brother to those from broken families.
And it is during this mentoring process that he saw first-hand just how much a meal can mean to the needy, and how unacceptable it is to waste food.
"I took one of the youths I mentored to dinner before sending him home, where his mother thanked me profusely for his meal. I said to her, 'Auntie it's OK, it's just dinner.' Only then did I find out that their family struggles to put food on the table." He said.
That's when it struck him: "How can we waste so much food when we have so many people with food insecurity?"
Support for sustainability
Good For Food showcased Insight at Sustainable Solutions Expo 2018, co-located with Ecosperity Conference in June, an annual series of conferences that brings together leaders across the corporate, innovation, government and academic sectors to discuss ideas and solutions to improve sustainability.
Rayner is no stranger to Ecosperity. Last year, he successfully received funding from Temasek Foundation, a non-profit organisation established by Temasek that supports sustainable innovations to improve liveability.
The funding helped Good For Food manufacture its first batch of Insight units, and Rayner also participated in the Ecosperity Young Leaders Dialogue (YLD) 2017.
One year on, Rayner says he is grateful for the experience.
"I've met some really amazing people through Ecosperity and some of them even became my mentors. Events like YLD have allowed me to meet and network with like-minded people," he said.
Mr Lim Hock Chuan, Temasek Foundation Ecosperity's Chief Executive, said that he is heartened to see young people like Rayner coming forward with innovative solutions to problems such as food waste.
For socially conscious entrepreneurs like Rayner, support from organisations like Temasek Foundation will help lend much-needed encouragement and support for his ideas.
"Being an entrepreneur can be a lonely journey, especially in an industry like sustainability where your ideas are often discounted and sometimes even discriminated against.
But events like YLD helps keep me encouraged and optimistic as I get to meet like-minded people and it's comforting to know that I am not alone."
The future of Insight

After a series of successful trials in hotels, schools and food manufacturers, Rayner and his team at Good For Food continues to improve Insight based on feedback gathered. They made changes to the accuracy levels and tweaks in hardware materials for greater ease of use and reliability. The team continues to reach out to the Food & Beverage industry and has a strong pipeline of installations with notable partners in months to come.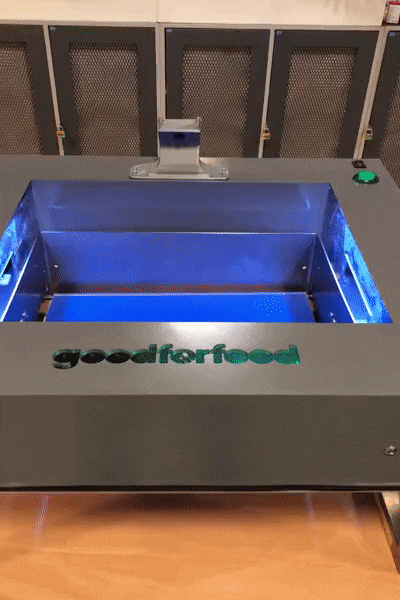 The road to food sustainability is made easier, thanks to innovative technologies such as Insight where food wastage may soon be a thing of the past.
Here at Temasek, we place sustainability at the core of everything we do. We strive to build a better world, always with tomorrow in mind.