The Butterfly Effect of Catalytic Capital: Funding a Greener World
The Butterfly Effect of Catalytic Capital: Funding a Greener World
In Brief
How catalytic capital can address key needs in sustainability and change the future of the world's carbon emissions

Key pillars in sustainable innovations today and their benefits

How Temasek contributes to catalytic capital in sustainability

How can one small change affect the world? We explore how, with proper funding and support, a single step can result in a greener outcome.
Climate experts have done the math, and it's a sobering wake-up call: we are living like we have 1.75 earths to sustain our needs, not one.
The fast-escalating climate crisis reminds us that we urgently need to live more sustainably. According to the Intergovernmental Panel on Climate Change, emissions need to be reduced by 45 percent by 2030 and reach net zero by 2050. If not, large-scale crop failure and extreme weather events (from drought to floods and heatwaves, to name just a few) will become ever more common and severe.
At Temasek, we believe that catalytic capital can bring about the badly needed green revolution to cut emissions. Catalytic capital involves not just providing finance that does good, but also driving sustainable solutions, building capabilities in people and social resilience in communities.

Wielded effectively, this way of thinking can propel a butterfly effect: large-scale changes created from a relatively small but strategic application of catalytic capital. This was a key theme of Ecosperity Week 2022, where experts explored how to accelerate climate action at scale. What might that acceleration look like? And what mindset change will help these changes truly take hold? Read on to find out.
Driving Renewable Energy Capacity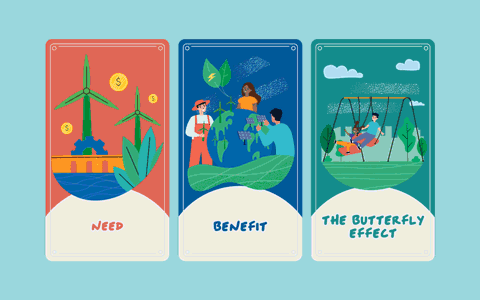 Need:
We need funding to build renewable energy capacity, as climate change puts almost every child's health at risk.
Benefit:
If companies across the world shift to renewable energy, humanity will be far closer to reaching net zero goals.
The butterfly effect:
Reducing fossil fuel use could improve the health of over 90% of children who breathe toxic air daily.
Investing in renewable energy capacity could make a significant difference to life expectancy everywhere. Breathing polluted air takes 2.2 years off the average lifespan. People living in the world's most polluted areas are most affected, with five years of their life lost.
It's no small task, and the clock is ticking. To reach global net zero goals by 2050, the global annual investment in renewable energy, energy efficiency and renewable energy capacity needs to triple by 2030.

Sustainability energy advocate Ms Damilola Ogunbiyi says that energy accounts for two-thirds of our greenhouse gas emissions and we are dangerously close to a 1.5-degree Celsius temperature increase.

Working to achieve net zero isn't just the right thing to do; it's the smart thing for the bottom line. "In most countries, it is cheaper to build a renewable energy capacity than to use existing coal plants," says Ms Ogunbiyi, who is also the Special Representative of the UN Secretary-General for Sustainable Energy for All and Co-Chair of UN-Energy. While this fact could evolve based on a looming recession or global volatility, it represents a game-changing opportunity. But it will take stakeholder education and buy-in so that this insight is embraced and put into practice — potentially reducing fossil fuels drastically and heralding a new era for green energy and clean air.

Funding the Future of Hydrogen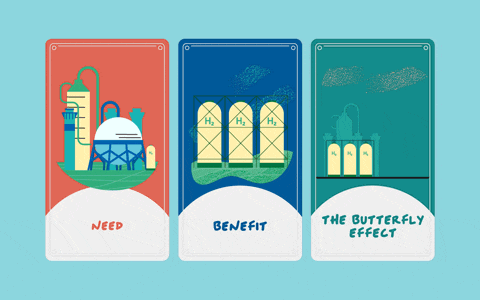 Need:
Green hydrogen investment is key to stopping reliance on fossil fuels, which account for about 80% of global energy.
Benefit:
With green hydrogen, our primary fuel source could be completely renewable and carbon-free.
The butterfly effect:
25% of the world's energy could be supplied through a green hydrogen revolution, making this energy source more accessible.
Along with creating more renewable energy capacity, we also need to lessen the world's fossil fuel reliance.
There's a reason experts are excited about green hydrogen's potential as a renewable energy power player. With strong potential to drive vital but typically 'brown' industries like steel and transport, plus consumer activities like cooking, hydrogen will be a vital component of the energy grid. While they have traditionally been expensive, the technological processes to produce green hydrogen are becoming smoother and cheaper. Some experts predict the price will drop 70 per cent in the next decade in countries with inexpensive renewable energy.

When experts talk about empowering green hydrogen fuel production, it comes down to three words: location, location, location. Alicia Eastman, Co-Founder and President, of InterContinental Energy, says the company's green hydrogen and ammonia are produced in coastal deserts. The regular temperature patterns in these climates allow for a more controlled environment, creating more reliable energy that can be safely and stably exported.

In an era where many are looking to decouple from global partnerships, causing economic fragility, green hydrogen also represents a chance for countries to commit to cooperating via a new resource.

"We see Japan and Korea driving the market in Asia in terms of demand for co-firing (burning multiple types of fuel at the same time) and shipping. We see Singapore playing an active role as an ammonia bunkering hub and participating in studies to figure out the best way to collaborate and deliver clean energy in time," says Eastman.

Financial and technical investment in this space will propel us to provide green energy for everyone, creating an economically and environmentally sustainable energy solution — especially for more vulnerable or developing countries who need the most help transitioning to cleaner power generation modes.

Greener Private Finance for a Greener Planet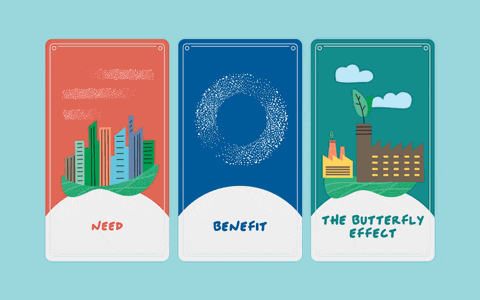 Need:
APAC has the most countries vulnerable to climate change, yet severely lacks access to green financing to reach its decarbonisation goals.
Benefit:
46% of Southeast Asian's feel that governments can allocate more resources to fight climate change, a move that could spur other stakeholders, like investors and businesses, to support a growing green economy.
The butterfly effect:
In Southeast Asia alone, there are US$1T worth of annual green economic opportunities linked to transitioning key sectors over this decade.
As one of the world's biggest contributors to carbon emissions, Asia needs to prioritise sustainability to encourage and show the rest of the world how to do the same.
While many people are facing the hammer blows of job security and rising inflation as well, it is critical that green goals are met. "Getting Asia to net zero is critical to getting the world to net zero, given that Asia is responsible for over half of the world's carbon emissions," states Png Chin Yee, Temasek's Deputy Chief Financial Officer.

In 2020, the world emitted 34.8 billion tonnes of carbon dioxide, and Asia was responsible for 20.3 billion tonnes of the global total. If Asia can obtain sufficient funding for decarbonisation and sustainable solutions, there could be a significant reduction in carbon emissions in the region and across the globe.

That effort will need significant cash injections. Mark Carney, UN Special Envoy on Climate Action and Finance and Chair of Glasgow Financial Alliance for Net Zero, adds, "The emerging and developing world needs an extra trillion dollars a year by the latter half of this decade in order to make the transition to net zero."

A transition to net zero would prevent the build-up of physical climate threats, reduce the risk of the more devastating impacts of climate change and bring sizeable growth opportunities for low-emission products and services. 

Change Made Real
By widening and directing capital flow, we can create a smarter, healthier and more sustainable future — one where people aren't just helped, but empowered to support themselves and their community.
We can do our part by educating others, supporting green causes and encouraging corporations to fund sustainable solutions. Our actions today, and their butterfly effect, can have a lasting impact on our friends and families — and inspire them to create a greener world, for generations to come.

At Temasek, sustainability is at the core of all that we do. We actively work together with our portfolio companies to solve the climate challenge, reverse nature loss and build a more inclusive society.
Temasek is an investor in SP Group.