Who Wants to Be an Intrapreneur?
Who Wants to Be an Intrapreneur?
What is Temasek's CEO Innovation Challenge? Find out how our colleagues across the firm are developing innovative tech applications to solve real-life problems as part of the annual staff learning initiative.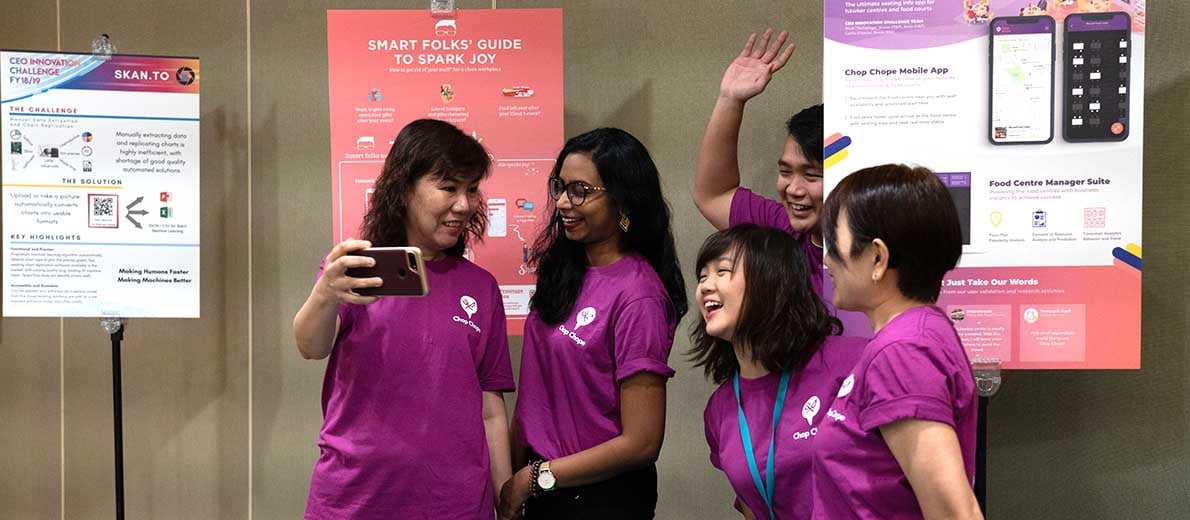 In Brief
Temasek has an annual staff learning initiative called the CEO Innovation Challenge
Employees are encouraged to step out of their comfort zone and develop innovative tech applications that can benefit both the organisation and the broader community
The initiative is part of the firm's broader plans to encourage continuous learning and innovation among our employees
For many of us, looking for new recreational activities to enjoy in our free time is as straightforward as doing a quick Google search.
Special needs individuals and their caregivers, however, can often find this to be a time-consuming task, as information on recreational and leisure activities catered to persons with disabilities (PWDs) is scattered and difficult to find.
Being a caregiver herself, Shakura Bashir, a Senior Associate with our Sustainability and Stewardship Group, saw the need for a one-stop platform that aggregates such information for the community.
The 29-year-old sustainability advocate rounded up a team of like-minded colleagues to create PlayAble, a prototype online portal that caters to the needs of PWDs. The ultimate goal, as Shakura explains, is to empower special needs individuals to lead more fulfilling lives, and in the process, foster a more inclusive society.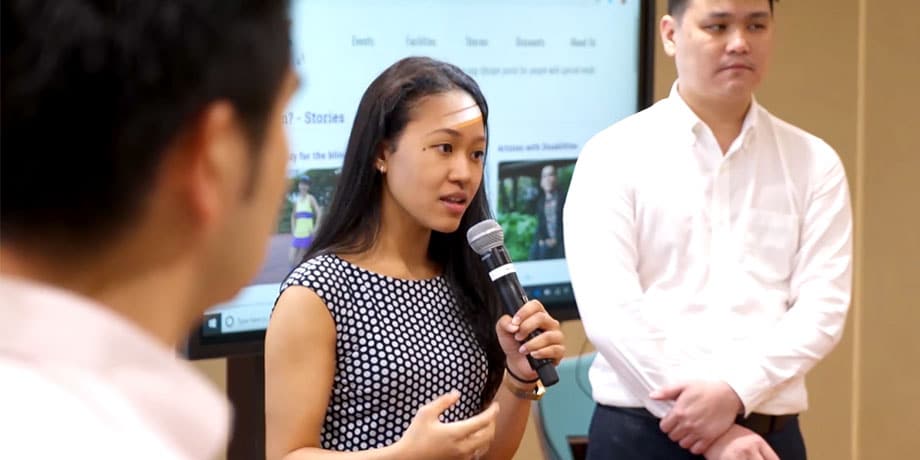 "PlayAble addresses a social issue close to my heart with potential impact to the wider community," says Shakura, whose younger brother Solihin suffers from global development delay.
The Innovation Challenge: Inside Temasek's Hackathon
Shakura and her teammates formed just one of the many teams in Temasek's annual CEO Innovation Challenge, a staff learning initiative that encourages employees across the firm to develop innovative tech applications to solve real-life problems.
"We invest in our people to be future-ready, and technology has been a prominent theme in our learning initiatives and firm events," says Kassandra Tan, a Senior Associate in our Organisation and People department.
"Four years ago, our CEO coined the idea of a CEO Challenge to motivate and inspire each of us to step out of our comfort zone and learn something new," she adds. "Besides taking coding and data science courses, staff learn new skills such as a language or a musical instrument to complete the Challenge. Learning these skills could boost creativity, while helping to prevent dementia and depression," explains Kassandra.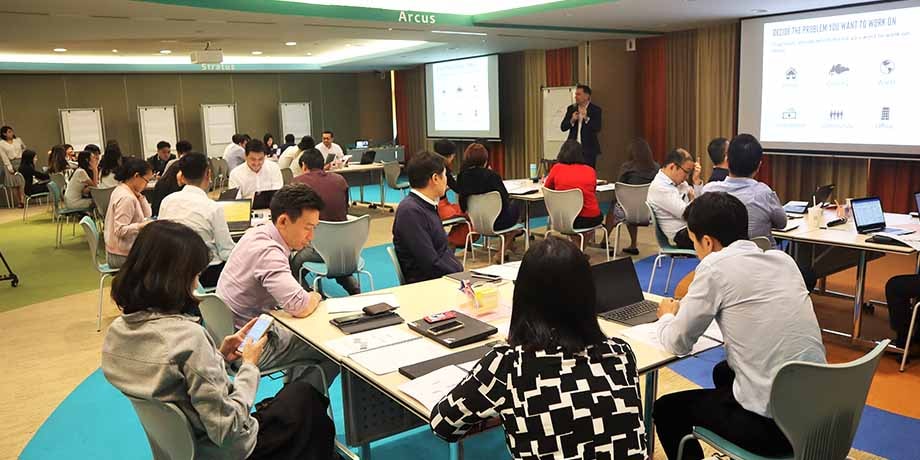 This year, the firm partnered with a local startup to enrich the innovation journey by organising ideation workshops and providing industry mentors to the participants. The prototype apps developed by the winning teams would be further evaluated for implementation, either within Temasek or externally to benefit the wider community.
The winner of this year's Challenge was team SKAN.TO, who developed an app that converts hard copies of charts or graphs into downloadable data.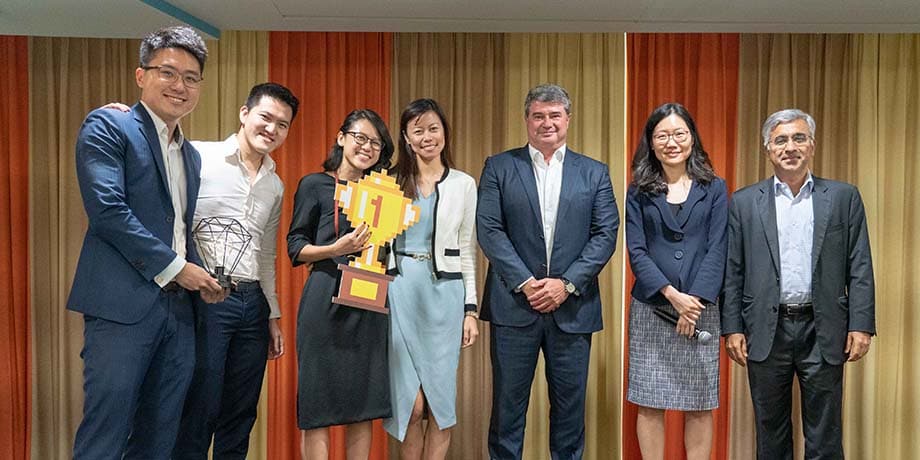 The CEO Innovation Challenge proved to be an effective learning opportunity, as our colleagues shared that they had picked up various new skills along the way. To find out more, we spoke to some of the participants:
Lesson #1: Teamwork Makes the Dream Work
For PlayAble's Shakura, teamwork is what drew her to join the Challenge for the second time.
Shakura and her team members found the diversity of the team beneficial as it allowed them to bring multiple skillsets and perspectives to the table.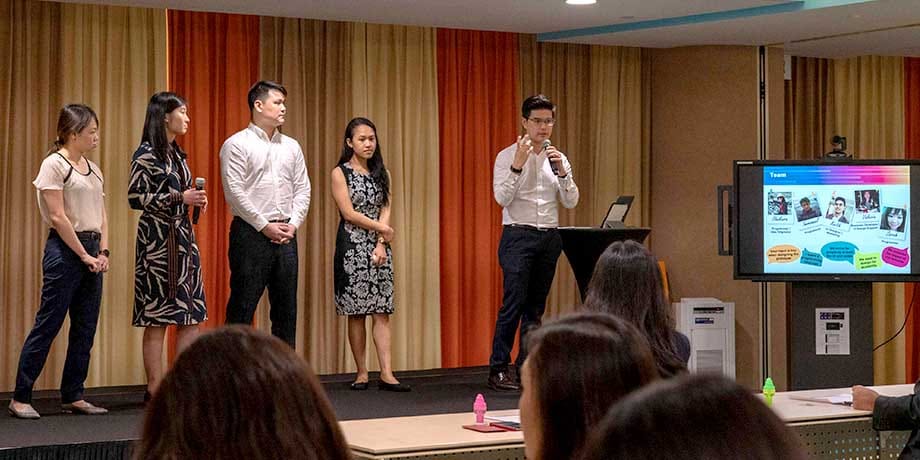 "We tapped on each other's strengths to take on different roles when developing the solution, such as conducting research and interviews to understand the community's needs, studying coding to develop a website and also ensuring that the final product is user friendly and impactful," she says.
Lesson #2: Embrace Agility
Another participant, Mook Chaichirawiwat, an Associate in our Digital Technology team, shares that one of the key learning points was the importance of staying agile and flexible. Mook, who was part of the group behind hawker centre traffic monitoring web app Chop-Chope, adds that the team was prepared to go back to the drawing board if the ideas they developed were proven to be on the wrong track.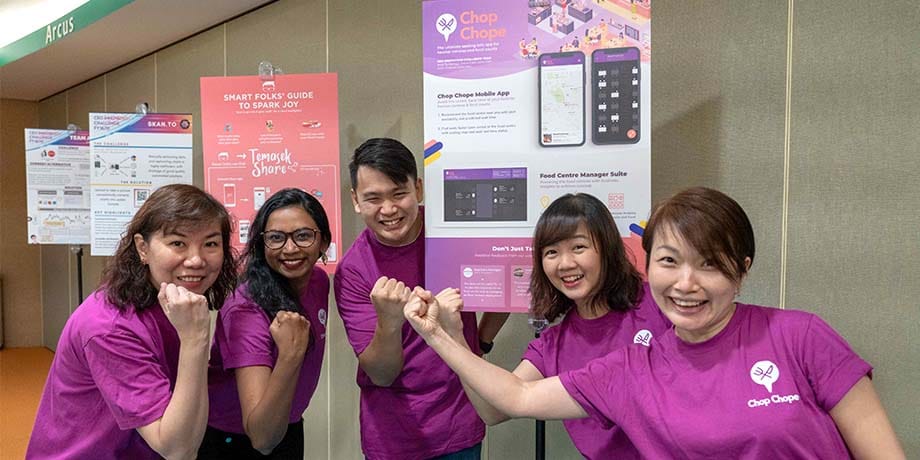 "After speaking with people who frequent hawker centres, we realised that there was a low demand for our initial idea of creating a seat-booking application," shares Mook.
This obstacle did not dampen the spirits of the team; they raced back to the drawing board, determined to come up with a viable alternative.
The end product? An impressive web app built using various programming languages including Python, HTML and JavaScript. It even incorporates an Internet of Things sensor, which tells users how many available seats a particular hawker centre has and how long they can expect to wait for their food.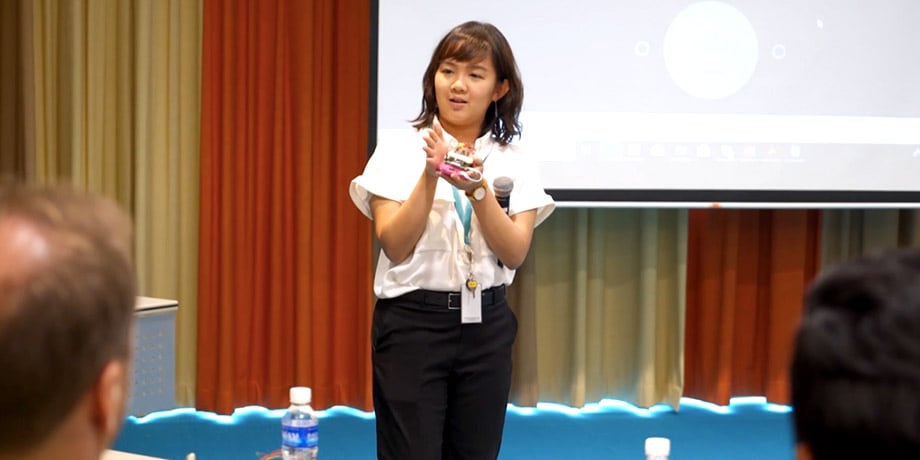 "When we developed the new software, we practised agility. We built it fast, sought feedback and then adapted it accordingly," says Mook. "This helped us create a product that meets users' need in a shorter period of time, compared to if we were to wait until we finished developing the software before obtaining feedback."
Lesson #3: Innovation Increases Efficiency
Most of us know how tedious and time consuming it can be to transcribe content from whiteboards, notebooks or slides. Team SKAN.TO's solution changes the game: snap or upload a picture of a chart and it becomes raw data that can be sent to your email inbox!
SKAN.TO's Benny Khoo, an Associate Director in our Investment Group, explains that the team's solution could help users who work with data and numbers save vast amounts of time transcribing complex content, like stacked charts with no labels. This in turn gives them more time to focus on other critical elements of the job, he adds.
In addition to the time-saving benefit, SKAN.TO can enable the build-up of a data repository from all the scanned charts. "By accumulating data, we can potentially conduct further analysis to derive new investment insights," says Benny.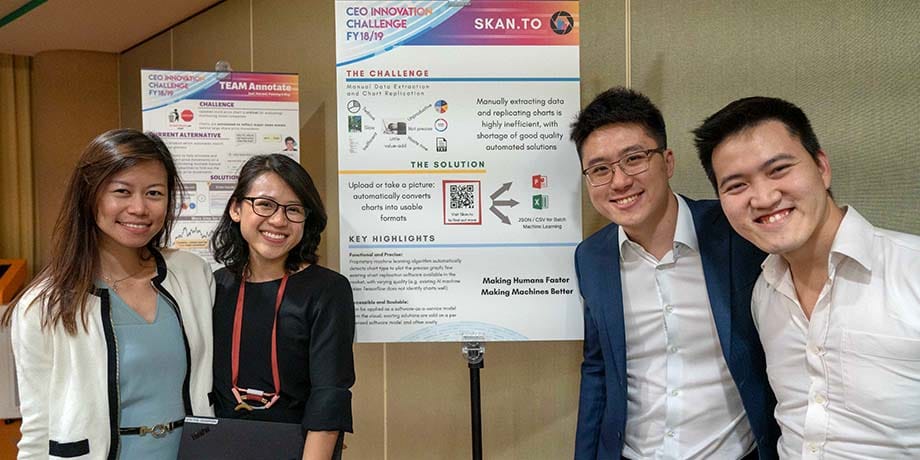 Besides SKAN.TO's Challenge-winning idea, other proposed solutions ranged from an app that consolidates stock market sentiment, to one that encourages the sharing of office resources to reduce waste.
Lesson #4: The Journey of Innovation Never Ends
Despite the Challenge coming to an end after five months, the journey has just started for many of the teams. SKAN.TO, for example, is exploring the possibility of improving various features of their product and using the app in a real-life environment.
Through the Challenge, Benny shares how innovation can help him be more productive and efficient at work. "Innovation can be used to automate repetitive processes or derive new investment insights by leveraging data analytics, for example," he says.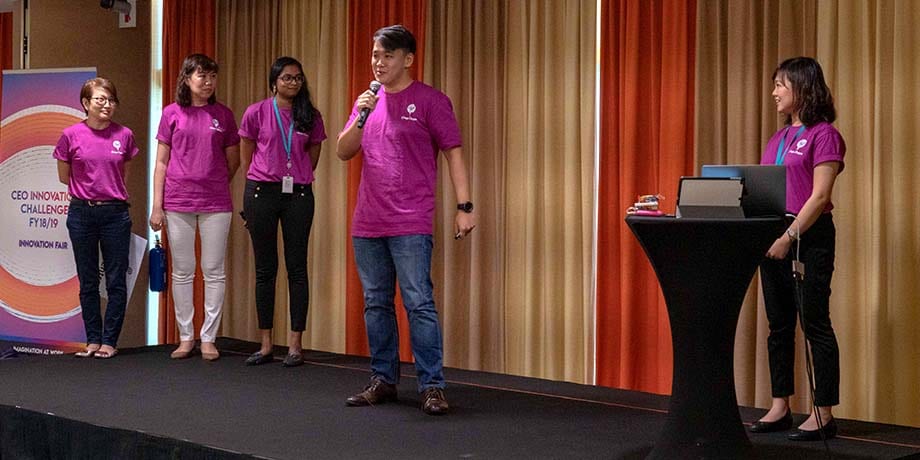 Meanwhile, first runner-up PlayAble's Shakura shares that the team is keen to work with community partners and organisations to improve their online portal. "I enjoy the strong innovation and collaborative culture at Temasek, as well as the support given to pursue new ideas and projects," she says.
"Adopting an innovative mindset or start-up mentality is important for both professional and personal development, and it challenges me to think of new ways to improve our lives and of those around us!" she adds.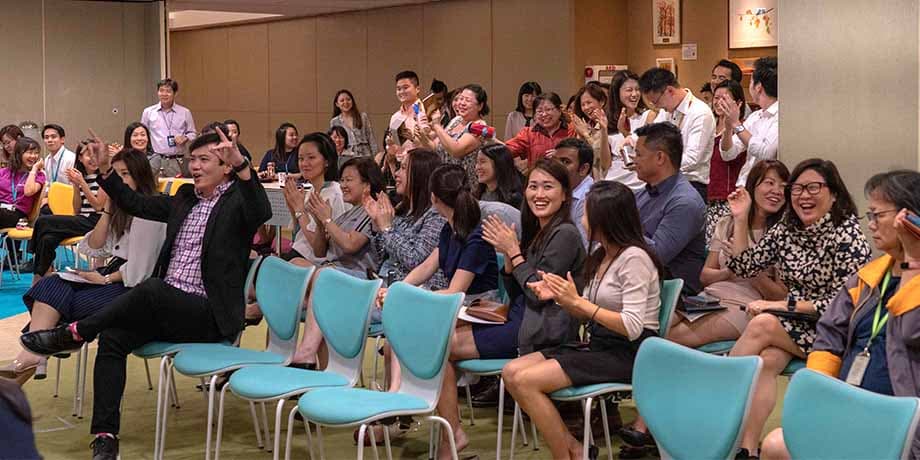 "Technology has revolutionised the way work is done. We continually seek to prepare our staff to remain relevant and navigate better in an increasingly complex environment," says Kassandra. "The CEO Innovation Challenge has taught our employees to think bigger and outside the box."