Freddie Allen's Marathon Des Sables Journey: Giving It All For Your Goal — Temasek
Freddie Allen's Marathon Des Sables Journey: Giving It All For Your Goal
From championing meaningful causes to harnessing tech for good, our colleagues are finding creative ways to create a positive impact in their communities. People of Temasek is a content series that celebrates the diverse individuals who make up Temasek, and their individual commitment towards building a better world.
In April this year, our colleague Freddie Allen raised money for UK social mobility charity Making the Leap by completing the Marathon Des Sables (MDS), often hailed as "the toughest foot race on Earth".
Here he shares his journey.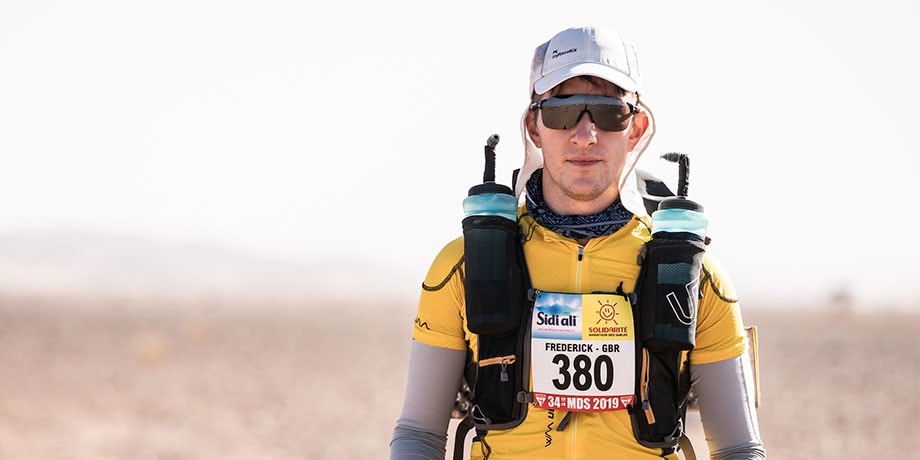 I started long-distance running in 2008 when I signed up for my first marathon, after a friend challenged me to finish one — I can be quite stubborn! Since then, I've really caught the bug.
I first heard about MDS 10 years ago. It's seen as the original multi-day ultramarathon, and because it takes place every year in southern Morocco, in the Sahara Desert, it is frequently referred to as "the toughest foot race on Earth" within the running community.
Building Resolve for a 240-kilometre Journey
For me, the race started back in April 2018, when I signed up. I always intended to peg it to a cause I believe in, and social mobility is something I am deeply interested in. It's an unfortunate reality today that one's ability to access educational and professional opportunities is often limited by socio-economic factors outside of their control. After a lot of research, Making the Leap stood out as the best fit for what I was looking for.
Spurred by the knowledge that I would be running for a worthy cause, I dedicated myself to training over the course of the entire year to make sure I could take on the race. I worked with a running clinic to avoid injury and improve my running technique (primarily gait and leg turnover), as well as doing reformer pilates on a weekly basis to strengthen my core.
I was disciplined, often training between 5–7am weekdays, and then running longer distances over weekends. Saturdays would be spent running with my weight-pack, where I gradually added more weight each week until I was sustaining around 35 kilometres comfortably with my pack at the race-weight of 9.5 kilograms. On Sundays, I would run even longer, but with just a trail race vest with water, electrolytes and some food.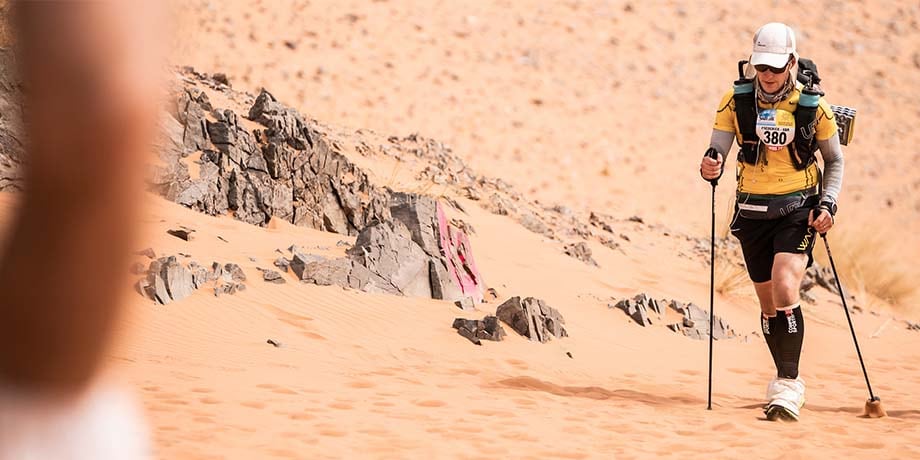 I travel a fair amount, both for work and to visit family, so I was able to vary my training quite a lot. This included running trails in cold, wet and muddy UK conditions; on sandy beaches in Portugal while visiting family; and in the tropical conditions of Singapore when I was there for work. My favourite running routes in Singapore are the trails from MacRitchie Reservoir to Bukit Timah, and the one along the Southern Ridges.
But while Singapore was an extremely warm and humid place to run in, there are not many things that can truly prepare you for the arid heat you experience when you first arrive in the Sahara.
"On 7 April, with AC/DC's 'Highway to Hell' blaring at the start line, we took off."
Ready, Steady, See You in Six Days
I would describe the race as 10 percent physical and 90 percent mental. Everyone competing is in good shape, but the race is highly demanding, psychologically. Imagine being in a hostile environment with extreme conditions and temperatures soaring from over 40 degrees Celsius during the day, to close to zero at night. Sleeping with just a thin carpet and foam roll-mat between you and the cold, stony desert floor in a basic Berber tent that is open to the elements. And subsisting on calorific, dehydrated food for a week, shunning basic comforts like running water and electricity, as well as your privacy. On top of that, you are running the equivalent of nearly six marathons in six days.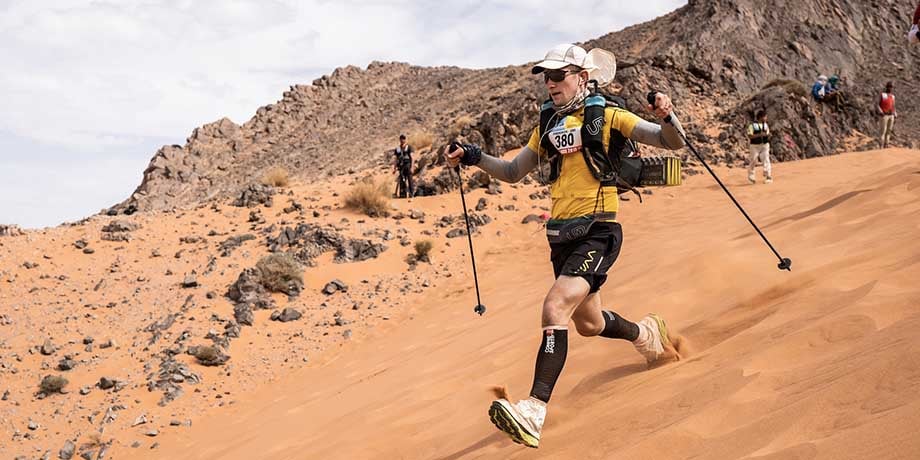 While trying to complete the six race stages, you go through some enormous highs and some terrible lows, as the desert can be a brutal and lonely place. The fourth stage, which spans about 76 kilometres, was a particularly emotional journey. In the time it takes to complete it, there are moments you feel that you can dig no deeper — you are dehydrated, out of water and sapped of energy.
Eventually, dusk begins setting in and you realise you still have 25 kilometres of sand, rocks and jebels to cover. But one of the things I enjoyed most about the MDS was realising that running isn't a solitary sport: I ran this long stage with two of my tent-mates — both accomplished Ironman triathletes — and we supported one another over a gruelling 14 hours and into the night. The shared camaraderie of running as a group was one of the most unforgettable running experiences I've had, and really changed my perspective of the sport.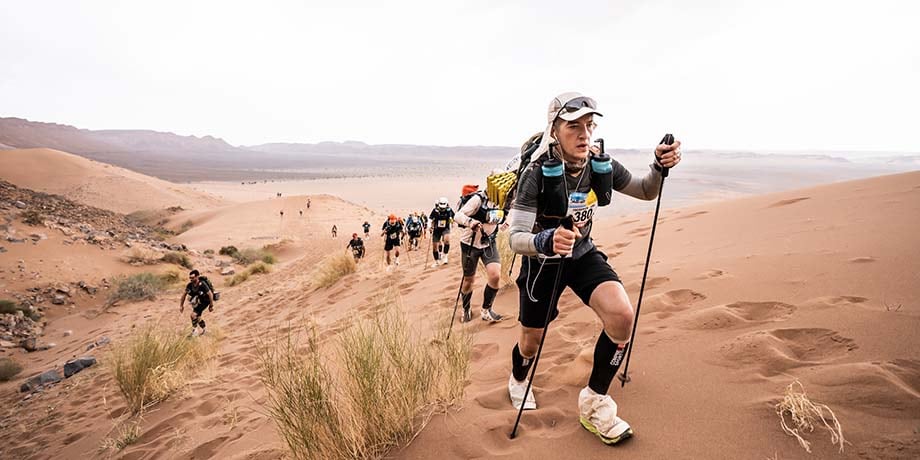 Past the Finish Line
At the end of the race, crossing the finish line and giving a bear hug to Patrick Bauer, the former French foreign legionnaire who founded the race after an epic trip across the Sahara Desert 35 years ago, was very emotional. As a grown man, few things bring tears to my eyes, but sprinting those last 400 metres to the finish line certainly did! The beer that evening was lukewarm, but probably the best I've ever tasted.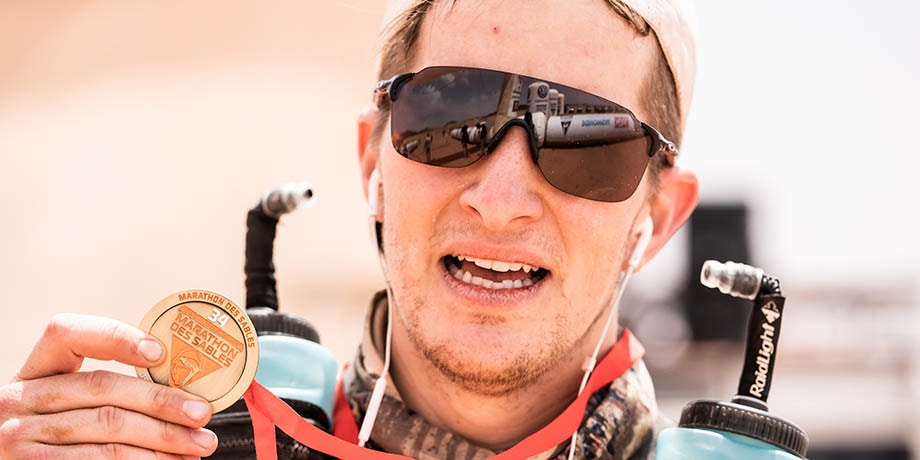 Running the MDS taught me that being decisive and extremely organised is absolutely vital — it's not a race you can drift through. The same goes for work. Here in Temasek, there are a lot of opportunities to learn from and be exposed to a wide range of projects, both internal and external. The key challenge is learning how to juggle and strike a balance across everything, so prioritisation is key.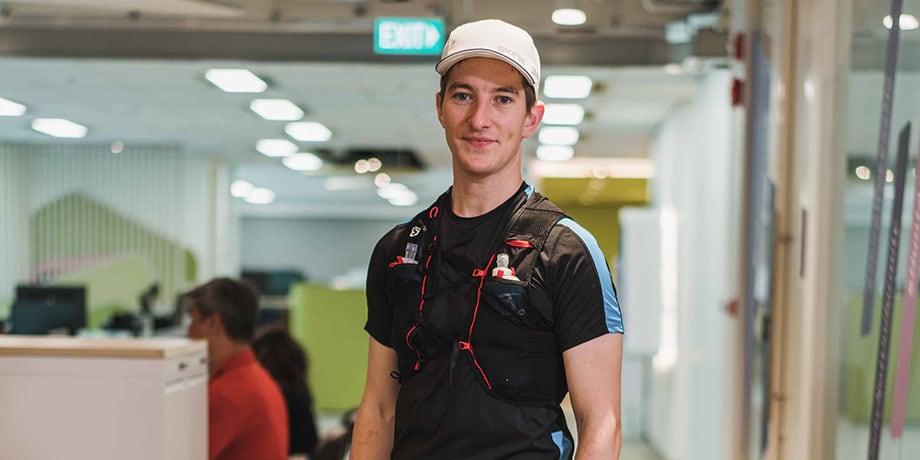 Setting a goal that you consider to be at the very limits of your ability and then pursuing it in a structured but relentless manner is also something I would recommend to anyone. And when you can reframe that goal to make it about something far bigger than yourself, it is a fantastic motivator.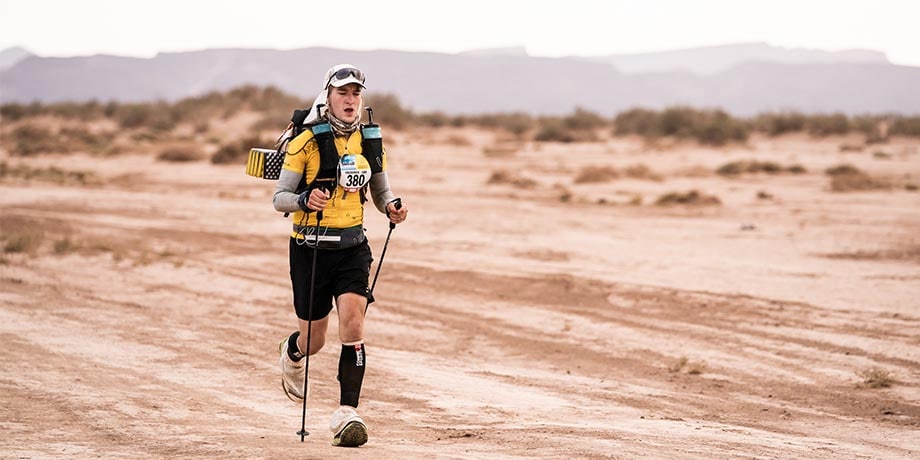 Knowing that I was running for a great cause and having the backing of my friends, family and colleagues at Temasek — many of whom took an interest in the race and reached out to me with words of encouragement, support and generous donations — was extremely important. It definitely put the wind in my sails.
"The level of support from my colleagues at Temasek was absolutely fantastic; it was very touching and a great motivator for me."
Allen was ultimately able to raise more than £45,000 (S$75,000) for Making the Leap.