Life Through Different Lens: The Power of Empathy
A ground-up effort by students from the NUS High School of Mathematics and Science (NUSHS) hopes to make learning interesting and impactful for kids from marginalised backgrounds.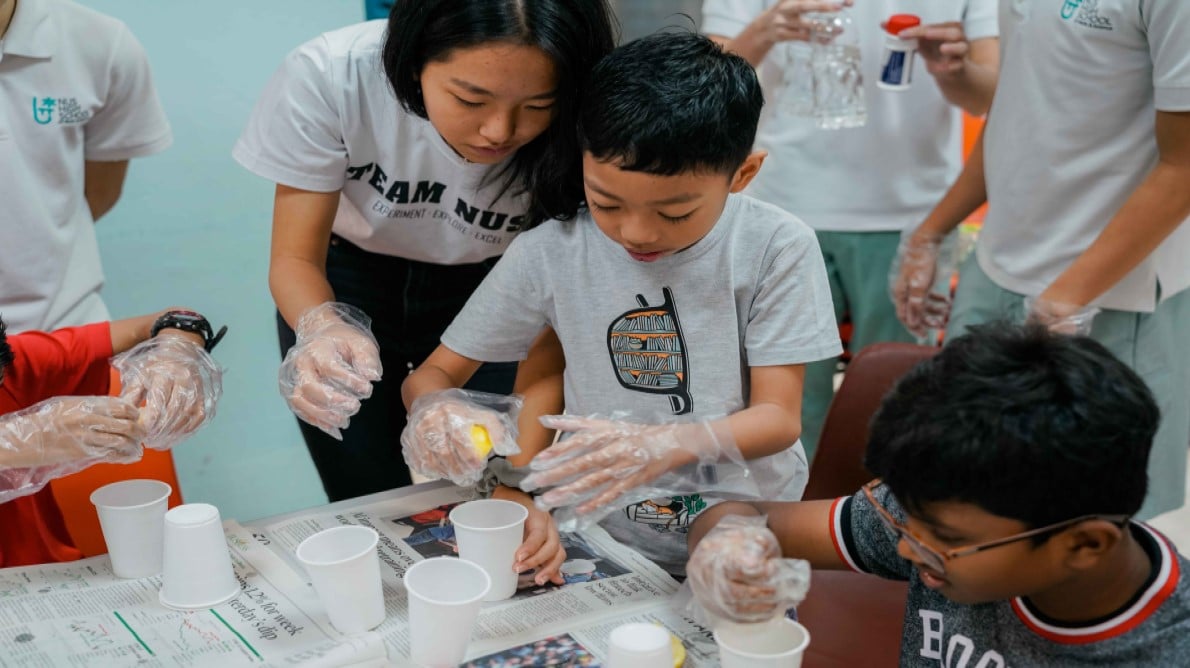 It is 10am on a Monday and the warm glow of the morning sun illuminates the living room area of the Loving Hearts Multi-Service Centre at Jurong East.
A group of students from NUSHS and 12 children from the Centre, aged between seven and 11, move nimbly across the room as they play an ice-breaker game of musical chairs.
Exchanging glances amid a cacophony of roaring laughter, everyone is gleefully trying to outwit one another.
Michelle Yaochai Yinfei, 17, a fifth-year student at NUSHS, is just about to put away her laptop to join the games when a young child meekly approaches from behind.
Flashing him a friendly smile, Michelle cajoles him to try operating the laptop. He shyly declines and darts back across the room to rejoin the rest of the group.
A Platform for Social Change
Seeing life through the lenses of those from marginalised backgrounds was just one of the many valuable insights that 11 students from NUSHS gained from the two-day Math and Science workshop that was conducted recently.
The workshop is part of the high school's Humanitarian Education (HE) programme, which aims to nurture well-rounded learners who can contribute to the community.
As one of the key programmes of the Tay Eng Soon Endowment, managed by Temasek Foundation, the six-year HE programme is a platform for NUSHS students to better understand the needs and challenges of communities around them.
During the programme, students are equipped with effective communication, thinking and community building skills.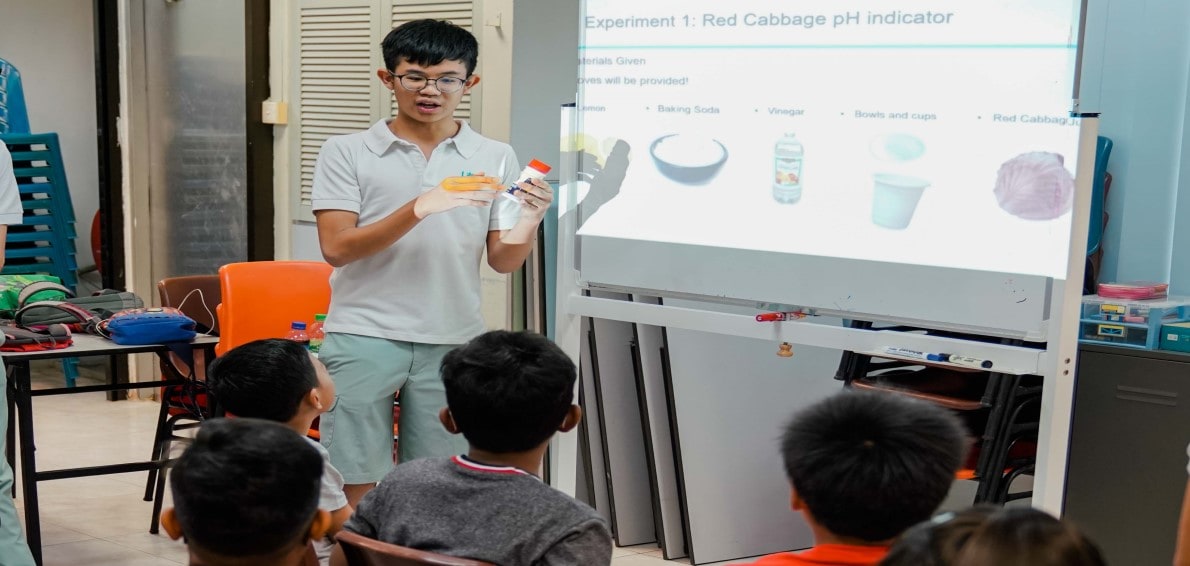 Once they reach Year 5, students are then encouraged to build on this knowledge by leveraging on their talent in mathematics and science to create innovative solutions that would help benefit the public-at-large.
The Math and Science workshop is one of many projects helmed by NUSHS students. Held at both the Centre at Jurong East and the NUSHS campus, the workshop tapped on the students' talent in mathematics and science to impact the lives of children from marginalised backgrounds.
Many of these children are, in fact, interested in learning. But due to the cost of learning materials, they were not able to build on their interests. The children also tend to have shorter attention spans.
Realising this, the NUSHS students created affordable and practical learning activities that were not only engaging but also short enough to retain their attention.
They also combined their personal hobbies and interests when designing the programmes and activities.
For NUSHS student Yam Hong Meng, he decided to conduct a terrarium building session to expose the children to unique crafts and hobbies.
Apart from sourcing for materials such as the right type of plants and soil, he also had to devise a detailed lesson plan to explain the underlying meaning behind the activity.
"Most importantly, it gives you something to bring home as well. Something that you can hang up in your house," said the 17-year-old.
Michelle, on the other hand, decided to conduct a film screening session to help children understand the subtle art of story-telling.
By conducting a dialogue at the end of the film, she was able to guide the children in understanding how to develop a good story.
"I want to show them that inspiration can happen anytime and anywhere. Whether it's the books you read or films that you watch, there is something you can be inspired by at every step of the way," she said.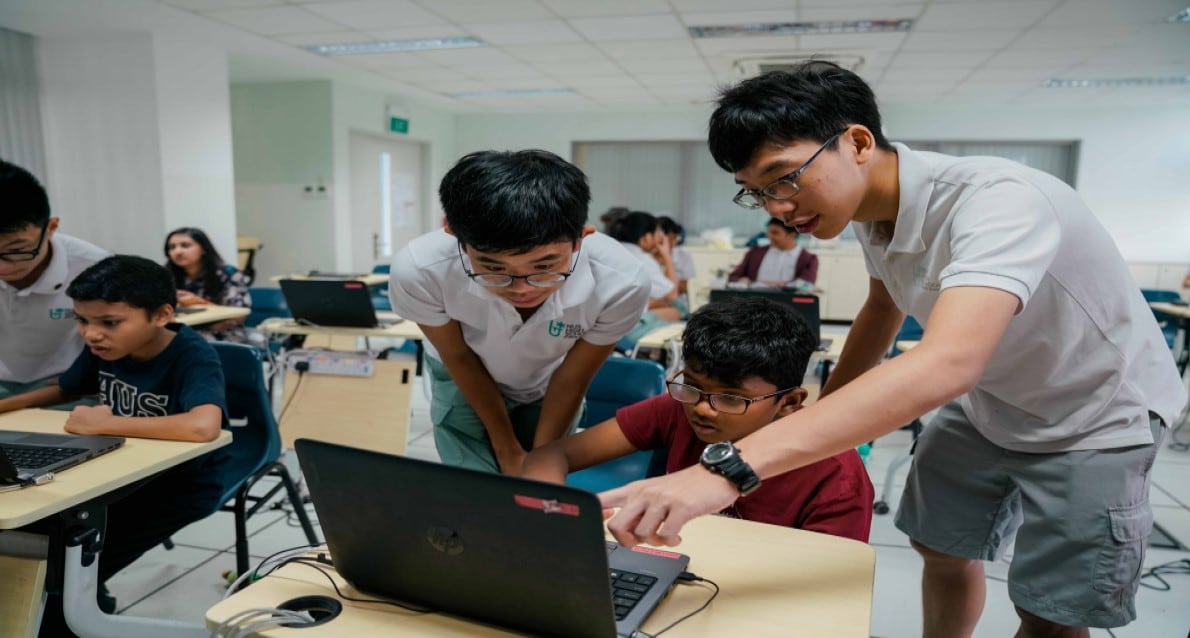 Paying It Forward
Apart from gaining crucial insights on mathematics and science at the two-day workshop, the children were thrilled to have NUSHS students as their tutors.
For 10-year old Arshad Kasim Muhd, learning new concepts means being able to share his newfound knowledge with his peers back at school.
"A lot of what I learnt today was interesting and I will definitely explain them to my friends when I meet them in school," he said.
This is the spark that will hopefully ignite a love for learning in these children – a spark that could possibly change their lives for the better.