500ml of Free Zero Alcohol Hand Sanitiser Available to All Households in Singapore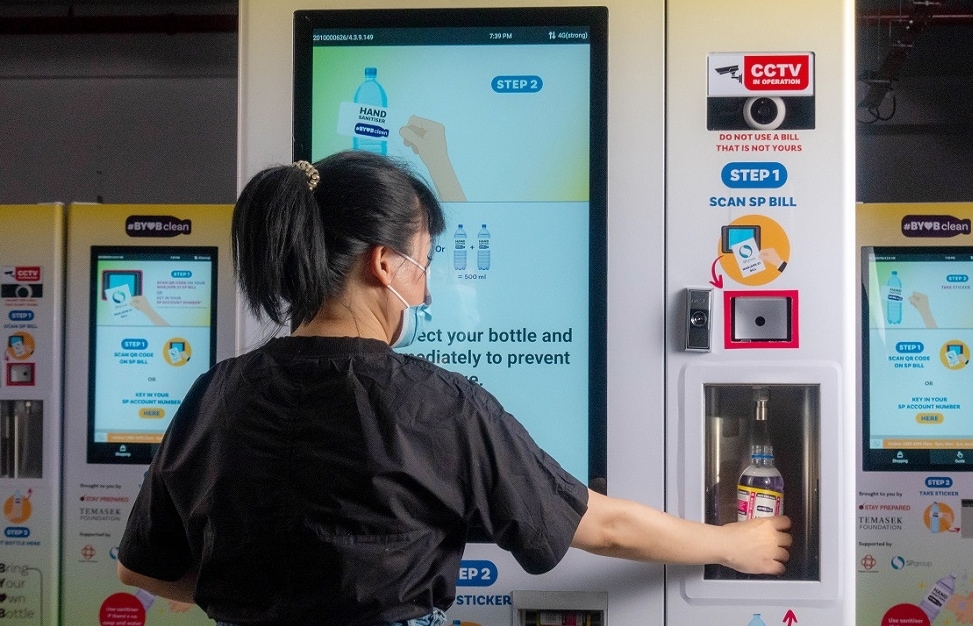 Interested households may each collect up to 500ml of zero alcohol hand sanitiser from 12 to 25 April, Monday to Sunday
Collection will be from vending machines at all 108 Community Centres/Clubs1 and the Temasek Shophouse
At the vending machines, residents may scan the QR code on their March/April SP utility bill, or key in their SP account number on the interactive screens
Residents need to bring 1 or 2 of their own bottles with a total capacity of at least 500ml, and ensure that these bottles are clean and dry
The hand sanitiser is alcohol-free, non-toxic, non-flammable, non-corrosive, biodegradable, and does not cause dry hands. It can also be used as a surface disinfectant
There is enough free hand sanitiser for all households, so there is no need to rush for collection
Singapore, 30 March 2021 – Temasek Foundation is launching its second #BYOBclean initiative to enable every interested household in Singapore to collect 500ml free, zero alcohol hand sanitiser.
Like the first #BYOBclean distribution, residents must bring their clean reusable bottles, up to 2 bottles each, as part of a sustainable approach to provide each interested household with free hand sanitiser. Bottles will not be provided.
Residents will need to do their own self-collection at automated vending machines, using the QR code in their March/April SP bill or SP account number. This enables 24-hour collection convenience at most2 locations during the 2-week collection period in April.
New automated vending machines for dispensing hand sanitiser
New, automated vending machines will be located at all1 Community Centres/Clubs (CCs) across Singapore and at Temasek Shophouse at Dhoby Ghaut, from 12 to 25 April 2021. They can fill 1 or 2 bottles with a total of 500ml of hand sanitiser.
Step by step instructions will be provided on the interactive screens of the vending machines:
Scan QR code on March/April SP bill, or key in SP household account number
Collect and paste labels for 1 or 2 bottles
Place bottle under dispensing nozzle
If using 2 bottles, remove first bottle when full, and place second bottle under the dispensing nozzle
Remember to cap bottles after they are filled to prevent spillage
As good quality water source is essential, these vending machines are activated only after their respective water sources have been tested and qualified.
Each automated vending machine will dispense a total of 500ml of #BYOBclean sanitiser for each household, upon validating the SP bill, regardless of whether 1 or 2 bottles are used.
Each machine will have sufficient hand sanitiser concentrate for almost 4,000 bottles of 500ml capacity, before any topping up of concentrate is required. Multiple vending machines will be available at the busier CCs.
These are the first ever vending machines in the world that automate the entire process of mixing sanitiser concentrate with clean water, and dispensing ready-to-use hand sanitiser into reusable bottles.
These vending machines minimise the risk of COVID-19 transmission from human contact, compared to the labour intensive process in the first #BYOBclean. It also extends collection hours at most locations for the convenience of residents.
New alcohol-free dual-purpose hand sanitiser and surface disinfectant
Formulated and manufactured by local supplier Klenco, the #BYOBclean liquid hand sanitiser for this distribution is coloured purple, using a non-toxic colour additive, so that it looks different from plain drinking water. It is non-flammable, non-corrosive and biodegradable. It generally will not dry or irritate skin,and can be a suitable alternative for people who may be allergic to alcohol based hand sanitiser.
This hand sanitiser contains 0.2% benzalkonium chloride (BKC), the same active ingredient that was used in the first cycle of #BYOBclean, but at a slightly higher concentration. This higher concentration of BKC enables it to be used as a surface disinfectant if needed.
BKC at a minimum concentration of 0.05% in cleaning products is recognised by the National Environment Agency of Singapore3 and the European Centre of Disease Prevention and Control4 to be effective against coronaviruses.
Hand hygiene remains important in the fight against COVID-19
Even as the nationwide COVID-19 vaccination exercise progresses, we should recognise that hand hygiene is one very important layer of defence to prevent the spread of COVID-19.
We know the authorised vaccinations can help prevent vaccinees from getting ill from symptomatic COVID-19. However, we do not yet have data to confirm if the vaccines will prevent us from being infected without symptoms. Thus, we all still need to take precautions, in case we can still be asymptomatically infectious after vaccination.
Hand washing and hand hygiene are critical precautions in our defence against COVID-19, in addition to mask wearing, social distancing and vaccination.
Hand sanitisers are a back up when water and soap are not available. Many different types of hand sanitiser are available in Singapore. Zero alcohol hand sanitisers can be a good alternative for those who are allergic to alcohol, or who may have skin irritation from repeated use of some commonly available alcohol based sanitisers.
Hotline and email for enquiries
Please visit stayprepared.sg/BYOBclean and follow Temasek Foundation on Facebook for more information on this latest and second #BYOBclean initiative.
Videos on what to bring for collection, and how to use the vending machines are available in English, Chinese, Malay, and Tamil at the website.
The 1800 738 2000 hotline is open from Tuesday, 30 March to Sunday, 25 April 2021, 9:00am to 9:00pm daily (except on public holidays). Enquiries or feedback may also be emailed to BYOBclean@temasekfoundation.org.sg.
Further information on how to collect from automated vending machines
Interested households just need to bring these 2 items to any of the 108 CCs, or the Temasek Shophouse, to collect their 500ml of hand sanitiser solution:
Their March/April SP bill5 that contains a #BYOBclean QR code, or their SP account number6
1 or 2 clean bottles (to hold 500ml in total) –
maximum height of each bottle: 23cm or 9 inches
maximum width of each bottle: 11cm or 4.5 inches
1. #BYOBclean QR code on March/April SP utility bills or SP account number
All households have a utilities account with SP Group.
SP will print a #BYOBclean QR code on the top of March/April SP household utility bills, for both the paper and electronic bills. This QR code or the SP account number will be required to verify and validate the collection quota of 500ml for each household.
Households who have not opted for electronic billing should look out for their March/April bills that will be mailed to them between 1 March and 10 April 2021.
Those who have not received a mailed copy of their paper bill, or who have not retained their paper bill, may download the SP Utilities app, to get a digital copy of their bill, which will contain their #BYOBclean QR code and SP account number.
About half of all households have opted to receive their utility bills in electronic form.
Even without the paper or electronic bills household members may collect their 500ml quota of free hand sanitiser by manually keying in their SP account number.
The interactive screens and other high touch surfaces of the vending machines have been coated with long lasting disinfectants for the safety of users.
Residents are reminded that they must have authorisation to collect hand sanitiser on behalf of another household. It is a crime to misuse another individual's personal details, or misuse the household utility bill account information.
Temasek Foundation takes a serious view on data protection and security, and will cooperate fully with the police in their investigations into any unauthorised collection of hand sanitiser. #BYOBclean vending machines are equipped with security cameras.
2. "Bring Your Own Bottle"
#BYOBclean was first started last year to provide hand sanitiser in a sustainable way.
Hence, residents need to bring their own clean, reusable bottles to collect their free hand sanitiser on behalf of their household. They may bring up to 2 bottles, with a total capacity of 500ml, which is the equivalent of 2 full cups or 2 standard drinking glasses.
This #BYOBclean approach helps to promote recycling, and reduce waste of single-use plastic products.
Residents may bring any suitable recycled bottles that are empty, clean and dry. These can be shampoo bottles, glass bottles, or PET / plastic bottles, provided these are shorter than 23cm or 9 inches, and not wider than 11cm or 4.5 inches.
The vending machine will issue a special sticker label that contains important product and safety information. Residents should paste the sticker on each bottle, press the "OK" icon on the interactive screen when done, and then place their bottle under the dispensing nozzle. They can press the "OK" icon on the interactive screen to start dispensing immediately.
If using 2 bottles, residents should remove the first bottle when it is almost full. The vending machine will automatically stop dispensing and pause for the second bottle to be placed under the nozzle, before it dispenses the balance of the 500ml quota.
Residents should remember to cap the filled bottles once they remove them from under the dispensing nozzle, so as to prevent spillage.
A special thank you to our volunteers and partners
Temasek Foundation thanks its partners for supporting the #BYOBclean initiative. They include People's Association for providing venues and volunteers; SP Group for the use of the SP utilities bill and account number as a mode of collection, and for managing the hotline; Temasek Life Sciences Laboratory for conducting water and hand sanitiser quality sampling checks at each collection venue; Warburg Vending for providing distribution logistics and maintenance of the vending machines; Beep Technologies for powering the redemption gateway and data optimisation; as well as various vendors and partners for their speedy response and execution.
We are also grateful for the many volunteers from the community (from youths to seniors), partners and staff who stepped forward to assist the public on the hand sanitiser collection, respond to public enquiries along with many logistical efforts behind the scenes. Their support made possible this second nationwide distribution of free hand sanitiser.
Mr Lim Boon Heng, Chairman of Temasek, said, "Vaccination has been in progress in Singapore and many other countries. Early signs are encouraging, that it is working to slow the spread of COVID-19. However, we must continue to stay vigilant, especially as nations, including ours, begin to reopen borders to movements. Through this distribution, we hope to remind Singapore residents to stay safe by practising good hand hygiene. Working with our various partners, we believe that Singapore will pull through this challenging time and emerge as a more resilient nation together."
Mr Lim Hock Chuan, Chief Executive of Temasek Foundation Ecosperity, said, "We are grateful to our many volunteers and partners for giving resources, time and energy to ensure this #BYOBclean collection runs smoothly across the island, amid a nationwide vaccination campaign happening concurrently. We hope that this hand sanitiser will be helpful for Singapore residents, especially those who need alternatives to alcohol-based sanitisers, to keep ourselves, our loved ones and those around us safe and protected."
Temasek Foundation initiatives to combat COVID-19
Over the past year, Temasek Foundation has been working with multiple partners to provide support in and outside Singapore in response to the COVID-19 outbreak.
An initiative in Singapore to encourage hand hygiene was the first #BYOBclean sanitiser initiative in March 2020, where Temasek Foundation partnered People's Association, corporates, unions, universities, and community organisations to provide 500ml of hand sanitiser to every household in Singapore. The hand sanitiser distribution in April 2021 is the second #BYOBclean initiative.
Temasek Foundation also contributed four rounds of free reusable masks in June/July 2020, September/October 2020, November/December 2020 and March 2021. Nationwide use of reusable masks helps to reduce the risk of transmission and reduce the reliance on single-use masks. Masks can help reduce the transmission risk by reducing the level of viral loads being emitted or breathed in.
We strongly encourage the use of reusable masks among the general to reduce the 'mask waste pandemic' that is accompanying the COVID-19 pandemic.
Simulations adapted from studies7 indicate that if over 90% of a population wear masks, we have a good chance of cooling even the most infectious of air/droplet-borne diseases. The more infectious the disease, the better the protection level of the masks we need.
This is one reason why Temasek Foundation has supported four distributions of free reusable masks in the past year, to complement other national efforts.
Other community efforts in Singapore by Temasek Foundation included:
the setting up of web portal MyMentalHealth with specially-curated articles to encourage mindfulness and mental well-being during this stressful period;
partnerships and funding to provide more than 400,000 meals in various meal support programmes to the vulnerable;
the distribution of about 1 million face shields to frontline workers including those in the F&B and hairdressing sector;
the provision of care packs including oximeters, sanitisers and masks to various vulnerable community segments; and
the development and distribution of 100,000 bottles of Vitamin D3 tablets to vulnerable communities, seniors, and expectant mothers.
Temasek Foundation has also facilitated more than 200,000 swab tests as well as care packs for priority groups such as migrant workers, essential and frontline staff, stallholders, retail assistants and town council staff in our residential precincts to proactively and pre-emptively keep our community safe.
More recently, we announced the Youth Action for Pandemics initiative, open to individuals under 40 years old who have innovative ideas to help address COVID-19 and prepare for the next pandemic.
Besides taking care of our local community, Temasek Foundation recognises the need to ensure that communities beyond Singapore are well-equipped against this pandemic. Initiatives include the donation of Personal Protection Equipment such as masks, gowns, and gloves; oxygen related support equipment, from oxygen concentrators and ventilators, to ICU ventilators and ECMO lung machines; and diagnostics such as test kits to healthcare partners in some 40 countries beyond Singapore.
Together with the World Food Programme and Singapore Airlines, we supported efforts to transport essential medical supplies and other health and humanitarian items to points of need around the world. In addition, we supported various food distribution initiatives together with our portfolio companies such as gategroup in the US and Zomato in India, to provide access to meals for the underserved communities that have been disrupted by COVID-19.
To help progressively open our borders and accelerate the resumption of regional and international business activities while safeguarding our community, Temasek Foundation supported Temasek's initiative in partnerships with The Ascott Limited, Changi Airport Group, Sheares Healthcare Group, SingEx and Surbana Jurong, to develop a pilot short-stay facility, Connect@Changi, that will support safe business exchanges between international travellers and Singapore residents.
For more information about other Stay Prepared initiatives, visit stayprepared.sg.
###
Click here for Step-By-Step Instructions to Collect Hand Sanitiser at Vending Machine
For media enquiries, please contact:
Joshua Wong
Associate Director
Temasek Foundation
Mobile: 8180 0741
Email: joshuawong@temasekfoundation.org.sg
About Temasek Foundation
Temasek Foundation supports a diverse range of programmes that uplift lives and communities in Singapore and beyond.
Temasek Foundation's programmes are made possible through philanthropic endowments gifted by Temasek, as well as gifts and other contributions from other donors. These programmes strive towards achieving positive outcomes for individuals and communities now, and for generations to come.
Collectively, Temasek Foundation's programmes strengthen social resilience, foster international exchange and regional capabilities, advance science, and protect the planet.
For more information, visit www.temasekfoundation.org.sg.
About Stay Prepared Programmes
Stay Prepared helps to prepare the Singapore community for emergencies like major accidents, natural disasters, pandemics, severe haze or terrorist attacks. It is supported by the Temasek Emergency Preparedness Fund, managed by Temasek Foundation.