Connect@Changi, the world's first Business Travel eXchange, opens its doors
Pilot purpose-built accommodation to facilitate safe meetings between business travellers from across the globe appointed as first facility under Connect@Singapore initiative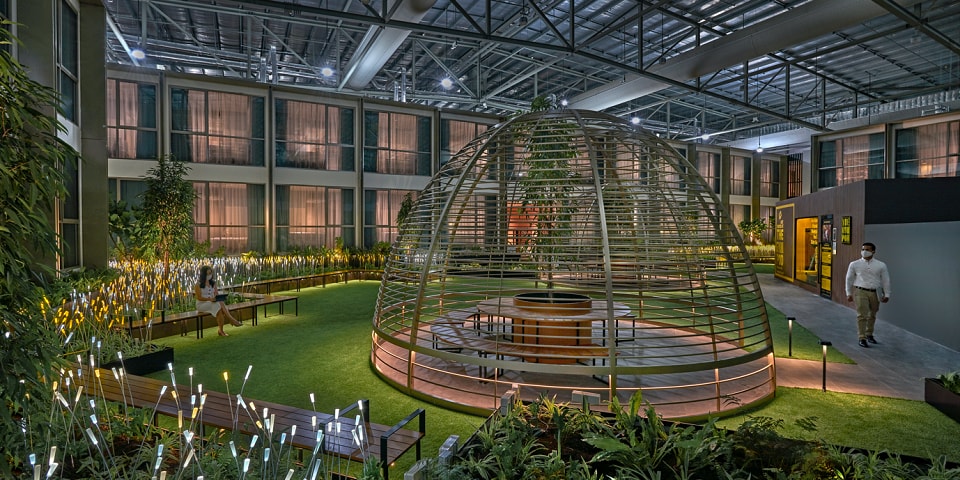 SINGAPORE, 18 February 2021 – Temasek today announced the launch of the first phase of Connect@Changi, a pilot short-stay facility designed to support safe business exchanges between international business travellers and Singapore residents.
As the first facility appointed under the Connect@Singapore initiative, Connect@Changi aims to support the progressive reopening of the nation's borders and spur business and economic activities, while safeguarding the local community from the COVID-19 pandemic.
Connect@Changi is launching with 150 premium guest rooms and 40 meeting rooms that can accommodate a range of meeting sizes, from four to 22 attendees1. This will expand to around 660 guest rooms and 170 meeting rooms when the initial phase of the project is completed in May. When fully completed later this year, the facility will have the potential capacity to host some 1,300 business travellers at any one time.
Rooms are now open for bookings at www.connectatchangi.sg, or through the Connect@Changi mobile app2.
Located at Singapore EXPO & Max Atria, within a five-minute drive from Changi Airport, Connect@Changi offers an integrated 'test-stay-work-meet' experience for inbound business travellers. Business executives landing at Changi Airport can meet their Singapore-based counterparts or hold regional meetings in person at the facility, all while enjoying a comfortable stay with an array of safe management measures in place.
The project is developed by a Singapore consortium, led by Temasek and includes The Ascott Limited, Changi Airport Group, Sheares Healthcare Group, SingEx-Sphere Holdings and Surbana Jurong.
"We are thankful for the Singapore Government's strong support and commitment to the Connect@Changi project, by appointing it as the first facility licensed to operate under the Connect@Singapore initiative," said Robin Hu, Head of International Policy & Governance, Temasek and Chairman, SingEx-Sphere Holdings.
"Without such a facility, travel options are essentially binary – either stay at home due to travel restrictions, or fly overseas and endure long periods in quarantine. After close to 4 months of intense, round-the-clock construction and collaboration with our partners, various government agencies, vendors and subcontractors, we are now ready to offer business travellers the option of resuming in-person meetings in a safe and contained manner, and do our part to catalyse economic recovery for Singapore and across the region."
Business travellers residing at Connect@Changi can meet their Singapore-based counterparts as well as guests from other countries safely, in specially designed meeting rooms outfitted with air-tight glass panels to reduce the risk of transmission. Large-scale video conferences can also be held, which would allow hybrid meetings to take place.
To ensure the health and safety of guests and employees, all foreign travellers checking into Connect@Changi would be required to go through a rigorous COVID-19 testing regime throughout their stay. This includes a Polymerase Chain Reaction (PCR) Test upon arrival at Changi Airport, on days 3, 7 and 14 of their stay, as well as prior to departing the facility, depending on the requirements of the destination country. Registration and check-in can be done via the Connect@Changi mobile application before their arrival at the facility, to minimise contact with front desk staff.
Singapore-based visitors are not required to undergo testing when accessing the facility, as foreign travellers and local visitors have completely separate entrances, exits and ventilation systems.
Advanced MedTech Holdings, a global medical technology leader with a core focus in urology devices and services, will be one of the first companies to conduct business activities at Connect@Changi. The Singapore-headquartered firm plans to hold its first in-person global senior leadership meeting of up to 30 business executives at the facility - its first since the pandemic began early last year.
Said Lee Weikang, Senior Director, Business Development at Advanced MedTech: "In-person meetings allow us to connect tangibly and renew our bonds for a globally-diverse team. The smiles on each other's faces, the passion in our demeanours, the steely determination etched in our eyes, even the energy emanating from our physical presence – all these are hard to experience over virtual meetings. We are looking forward to our physical meetings at Connect@Changi."
All guests residing at the facility can look forward to a comfortable, fuss-free accommodation of 19 square metres, with high-speed wireless internet access (WiFi) for all business and entertainment needs, and access to recreational areas in two courtyards designed with park-like settings. Room rate starts at $3843, which is inclusive of three meals, complimentary mini-bar, toiletries, WiFi, two-way airport transfer as well as COVID-19 tests required during the course of the stay.
Additionally, Connect@Changi will deploy innovative solutions to minimise contact between guests and frontline staff, such as self-service meeting rooms. Meals will be delivered to pre-installed shelves located outside guest rooms. Guests can also opt for additional F&B options such as self-serve coffee with We Proudly Serve Starbucks™ kiosks and order local and international cuisines from Changi Eats, Changi Airport's food delivery service.
Guests looking to unwind after a full day of business meetings can also browse and shop Changi Airport's range of tax- and duty-free products via iShopChangi.com, or get personalised shopping recommendations by chatting online with the Changi Shopping Concierge. They may also work up a sweat by booking a slot at The Gym Pod via the Connect@Changi app.
For accommodation bookings and business queries regarding Connect@Changi, please visit www.connectatchangi.sg
- END -
Media assets can be retrieved here:
https://drive.google.com/drive/folders/1TijK2lxc8Z2eLYzAGFxA_Tt8kgWkoPDE?usp=sharing
For media enquiries, please contact:

David BOEY
Associate Director, Public Affairs
Temasek
Tel: +65 6828 6228 davidboey@temasek.com.sg

Isabelle LOH
Weber Shandwick, Singapore
Tel: +65 9115 4340
ConnectChangi@webershandwick.com

______________________________
1 When meeting at Connect@Changi, guests will be grouped in cohorts of five. To maintain safe distancing, we are exploring the use of dividers to keep guests in their respective cohorts.
2 App is available for download: https://connectatchangi.sg/download-app
3 Based on a minimum stay of 24 hours