Free for Each Singapore Resident One Maskpure™ Air⁺ Reusable Antimicrobial Mask with N95-Grade Filtration and Good Breathability
The new rinsible and reusable MaskPure™ AIR+ masks offer better protection with N95 -grade filtration and good breathability, designed to be used for more than 7 months
They are only available in new M and L sizes
No returns or exchanges will be allowed for hygiene reasons, so please check your mask size at stayprepared.sg/sizing-guide before collection or buying more
Each Singapore resident may collect one free MaskPure™ AIR+ reusable mask using an NRIC, school smartcard, birth certificate, FIN, or any other government-issued ID with a barcode
Masks can be collected at any of the #StayMasked vending machines located island-wide at community centres/clubs (CCs); Residents' Committee (RC) centres; select bus interchanges; select recreation centres for migrant workers; Plaza Singapura; and Temasek Shophouse
Singapore residents can either scan the barcode on their government-issued IDs or manually key in their ID numbers (including children's IDs) to collect these masks at the vending machines
Collection starts from Monday, 10 January 2022, 10.00am and ends on Sunday, 23 January 2022, 11.59pm
Additional masks may be purchased online from Monday, 10 January 2022, 10.00am to Saturday, 22 January 2022, 11.59pm
Pro tip #1: Collect and try on the free mask to verify right sizing and fit before ordering additional masks – a good fit helps maximise protection
Pro Tip #2: To avoid crowds, residents may wish to collect after Wednesday 13 January 2022, or during non-peak hours
SINGAPORE, 6 JANUARY 2022 – In the new year, Temasek Foundation will be offering 1 MaskPure™ AIR+ reusable mask to each Singapore resident. The antimicrobial mask has an N95 filtration middle layer with a Particle Filtration Efficiency (PFE) of >95%, and is effective at that PFE for up to 30 weeks when rinsed weekly. It is also more breathable than standard N95 filters, and remains breathable even after repeated rinsing.
Temasek Foundation is offering the masks under its Stay Prepared initiative to help everyone continue to stay safe, as we move towards COVID-19 resilience. Face masks remain an important layer of defence to keeping individuals and the community safe, as we progressively resume our social and economic activities, while living with COVID-19.
To collect the masks, residents must bring along their government-issued IDs or manually key in their ID numbers at any of the #StayMasked vending machines located island-wide. Almost 1,000 machines can be found in community centres/clubs (CCs); Residents' Committee (RC) centres; select bus interchanges; select recreation centres for migrant workers; Plaza Singapura; and Temasek Shophouse (near Dhoby Ghaut MRT station).
Collection starts on Monday, 10 January 2022, 10.00am and ends on Sunday, 23 January 2022, 11.59pm. There is sufficient stock of free masks, so there is no need to rush.
Additional masks may be ordered online between Monday, 10 January 2022 and Saturday, 22 January 2022, 11.59pm, at stayprepared.sg/buymasks at $13 each. Interested residents may order up to 5 masks per mask type, subject to availability.
About the MaskPure™ AIR+ Reusable Mask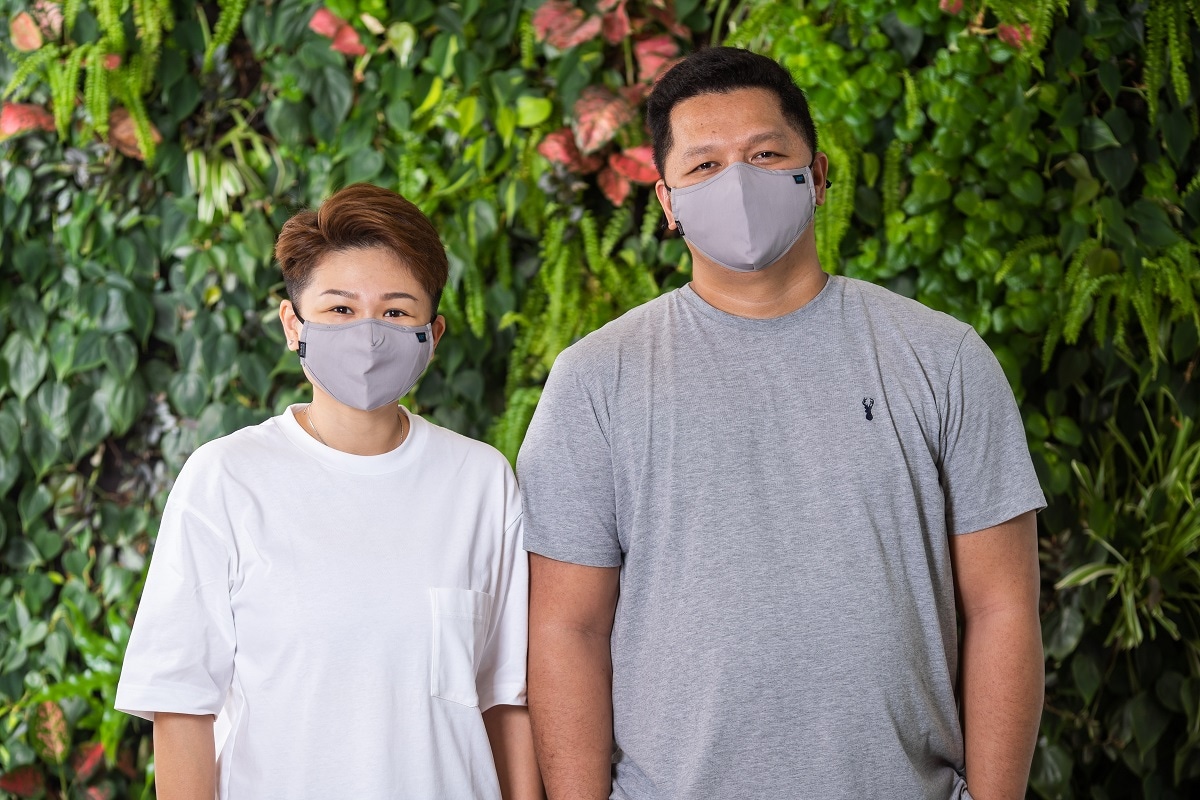 Designed by ST Engineering, the MaskPure™ AIR+ reusable mask provides proven N95-grade filtration against PM2.5 and harmful particles, and antimicrobial protection against 99.9% of viruses and bacteria.

The water-repellent mask can be rinsed once a week (or when dirty), and retains its protective features for up to 30 rinses or more than 7 months if worn daily and rinsed weekly.

After 30 rinses, the mask can continue to be used like an ordinary mask or used with other masks for added protection. Incorrect rinsing methods will reduce the effectiveness and durability of the mask.
More information on how to use, rinse and care for the MaskPure™ AIR+ reusable mask can be found at stayprepared.sg/masks. Information on the specifications of the mask can be found at https://www.airplus-family.com/maskpure.
The masks come in 2 sizes, M and L, for all adults and some older teenagers. Sizing is different from previous free masks, so residents should check their mask size at stayprepared.sg/sizing-guide before heading down to the vending machines to collect or order more.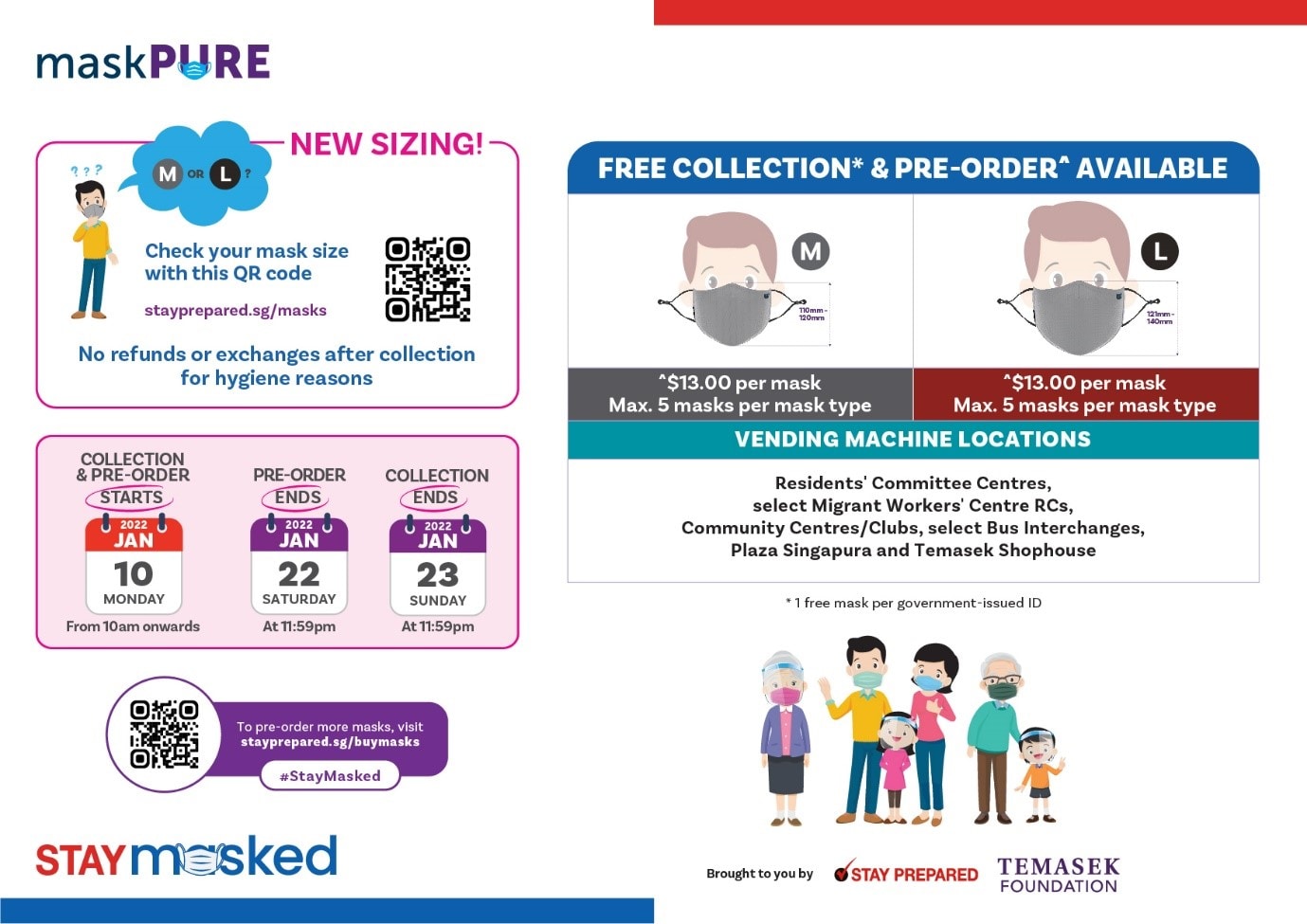 Who May Collect the Free Masks?
All Singapore residents with government-issued IDs can collect one free mask each.
These include Singapore citizens; Singapore Permanent Residents; holders of Singapore Employment or Work Pass Permits; or holders of other Long Term Passes, including family dependents of Employment Pass holders, and international students living in hostels.
There are no children's sizes available for these reusable masks. Parents may collect extra masks for their younger children or for friends and neighbours who may be vulnerable and in need, by using their respective government-issued IDs.
Collection of Masks from Vending Machines
Residents can collect the reusable masks from vending machines which will be operating daily1 throughout the collection period, except between midnight 12am and 1am from 10 January to 12 January 2022 due to maintenance works. For vending machine locations and stock availability, please visit stayprepared.sg/locate.
Residents may scan the barcodes of their government-issued IDs at the vending machines or manually key in their ID information via the touch screens. Frequently contacted surfaces such as the touch screens are sanitised with long-lasting disinfectants.
Residents are reminded that they must have authorisation to collect masks on behalf of another individual. It is a crime to misuse another individual's ID number to falsely represent such authorisation to collect the masks. #StayMasked vending machines are equipped with security cameras, and Temasek Foundation will provide information to the police to assist in their investigations into any unauthorised collection of masks. Those who dishonestly deprive others of collecting their masks through fraudulent methods of obtaining their personal information to misuse this for personal gain, will be dealt with sternly, in accordance with the law.
Pre-ordering Additional Masks with Unique QR Codes
Pre-orders are only available online at stayprepared.sg/buymasks. Direct sales or payment will NOT be available at the vending machines.
PayNow, DBS PayLah!, and major credit cards are accepted for desktop website orders. The mobile site accepts these forms of payment, as well as OCBC Pay Anyone, Google Pay and Apple Pay.
A link to a unique QR code will be generated and sent to the registered mobile number for each successful order. This unique QR code must be scanned at the vending machines for the collection of pre-paid masks.
Residents are reminded to check their orders before proceeding with payments. Returns or exchanges of collected masks are not allowed for hygiene reasons.
Hotline, Email, Telegram and WhatsApp for Enquiries
Please visit stayprepared.sg/masks or follow Temasek Foundation on Facebook for more information on this #StayMasked initiative and other upcoming distributions.
The 1800-738-2000 hotline is open from Thursday, 6 January to Sunday, 23 January 2022, 9 am to 9 pm daily (except on Public Holidays).
Enquiries or feedback may also be emailed to staymasked@temasekfoundation.org.sg; directed to virtual bots on Telegram (@TemasekFoundationBot); or via WhatsApp, activated by sending "hello" to +65 8484 6309.
Preparing for COVID-19 Resilience
Wearing a mask has been shown to be effective at reducing the spread of infectious respiratory droplets2. We may be infected and remain asymptomatic, so wearing a mask helps contain our respiratory droplets.
With the increase in Omicron cases, it is important that we remain vigilant.
Vaccination is a critical first line of protection for the individual and the community. Vaccinate as soon as we can, and boost whenever we are eligible.
As vaccination does not confer 100% protection, wearing a mask provides added protection. This will further minimise the spread of COVID-19 in our community and overseas. Better masks would be needed for more infectious variants with higher transmissibility.
Even while Singapore transitions towards living with COVID-19, we must be prepared to see more new virus variants, so long as the Covid-19 virus continues to circulate in the world.
Mr Lim Boon Heng, Chairman, Temasek, said: "As we enter the new year, we take stock of all that our people in Singapore have done to pull together, and emerge more resilient. We also remain watchful of new variants that may strain our community and health care system. They are a timely reminder that everyone has a part to play to prevent the spread of the pandemic. Simple actions like good personal hygiene, safe distancing, self-monitoring and mask wearing still play an important role to keep everyone safe."
Temasek Foundation thanks its partners for supporting the mask distribution. They include People's Association for providing their venues and volunteers, SP Group for managing the hotline; Land Transport Authority, Go-Ahead Singapore, SBS Transit, SMRT Corporation, Tower Transit Singapore, CapitaLand, JTC, Migrant Workers' Centre Recreation Club and Woodlands Recreation Centre operated by JYC-NCL Pte Ltd for providing venues for the vending machines; as well as Open Government Products (Government Technology Agency) for providing the real-time distribution tracking system.
Mr Lim Hock Chuan, Chief Executive, Temasek Foundation Liveability, added: "Transiting to a more COVID-19 resilient Singapore is a collective endeavour. It can also be done more sustainably with reusable masks that last much longer than disposable ones, alleviating the stress we put on our environment. On behalf of Temasek Foundation, I would like to extend our warmest appreciation and deepest gratitude to our partners, for their support in distributing these and giving Singapore residents a more sustainable option for masks that are still safe and effective."
Temasek Foundation COVID-19 Initiatives
Since early 2020, Temasek Foundation has been working with multiple partners to provide support in and outside Singapore in response to the COVID-19 pandemic.
The first nationwide #BYOBclean in March 2020 was an initiative in Singapore to encourage hand hygiene, where Temasek Foundation partnered with People's Association, corporates, unions, universities, and community organisations to provide 500ml of free hand sanitiser to every household in Singapore. Residents brought their own bottles, and volunteers helped to mix and fill these #BYOBclean bottles. The second #BYOBclean nationwide initiative in April 2021 was the first in the world to use vending machines to mix and dispense hand sanitisers.
Temasek Foundation also contributed four rounds of free reusable masks in June/July 2020, September/October 2020, November/December 2020 and March 2021. The use of reusable masks helps to lower infection spread, and reduce plastic waste from disposable masks.
With the emergence of more infectious COVID-19 variants, Temasek Foundation has also distributed over 75 million medical grade single-use masks in August/September 2021. These include over 50 million medical grade surgical masks which can be used as an added layer of protection on top of reusable masks or used on their own; and over 25 million N95 hospital-grade masks for use in high exposure risk situations.
In July/August 2021, Temasek Foundation also distributed over 1 million free oximeters to interested households in Singapore to empower residents to monitor their blood oxygen levels regularly. By knowing their normal oxygen levels, people can be alerted if their oxygen levels drop below normal, and avert dangerous "silent pneumonia" from COVID-19 infections. The oximeter is also be useful as an early warning indicator for respiratory risks from other medical conditions.
Temasek Foundation also provided more than 920,000 bottles of povidone-iodine (PVP-I) mouth gargle for Singapore households from October to December 2021 in Singapore to help reduce the spread of illnesses by killing germs that cause sore throat. This includes the delivery of about 780,000 PVP-I mouth gargle bottles to the letter boxes of all households living in 1 to 4-room HDB flats.
Other community efforts in Singapore by Temasek Foundation included:
setting up web portal MyMentalHealth with specially-curated articles to encourage mindfulness and mental well-being during this stressful period;
funding more than 400,000 meals in partnership with various meal support programmes to the vulnerable;
providing Back to School care packs consisting of hand sanitisers and face shields to all pre-school and primary school students when they headed back to school last year;
distributing about 1 million face shields to frontline workers, including those in the F&B and hairdressing sector;
providing care packs including oximeters, sanitisers, and masks to various vulnerable community segments; and
distributing 100,000 bottles of Vitamin D3 tablets to vulnerable communities, seniors, and expectant mothers.
Temasek Foundation has also facilitated over 200,000 swab tests plus care packs for priority groups such as migrant workers, essential and frontline staff, stallholders, retail assistants and town council staff in our residential precincts to ensure that our community stays prepared and keep safe.
More recently, we launched Youth Action for Pandemics, an initiative for people under 40 years old with innovative ideas to help address COVID-19 and prepare for the next pandemic.
Besides taking care of our local community, Temasek Foundation recognises the need to ensure that communities beyond Singapore are well-equipped against this pandemic. Initiatives include the donation of Personal Protection Equipment such as masks, gowns, and gloves; oxygen-related support equipment, from oxygen concentrators and ventilators, to ICU ventilators and ECMO lung machines; and diagnostics such as test kits to healthcare partners in some 40 countries beyond Singapore.
Together with the World Food Programme and Singapore Airlines, we have been supporting efforts to transport essential medical supplies and other health and humanitarian items to points of need across Asia and the Pacific. Singapore Airlines and Temasek Foundation co-sponsored the cost of flights to transport the life-saving supplies to different countries. The partnership has completed more than 50 flights, carrying over 5,500 cubic metres of COVID-related products such as oxygen equipment, face shields, goggles, gowns, and respirator masks.
For more information about other Stay Prepared initiatives, visit stayprepared.sg.
###
For media enquiries, please contact:
Joshua Wong
Associate Director
Temasek Foundation
Mobile: 8180 0741
Email: joshuawong@temasekfoundation.org.sg
About Temasek Foundation
Temasek Foundation supports a diverse range of programmes that uplift lives and communities in Singapore and Asia.
Temasek Foundation's programmes are made possible through philanthropic endowments gifted by Temasek, as well as gifts and other contributions from other donors. These programmes strive to deliver positive outcomes for individuals and communities now, and for generations to come.
Collectively, Temasek Foundation's programmes strengthen social resilience; foster international exchange and catalyse regional capabilities; advance science; and protect the planet.
For more information, visit www.temasekfoundation.org.sg.
About Stay Prepared Programmes
Stay Prepared helps to prepare the Singapore community for emergencies like major accidents, natural disasters, pandemics, severe haze or terrorist attacks. It is supported by the Temasek Emergency Preparedness Fund, managed by Temasek Foundation.
END
_________________
1 Vending machines at most locations are accessible 24/7, although some are accessible only during the opening hours at the locations. This includes Bukit Merah CC, Eunos CC, Joo Chiat CC, Katong CC, Siglap South CC, Teck Ghee CC, Toa Payoh East CC, Toa Payoh South CC, all recreation centres for migrant workers, and Temasek Shophouse. Please check their websites / official channels for opening hours.
2 Source: Singapore Government, The science behind why masks help prevent COVID-19 spread