Keeping Migrant Workers Safe With Free Masks
Keeping Migrant Workers Safe With Free Masks
Migrant workers are among those volunteering in the ground-up effort by Temasek Foundation's Stay Prepared initiative and other partners to produce and distribute face masks to 620,000 migrant workers and 250,000 domestic workers to protect them during the COVID-19 pandemic.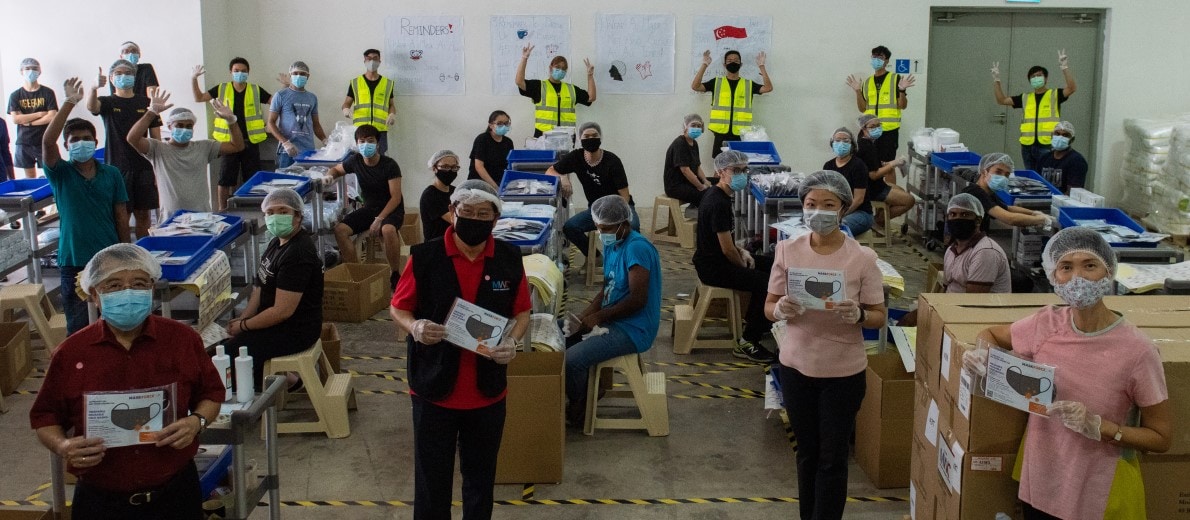 Sophie (not her real name) has had to tackle many tasks over the six years while working in Singapore as a domestic worker.
But when the 42-year-old Filipino signed up as a volunteer in April to help sew face masks for migrant workers and domestic workers, she knew she was about to take on her most important role yet – a lifesaver.
"Sewing these masks is my way of doing my part for the migrant worker community," she said.
"I am glad to be able to contribute to this project that will keep others safe."
Sophie is one of nearly 100 domestic workers who were roped in by the Centre of Domestic Employees (CDE) to sew reusable face masks for the MaskForce initiative.
Launched in April, the community-led programme is aimed at keeping migrant workers safe and healthy during the COVID-19 pandemic.
MaskForce is spearheaded by Senior Minister of State, Ministry of Communications and Information and Ministry of Culture, Community and Youth, Sim Ann who rallied the partners to support the initiative. Connecting the Migrant Workers' Centre (MWC), the Centre for Domestic Employees (CDE), the Textiles and Fashion Federation (TaFF), Singapore's clothing manufacturers, and other partner organisations, MaskForce developed the plan to produce and distribute the masks.
Temasek Foundation (TF) supported MaskForce as part of its Stay Prepared initiative to enhance the resilience of the Singapore community during the current COVID-19 outbreak, assisting with logistics and informational materials for users.
The initiative is a timely response to the recent surge of COVID-19 clusters within migrant worker dormitories and helps migrant workers comply with the mandatory requirement to wear face masks.
Some 620,000 workers living in dormitories and other types of accommodation, and 250,000 domestic workers will benefit from the programme. They will receive 1.74 million reusable cloth masks that have filter pockets and 870,000 surgical masks that can be used as filters.
Mr Richard Magnus, Chairman, Temasek Foundation Cares, said, "Temasek Foundation stands solidly with the partners of the MaskForce initiative to do our part to curb the spread of the COVID-19 virus. This important initiative complements the Government's actions and plans to keep Singapore's migrant worker community safe and healthy. We were pleased to do our bit to help, but the thanks must go to Sim Ann and her enthusiastic group of volunteers who made this initiative possible."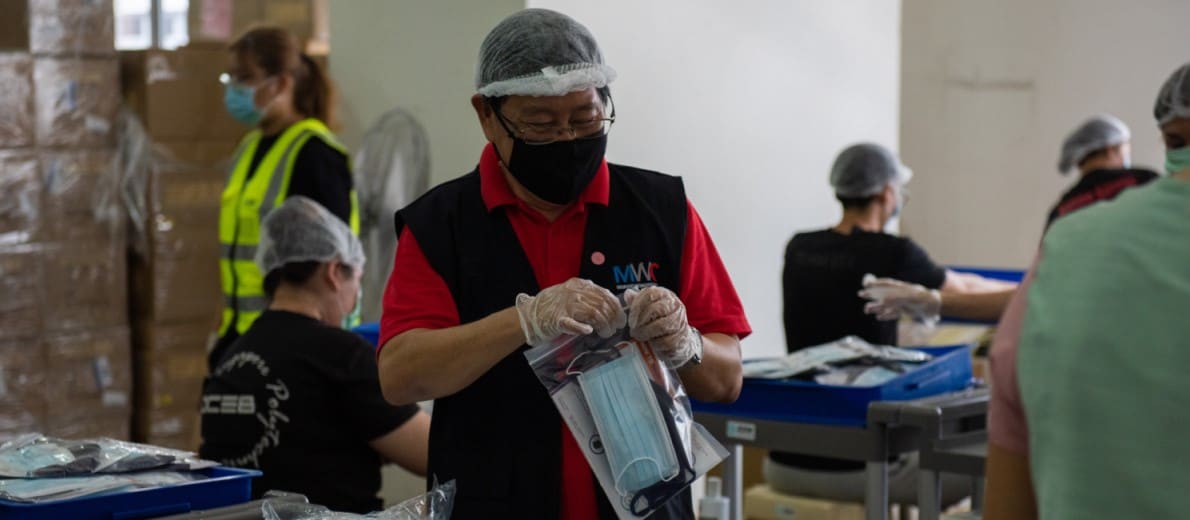 For Migrant Workers, by Migrant Workers
Migrant workers who received the masks said they appreciate the efforts of the MaskForce organisers.
For 30-year-old construction worker Selvaraj Jayaraj, receiving the face masks gives him peace of mind during these unprecedented times.
"Getting two pieces of the reusable mask means that I always have a spare to use in case I have to wash the other one," said the Indian national who has been working in Singapore for the past seven years.
"I am very appreciative of this initiative that has been organised on a big scale. I just want to thank everyone for taking care of us, including the people behind MaskForce. It is my wish for everyone to stay healthy and safe as we move ahead."
The MaskForce initiative also empowers migrant workers by roping them in to produce the masks and distribute them.
At the CDE, for example, domestic workers sew the masks and pack them into kits.
Over at the MWC, volunteers help to disseminate key information to migrant workers via Whatsapp in their native language like Tamil or Bengali. The messages include information on proper hand hygiene and how to wash reusable face masks.
Rallying the Nation to Support the Migrant Community
Companies in Singapore have also stepped in to support the MaskForce initiative.
Most of the reusable masks were produced by Singapore garment manufacturers Bodynits, Spring Knitwear, and Teo Garments; with participation from another 10 local apparel companies.
Homegrown tailoring company CYC contributed fabric for the sewing of 20,000 masks, while Brother International Singapore contributed 12 sewing machines and repair services.
The project raised donations from 13 corporates and individuals, and in-kind contributions from 8 sponsors, worth about $3 million in total
Chairman of the MWC and CDE Yeo Guat Kwang said: "It is heart-warming to see different sectors of our community coming together to help support the migrant workers during this difficult period."
"We are glad that everyone is united as a community, looking out for each other in this battle against COVID-19," said the 59-year-old.
There are now plans to expand the scope of the MaskForce to provide other essential items to migrant workers such as mouthwash.