Care Where You Need It the Most: Helping Singapore's Seniors to Age in Place
Care Where You Need It the Most: Helping Singapore's Seniors to Age in Place
A programme aimed at improving elderly care within communities has not only provided better support systems for the vulnerable elderly, but also strengthened bonds between loved ones.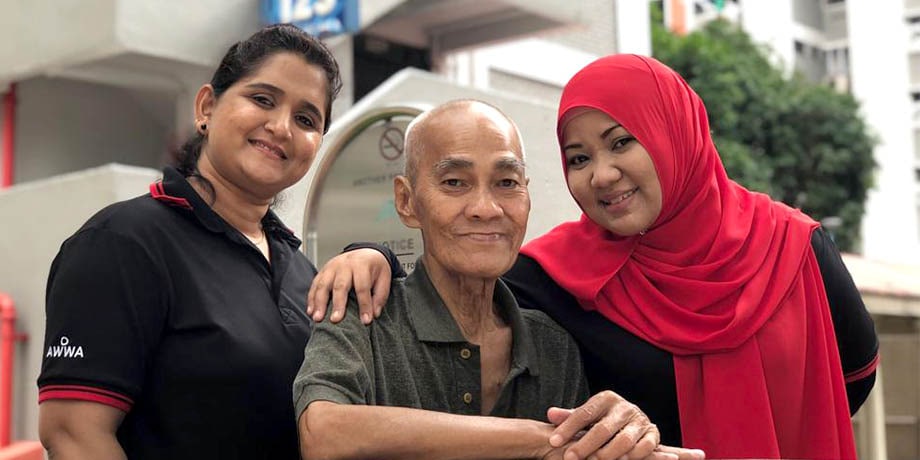 In Brief
With lifespans expected to get longer, "ageing in place" promotes keeping seniors safe, healthy and active within their own residential communities by improving access to quality healthcare and social support
Temasek Foundation Cares supported the pilot programme of Care Close to Home, which ran from 2016 to 2018, to test the feasibility of a new model to provide elderly care in Singapore
The pilot programme provided health and social support to 947 seniors, with 377 receiving more personal care

Having to look after yourself when your health suddenly begins to fail can be difficult, particularly when you are used to independent living and have no family around you.
It's a situation that Wang Seng Weng, 72, knows well. "Okay lah, I have no choice, I'm alone anyway," said the ex-delivery truck driver in Mandarin.
Estranged from his family since his youth, Mr Wang lived independently until three years ago, when stubborn pain and weakness in his left leg left him immobilised. He was trapped at home for days — until a concerned neighbour finally called for an ambulance and alerted social workers at a nearby AWWA Senior Activity Centre of his condition.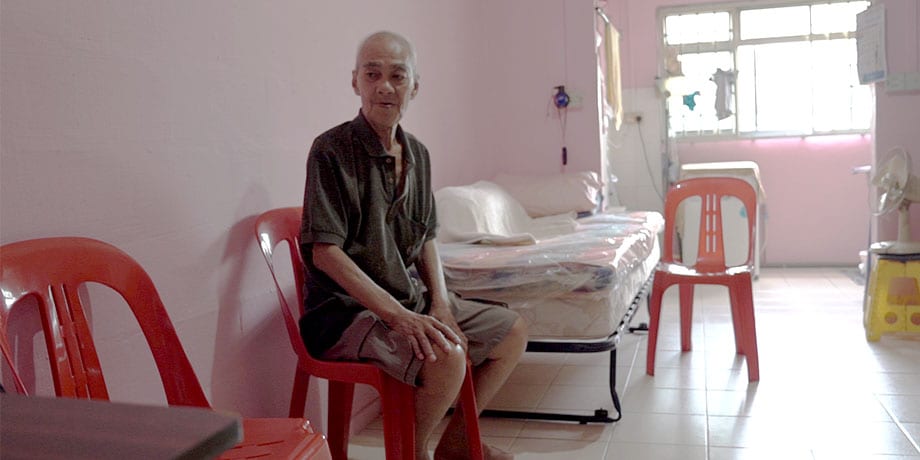 A colorectal cancer diagnosis soon followed, robbing Mr Wang of his independence. The AWWA social workers, who visited his home after his neighbour's call, became his constant pillars of support. A care team of healthcare and social aides assessed his needs and provided support as he recovered from numerous operations and endured gruelling radiation therapy.
"Every day, I felt like I was dying. But they have been there for me — telling me not to worry [and] accompanying me to the hospital," he recounted.
Mr Wang's unexpected need for constant care is a situation that may face a growing number of seniors. By 2030, the number of citizens in Singapore aged 65 and above is estimated to hit 900,000. Of this number, 117,000 are projected to require aged care.
Anxious About Ageing
As such, demand for healthcare and social services is increasing, especially in communities that house a greater proportion of aged adults. Across the country, pressure is mounting on Singapore's working demographic to support the elderly population.
Social isolation also poses a problem. Many seniors choose to live alone to avoid burdening their families, which can deprive them of meaningful everyday social interactions. This has been linked to the decline of physical and mental health — and could even increase mortality risk.
Helping Seniors to "Age in Place"
As part of the Singapore government's action plan for successful ageing, initiatives have been taken to support ageing in place so that seniors can enjoy their silver years comfortably in the communities where they live. One of the key thrusts is providing a range of home and community care options for seniors who require aged care, and Eldercare centres that offer meaningful activities.
These support networks aim to keep seniors healthy, active and safe in their own homes and communities, while caregivers are also supported in caring for their elderly loved ones.
Care Close(r) to Home
Temasek Foundation Cares and the Agency for Integrated Care (AIC) piloted the Care Close to Home programme (C2H) in 2014, to support vulnerable seniors living in four rental blocks in Ang Mo Kio and Kreta Ayer with low or no caregiving support, under a new care model.
Ageing in place aims to provide care and support to the elderly in the comfort of a familiar environment
C2H tested the feasibility of care teams placed within residential communities to provide health, social and personal care support to seniors in need. Each care team comprised a case manager, healthcare aide and social worker who visited elderly residents to provide client-centric physical, cognitive, social and personal daily care services.
These services included helping seniors to keep track of their prescriptions and healthcare appointments. For the especially frail, C2H teams provided more personal services like showering, or basic housekeeping.
The care teams also offered company and emotional support — critical to seniors who live alone or find themselves socially isolated.
"Seniors like Mr Wang need social care to age well at home," says Jacqueline Hoo, Associate Director of Programmes at Temasek Foundation Cares. "The care team lends a listening ear and brings them to the activities organised by the Senior Activities Centre so that they remain active and connected to the community."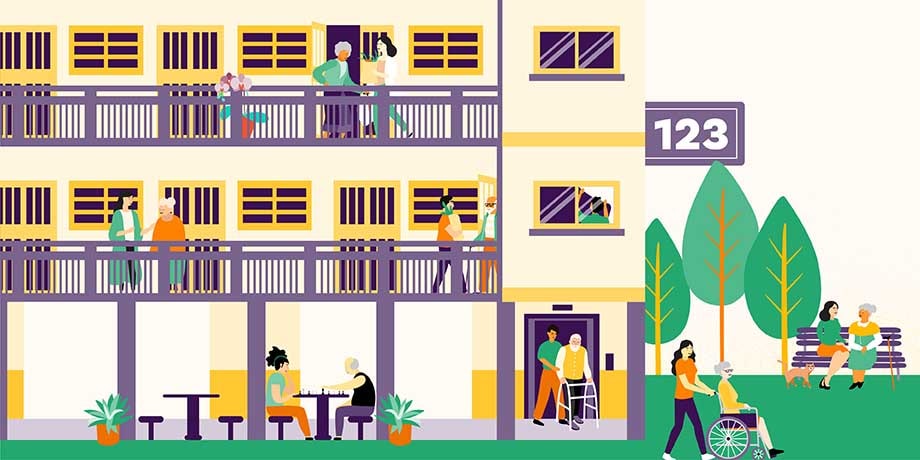 From 2014 to 2018, the C2H pilot supported a total of 947 seniors living in four HDB blocks, with 377 receiving more personal care. Following this successful pilot, AWWA and Kreta Ayer-Kim Seng Citizens' Consultative Committee have transited from Temasek Foundation Cares funding to Ministry of Health (MOH) funding. Given the good outcome of the programme, MOH has expanded C2H to four new sites in 2018, to serve more seniors across Singapore.
Life is Better with Loved Ones Around
Ageing in place is vital for seniors to live with dignity and freedom, and building the networks to support it could help to significantly ease pressure on working caregivers.
In Mr Wang's case, it even reunited him with the family from which he had been long estranged, after one of his brothers spotted him in a feature story on the C2H programme in a local Chinese newspaper.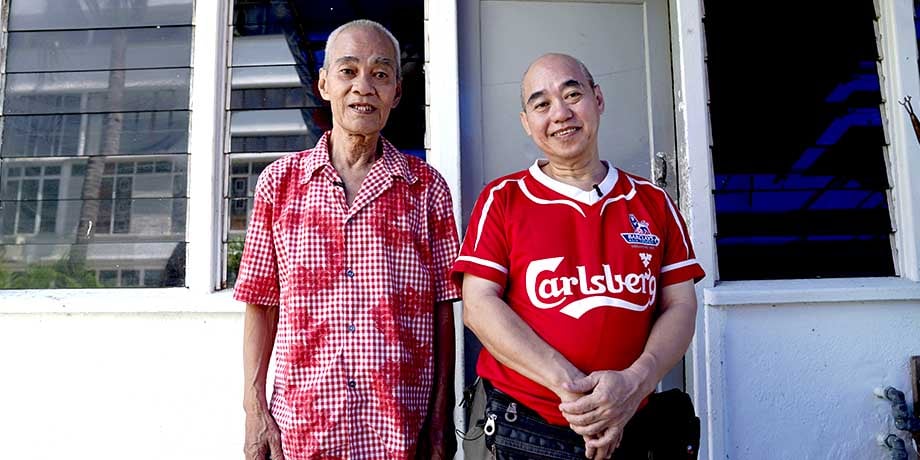 "He's living well now," observes Lai Rong Zhou, one of Mr Wang's nine siblings, speaking in Mandarin. "The care staff treat him well and are polite."
Mr Lai operates a fruit stall in Tiong Bahru previously run by the brothers' parents. "We were close growing up in a kampung together," says the 60-year-old, cheerfully but with a hint of nostalgia. "I go to visit him quite often now."
In time, Mr Lai hopes to help Mr Wang rekindle his relationship with their other siblings as well. Of a recent visit with two of his sisters Mr Lai recalls, "When he saw them, he was happy. He almost couldn't recognise them."
Supported by Temasek Foundation Cares, the three-year pilot programme for Care Close to Home supported vulnerable seniors to age in place within the community.