Why Super Apps Are Going to Define SEA's "Digital Decade"
Why Super Apps Are Going to Define SEA's "Digital Decade"
Digital platforms offer a lifeline to consumers and merchants alike, from food delivery to banking. Pandemic purchasing has led to the rise of super apps which offer a super personalised experience, are super integrated with other apps, and are super easy to use.

Apps like GoJek and Grab let you do almost everything, from booking rides to ordering groceries, without ever needing to quit. App designers term this all-in-one nature of apps "stickiness" — a characteristic that encourages customer engagement and retention. In other words, their ubiquity draws us to use them for virtually any type of service.

This dependence has profound implications for the way we work, play, and connect. According to a report jointly published by Google, Temasek, and Bain & Company, an increase in the use of digital services is indicative of an upcoming "Digital Decade" in Southeast Asia, where its internet economy could reach a gross merchandise value (GMV) of US$1 trillion by 2030. Of these digital services, e-Commerce and food delivery are the primary drivers of growth; both services are the mainstays of super apps, pointing to their outsized role in bringing about the digital decade.
Rise of the Digital Merchants
The pandemic has served as a catalyst for users to adopt new digital services and increase the frequency of usage and spending in these services. Prolonged lockdowns saw an upsurge in the use of food delivery services, turning it into the most penetrated digital service with close to 71 percent of all internet users ordering their meals this way.

Similarly, the same Google, Temasek, and Bain & Company report found that small and medium-sized enterprises (SMEs) have been adopting technology to cope with the effects of the pandemic. These include joining digital, customer-facing platforms to access broader demand, adopting digital financial solutions that facilitate cashless transactions, and implementing backend digital tools that enhance operational productivity.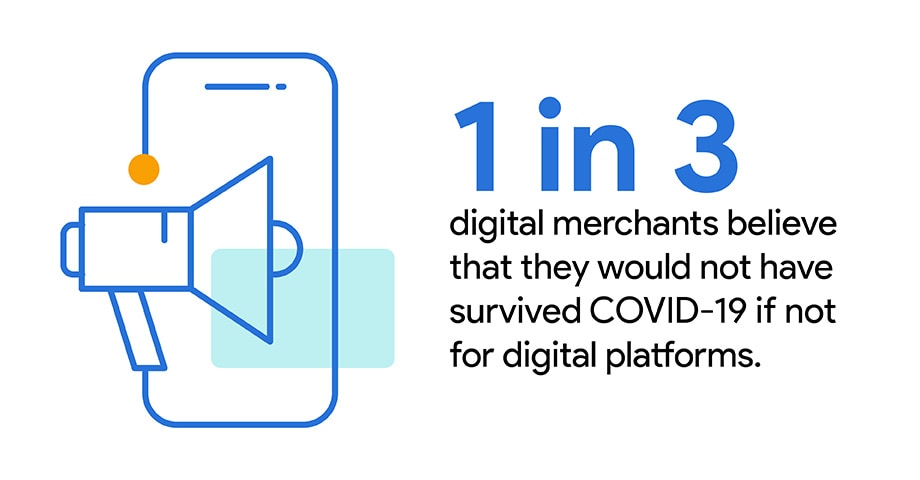 Offline businesses looking to move online have long faced a list of challenges like payment processing and analytics, particularly SMEs. Thanks to user-friendly interfaces and quick setups, super apps have made it more accessible for merchants to sell online. For example, merchants can set up their store on Grab in as little as three days and have access to their payments via a dedicated "merchant-partner" app.
Growth of the Super Wallet

Meanwhile, digital financial services are seeing strong growth — especially e-wallets, which are fast becoming mainstream. The number of transactions has increased 45 percent compared to pre-COVID, while transaction value is expected to more than double by 2025. Seamless integration and attractive incentives offered by super apps have been critical to attract new users and deepening their usage.

These digital wallets act as a foundation that glues the multitude of services available on each platform together, ultimately making it easier for users to try new ones. By connecting mobile wallets to services such as ride-hailing and deliveries which are used on a near-daily basis, super apps are creating habits via repetition.

Digital financial services, usually integrated within the super apps themselves, are critical enablers for merchants as well. Some 75 percent of digital merchants believe that it is more convenient to process digital payments. Other reasons cited include increased sales, safety, and lower transaction costs compared to card payments.
Despite challenges such as privacy and security concerns, digital merchants remain optimistic: eight out of ten merchants surveyed anticipate over half of their sales to come from online sources in the next five years. As the super wallet scene continues to evolve, the e-wallet may be used as a launchpad for other financial services such as insurance and investing.
A New Way Forward
While digital consumption has been accelerated by the pandemic, it's not a one-off phenomenon. A McKinsey report found that digital natives, broadly defined as the cohort born between 1980 and 2012, are expected to account for 40 to 50 percent of Asia's consumption by the end of the decade. Digital natives are more likely than their peers to explore alternative financial services such as Buy Now, Pay Later services.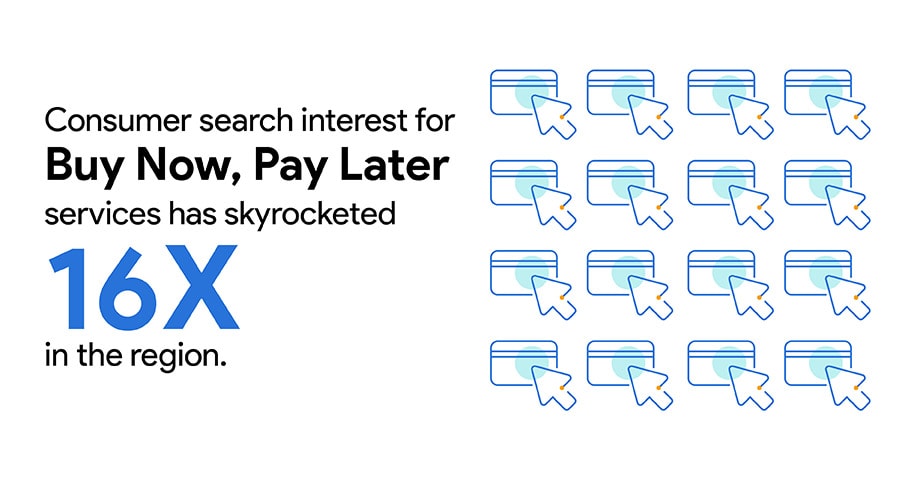 The adoption of digital services has been a one-way street, with no signs of reversal. It is now a way of life for Southeast Asians — and super apps are leading that charge.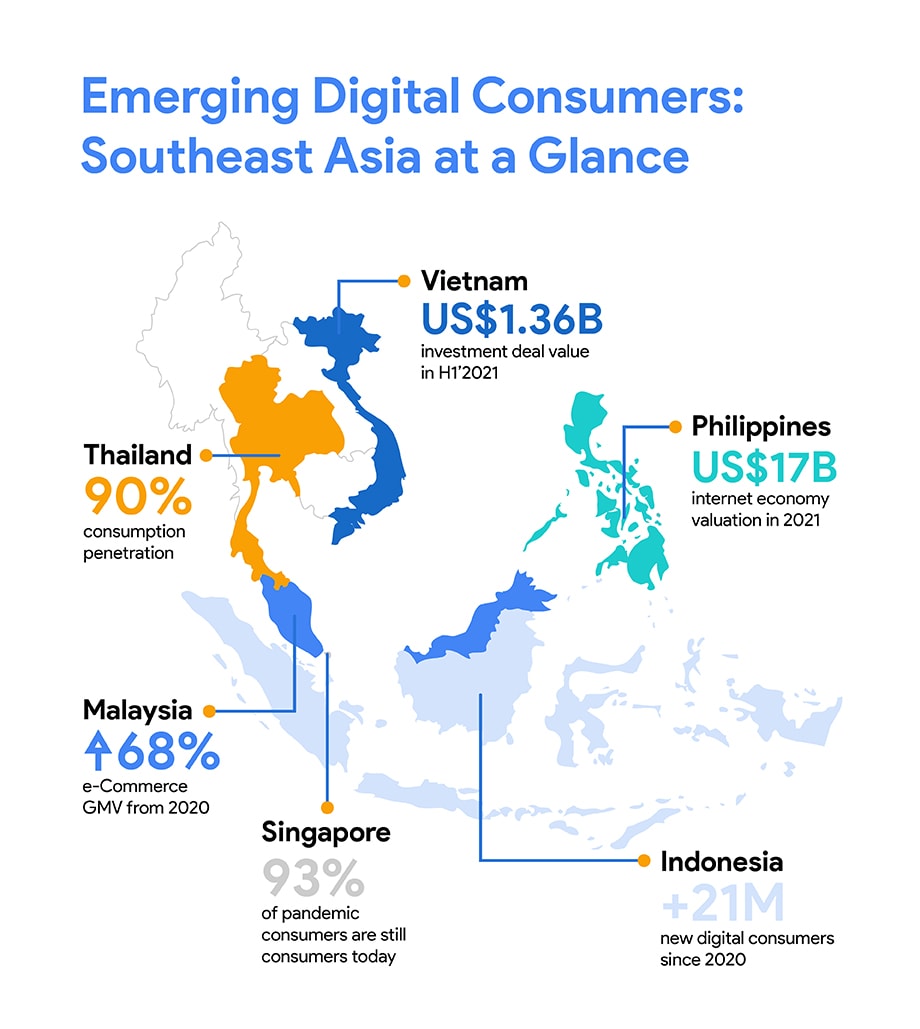 Rohit Sipahimalani, Temasek's Chief Investment Strategist and Head of Southeast Asia says that "the pandemic has led to accelerated and enduring digital adoption in Southeast Asia, which has propelled its internet economy to new heights." A contributor to the report, he reiterates Temasek's commitment to the region, saying that "Temasek looks forward to increasing our investments in the region's digital champions, using our capital to catalyse solutions and growth that will enable these companies to take maximum advantage of the digital decade."
Learn more about Southeast Asia's fast-growing digital economy by downloading the e-Conomy SEA 2021 report, jointly brought to you by Google, Temasek and Bain & Company.
Temasek is an investor in GoTo Group and Grab.