Moving as One Past the Finish Line — Temasek
Moving as One Past the Finish Line
From championing meaningful causes to harnessing tech for good, our colleagues are finding creative ways to create a positive impact in their communities. People of Temasek is a content series that celebrates the diverse individuals who make up Temasek, and their individual commitment towards building a better world.
They may be passionate about different sports, but Hong Deqi, Michelle Er and Johan Dulat are collectively championing a spirit of sportsmanship at work. Their tenacity, discipline and focus on teamwork drive a winning attitude both on and off the arena.
Attacking and Defending as a Team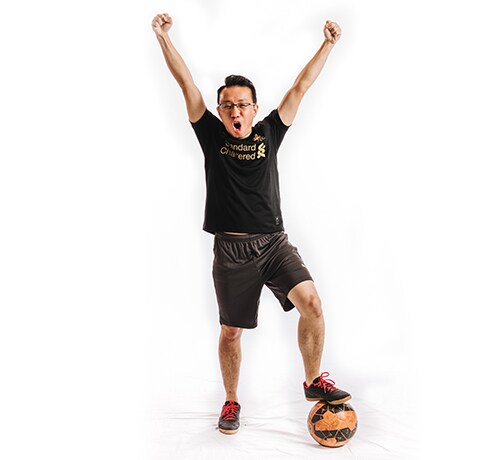 "I've been a soccer fan since my youth, when we looked up to national players like Fandi Ahmad. That was when my friends and I would play soccer at void decks. We miss those days."
"Now, I play with friends almost every Sunday and also with my colleagues about once a month. I prefer attacking roles and though goal-scoring is the primary objective, attackers are also a team's first line of defence. Like in most team sports, everyone has to play their part, keep a lookout for each other, attack and defend as a team."
"For me, joining Temasek was a mixture of luck and opportunity, as I was job hunting during the global financial crisis. Thankfully, everything went smoothly and today, I'm part of a great team that's always willing to share knowledge and support each other. We monitor market movements and analyse risk, to avoid jeopardising the firm's investment decisions. Just like in sports, teamwork is key to getting the job done well."
"We have regulars and occasionally, overseas colleagues who join us at our monthly sessions. Futsal has allowed me to get to know my colleagues better, outside of work. We've played in really memorable events, like the tournament with our portfolio companies at Temasek's 40th anniversary back in 2014 and the Singapore Pools' charity fundraiser Football With A Heart last year. Once, we even met former national team player V. Sundramoorthy during a futsal session."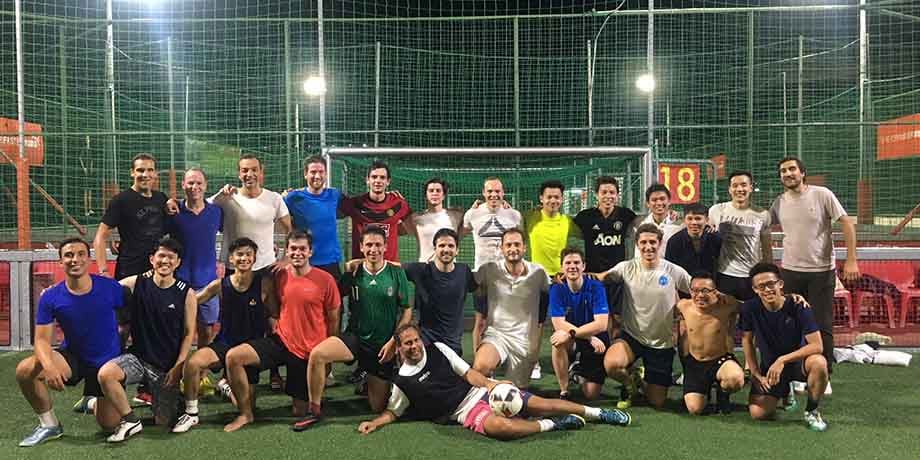 "Ultimately, futsal helps me to de-stress and keeps me in shape — although round is also a shape!"
– Hong Deqi is an Associate in our Risk Management (Market Risk) team. In his spare time, Hong brings our colleagues together for futsal matches, as an organiser in the company's staff recreational club.
Overcoming Your Fears and Limits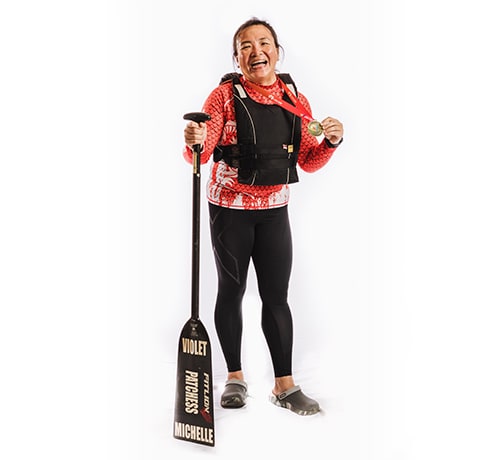 "Under the sea, all you can hear and feel is your heartbeat and the experience of being so close to marine life."
"I used to fear the sea, especially sharks, no thanks to movies like Jaws. With my friends' encouragement, I plucked up my courage to slowly overcome my fear. After all, you never know what you're capable of until you try! When I found the guts to swim with hammerhead sharks at Layang Layang [in Malaysia], I realised that sharks are really just large, graceful fish. Like my administrative role in Temasek's Sustainability and Stewardship Group, diving lets me witness the impact of environmental damage first-hand. We always carry a net with us on our dives to help clean up the litter and plastic waste that can be found in the sea."
"During a monsoon season diving break, I was introduced to dragon boat racing. I love the teamwork and togetherness required to move the boat, and the constant encouragement that everyone gives to one another. You can't move the boat to its ultimate speed with just strength. Everyone must train diligently and work towards perfecting the posture, breathing and stroke techniques, combining that all into one coordinated stroke."
"I generally have to train at least twice as hard to stay on par with my younger teammates, but it pays off. I was shocked when I passed the stringent selection rounds to represent Singapore in the Australian Masters this year. Our team won first place in our category — that was a really proud moment."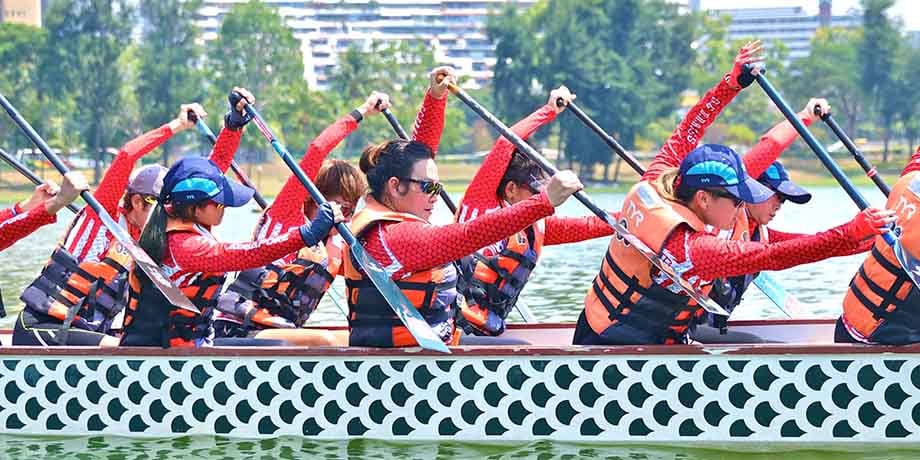 – Michelle Er is an Officer in our Public Affairs team within the Sustainability and Stewardship Group. She is a certified divemaster and was part of a team representing Singapore that placed first in the Senior A Open 20 category at the 17th Australian Masters Games regatta in Adelaide, Australia in October 2019.
Defining Your Goals and Perspectives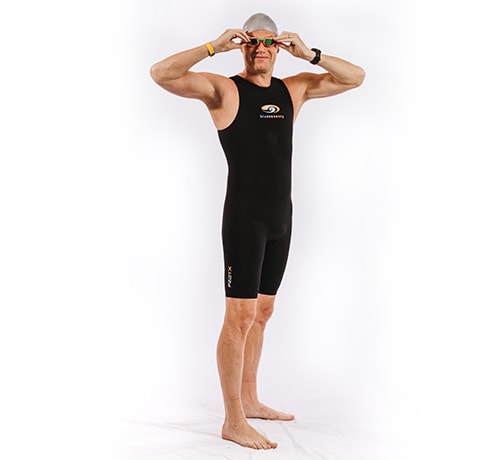 "I started swimming at the age of six and got more passionate as swim events turned more competitive.
"On its own, swimming is an individual effort, but at the competitive level, it is a team sport in many regards: during practice, but also as part of relays and team events. You swim for more than just yourself and cheering for others is also as part of the experience. Eventually, each swimmer races against both the clock and others, and the feedback one receives is objective and immediate. I've always found that your performance is a direct reflection of the work and dedication you put in. It also forces you to become very efficient with the time you manage to get for yourself.
"As time passed, I adjusted my expectations — being a father of three is a full-time job and the kids sometimes have busier schedules than my wife and me! To maintain balance, you need to redefine your goals and objectives according to your daily constraints."
"Swimming in the open sea has also opened my eyes to the effects of global warming. Water immerses you in a different world — one that can be very introspective. Personally, having witnessed the impact of climate change and the waste crisis in various seas I've swum and dived in definitely affected the way I consume.
"I stopped eating meat four years ago, for various reasons: health, environment and ethics. I've also reduced my dairy consumption and cut out seafood including large fish such as tuna and salmon. There's still a lot that can be done, but I look for sustainable sources where I can. We ferry the kids around in our mid-range fully electric car — beyond the smaller carbon footprint, it's a fun drive and provides substantial savings in terms of fuel consumption. Based on my calculations, the car will fully pay for itself over 10 years!
"I'm a big believer in technology advances to address issues, but unfortunately today, I fear that much of the impact from global warming is inevitable. On the bright side, the business and investment community is now genuinely focused on these issues and hopefully, we can make positive changes in time."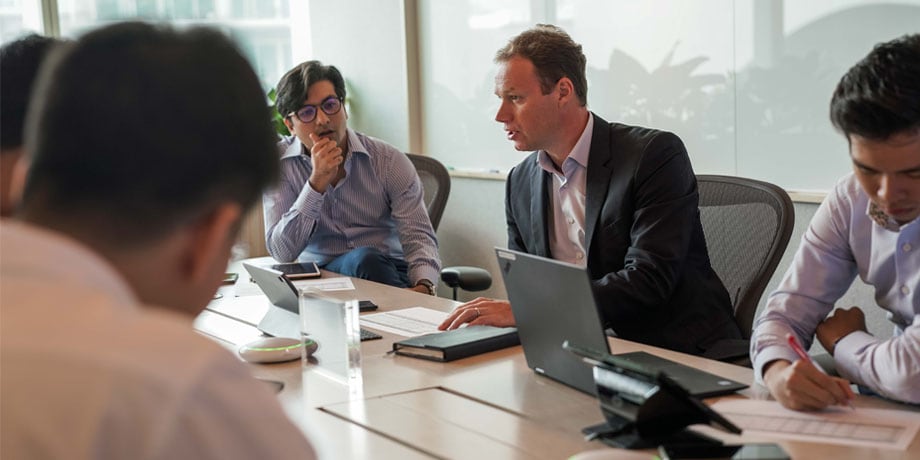 – Johan Dulat, Managing Director of Structuring and Execution at Temasek, leads a team that supports our investment activities. No day or problem is the same for him, but the competitive swimmer tackles each situation like a race: with determination and a performance-driven mindset.
Stay tuned for our upcoming article on Dulat, where the experienced swimmer tells us what fuels him and shares his inside tips on mastering the sport.