Portfolio Performance
We are owners of our portfolio, working to deliver sustainable value over the long term to our stakeholders.
Value since Inception
We grew with Singapore in our early years. In 2002, we stepped out to grow with a transforming Asia. Since 2011, we have been investing worldwide for a better, smarter and more connected world.
Our initial portfolio in 1974 reflected a newly industrialising Singapore. Some of these companies, and others added since, have grown into iconic Singapore brands such as Singapore Airlines and the Singapore Zoo. Others like DBS, Singtel and PSA have spread their wings further afield.
We continue to seed new solutions enabled by science, automation and the sharing economy, to support a growing population that is also living longer.
The chart below shows the growth of our net portfolio value since its inception in 1974.
The blue area reflects our portfolio valued on a mark to market basis, which is subject to greater volatility caused by external events.

What is Net Portfolio Value?

How do we value our portfolio?
Temasek's portfolio is made up of listed and unlisted investments, other assets and liabilities. We derive our portfolio value1 based on share prices2 as at our financial year end every 31 March for listed investments and book values3 for unlisted investments.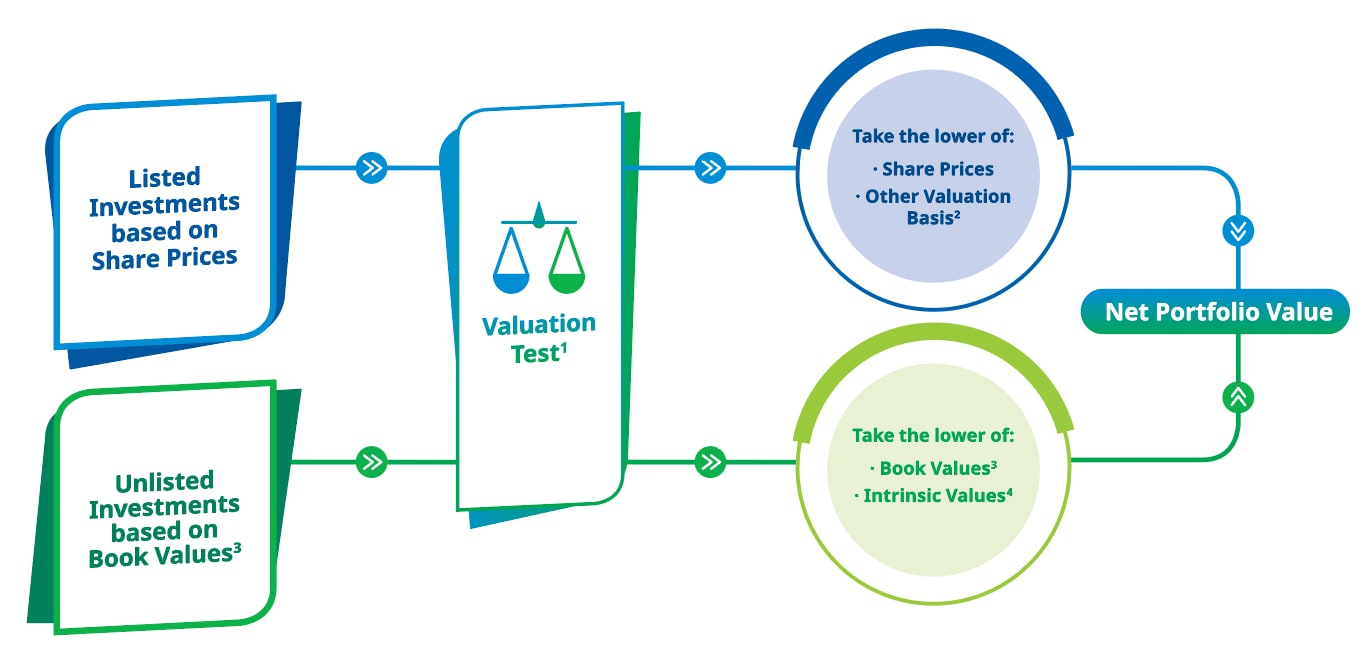 1 Audited as part of statutory audit.
2 For listed investments, other valuation basis will be used if share prices are not representative, e.g. insufficient trading frequency or volume.
3 Cost of investment plus share of investee company's profits or losses, minus dividends received and write down (if any).

S$308b
Net Portfolio Value
Up S$33 billion from last year
Net Portfolio Value (S$b)

68%
Exposure to Asia
Singapore exposure up S$22 billion over the last 10 years
Portfolio by Geography (%)1
Net portfolio value (S$b)
1Distribution based on underlying assets.
What is Total Shareholder Return
Total Shareholder Return (TSR) is a compounded and annualised measure, which includes dividends paid to our shareholder and excludes capital injections from our shareholder. Our TSR over short, medium, and long time periods are a snapshot of our performance.
As at 31 March 2018, our Singapore dollar2 one-year TSR was 12.19%. Our three-year TSR was 4.99%, softened by falls in equities markets in 2016.
Our long term 10-year TSR was 5%, with 20-year TSR at 7%, and 40-year TSR at 15%. Annualised core inflation3 over these corresponding periods was under 2%.
We track our TSRs against our aggregated risk-adjusted cost of capital. The latter is derived using a capital asset pricing model. Our risk-adjusted cost of capital is built bottom-up, and aggregated over all our investments to provide a sense of the overall financial risks taken.
2TSR in US$ terms was 20%, 7%, 5%, 8%, 15%, 17% and 17% for 1, 3, 10, 20, 30, 40 and 44-year periods respectively.
3As of the year ended March 2018, annualised core inflation in Singapore was 1.5%, 1.7% and 1.5% for 1, 10 and 20-year periods respectively
(Source: Monetary Authority of Singapore).


12%
One-year return to shareholder
Total shareholder return of 15% since inception
S$ Total Shareholder Return (%)
Period in years (as at 31 March 2018)

5%
Ten-year return to shareholder
One-year returns of -30% to 43% during the last decade
Rolling S$ Total Shareholder Return (%)